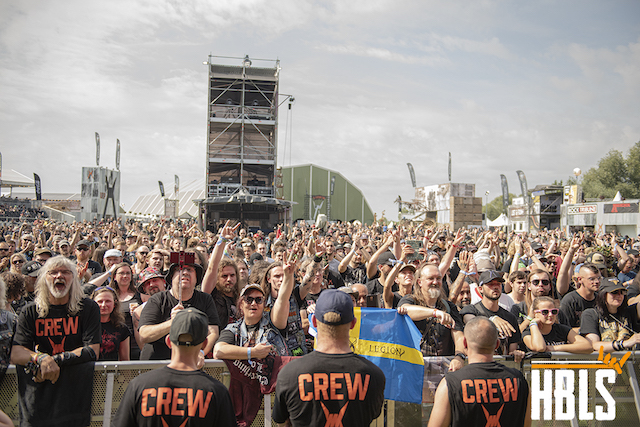 Live Report | Alcatraz Open Air 2023
11-12-13 August 2022 – Kortrijk [BE]
First of all: Hip Hip Hooray and congratulations to the organization of Alcatraz Open Air with Alcatraz's 15thAnniversary! I have no doubt it is a hell of a job to organize such an outdoor festival every year and to make sure we all have a carefree weekend. But this hardworking crew has done it. And there's more to celebrate as Alcatraz OA has a record number of visitors this year, welcoming 45.000 inmates during the entire weekend to their famous prison grounds in Kortrijk [Belgium]. That is 13.000 more than last year!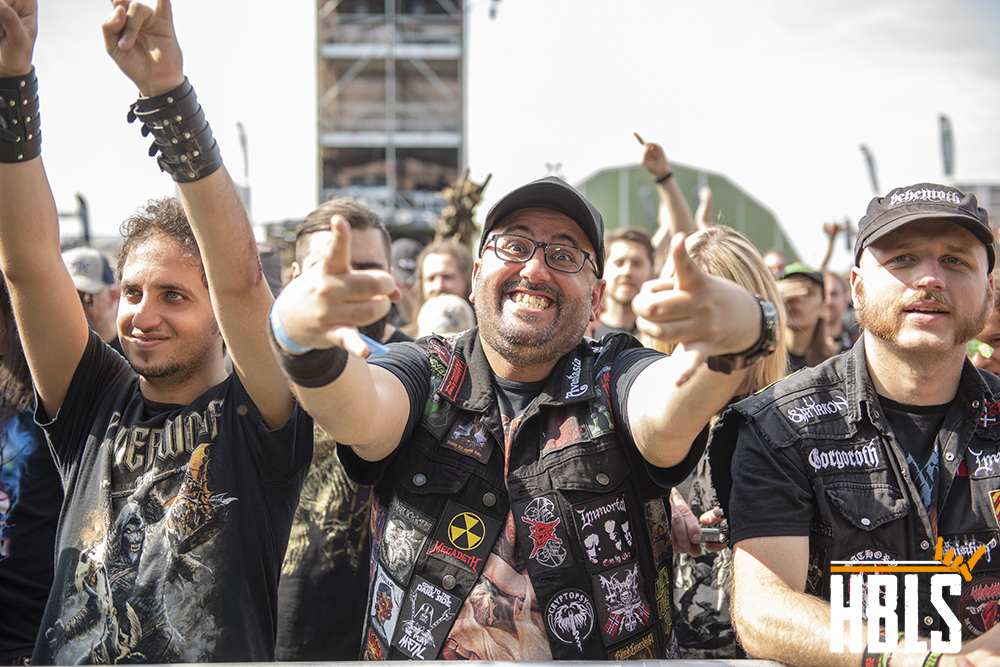 And that is not the only thing, because while Wacken Open Air [Germany] and Metal Days [Slovenia] sadly enough were terrorized by extremely heavy rain earlier this month, which resulted in mud (floods) and worse, Alcatraz OA is blessed with shorts and t-shirt weather. Not an unbearable heat wave like last year, but a nice average of 24 degrees, overall sunny, some clouds and just a few drops of rain during Saturday afternoon. In other words, absolutely nothing to worry about.
ARE THERE BIG CHANGES?
Not perse, because last year the terrain and decoration already had a very cool make-over, making it the little brother of Hellfest. This year's edition had some finetuning and a few components have moved. New for instance is the glamping option and a tribune added next to the VIP area. There is now a press room in the artist building and we can use fast walking routes backstage to move quickly from stage to stage or press room. The concrete steps towards a more sustainable festival are continued, like the use of the green eco-coin [value 1,5 euro] to keep the festival area plastic and waste free. Also, the use of public transportation, biking, carpooling and available shuttles, green electricity, other green measures, the many recycle bins and dispensers with free sunscreen are now a fixed fact.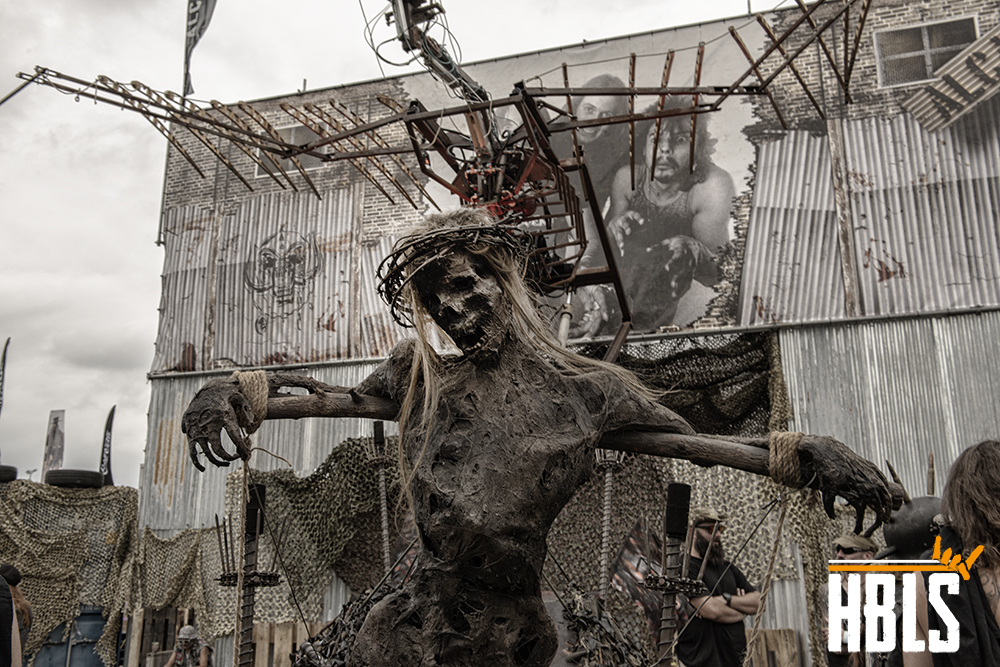 Food has a green upgrade. You can still eat the classic fast-food offerings, like pasta, wok, wraps, nacho, Thai, with or without meat, but this year there are more specialized vegan and vegetarian options, offered by cute food trucks and man…. the Wurger [A green waffle with spinach burger, feta, rucola, pomegranate seeds and sauce] tastes amazingly delicious!!! The food is kind of pricey though. The Wurger costs € 11,20, a simple fries with [vegan] mayonnaise/curry costs € 4,80 and for instance a pasta Bolognese is € 12,80. Prices for drinks are a bit lower than last year actually. A soft drink or a regular beer cost you € 3,20, [sparkling] water is € 1,60 and wine € 6,40.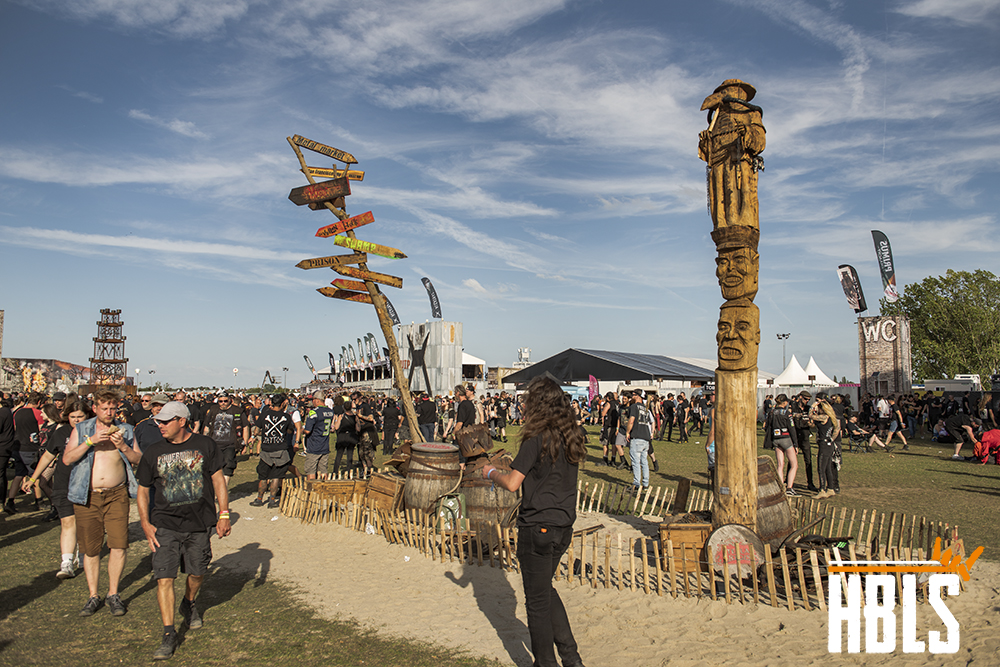 All-in-all it is great to see that Alcatraz Open Air continues to take responsibility in the climate change matter.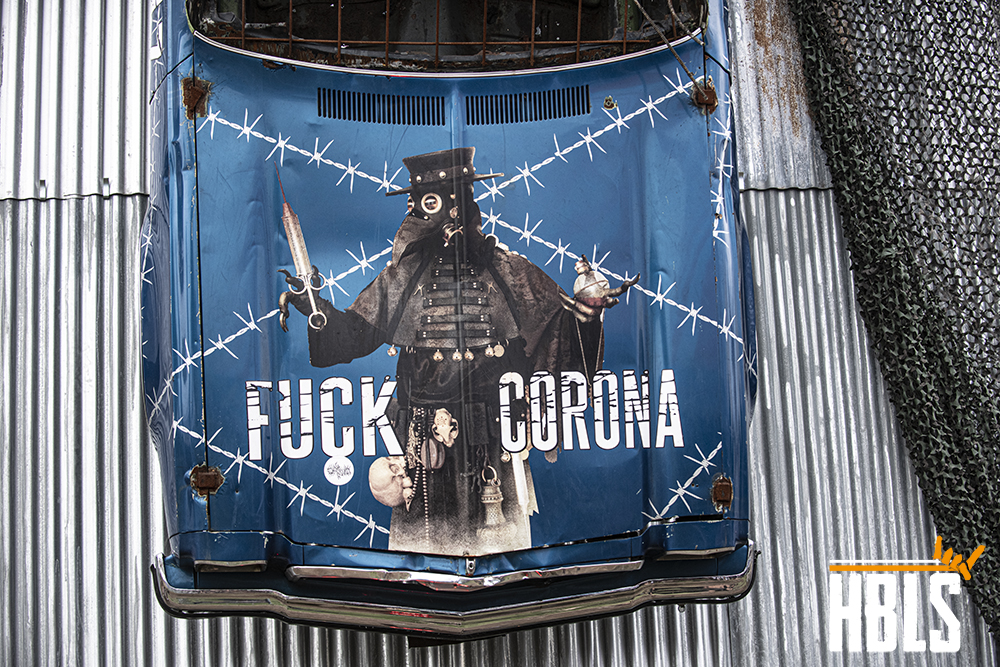 ALCATRAZ OPEN AIR 2023 – THE EXPERIENCE
It is always a joy to be here and it feels like coming home. The atmosphere and vibe are super friendly and tolerant and despite the size of it, it is still a cozy festival with a personal feeling. In the evening torches and atmospheric lights watch over the grounds. I haven't seen any incidents this weekend, just a variety of people, who share a common love for heavy music and its lifestyle. The inmates are having a good time, singing along, headbanging with their favorite bands, having a laugh, with loads of beer and food. It is just one dedicated metal gathering that moves between the four stages: Prison, Swamp, Helldorado and Morgue. And if that isn't enough you can chill in the huge indoor metal bar El Presidio with loud decibels played by different well-known metal DJ's.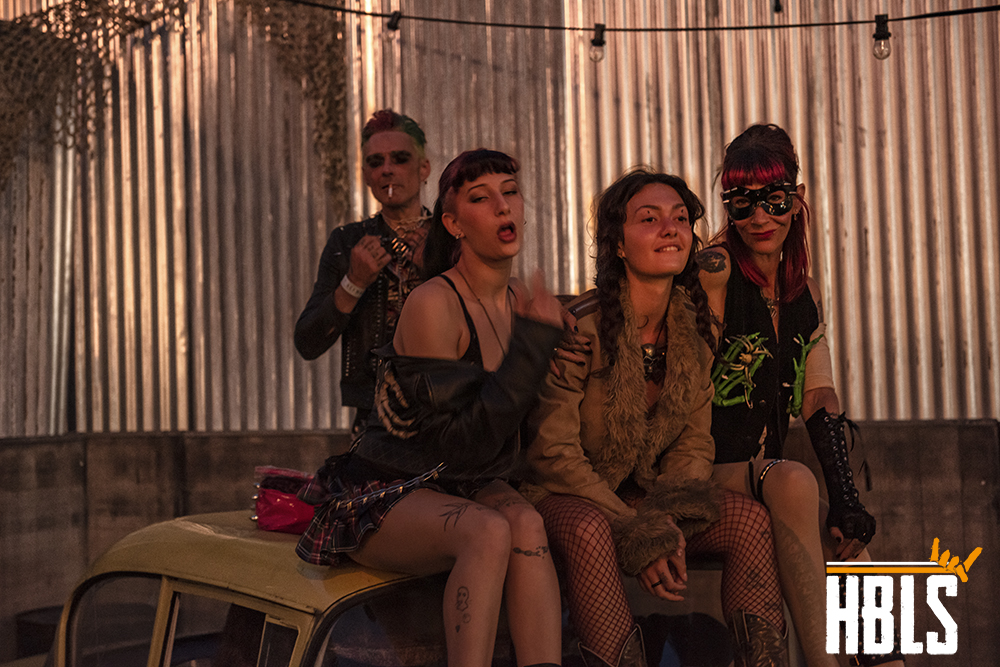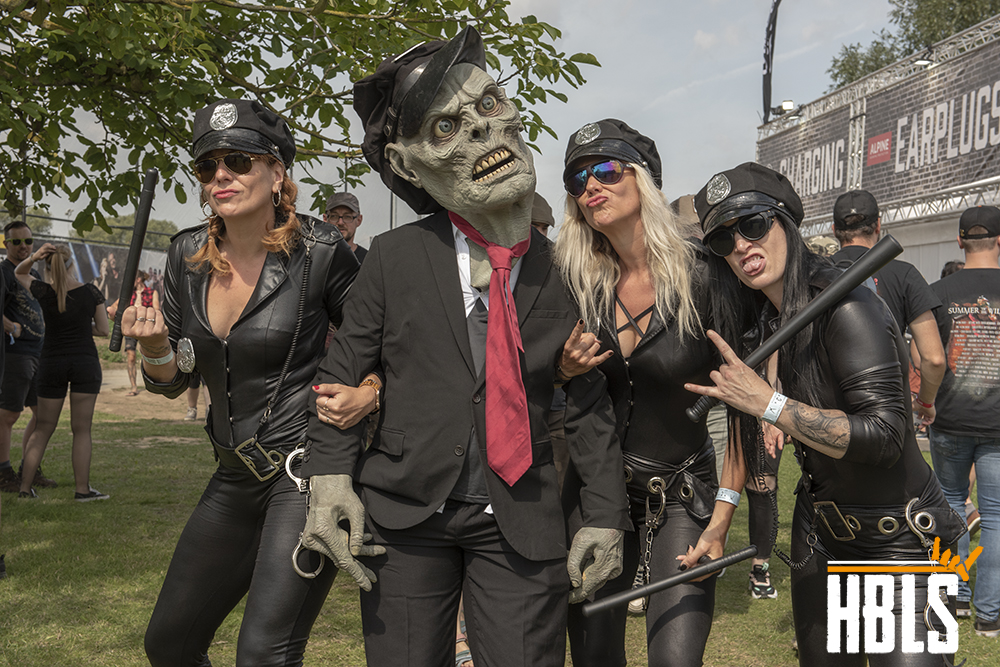 Of course, the lovely tattoo model Femke Fatale is present to announce the bands and you can't miss Officer Nice and his sexy squad at the entrance, forcing us to walk through a sea of soap foam, and the cool Mad Max-like vehicles that racing around. There are fire eaters, a barbershop, you can get yourself a temporary Alcatraz tattoo, or take a ride in an air balloon. So, besides music there are other fun things to do. But I am not that impressed by the offerings of the relatively small market, also quite some merch seems to be of a bit cheap quality. That saves me some money this weekend 🙂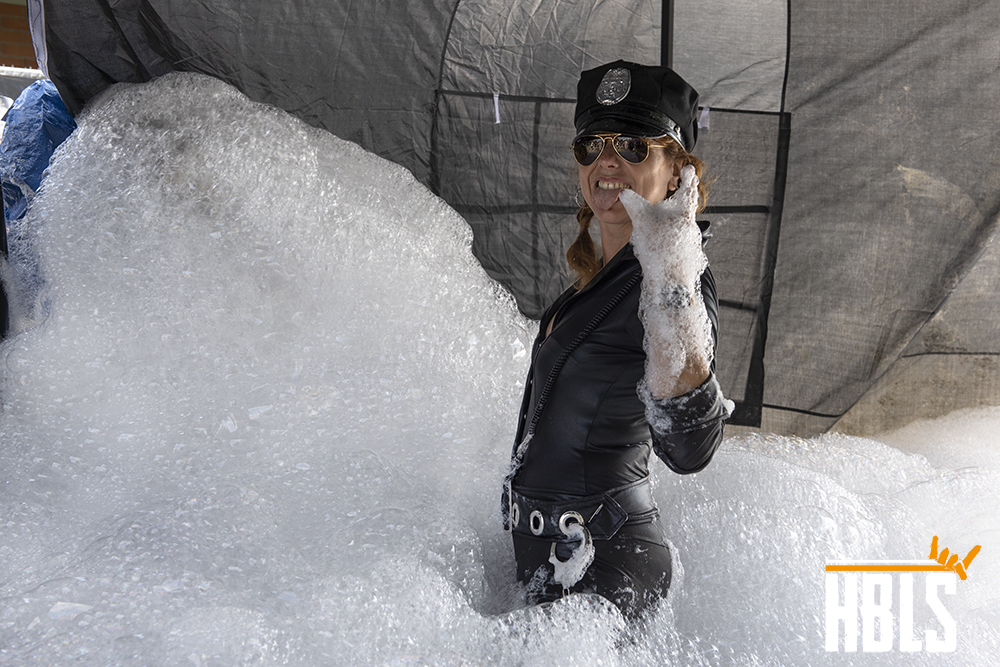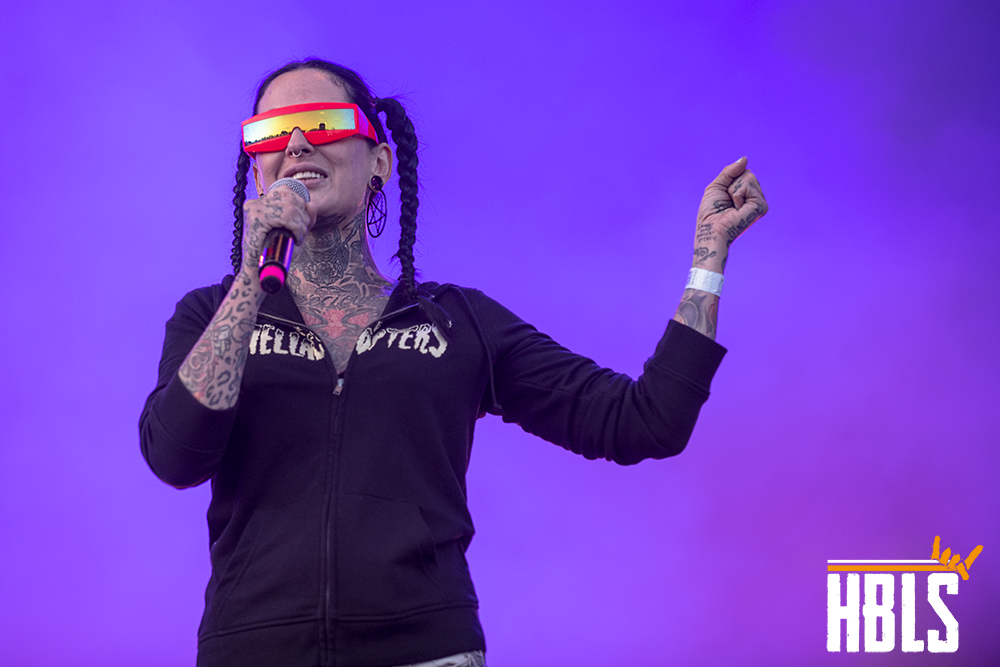 SURF AND SWIPE FROM STAGE TO STAGE
There are last minute changes in the line-up. Due to illness both Overkill and Gaahl's Wyrd are replaced by Evil Invaders and Akerdeel. And a couple of days earlier it was announced that American Fifth Angel couldn't make it because of the too expensive travel costs and is replaced by Belgium metal band Hunter.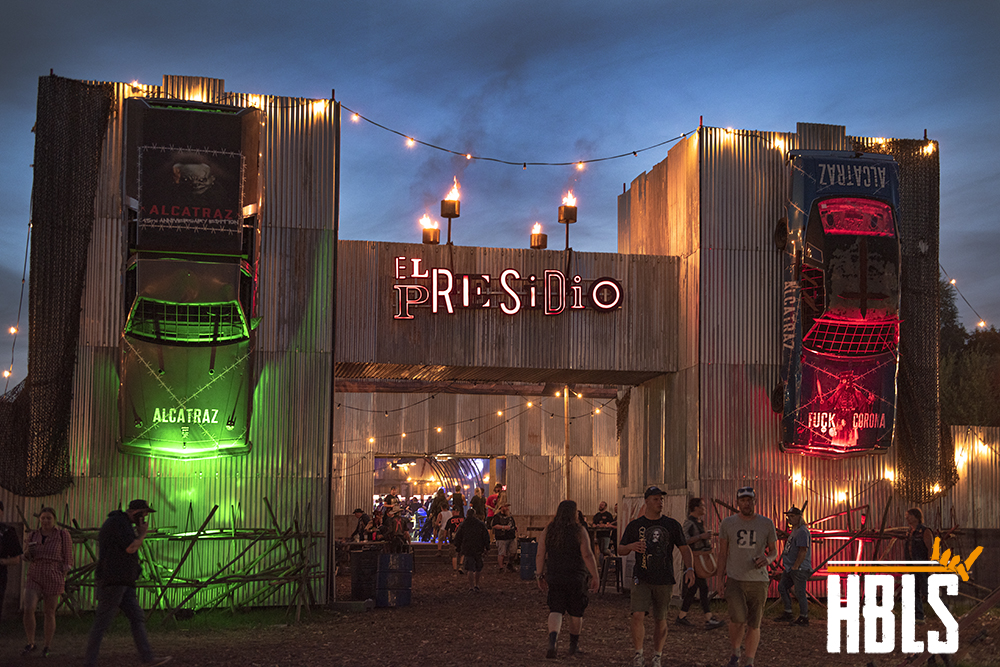 Actually, I am not even going to try to see all the bands on the menu, because it is a lot and there is overlap as well. Besides that, I spend an amount of time in the press area to do my interviews with Svalbard, Wind Rose, Michael Schenker bass player Barend Courbois, Sepultura, Twilight Force, Reject The Sickness, Blind Guardian, Mantah, Hunter and Gaupa. [Soon on our Website and our YouTube Channel].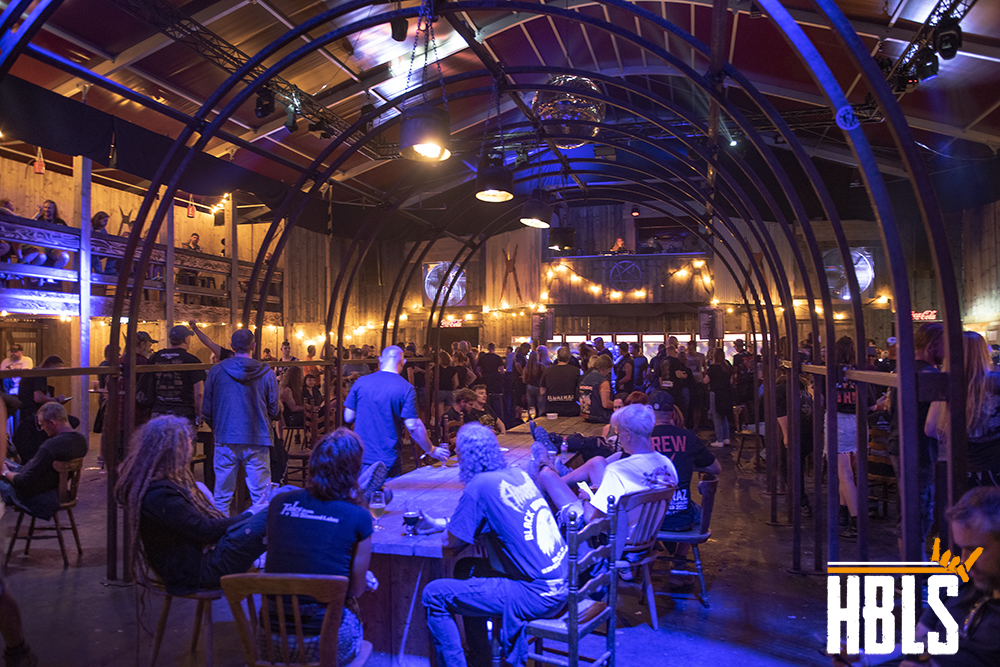 So, the best way for me to still see a decent number of bands is to surf and swipe from stage to stage. Hm, it almost feels like social media and dating apps behavior… Checking out a couple of songs, sometimes more, feeling the vibe and moving on, which becomes a mix and match of power metal, death metal, extreme metal, hardcore, hip-hop, black metal, symphonic metal, nu metal, hard rock, heavy metal, melodic rock, thrash and a variety of obscure crossovers.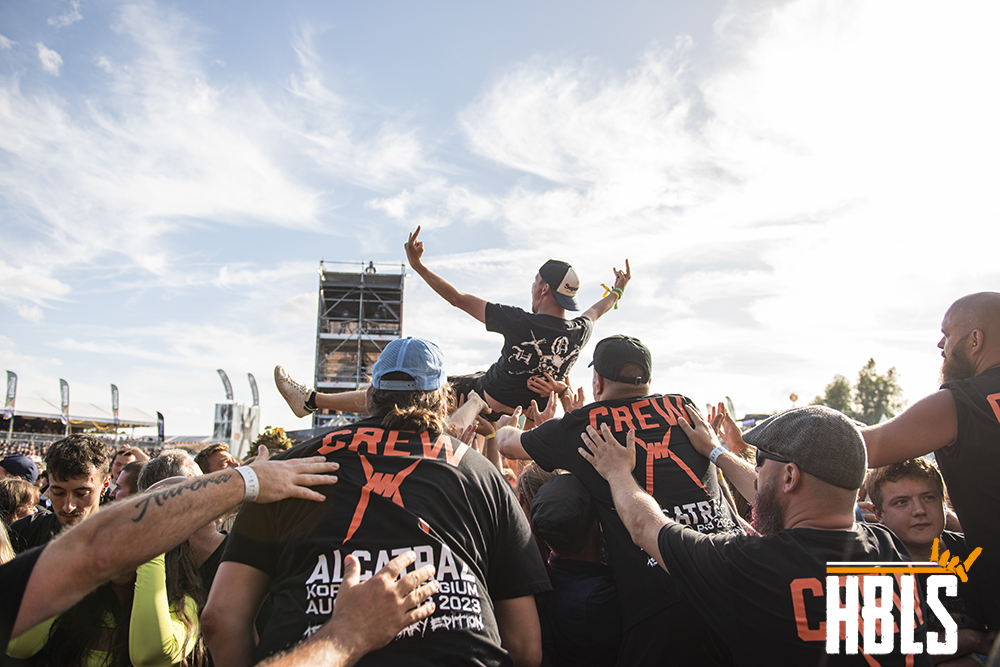 DAY 1 – Friday, August 11
Just before lunchbreak Alcatraz Open Air opens the gates and I am there right on time to take notice of the Swedish dark symphonic metal band Eleine, who opens the Prison. Lead vocalist Madeleine Liljestam and her gang go full force and show tons of confidence. Since the tour with Kamelot earlier this year, Eleine has grown to a convincing performance.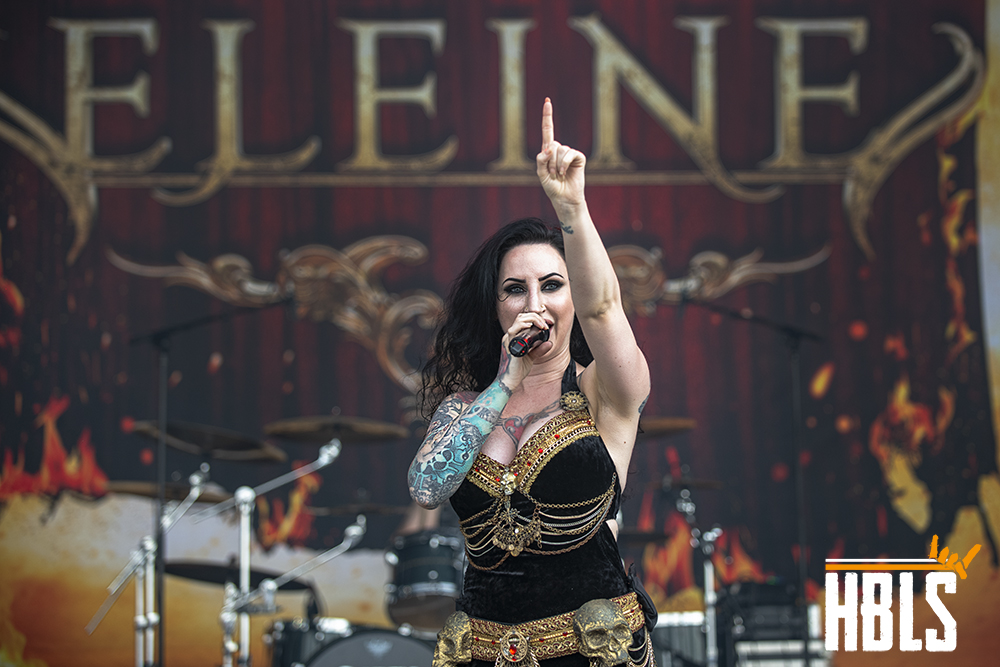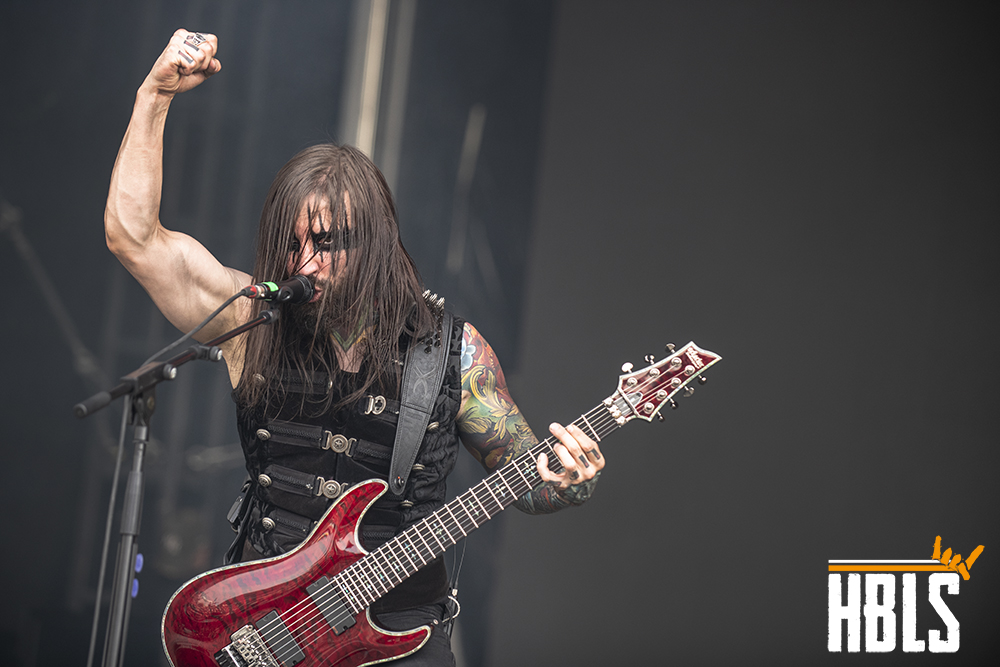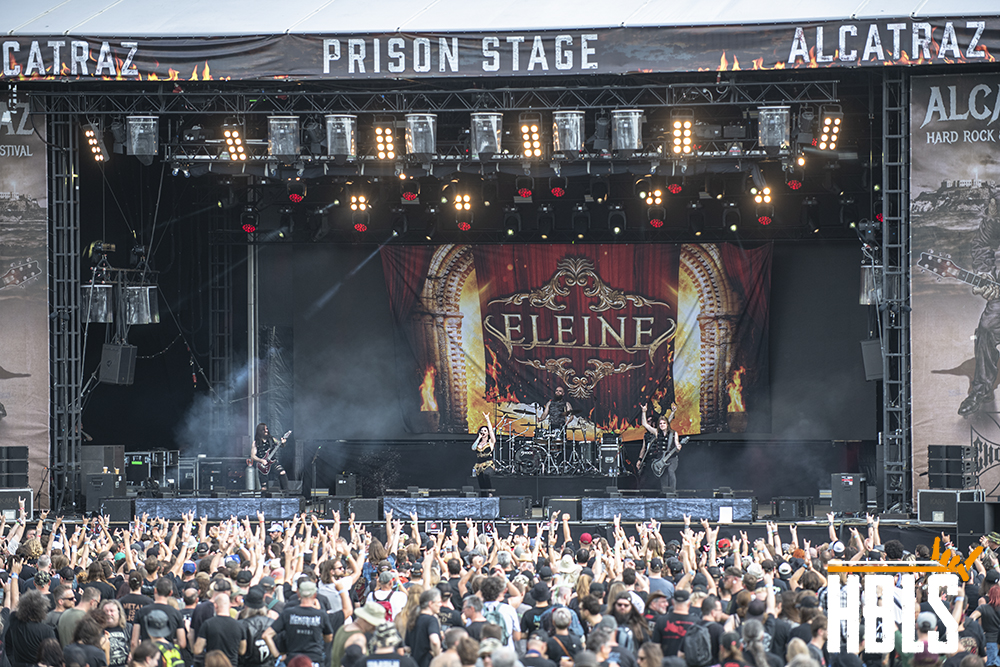 Completely different is Wind Rose [Prison], dressed in costumes and taking us into a dwarfs dimension. The cheerful drinking songs and dwarf tales are wrapped in symphonic, speed, polka metal, that moves the crowd in one happy singalong and dancing party. It's entertaining. The penchant for pointed hats continues with Belgian Gnome [Morgue] but the music is not what I expected: funky, proggy, heavy, stoner, 70s hard rock, sometimes with grunts. It sounds cool though.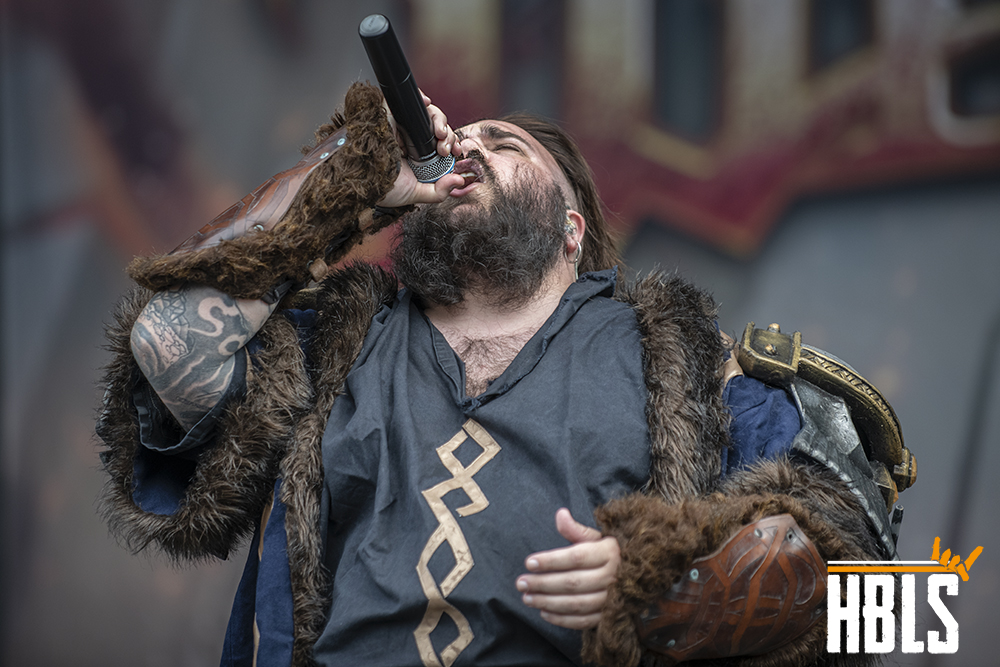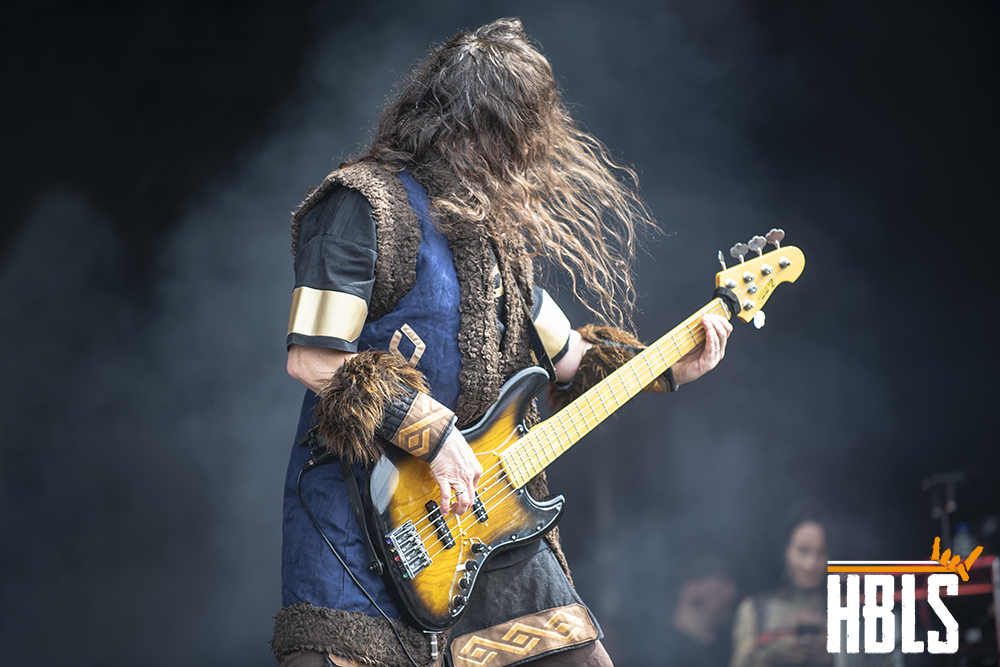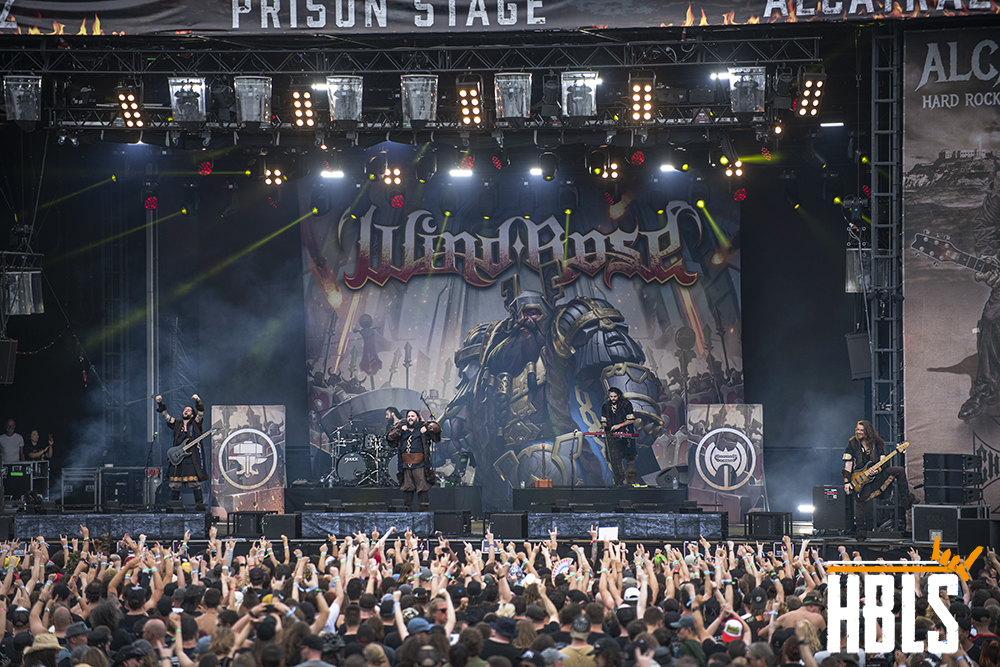 French hardcore, hip-hop metal gang The Rise Of The Northstar [Prison] rages with a lot more angry attitude across the stage. This kamikaze grooves heavy but it seems a bit too early for most of the audience.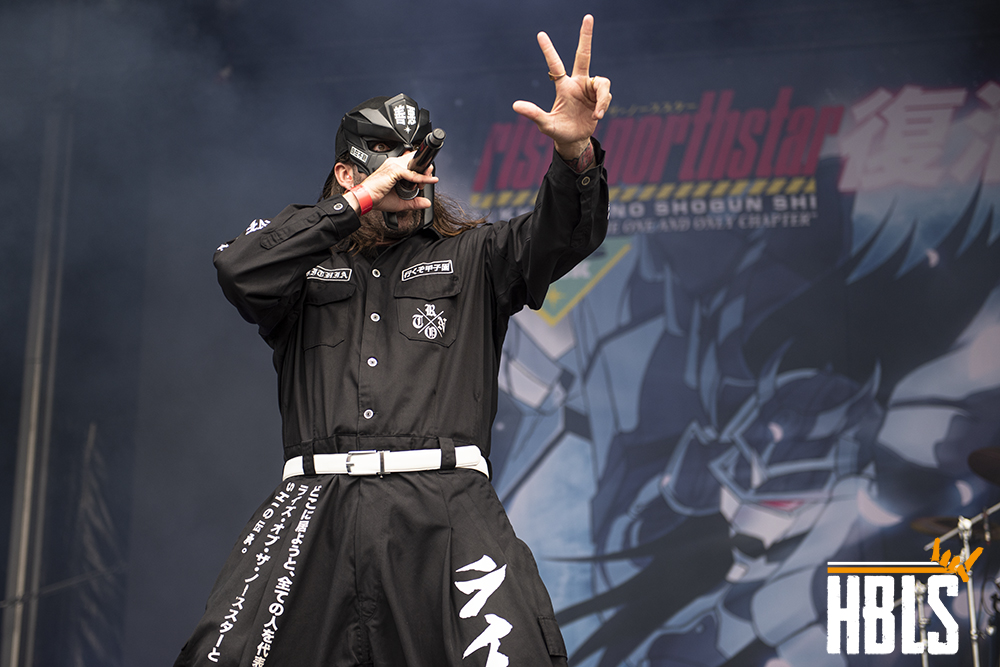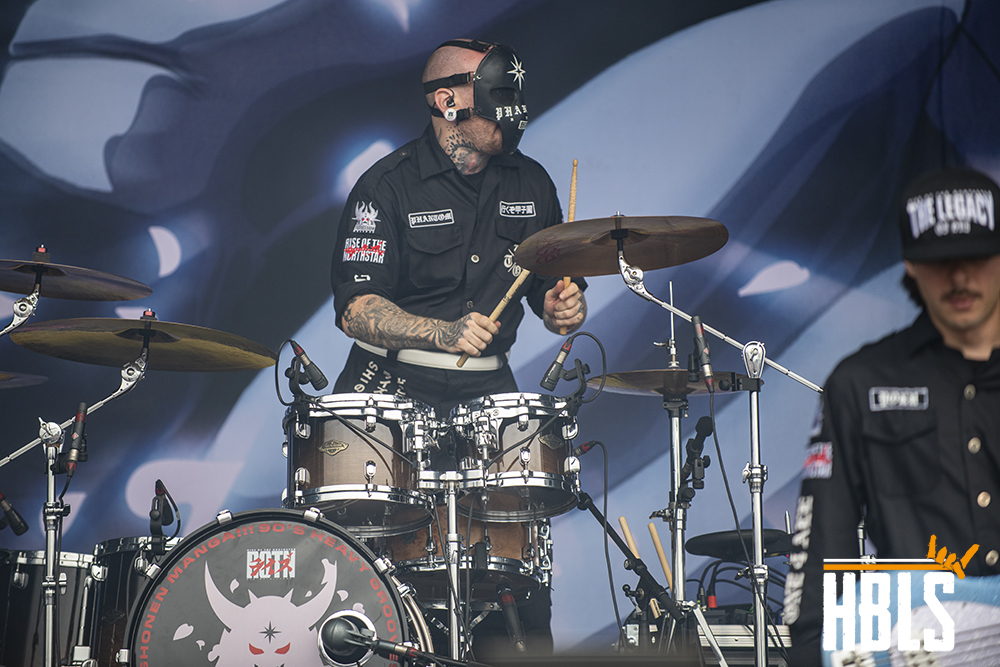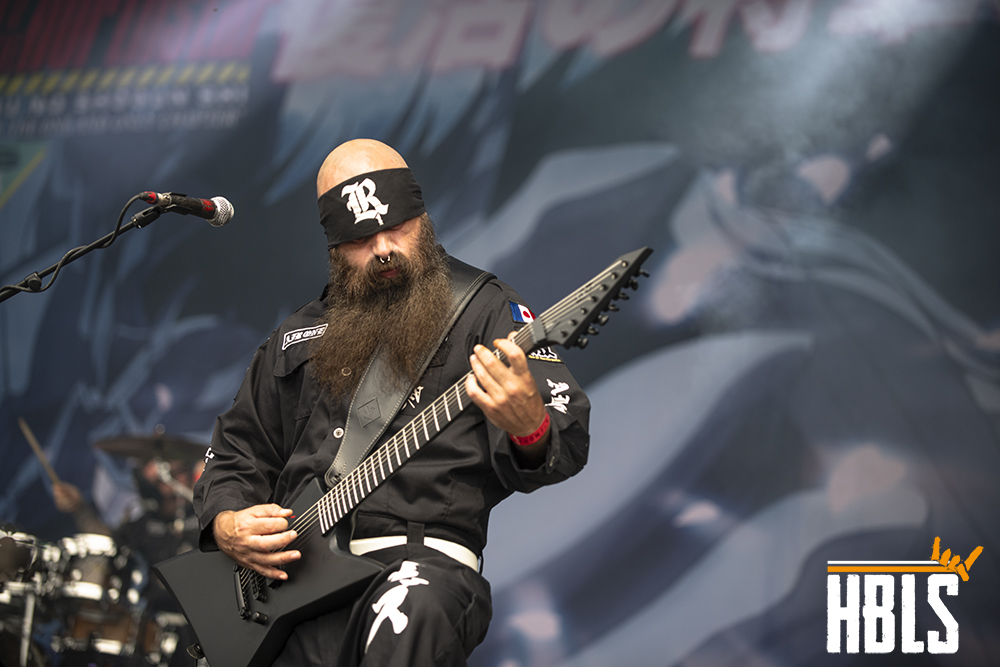 After the tragic death of singer Mike Howe in 2021, Metal Church [Prison] now moves on with singer Marc Lopes. It works on the new album `Congregation of Annihilation', but the guy screams way to much during the fine classics ,,Ton Of Bricks'', ,,Gods Of Wrath'', ,,Fake Healer'', ,,Beyond The Black'', ,,Badlands'', and ,,Metal Church''.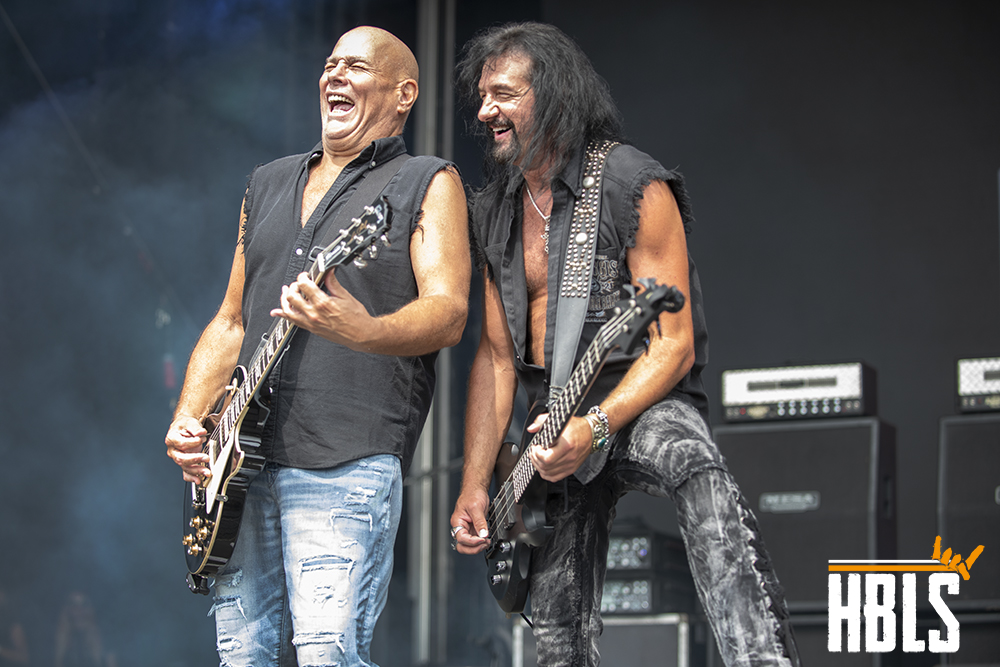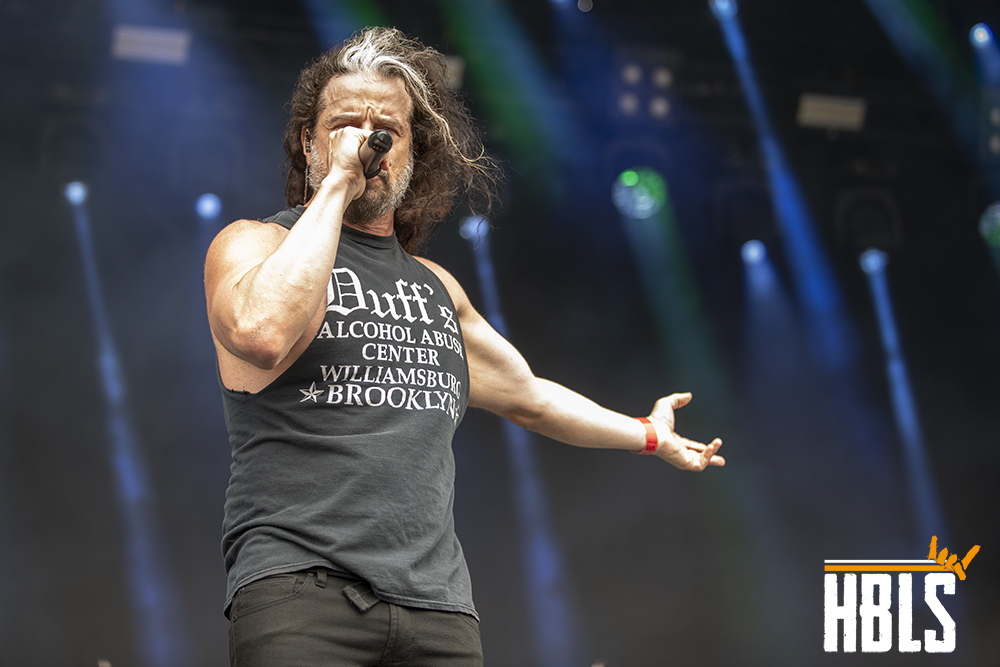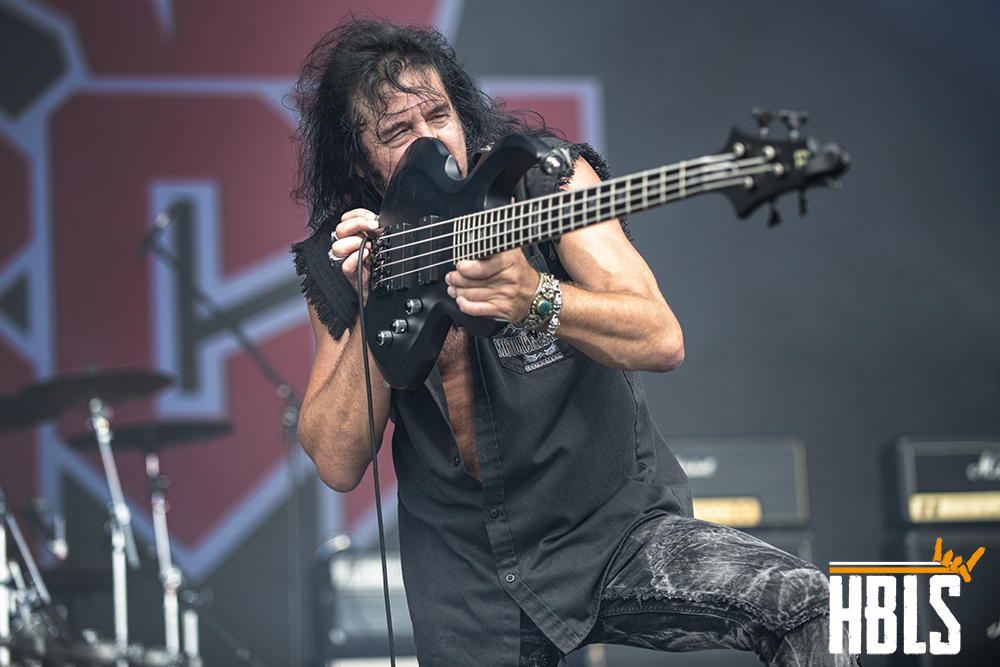 A very nice introduction is UK band Svalbard [Morgue]. Lead vocalist/lead guitarist Serena Cherry is a true rockstar on stage, sharing harsh vocals with guitarist Liam Phelan. The energy and positive vibe on stage is infectious and their hybrid sounding hardcore, black metal, post rock, shoegaze is awesomely intriguing.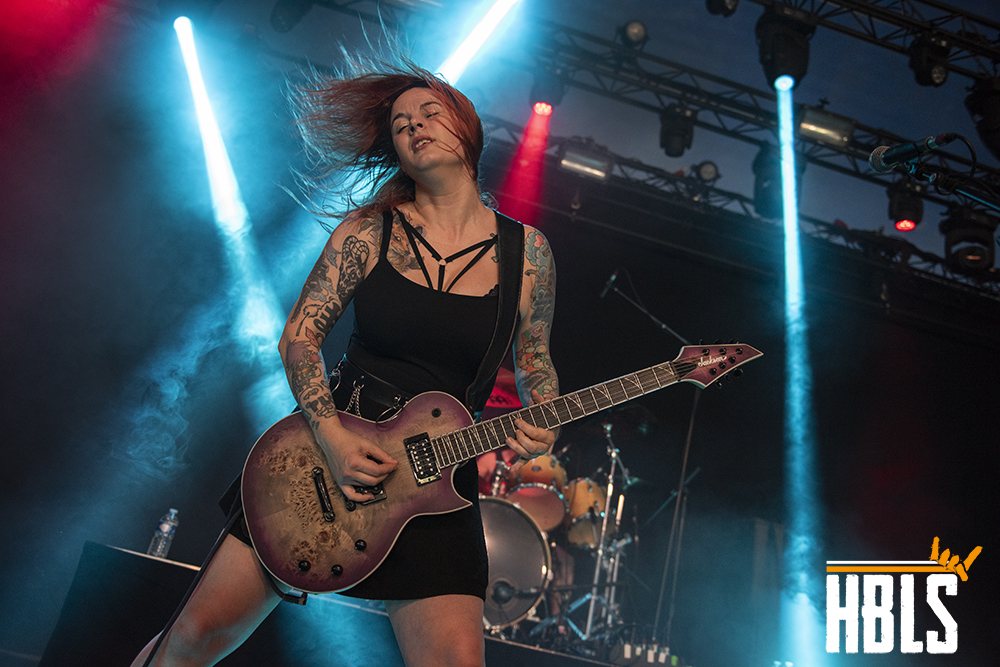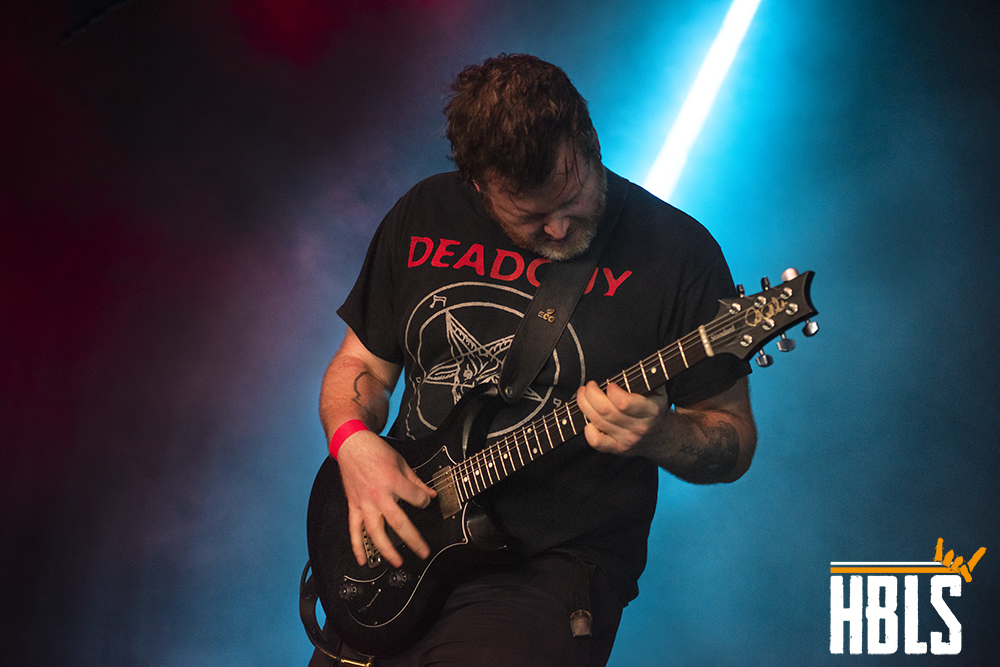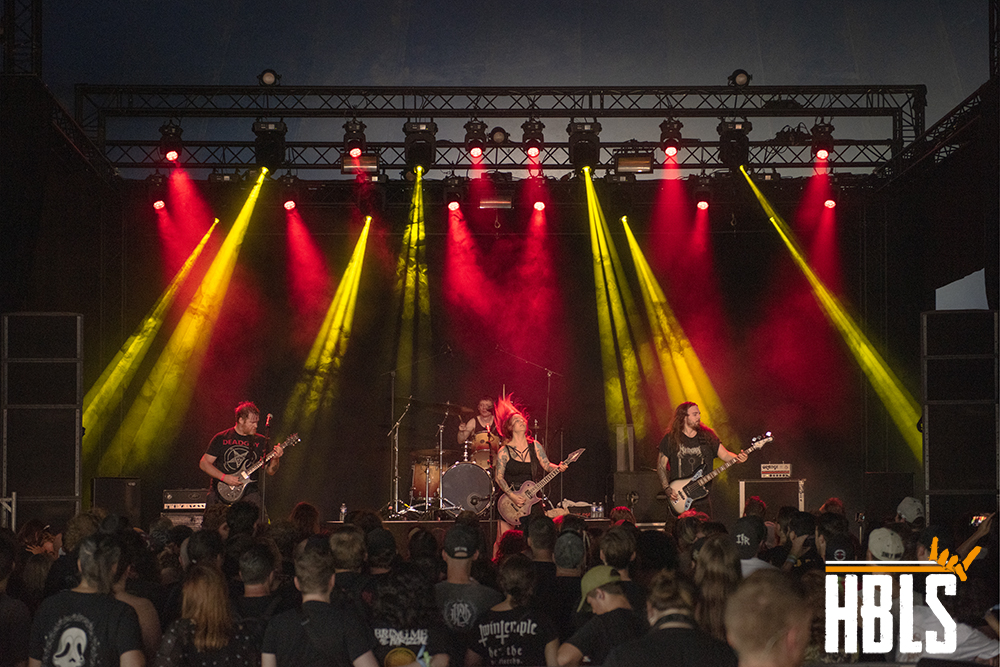 The Boston based hardcore punk band Slapshot [Helldorado] maintain the old school approach. Good for pogo and crowd surfing under the directing body language of singer Jack `Choke' Kelly, the only original member left since the formation in 1985.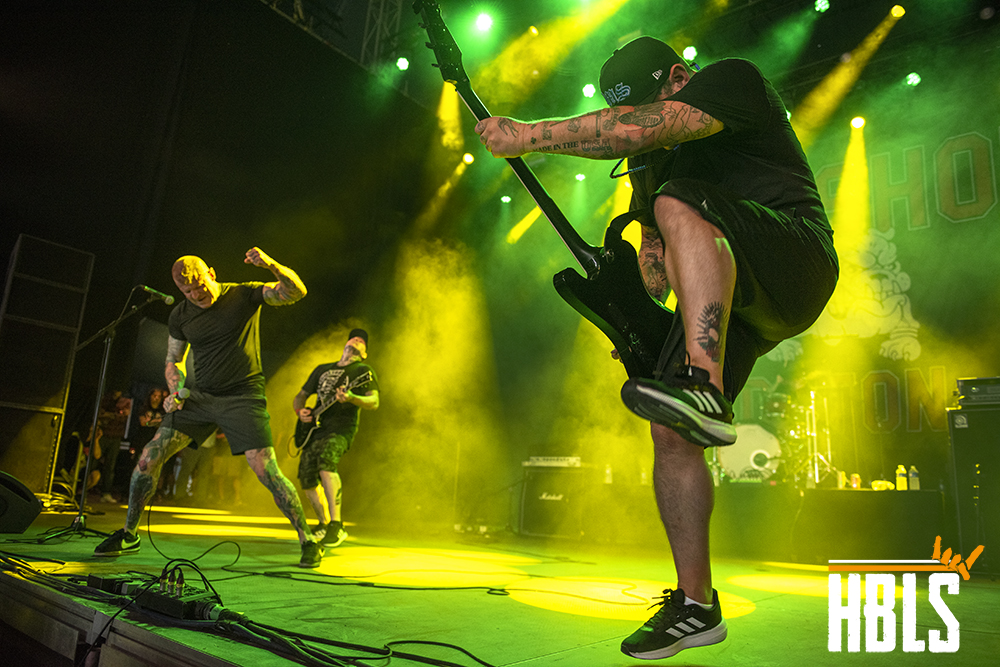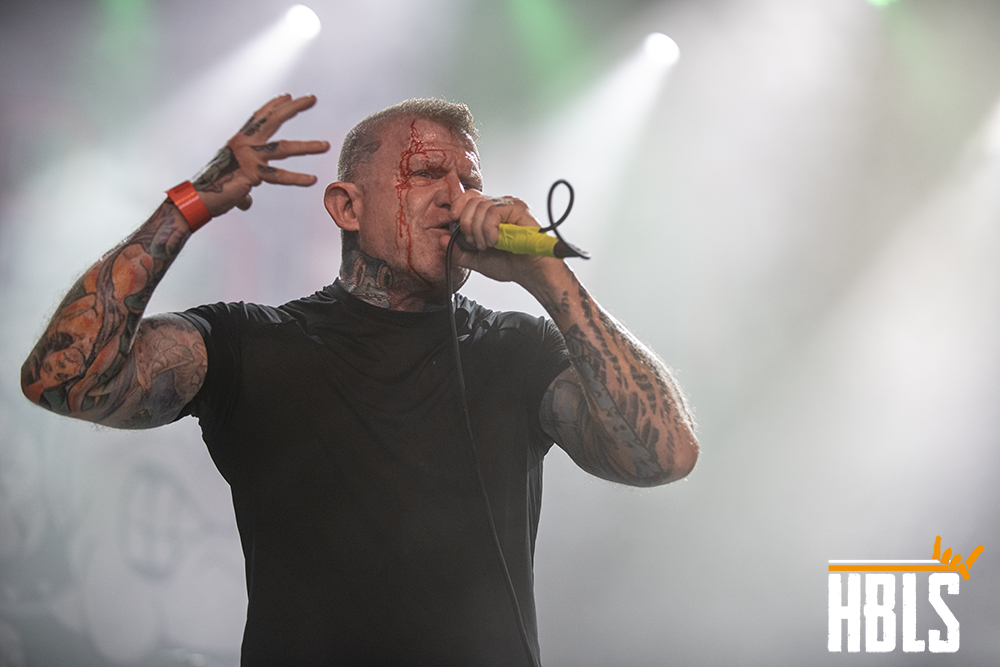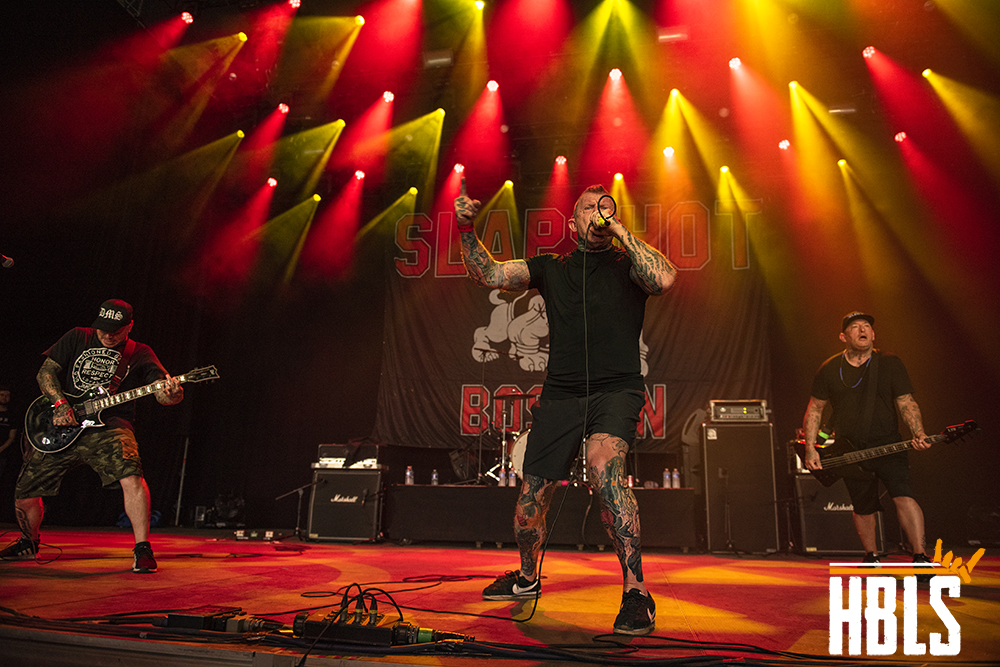 On the go I get a glimpse of Bury Tomorrow [Prison]. Energetic melodic metal core that sticks. Love it. Like Bury Tomorrow, also Trivium [Prison] is a true crowd pleaser. The evolution of this band since 1999 results in a tight, professional and very good performance, featuring their latest album `In The Court Of The Dragon' [2021] as the center piece.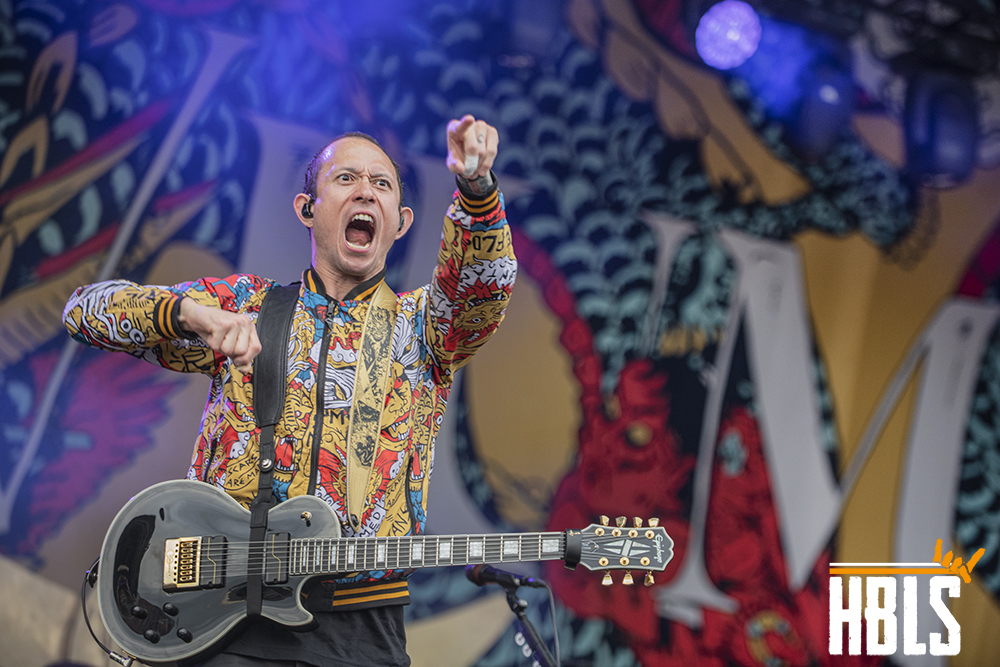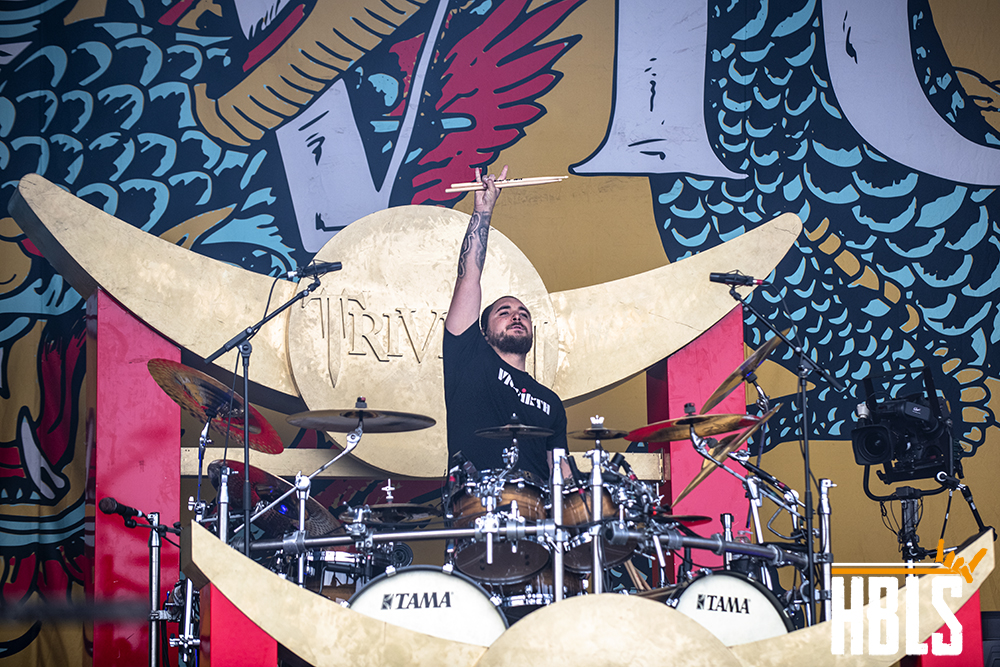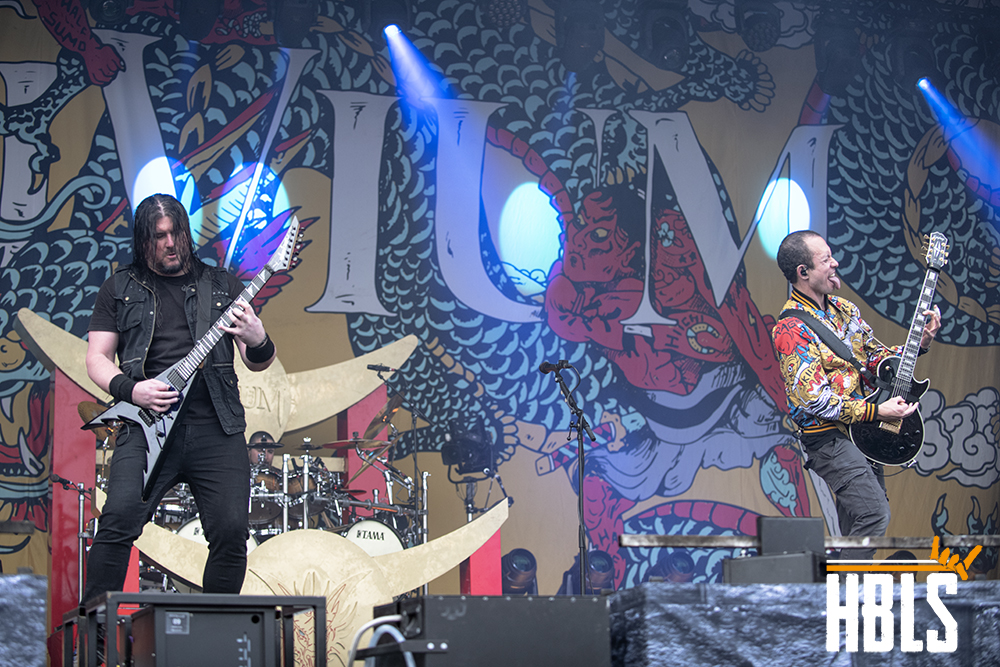 New York City tough cookies Prong [Helldorado] have been of an influential value with their groovy, industrial thrash metal since 1986 and they know how to do their job. The trio can count on a full tent and delivers a stable performance with a lot of interaction on and in front of the stage.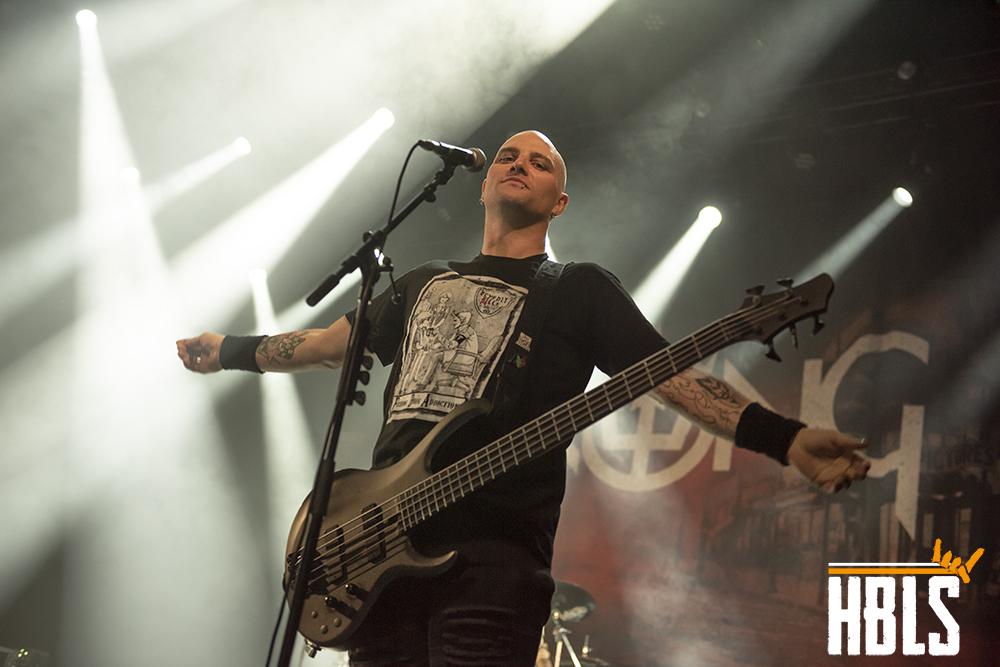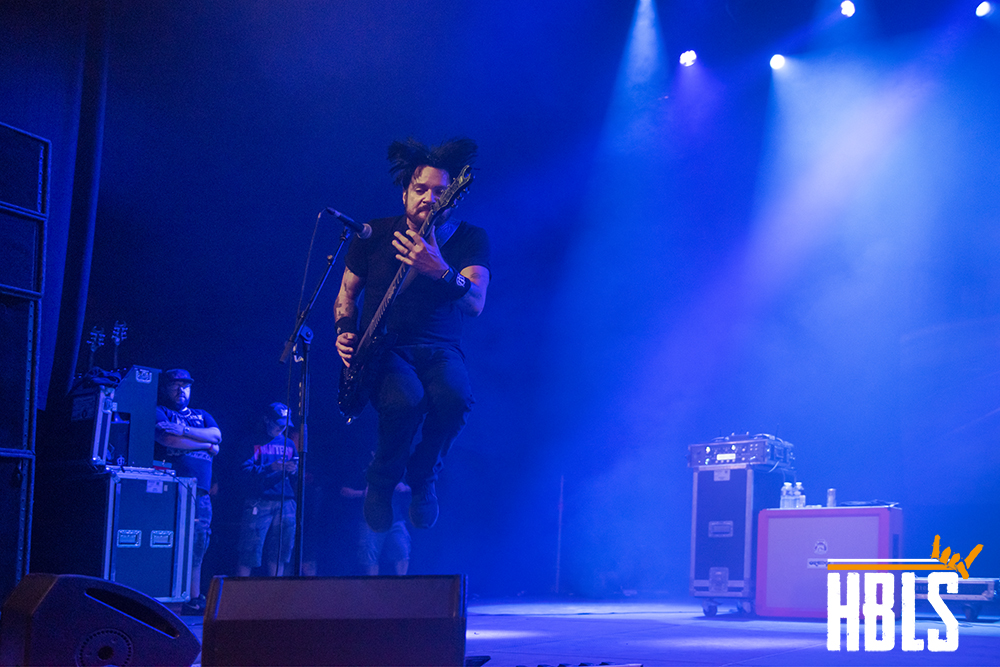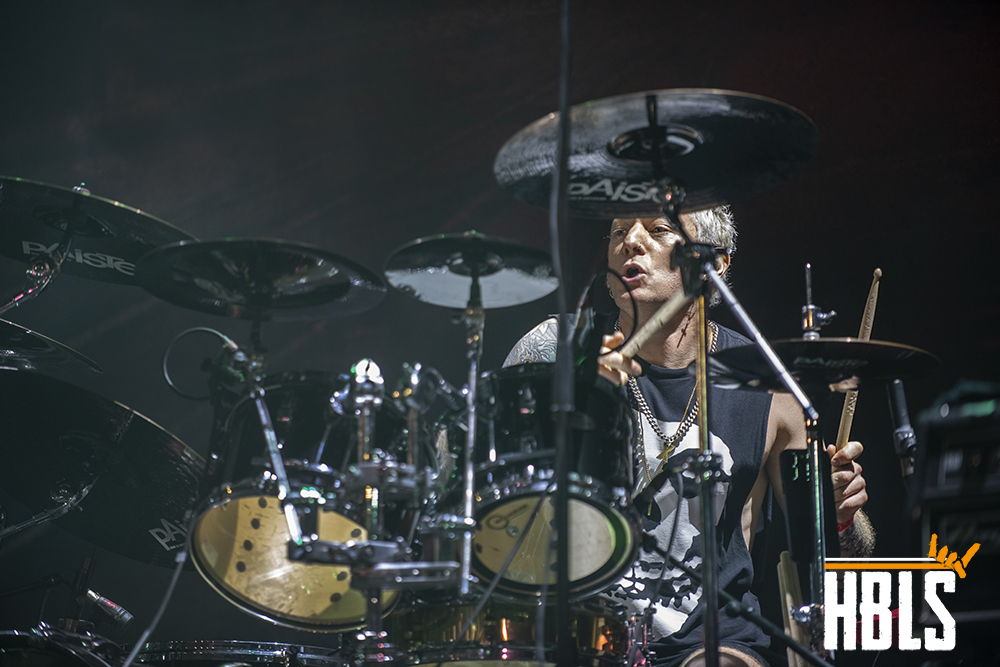 German power metal pack Powerwolf [Prison] is today's headliner. Their show is theatrical and extremely spectacular. The band moves in an old gothic cathedral, graveyard stage setting and per song the backdrop changes and constant new things happen. Fire spits into the sky and these wolfs have definitely a unique gimmick going on with their tight performance. The audience howls along, celebrating power metal to the max.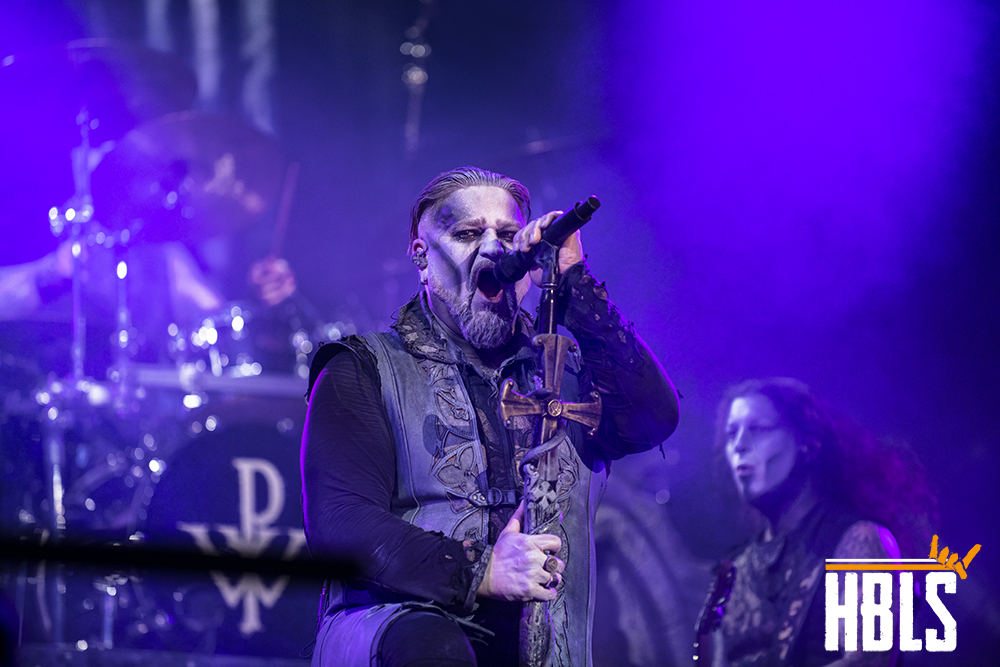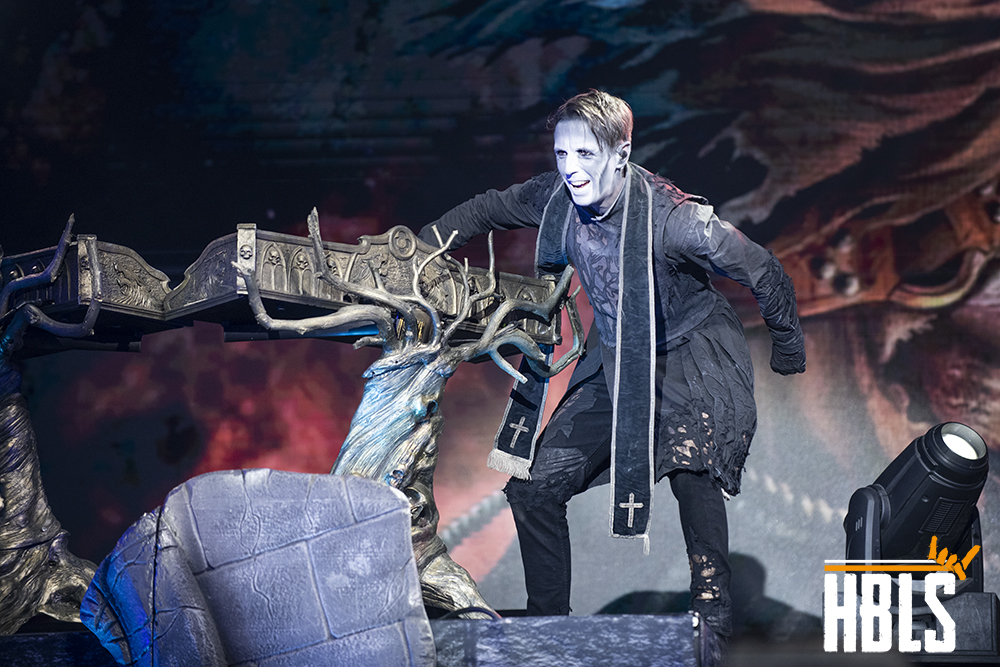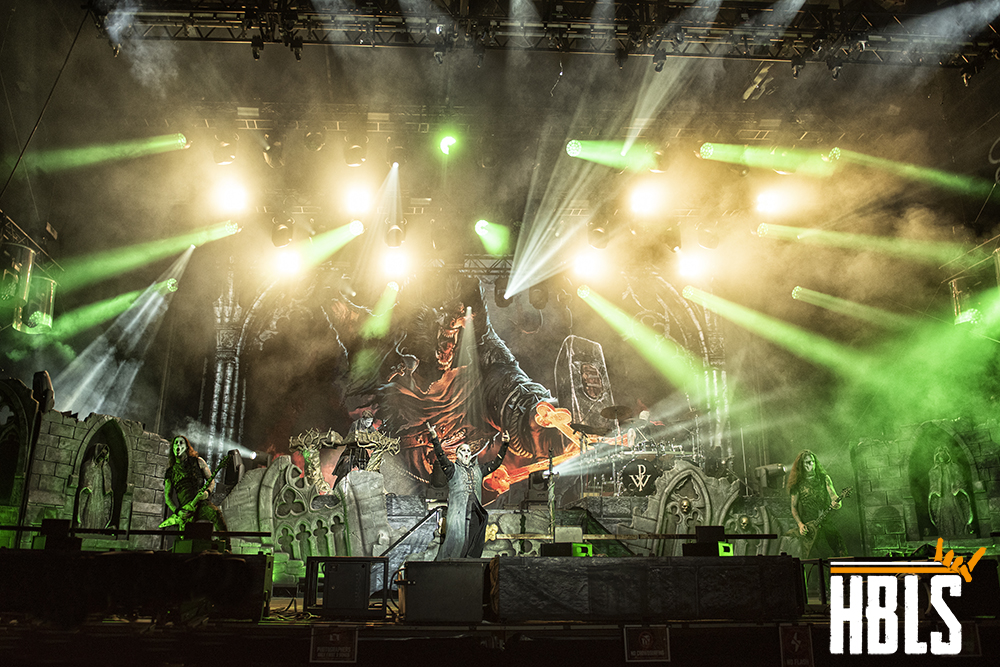 It is the Michael Schenker Group who reminds us of the good old classic hard rock era during their after show [Prison]. Tonight's MS Universal contains a great mix of UFO and MSG classics [,,Into the Arena'', ,,Doctor Doctor'', ,,Looking For Love'', ,,Armed and Ready'' and ,,Rock bottom'' to name a few], performed by high class musicians. Of course, guitarist Michael Schenker himself [68 years old!] is the star of the show, but we definitely witness a true, and fantastic playing band that enjoys each other's company on stage and have fun. Dutch bass player Barend Courbois is having the time of his life and 70-year-old [!] singer Robin McAuley is a true gentleman and in excellent vocal shape.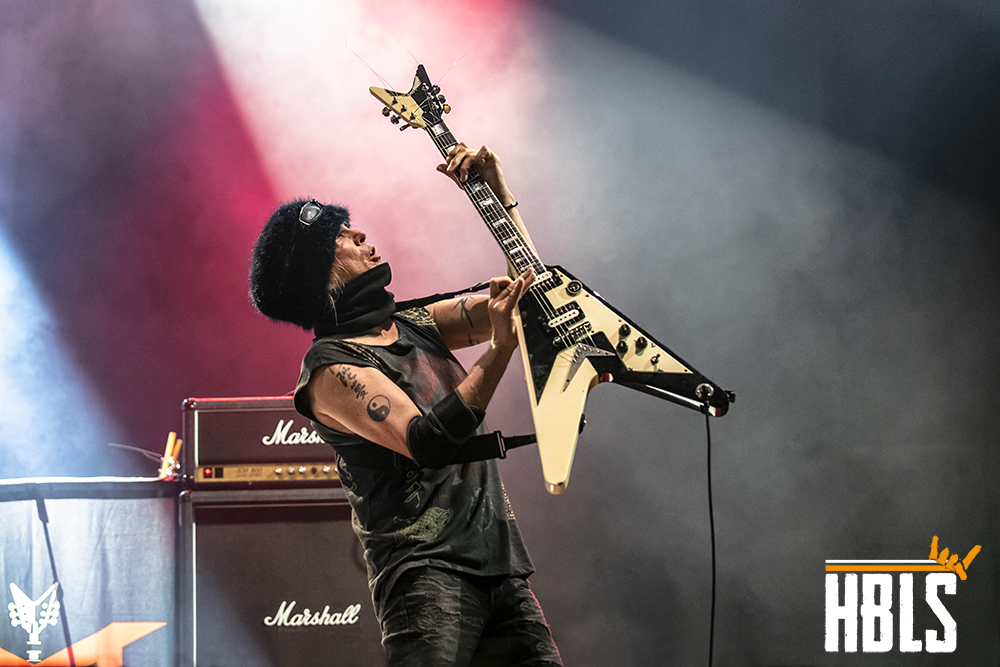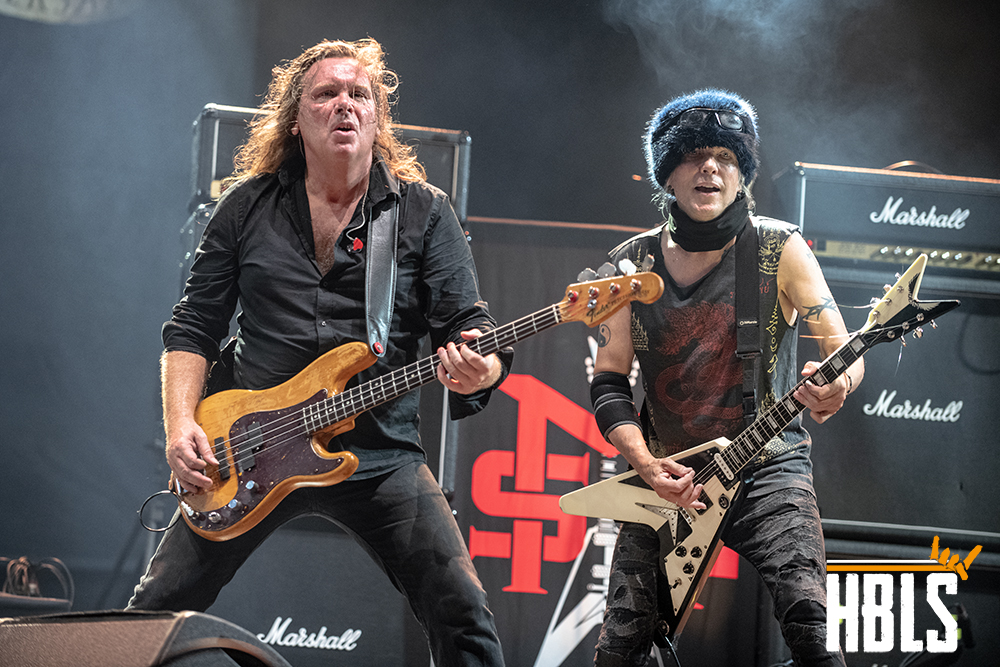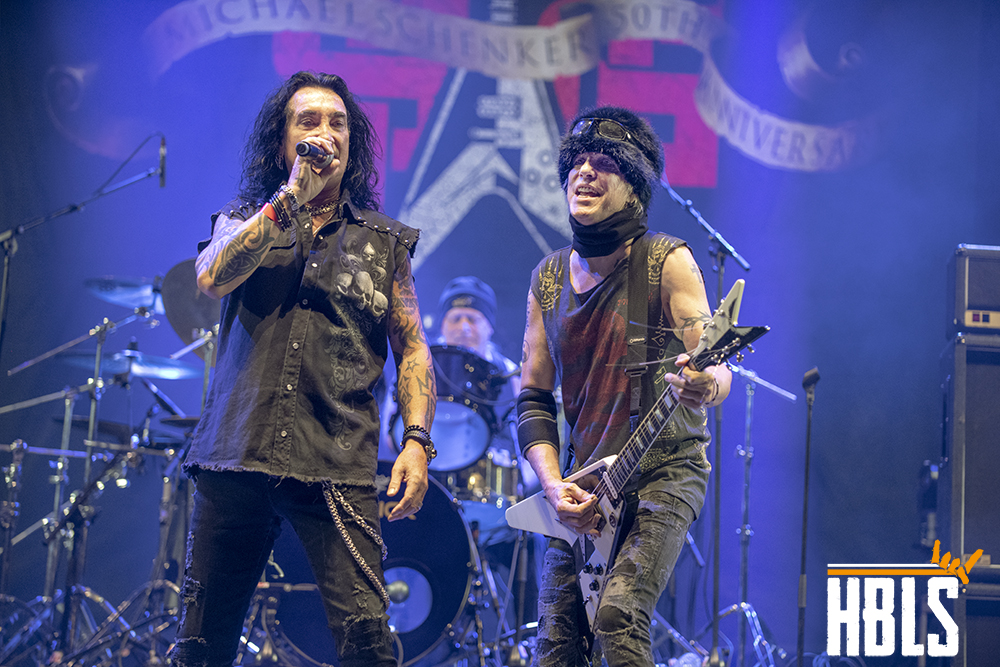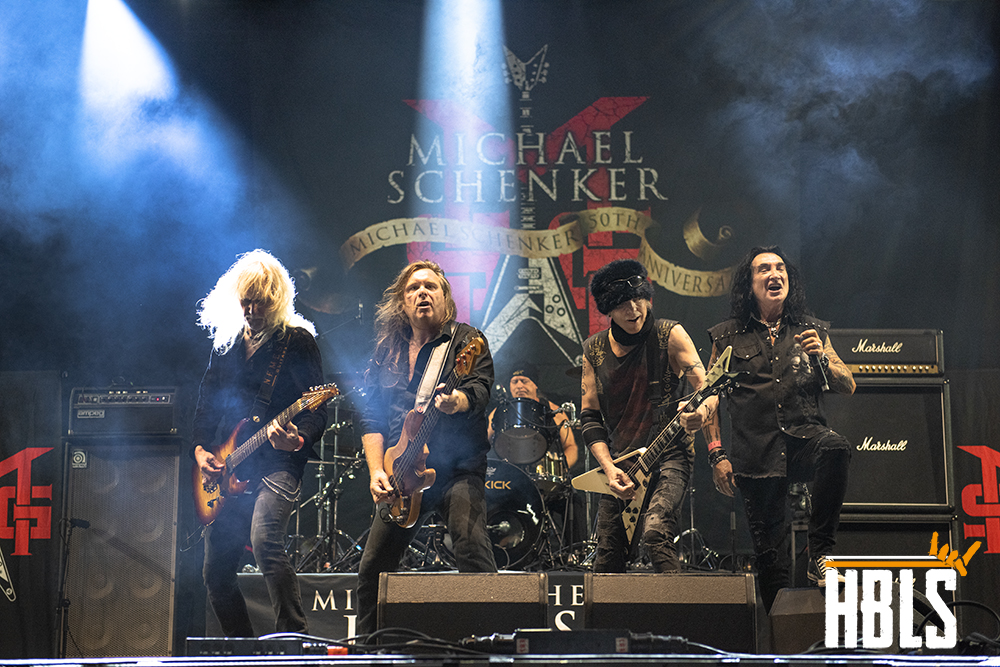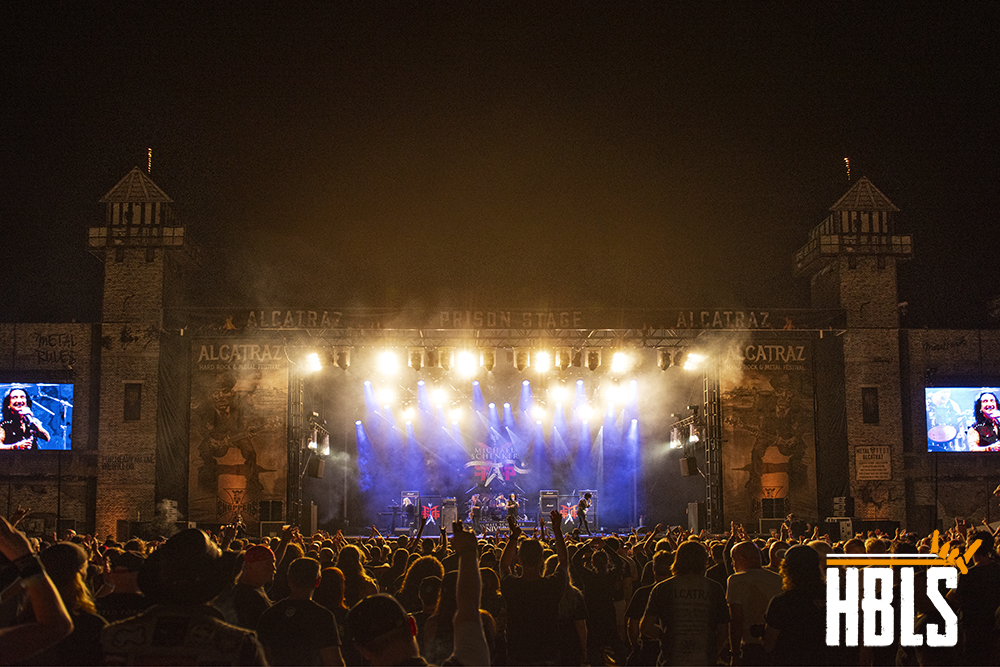 DAY 2 – Saturday, August 12
Hunter opens Morgue at 12.10 CET and prove with their heavy metal, doom influenced music, the Rob Halford screams, a stray grunt and eager stage presence to be a good replacement for Fifth Angel. Polish heavy metal band Crystal Viper [Prison] means real girl power because of singer, bassist Marta Gabriel. Music and performance are the old school way and our metal heart is pumping at full speed again.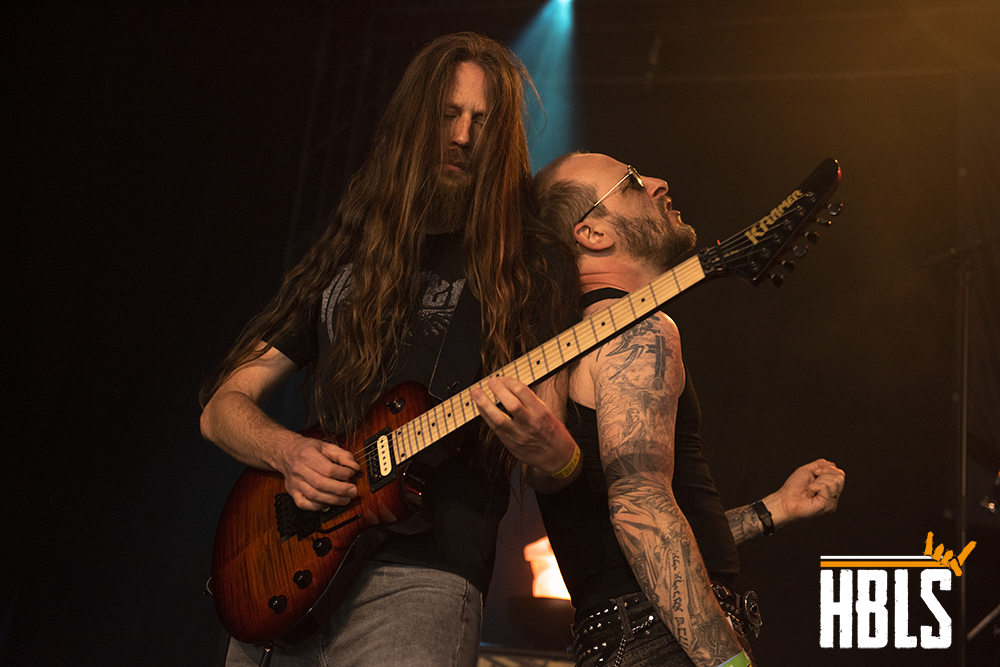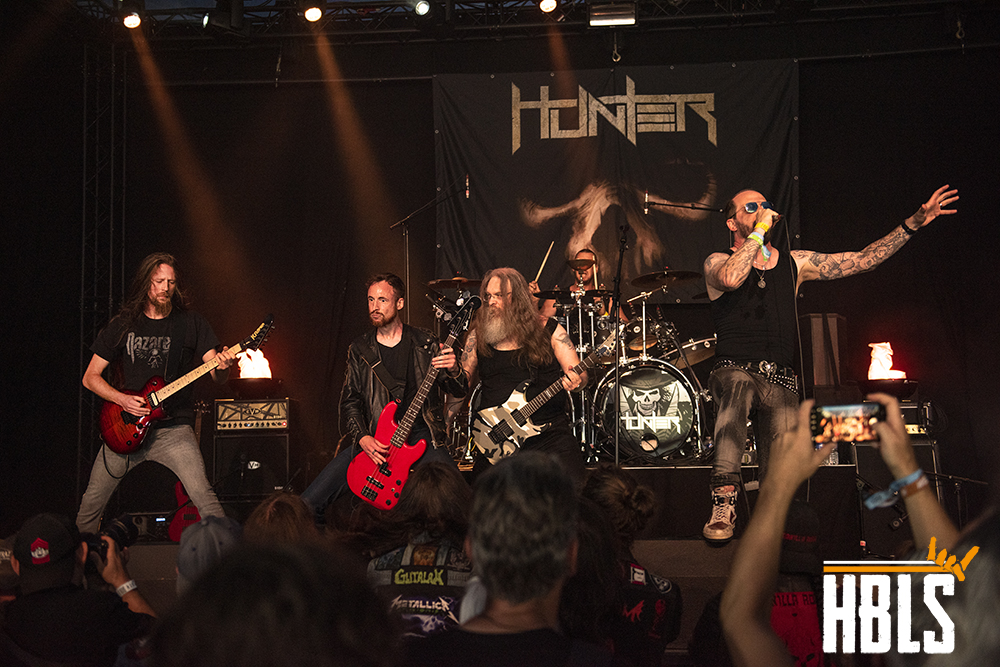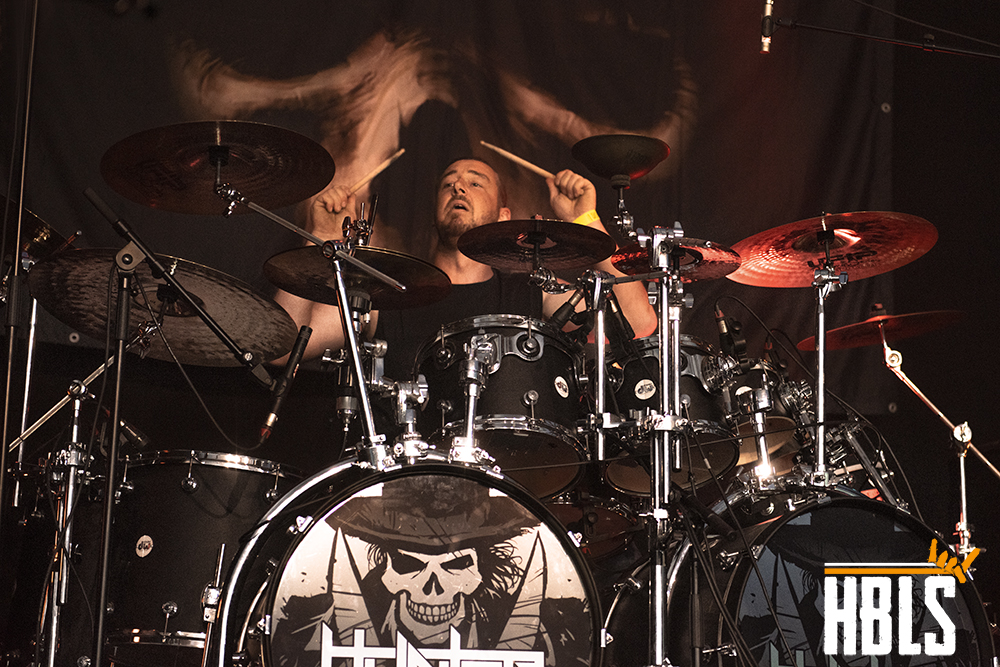 I take a peek in Helldorado were Greek black metal band Yoth Iria [formed by ex-Rotting Christ and Necromantia members] manage to deliver a dark and obscure feeling performance in full daylight. Vocalist Merkaal is the only one with corpse paint and seems to be completely in his own world. Yoth Iria sounds good and intriguing.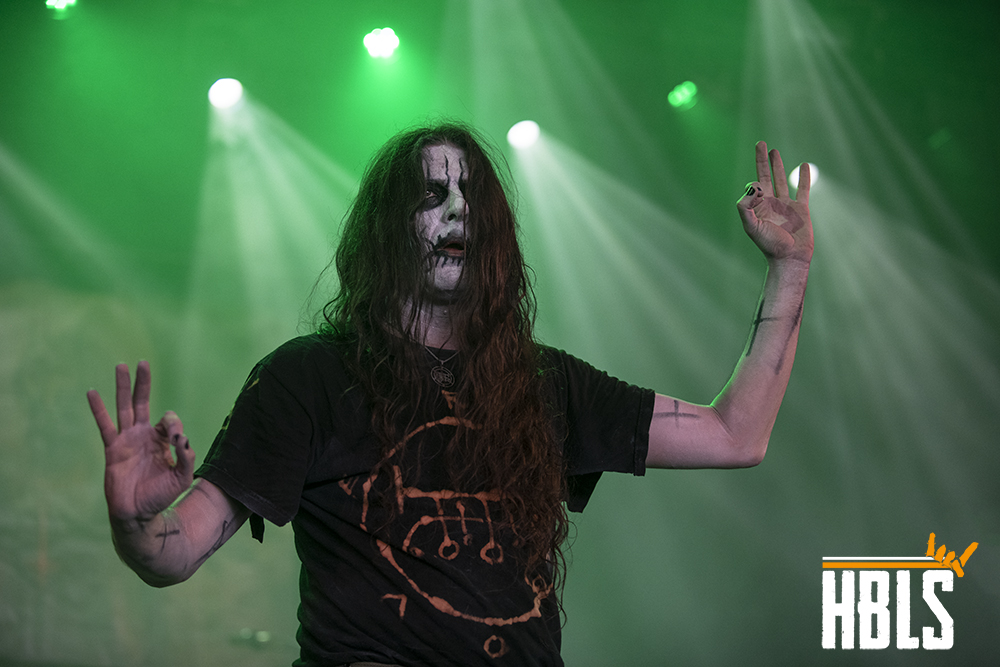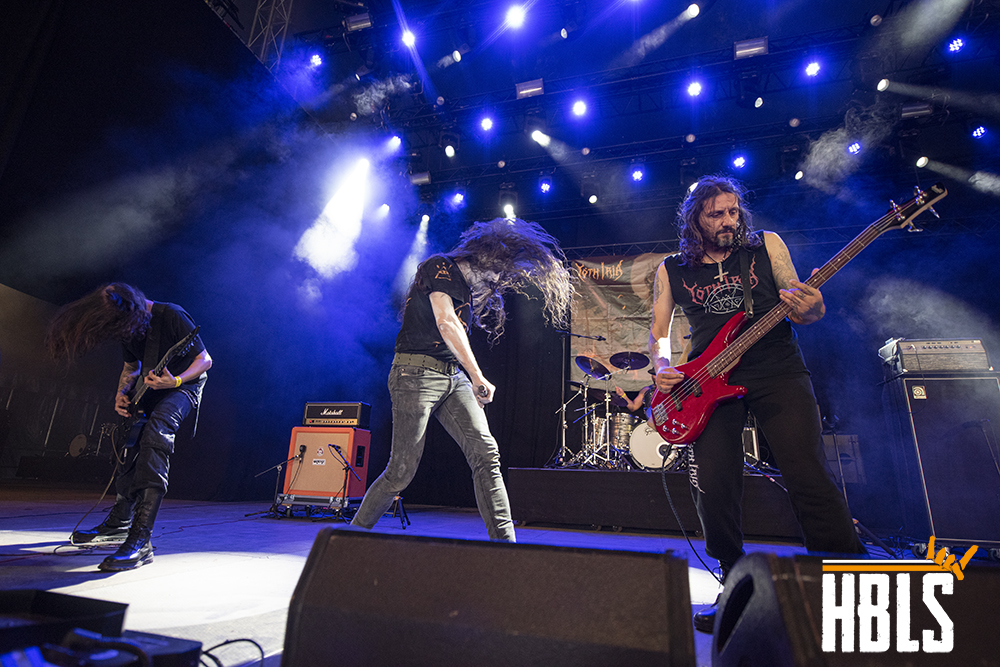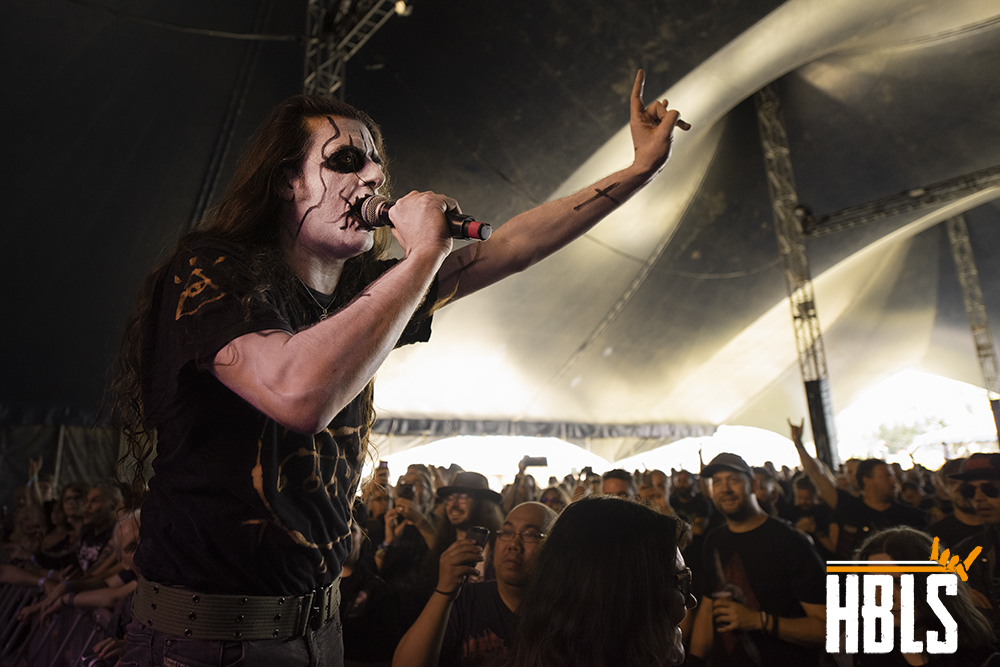 The contrast couldn't be bigger when I dive into the fairytale metal of Swedish LARP fanatics Twilight Force [Prison]. Their symphonic speed metal adventures are enhanced by the bandmembers, wearing capes, or a Warlock costume or even elf ears and the storytelling voice by keyboard player "Blackwald".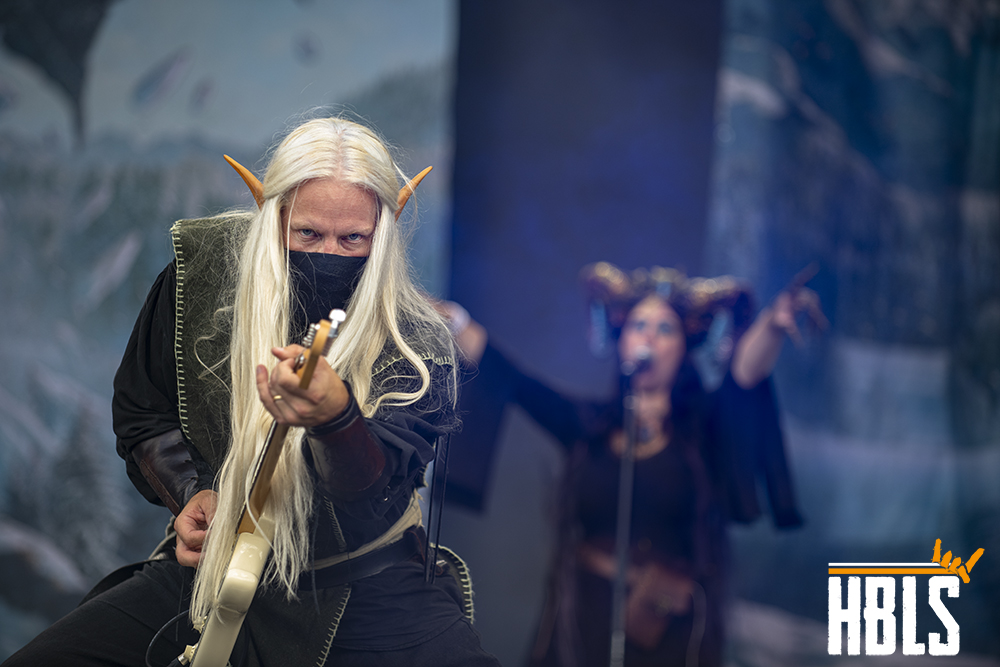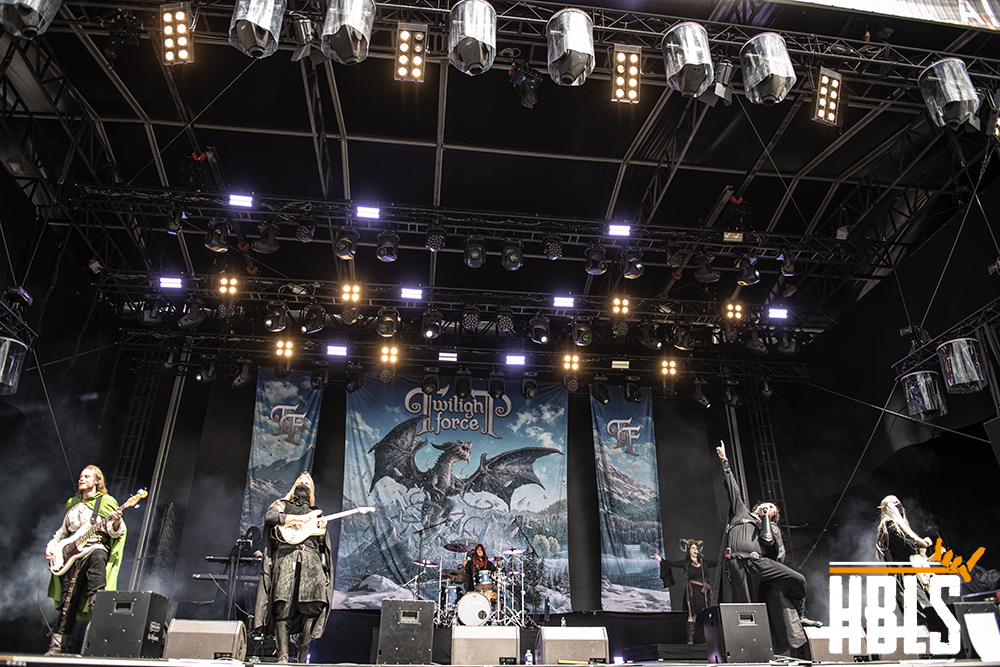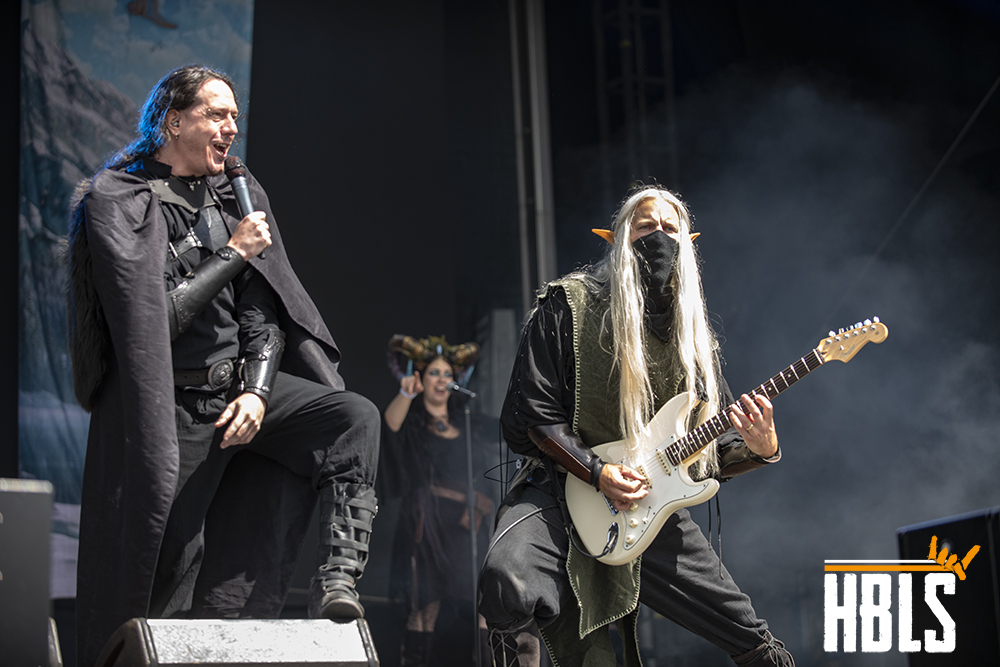 Swedish rock royalty H.E.A.T. [Prison], led by original vocalist and co-founder Kenny Leckremo who is back in the game after Erik Grönwall joined Skid Row, is definitely having the rhythm and fire. They are giving it a 1.000 percent and this is what I want to see from a band this genre. Highly entertaining, great songs and platina stadium quality.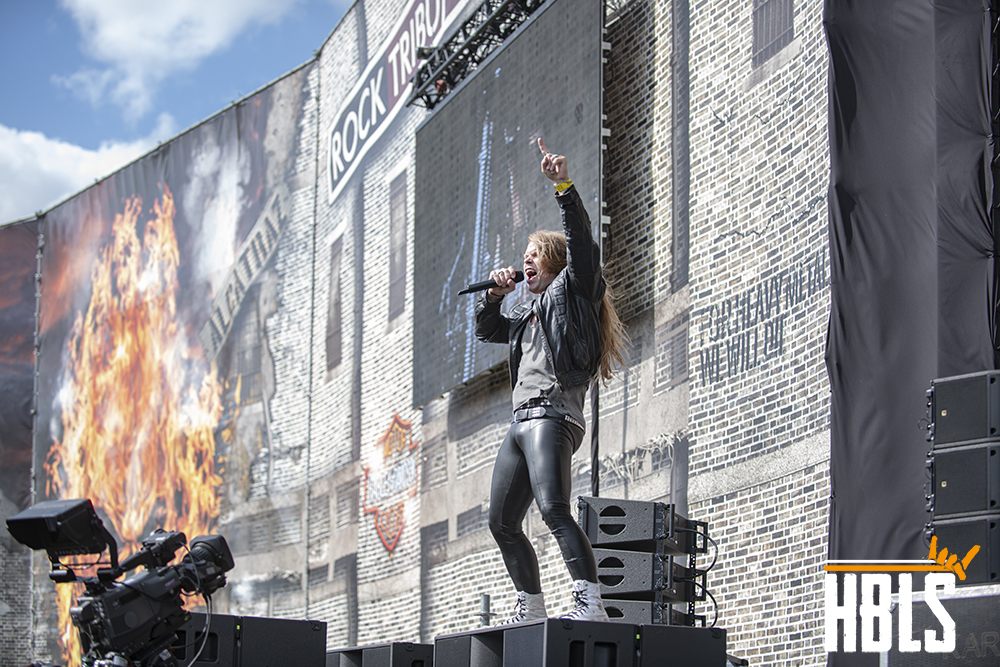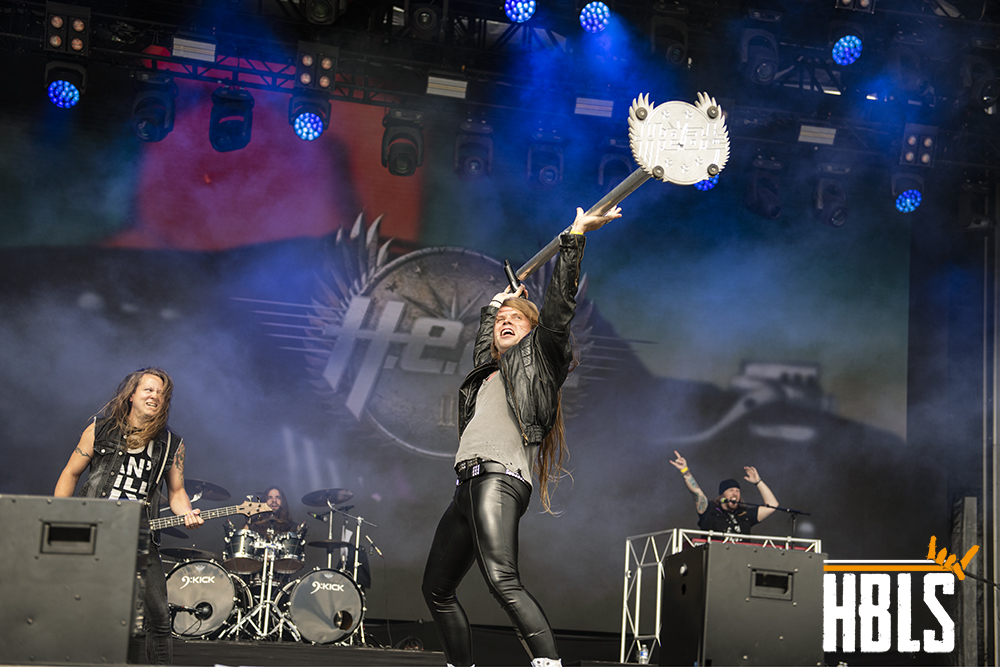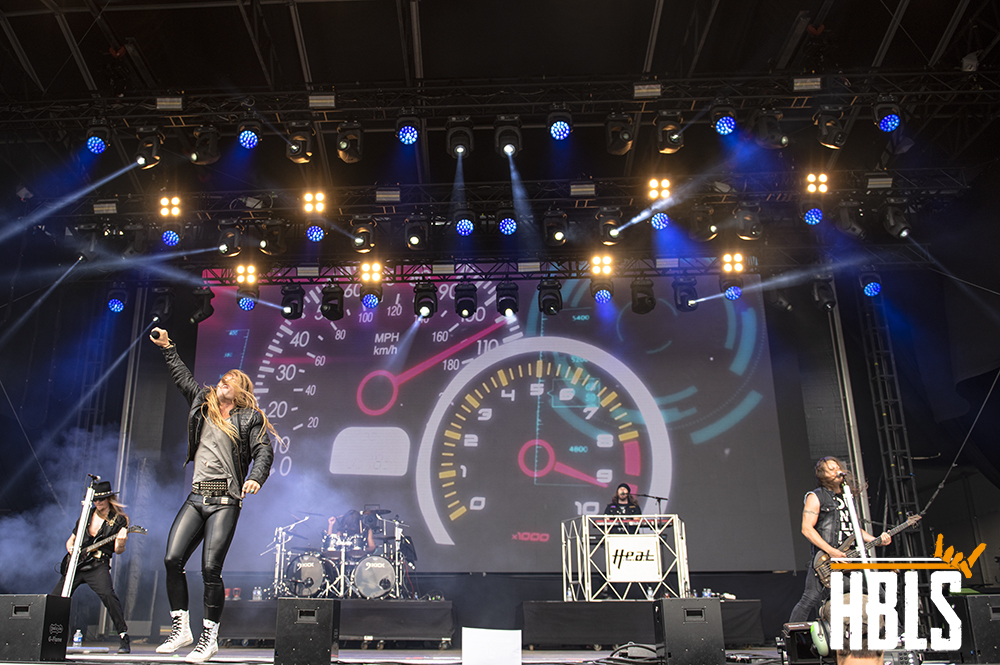 Next year Sepultura [Prison] will celebrate its 40-year Anniversary and today they show why they are still around and successful. The performance is raw, brutal, loud and in-your-face, but with a great groove and sympathy. Right after Decapitated [Swamp] slaughters the audience with brutal yet grim, tight sounding death metal.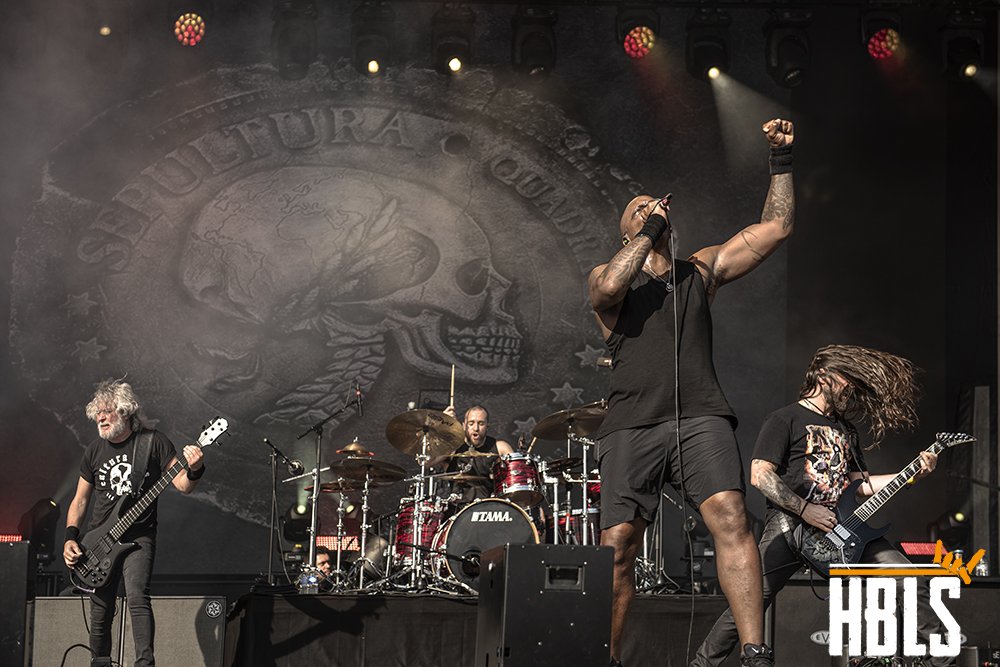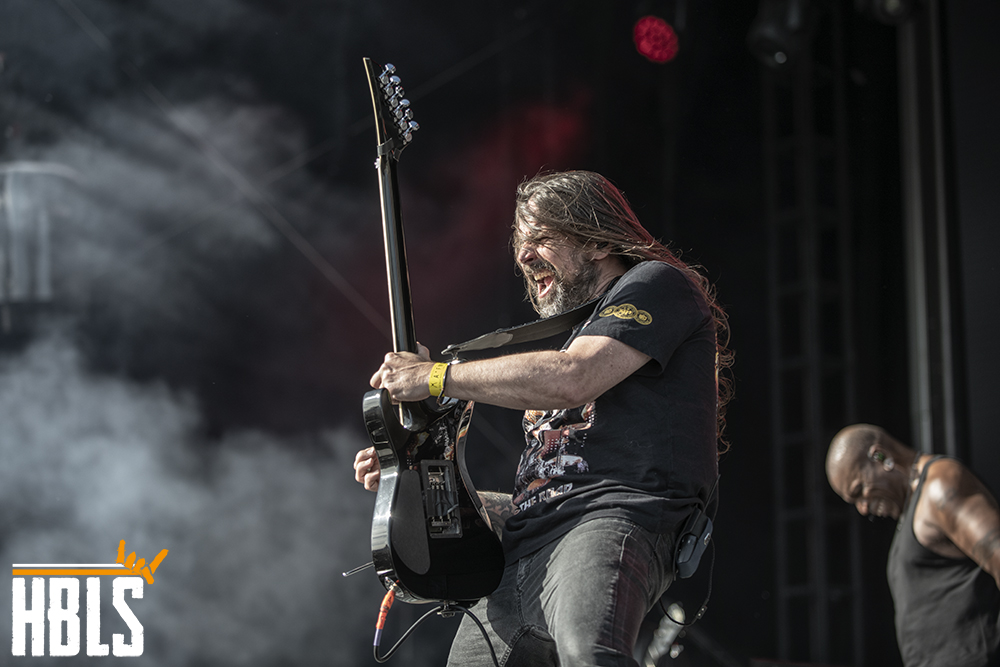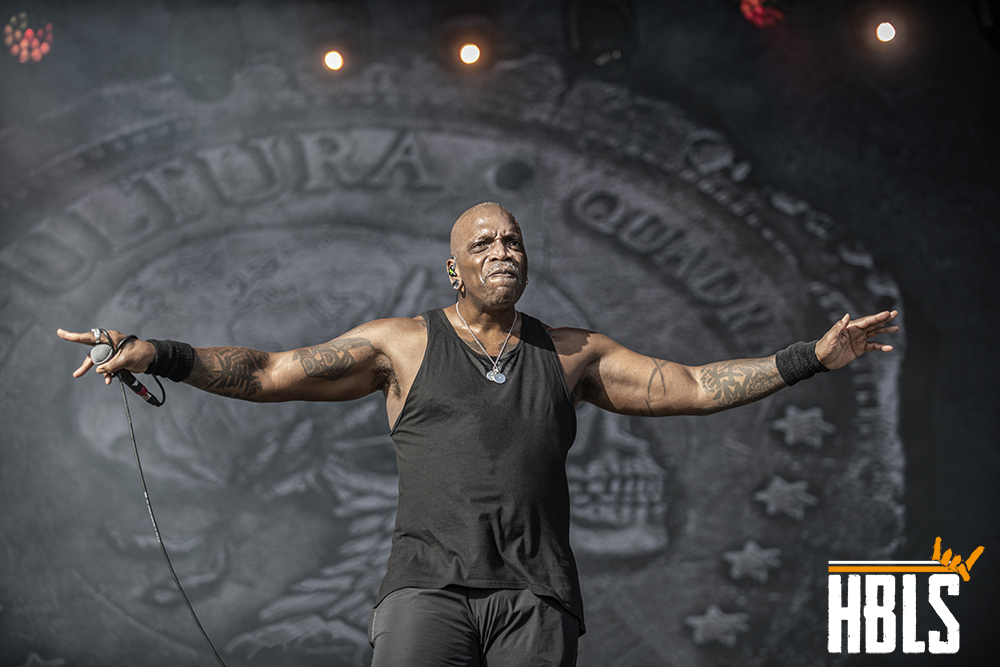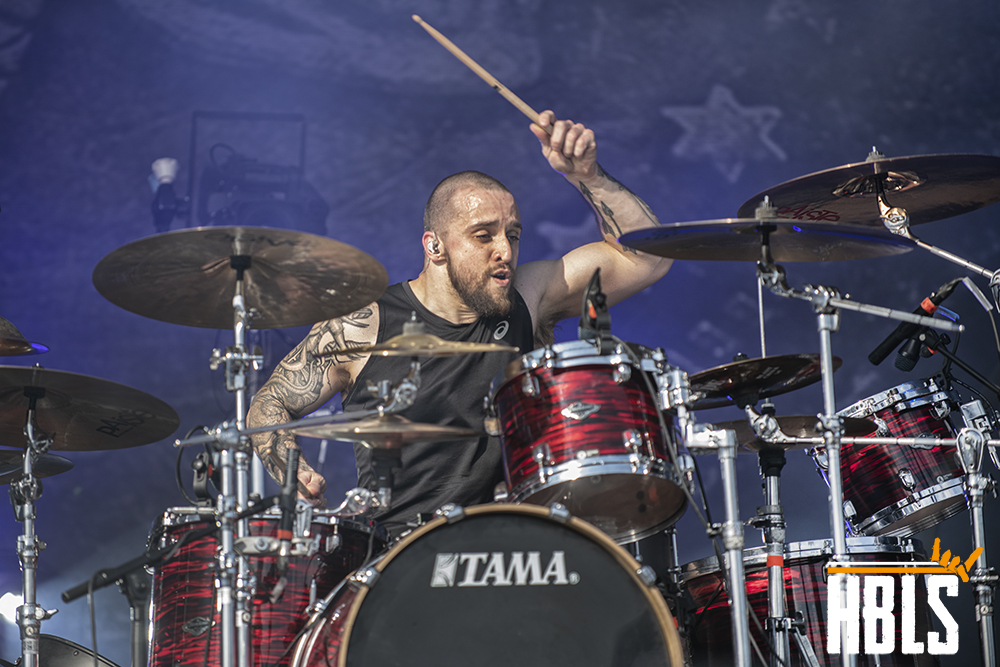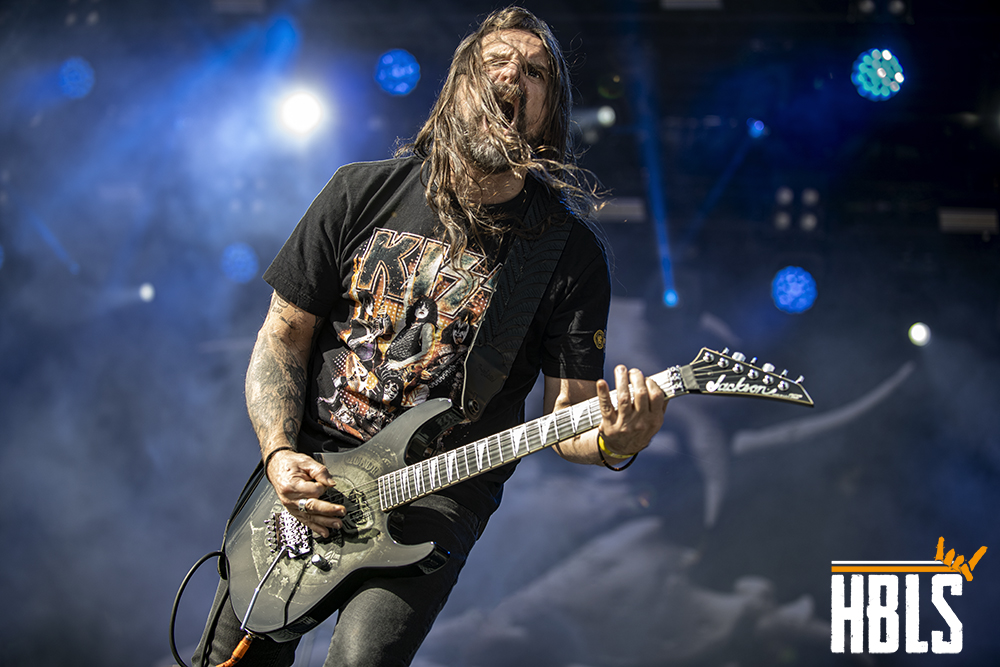 One of my old-time favorite bands Vicious Rumors [Morgue] performs unexpected with former singer Brian Allen because singer Ronny Munroe had to cancel last minute [and eventually quit] of medical reasons. Brian literally saves the day and sings the power metal classics like ,,Digital Dictator'', ,,Soldiers Of The Night'' and ,,Ride (Into the Sun)'' with the greatest passion. The band is all fired up, the audience accelerates and guitarist/band boss Geoff Thorpe looks relieved and more than happy with today's result.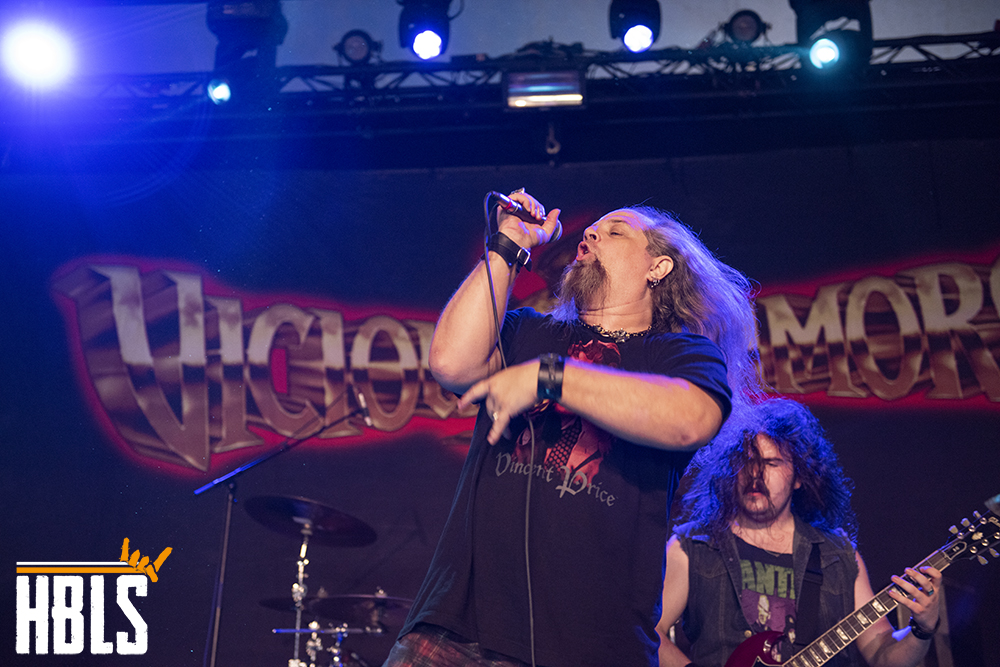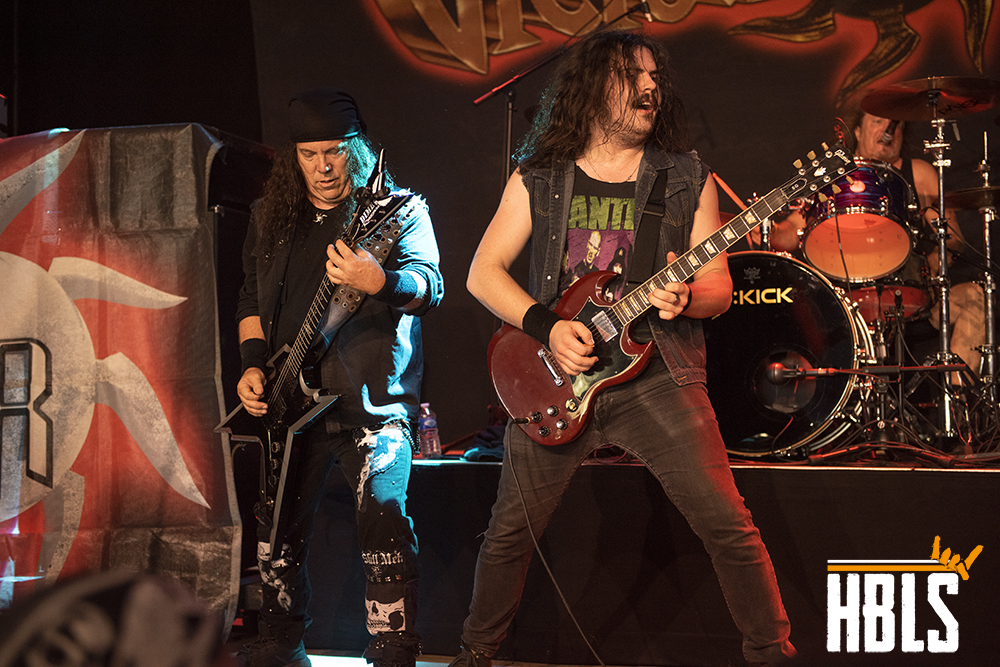 Biohazard from Brooklyn, NY has reunited in the original line-up for 16 shows and we are lucky Alcatraz OA is included [Prison]. The audience massively goes wild, as does the band and especially guitarist Billy Graziadei who jumps on the speaker towers and find his way into the audience. The boundless energy results in circle pits and crowd surfing. Definitely a successful reunion.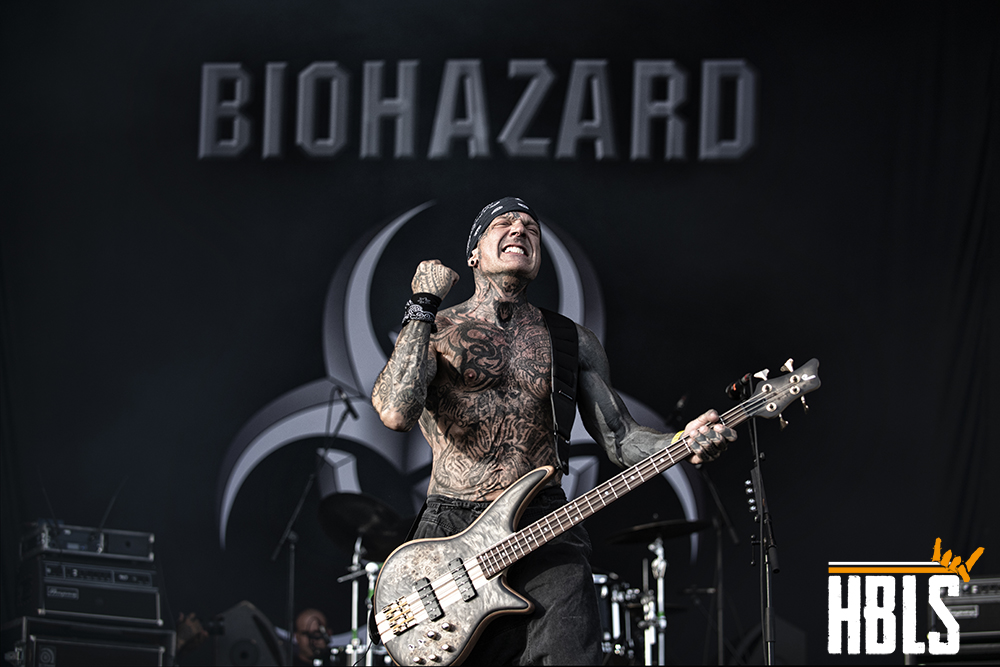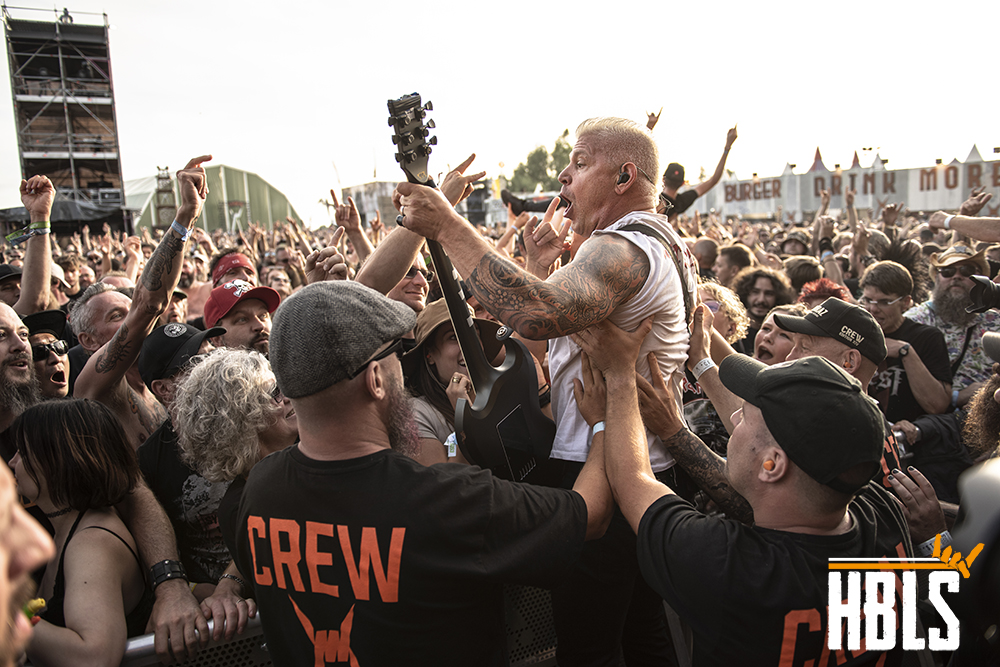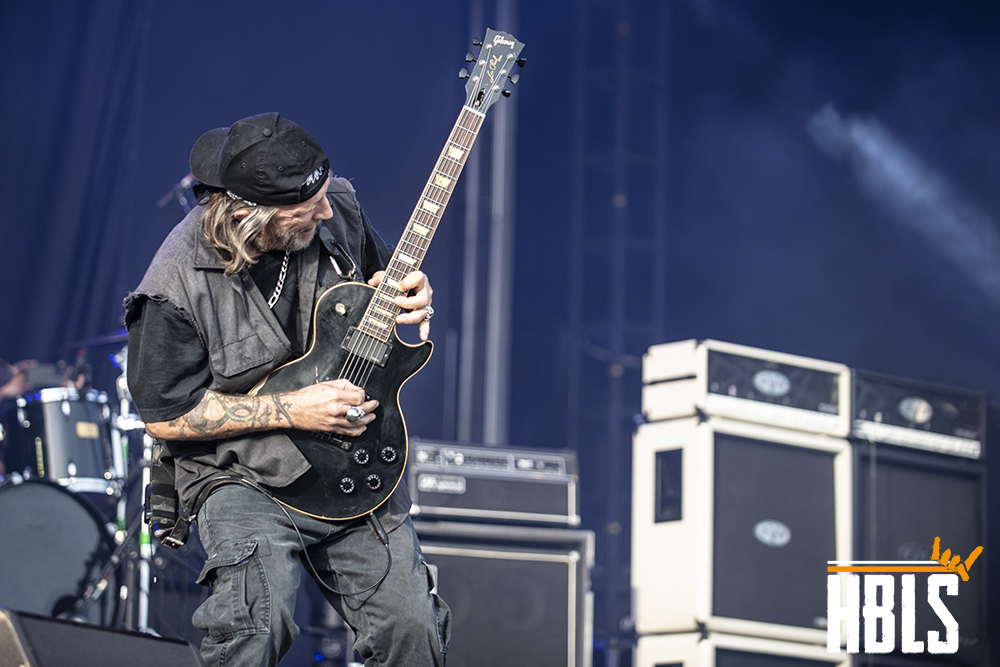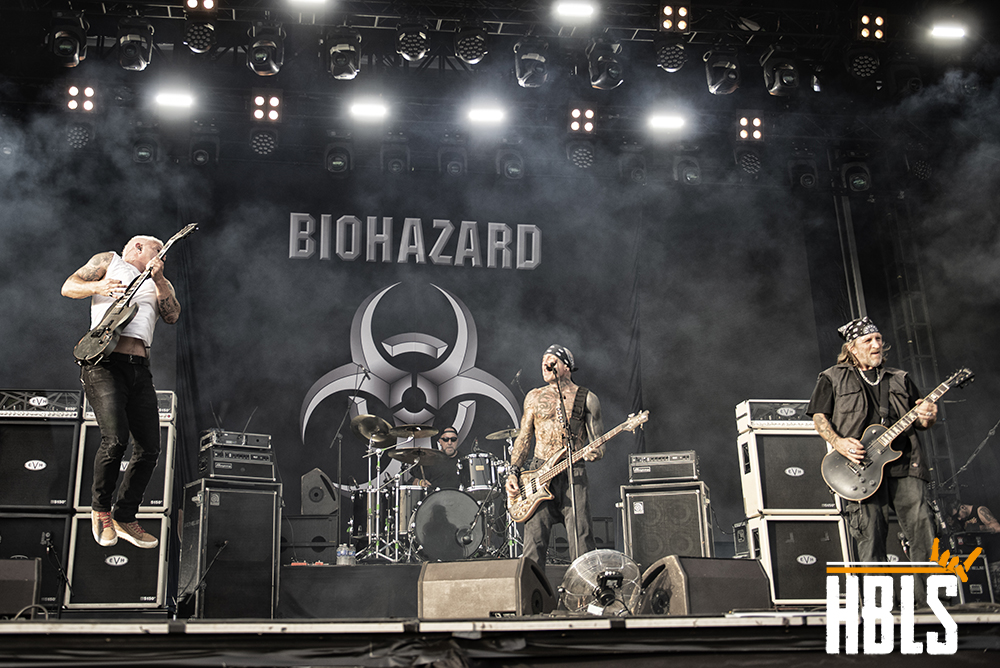 Angry guy Wattie Buchan [66 years old!] is the king of punk and with his The Exploited [Helldorado] he shows what old school "beton punk" really means. The quality isn't great but that's not what punk is about and the audience loves it.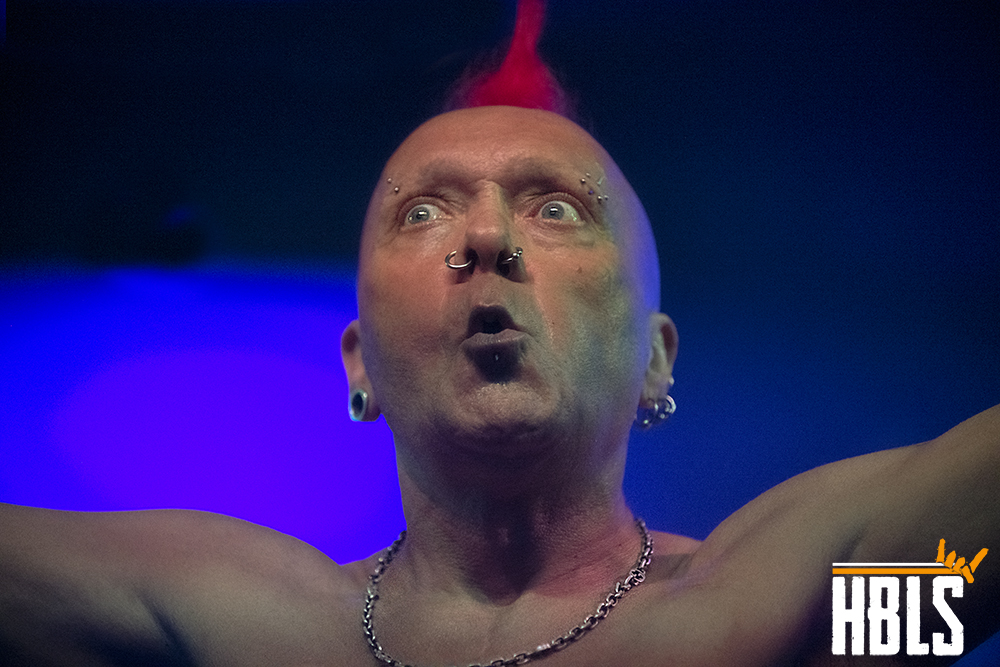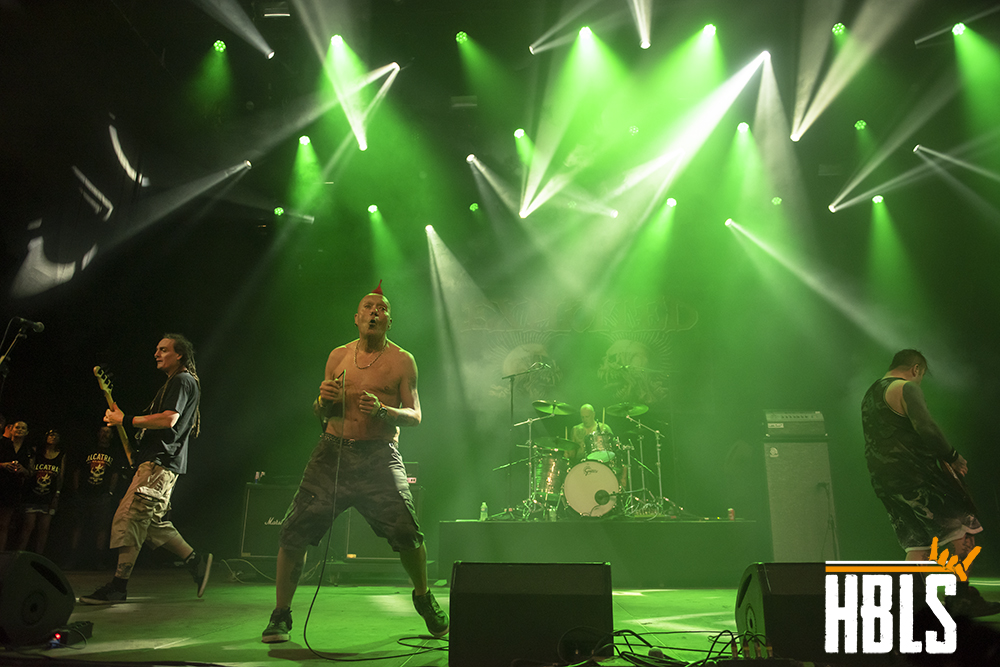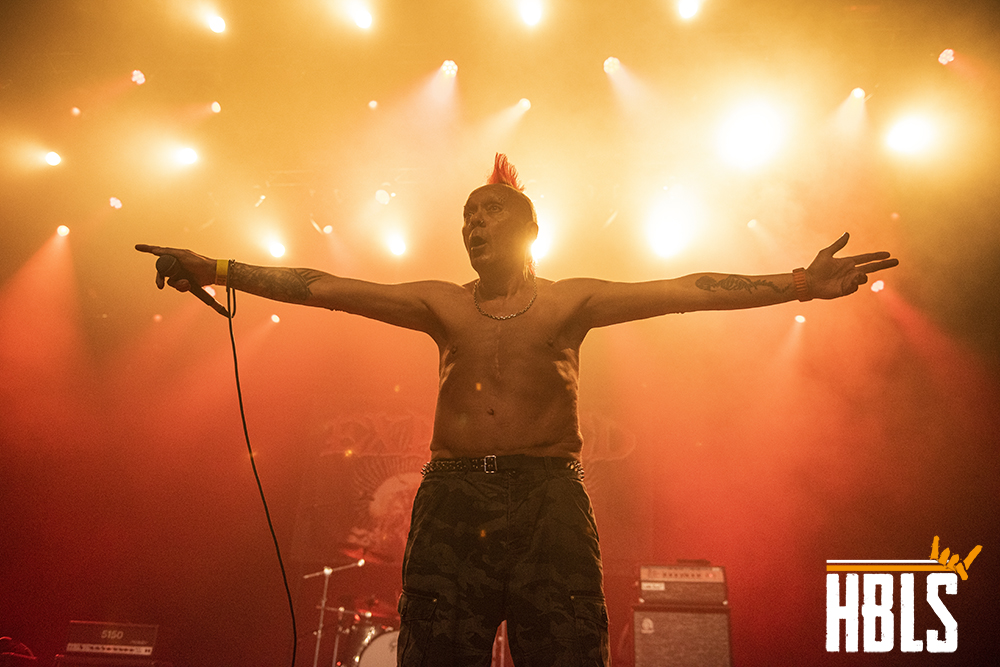 It's a guaranteed massive party during Alestorm [Prison] and it takes these Scottish metal pirates absolutely no effort at all. You have to drink a lot of beer to go with that flow.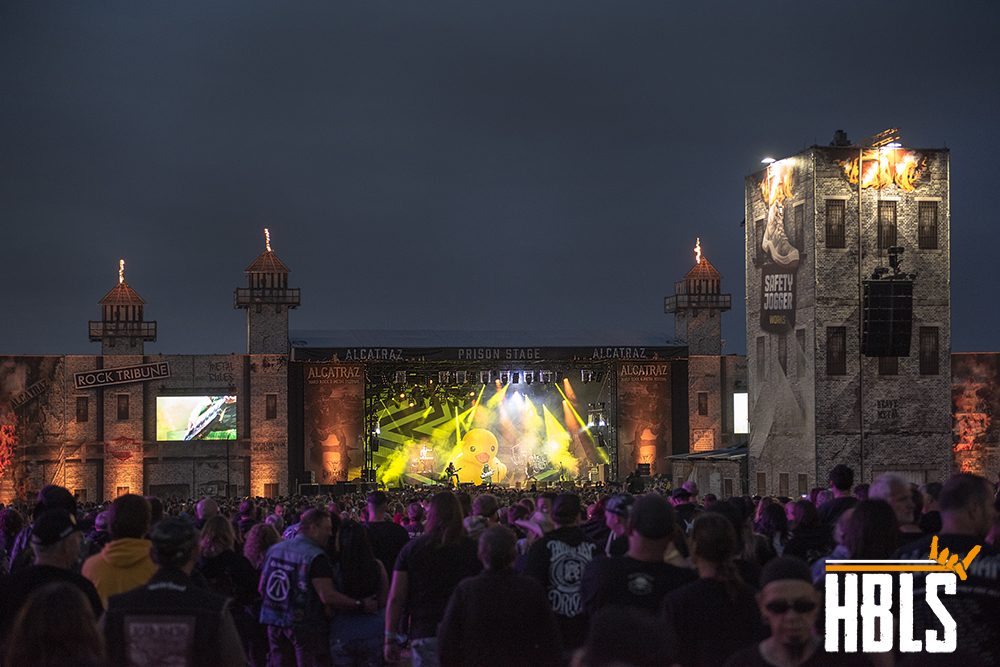 It is actually Riot V [Morgue] singer Todd Michael Hall who really blows me away. Wow, this guy sings so clean, high and effortless, it is almost unreal. I still cherish my LP's `Narita' [1979] and `Fire Down Under' [1981] by the original formation Riot and this gig reminds me of how unique they were.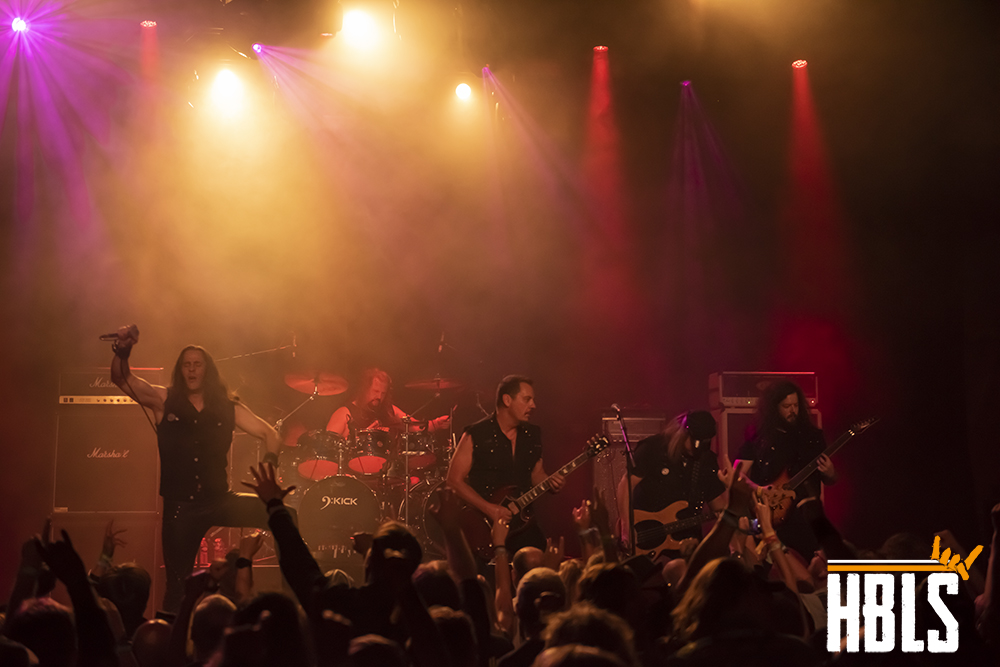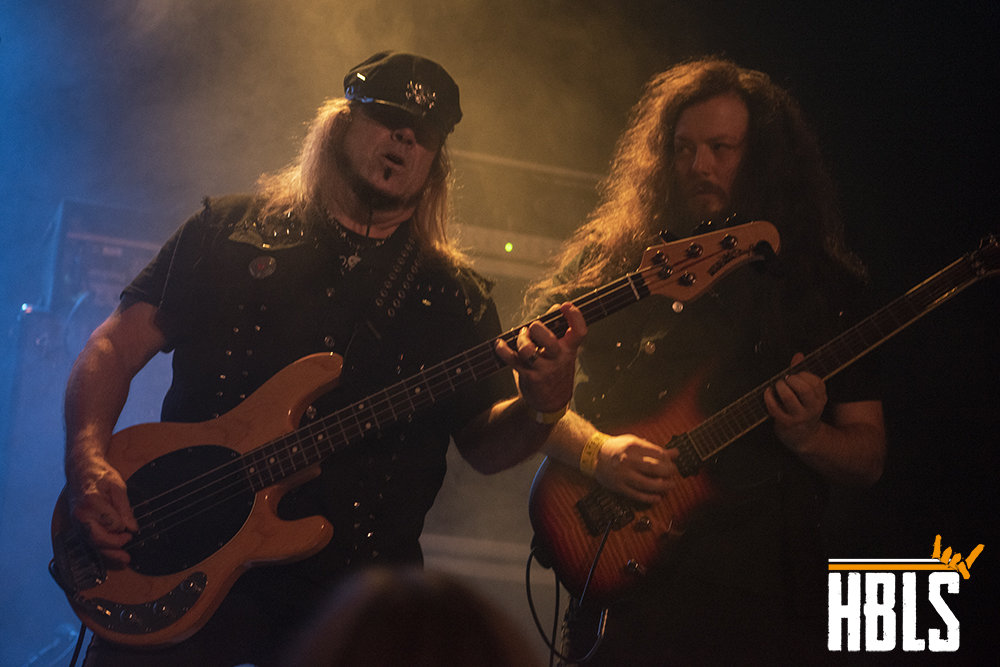 KK's Priest ends a successful day as the headliner [Prison]. The razor-sharp metal pierces the speaker boxes. Former Judas Priest guitarist KK Downing and former Judas Priest vocalist Tim `Ripper' Owens playing old school heavy metal on their own terms and with success. The debut `Sermons Of The Sinners' [2021] isn't the center of the show but great Judas Priest classics like ,,The Ripper'', ,,Beyond The Realms of Death'', ,,Breaking The Law'' and ,,Victim of Changes'' are. With KK's Priest it is the closest we can get to the great sound of New Wave Of British Heavy Metal that ruled the 80s.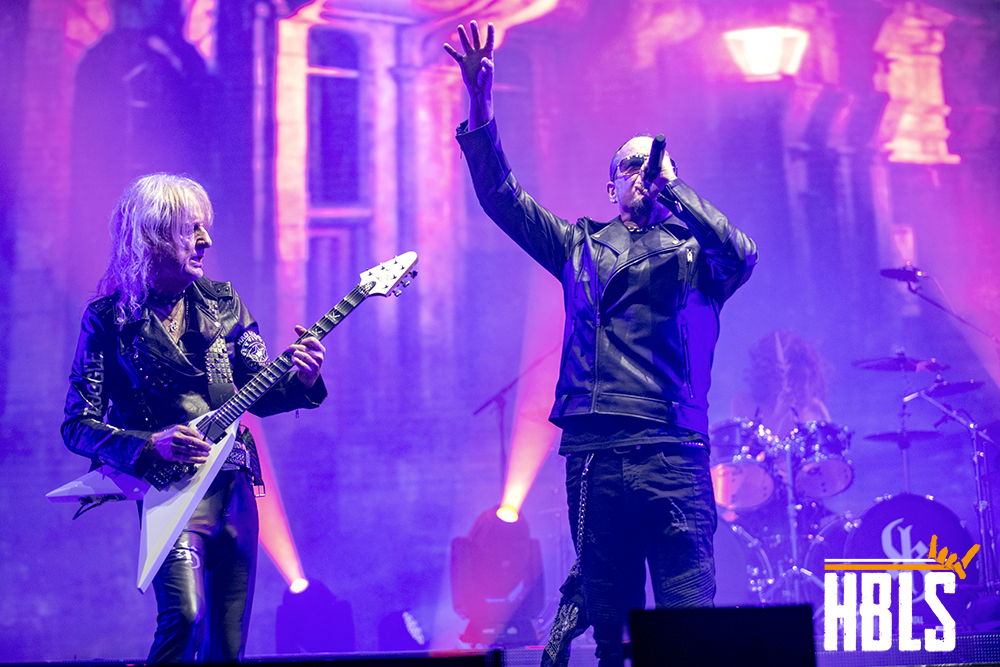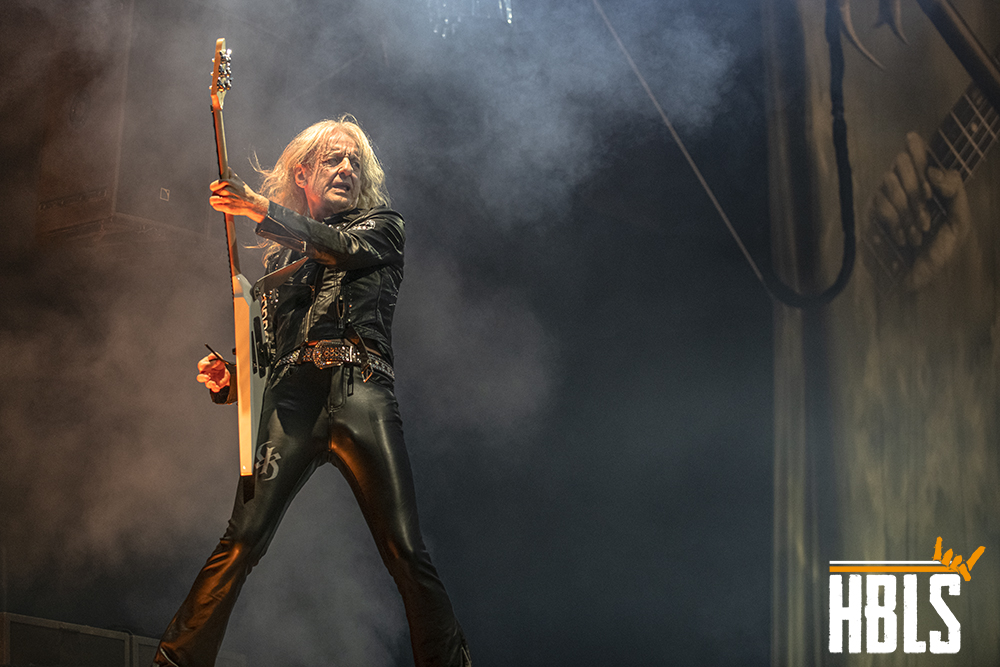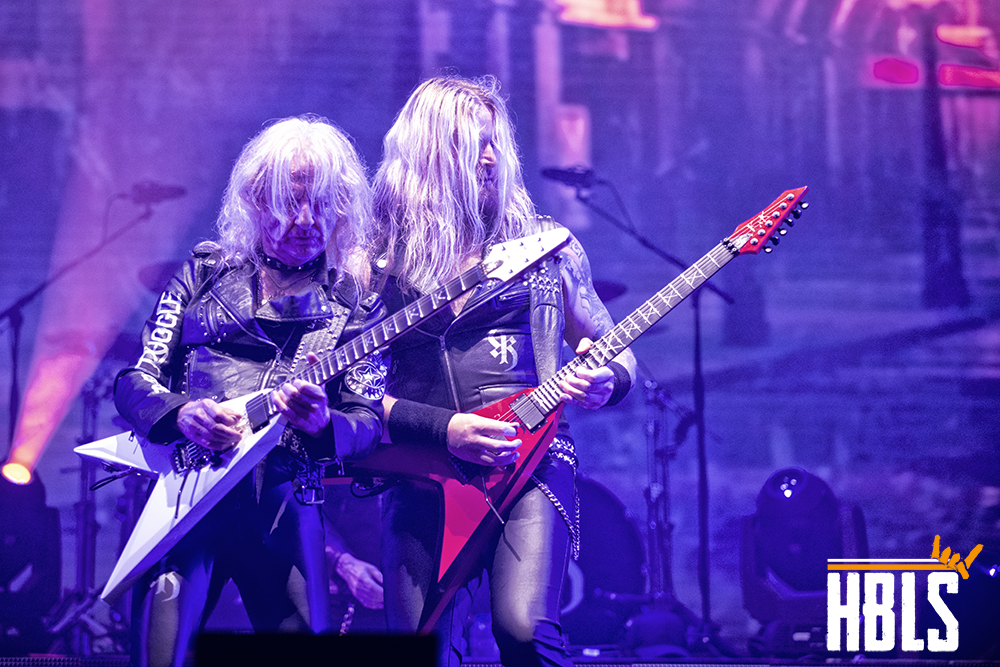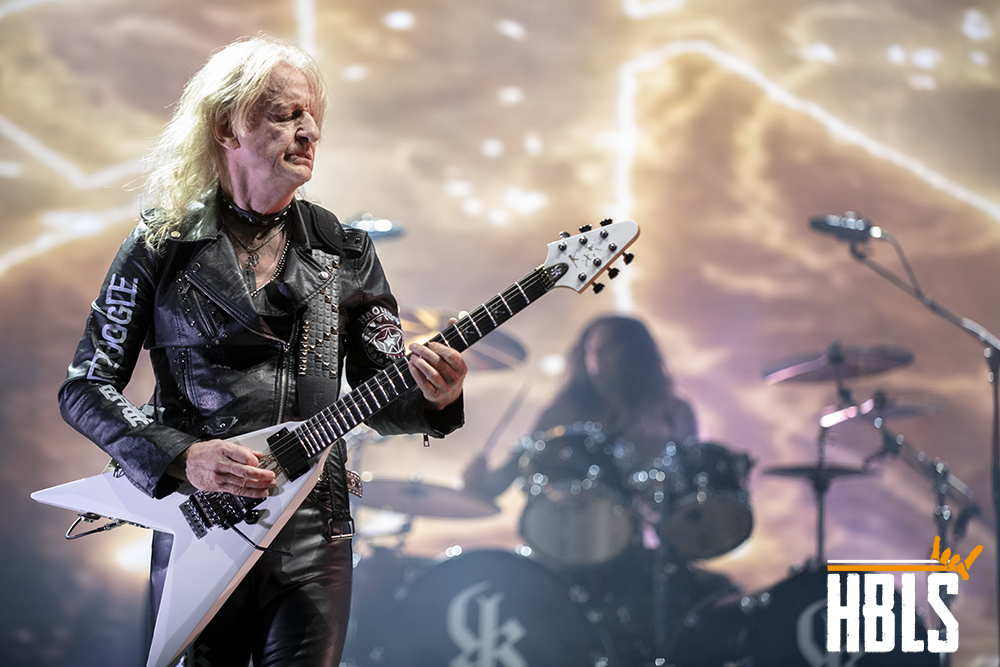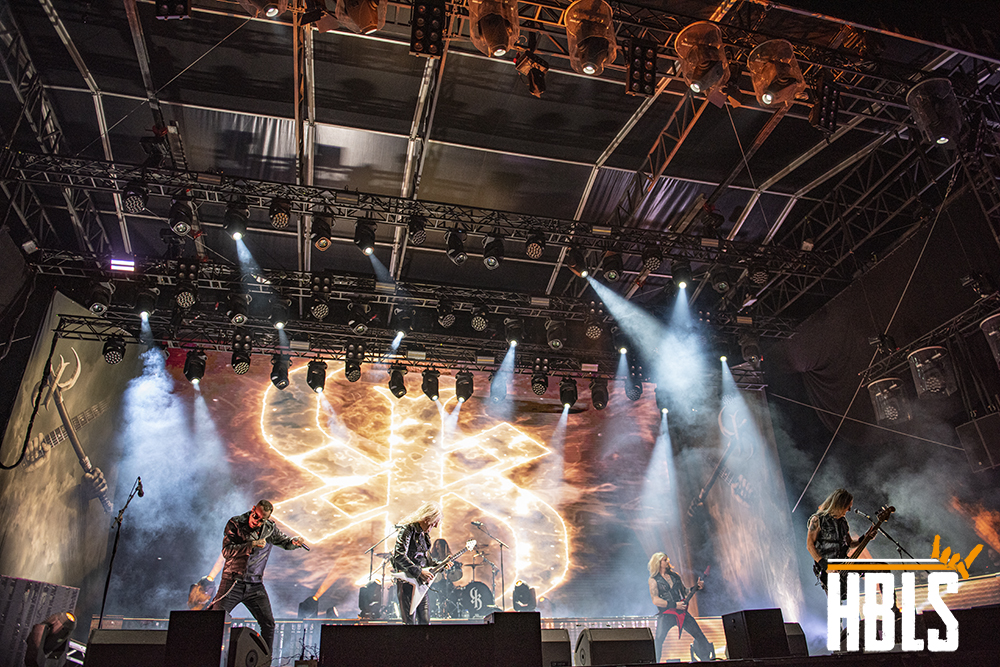 A funny coincidence is that Canadian speed metal band Exciter, who named themselves after a Judas Priest song, plays parallel to KK's Priest in the Morgue. Since I have played their LP's `Heavy Metal Maniac' [1983] and `Violence & Force' [1984] nonstop back in the day, I definitely don't want to miss a few songs. It doesn't all sound flawless though but it doesn't matter. It is full house and definitely a madhouse in there. Old school stagediving, circle pits, the audience is tearing down the house, a great atmosphere prevails and the band is encouraged by it.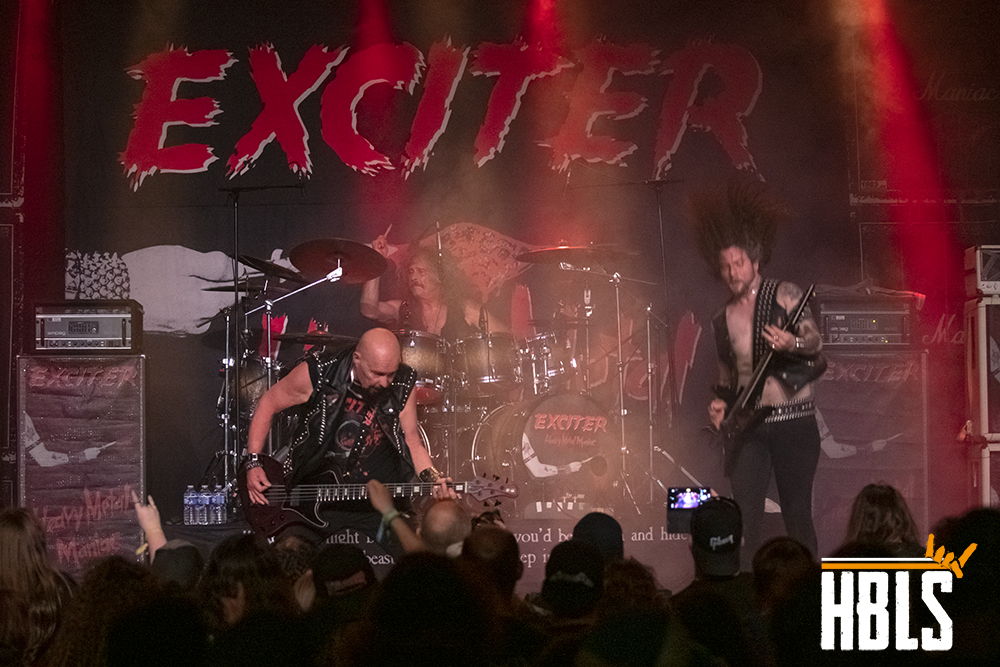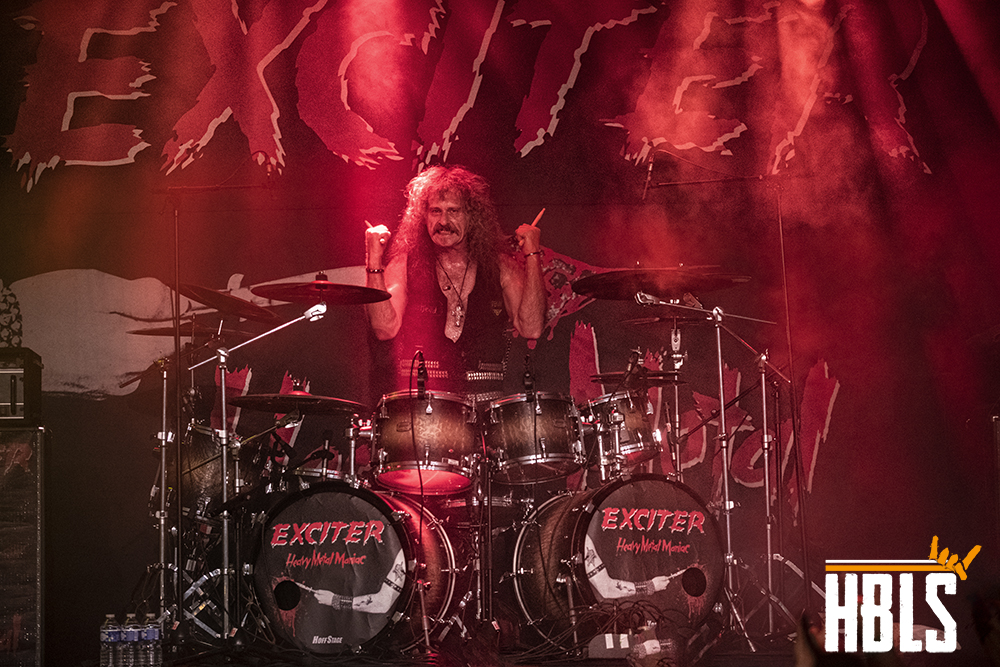 DAY 3 – Sunday, August 13
Today is the last day and with the largest audience. The youngsters Annisokay opens the Prison Stage and represent the modern metal generation. A nice hybrid of heavy loaded metal, melody, harsh vocals and loops.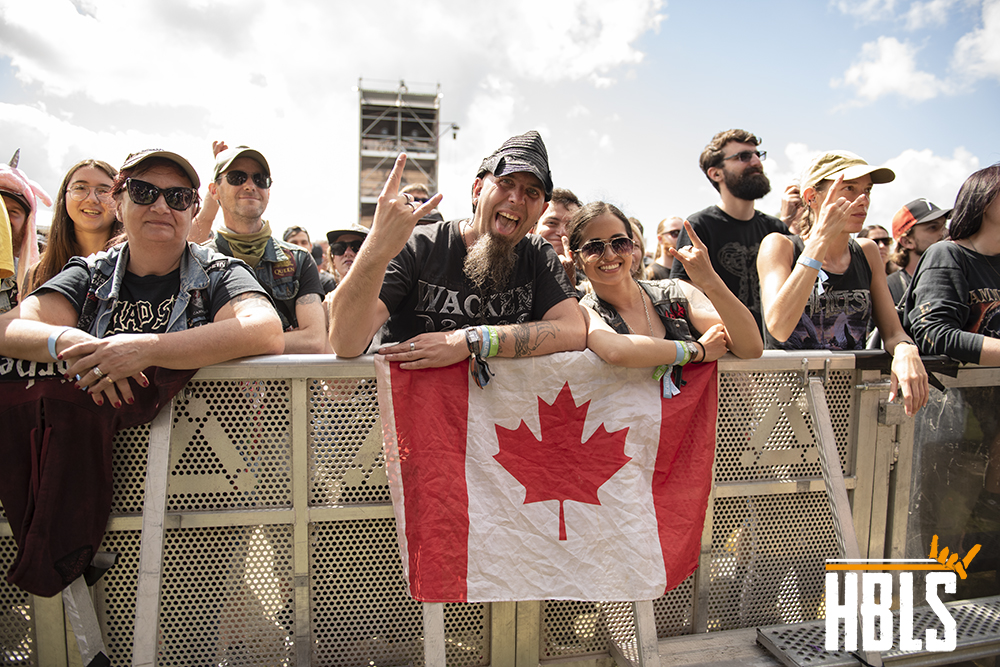 Right after Serpents Oath [Swamp] opens the gates to Hell and it is only fair that this well playing Belgium black metal collective is present. They sound loud, dark and powerful and the stage props and rituals match without a doubt.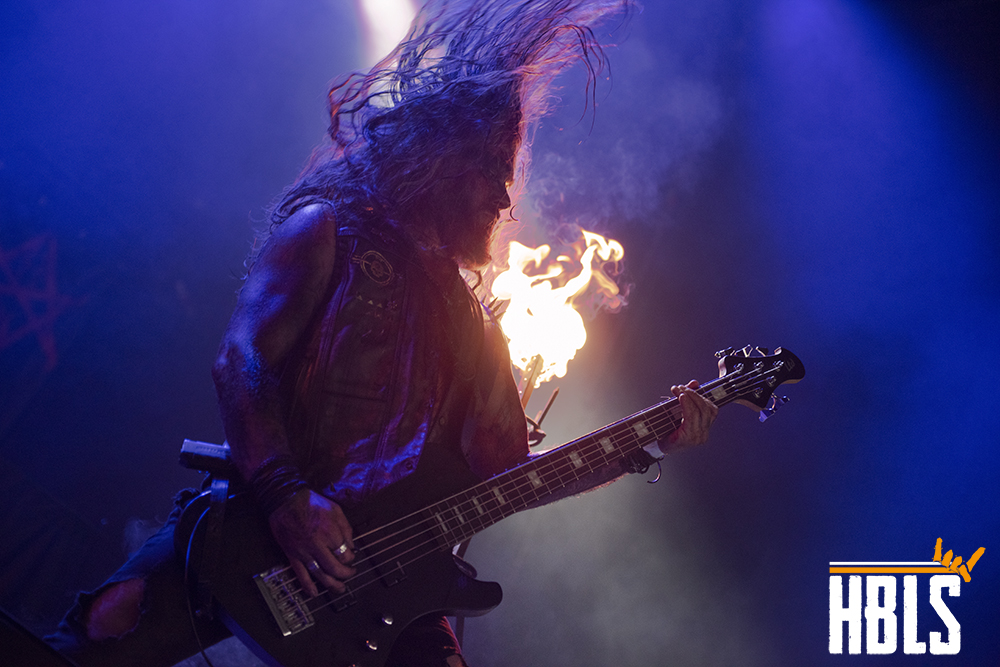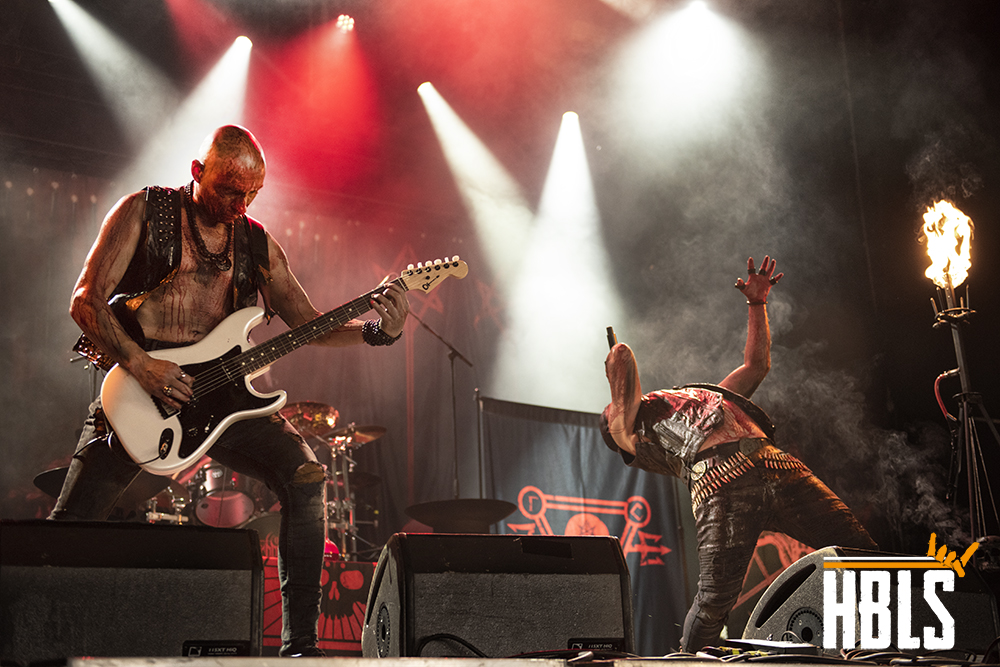 Grave Digger [Prison] belongs to the old gang of German heavy metal bands. But it is too decent and boring in my ears. An absolute highlight today is the Belgium band Mantah [Morgue]. They attract a huge crowd and it is impossible not to move and dance on their 90s nu metal inspired songs. What a vibe, what a performance, what a sound! As far as I'm concerned next year the main stage.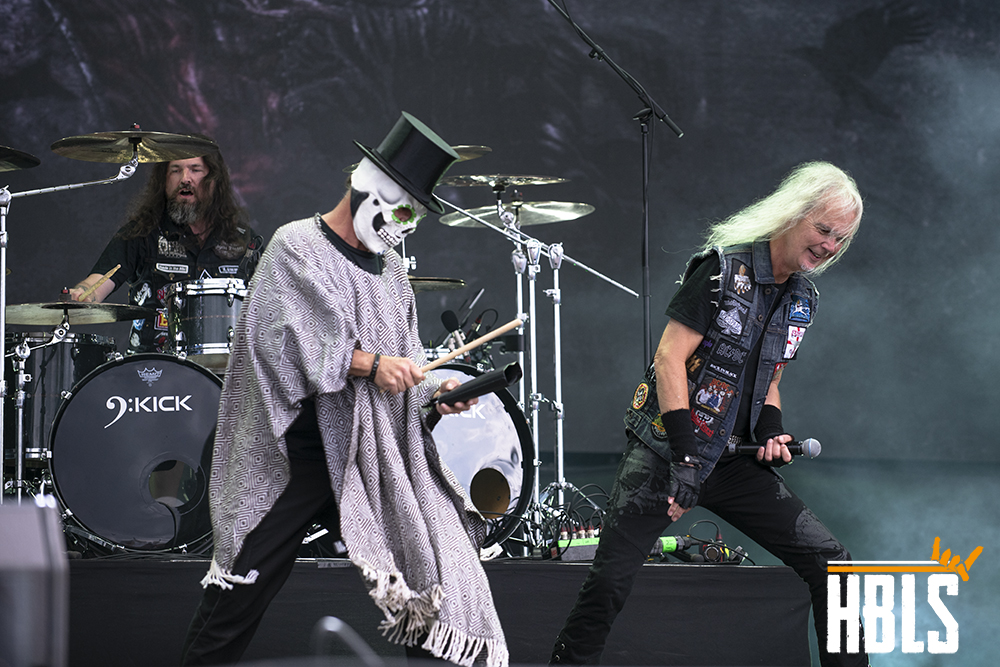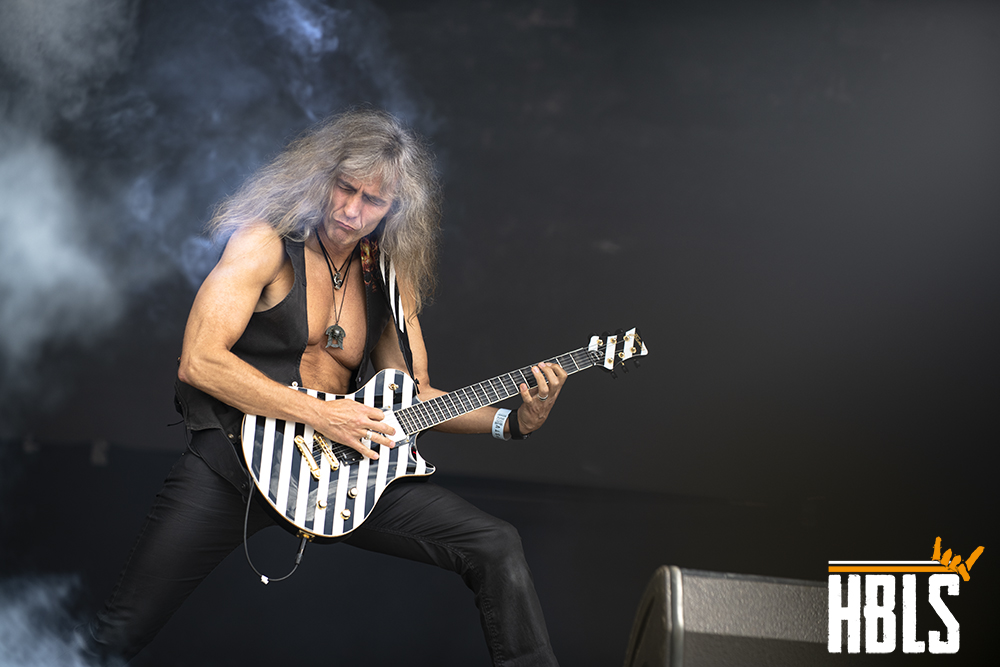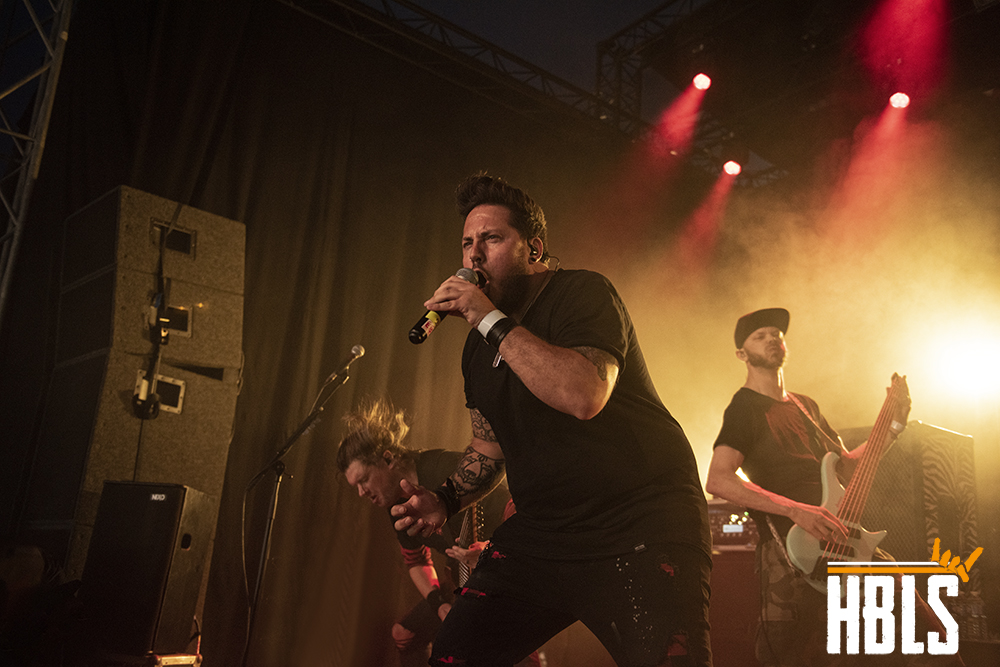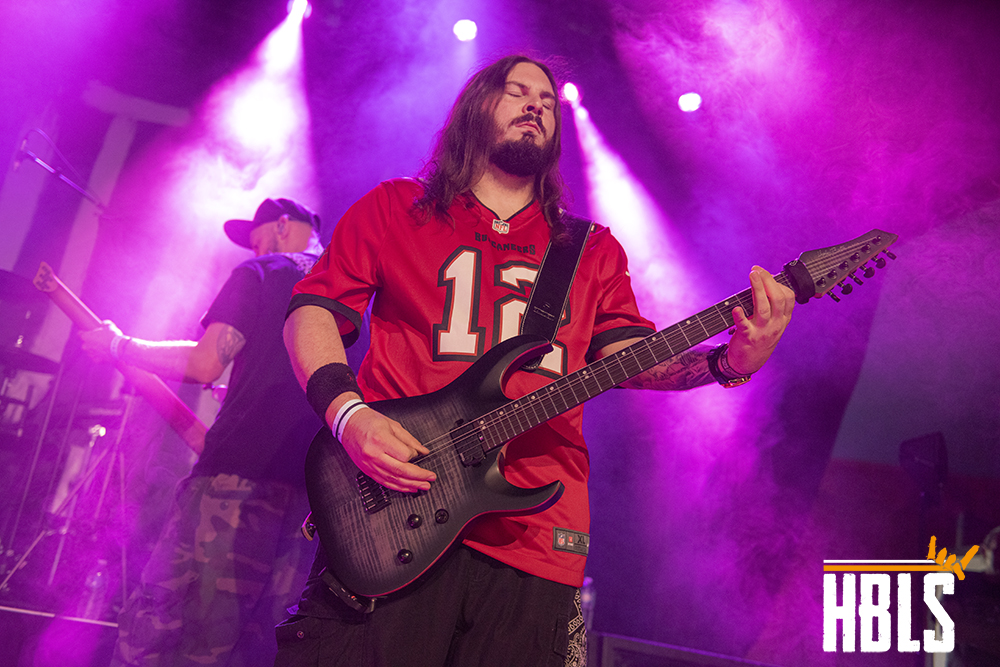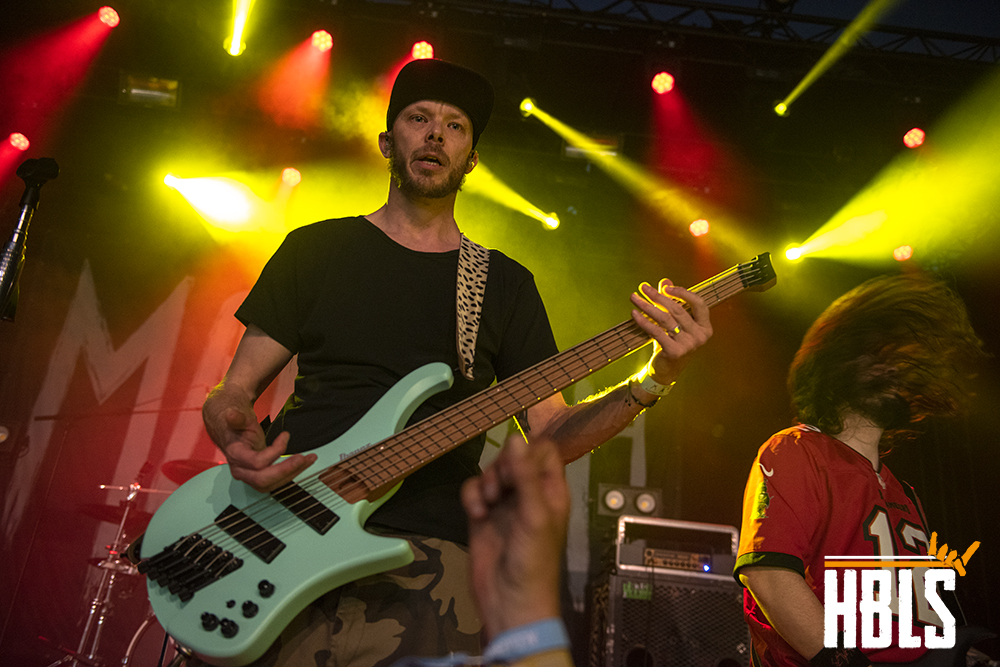 Celeste [Helldorado] looks and acts sober and the desolate atmosphere in their prog black metal doom music is the key.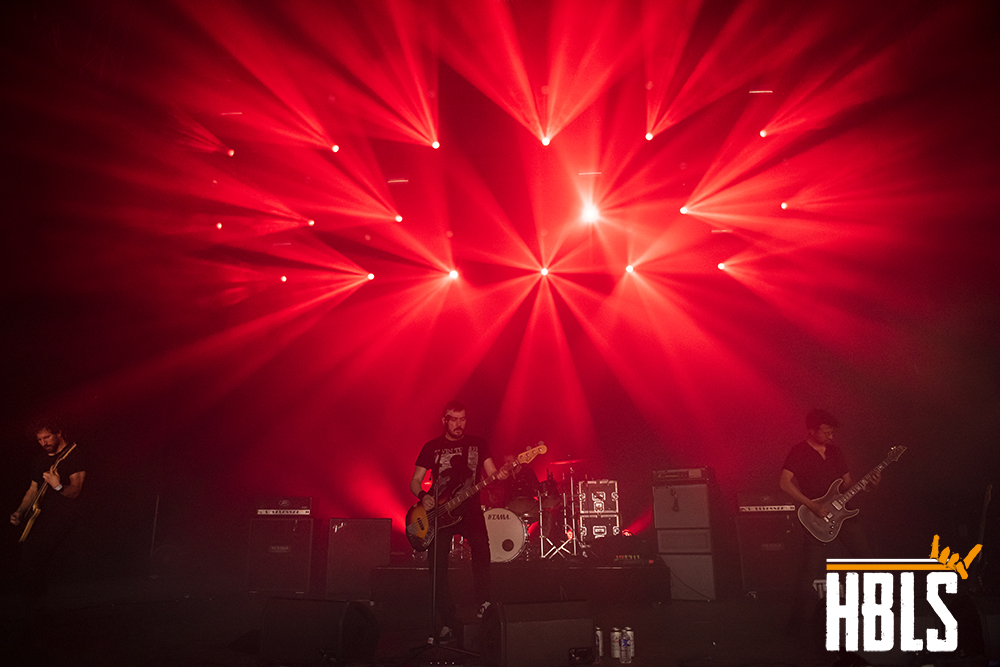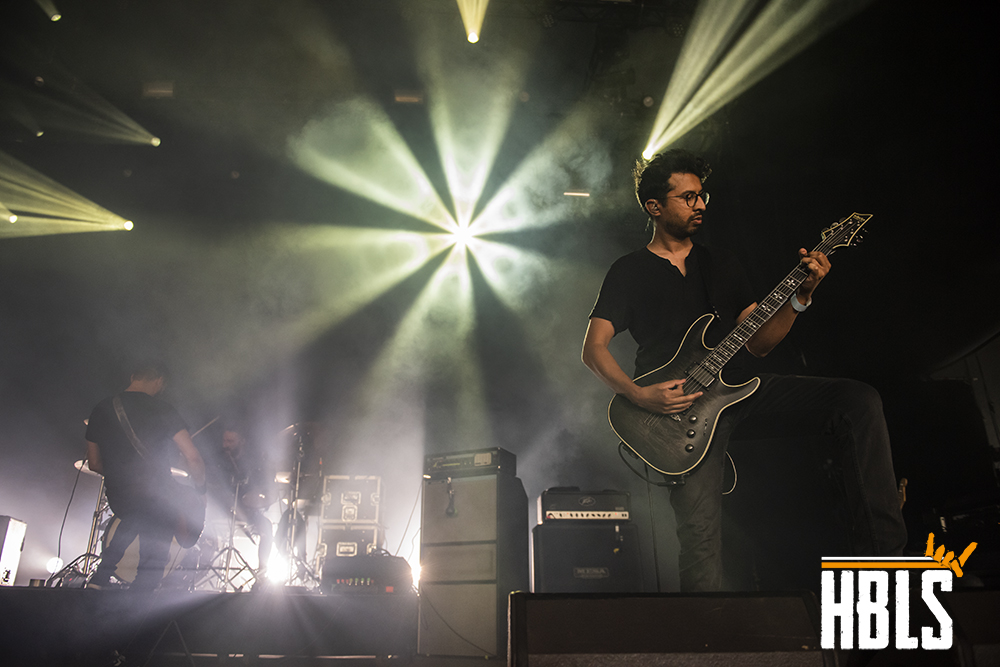 Blind Guardian [Prison] is an established name in the history of metal, celebrating 40 years next year, so it is actually a surprise they played in Belgium for the first time. We can witness a well-oiled machine that gets the audience easily going and frontman Hansi Kürsch is a guy with a great sense of dry humor.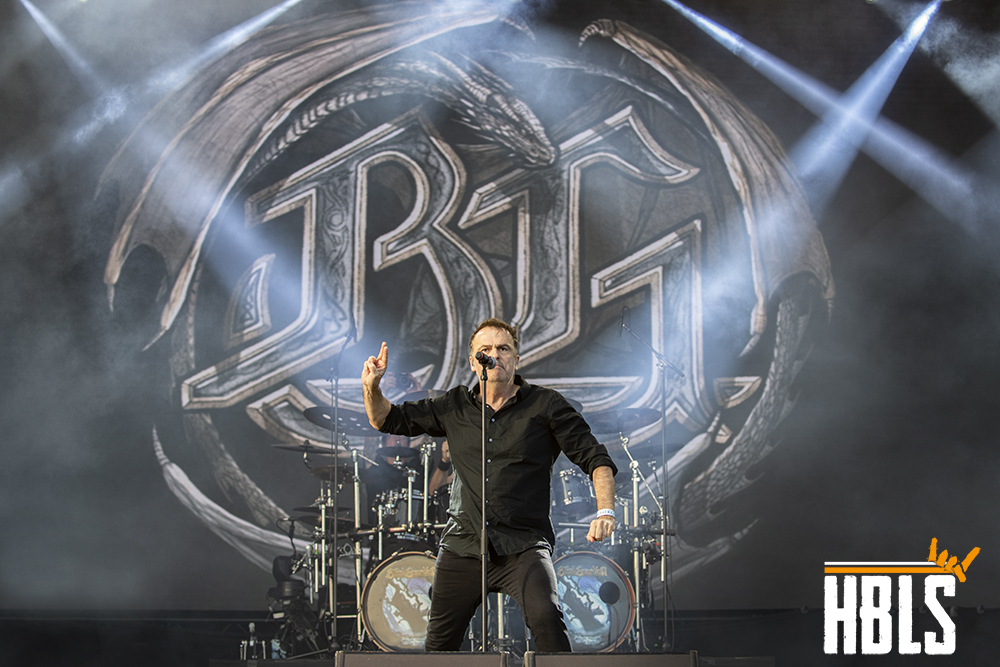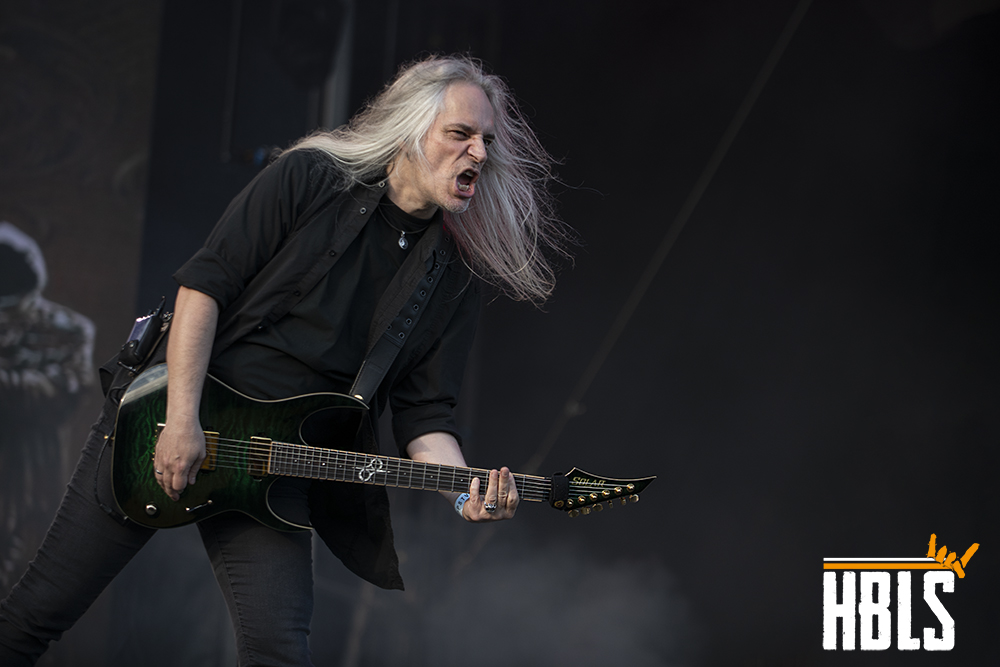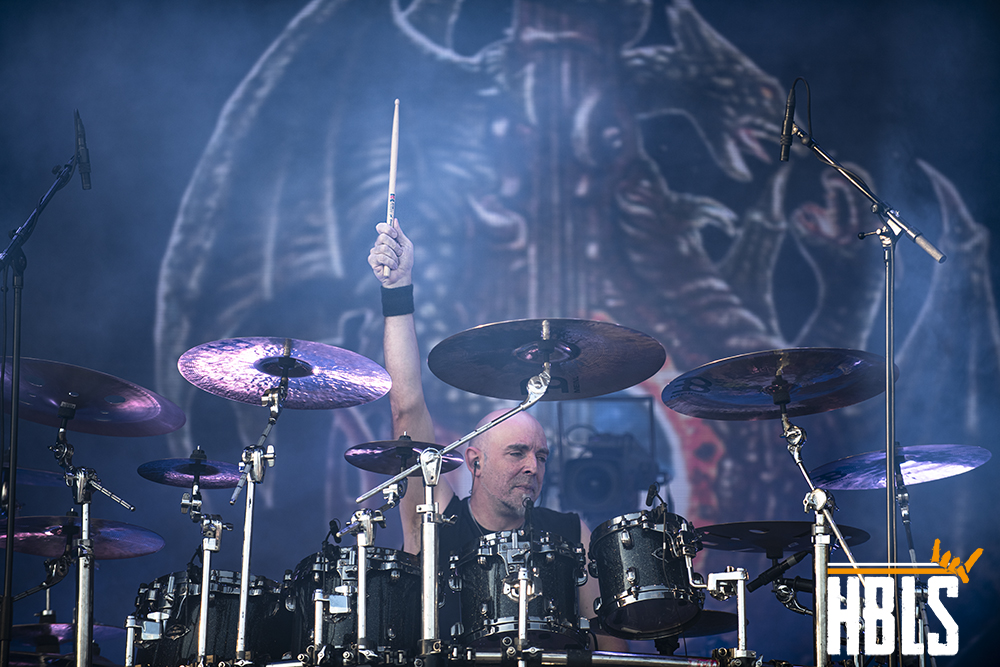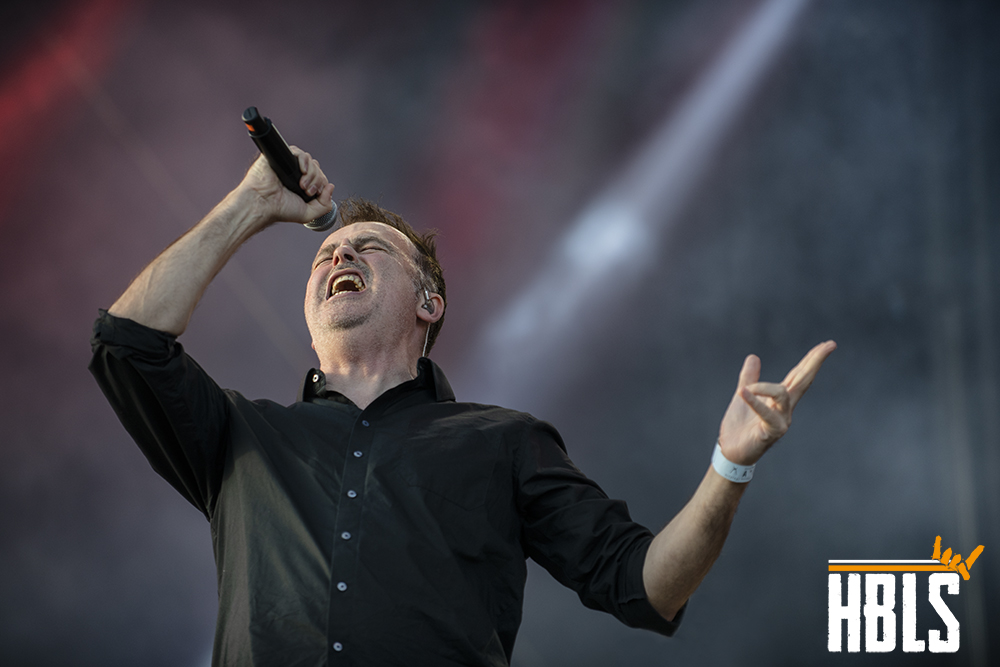 Deicide [Swamp] isn't for me and the only thing I can think of is: OMG, WHERE IS THE EMERGENCY EXIT!!!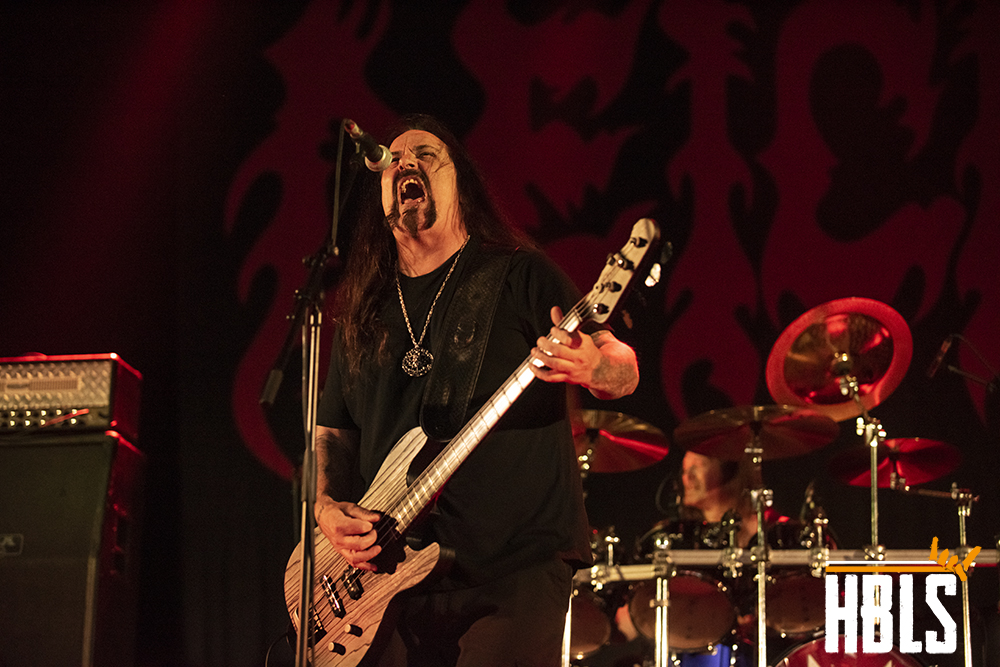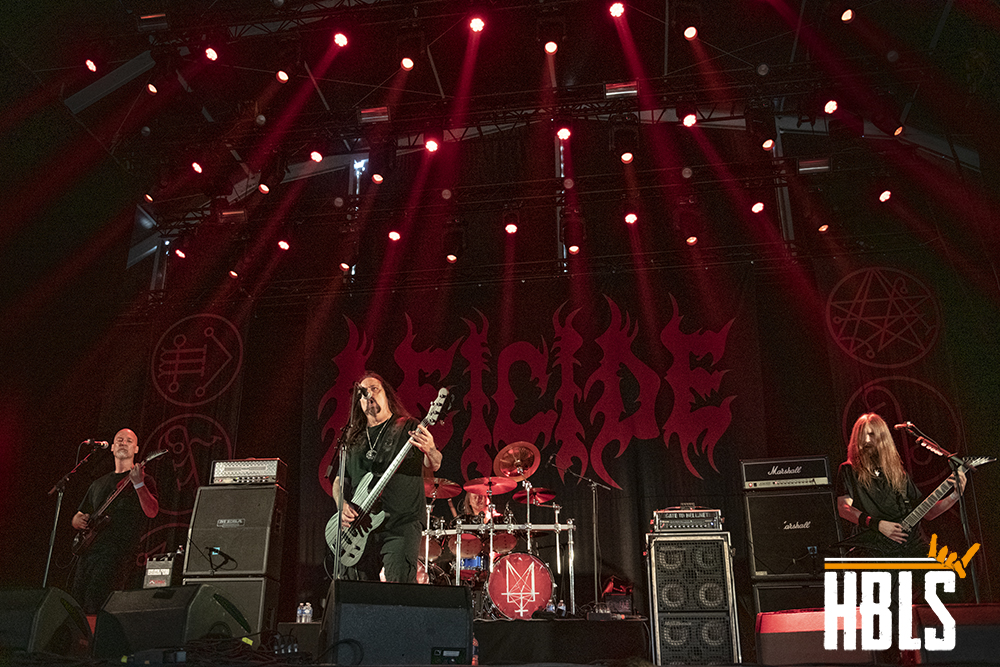 The American metalcore band Killswitch Engage [Prison] is a far better option. They connect great with the audience and the crew has to handle a nonstop flood of crowd surfers. They end their setlist with a great and respectful version of Dio's ,,Holy Diver''.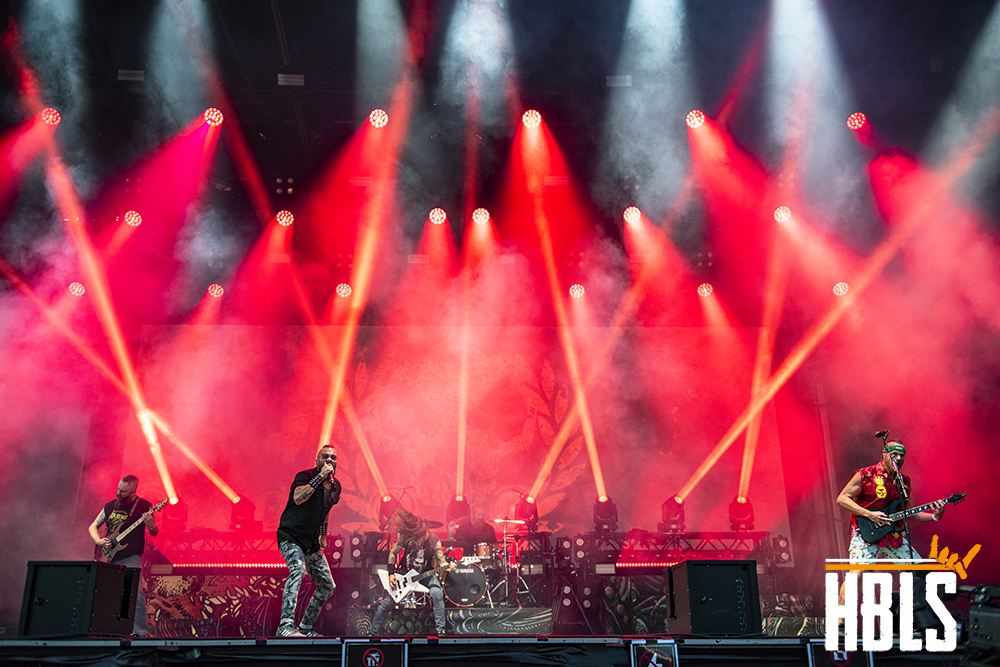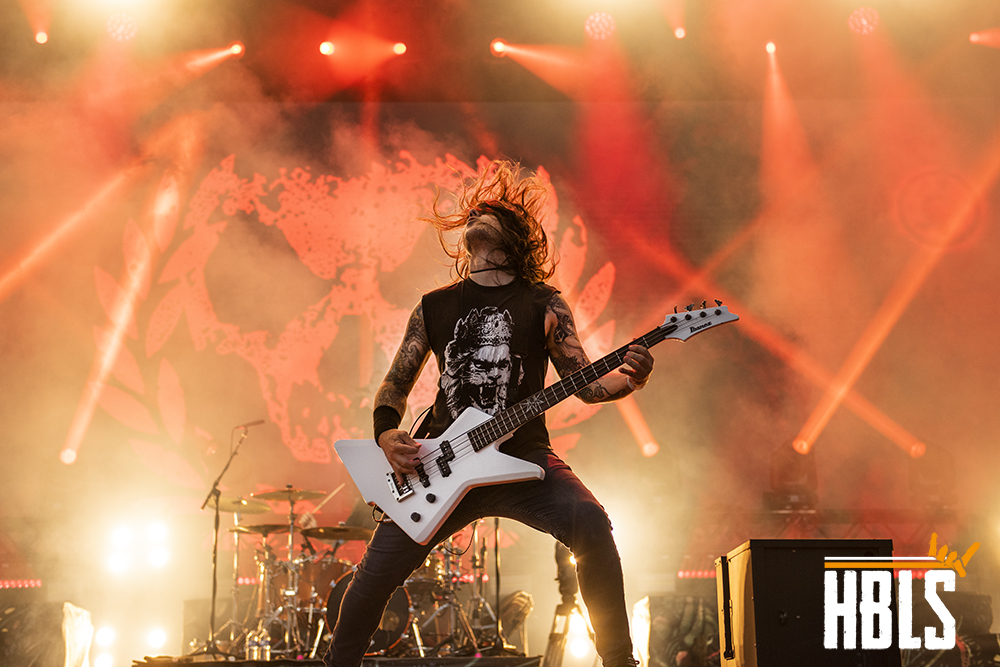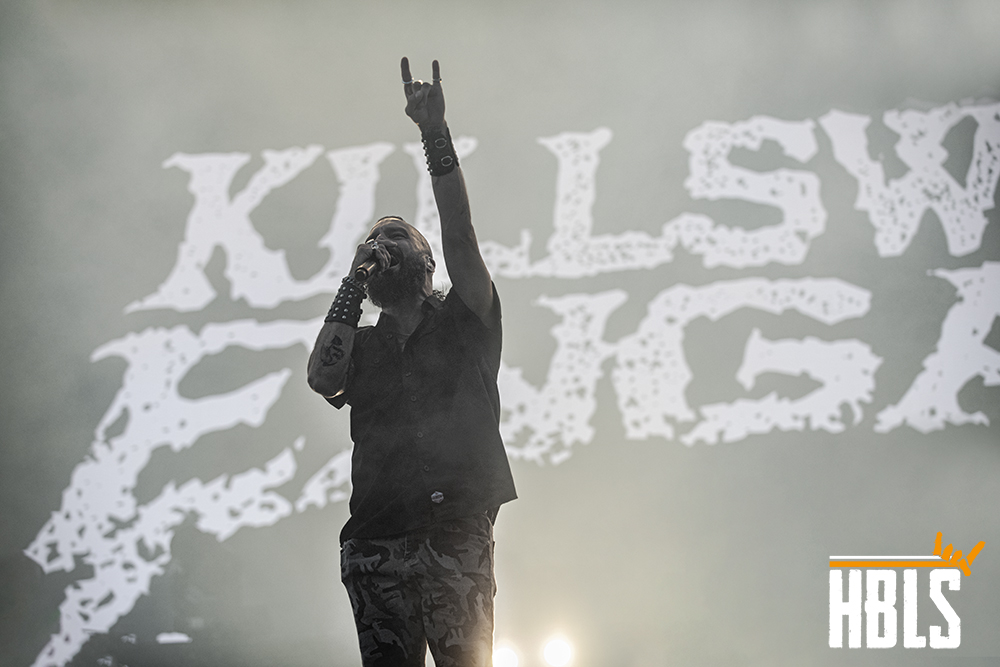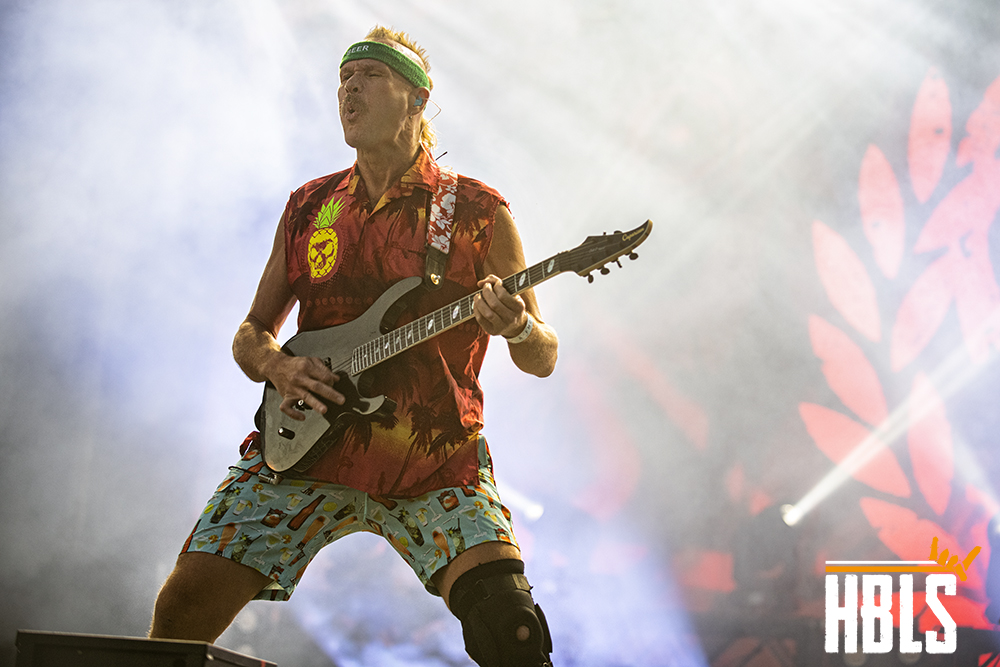 The winner of all bands is today's headliner Electric Callboy [Prison]. This German metalcore/electronicore band has found the golden, unique formula to attract not only a young audience, but also the traditional metal fans are going completely wild and full into the party modus. It's all so over the top but the band is performing absolutely great and fires away one hook after another. The show is extravagant but fantastic and the absurd lyrics triggers the crowd to massively sing along. This band is one with their audience and it is the perfect ending of a successful Alcatraz Open Air.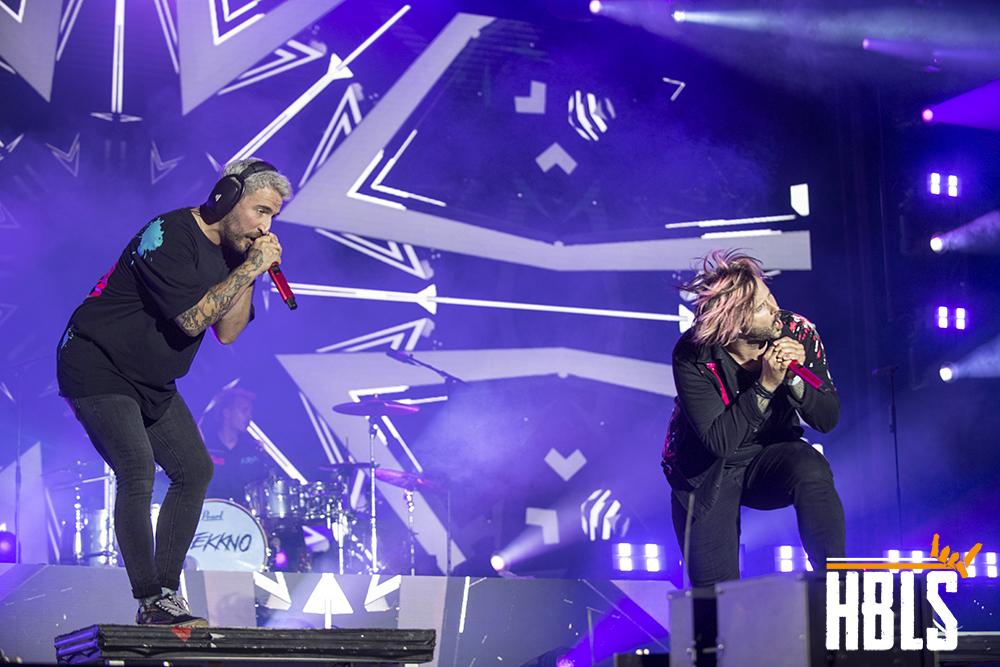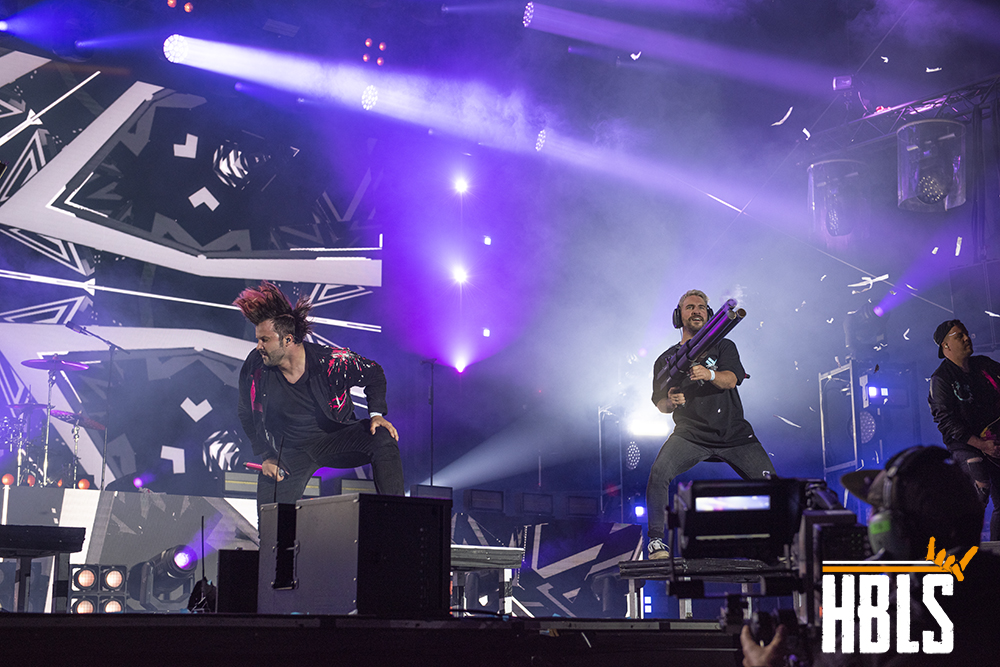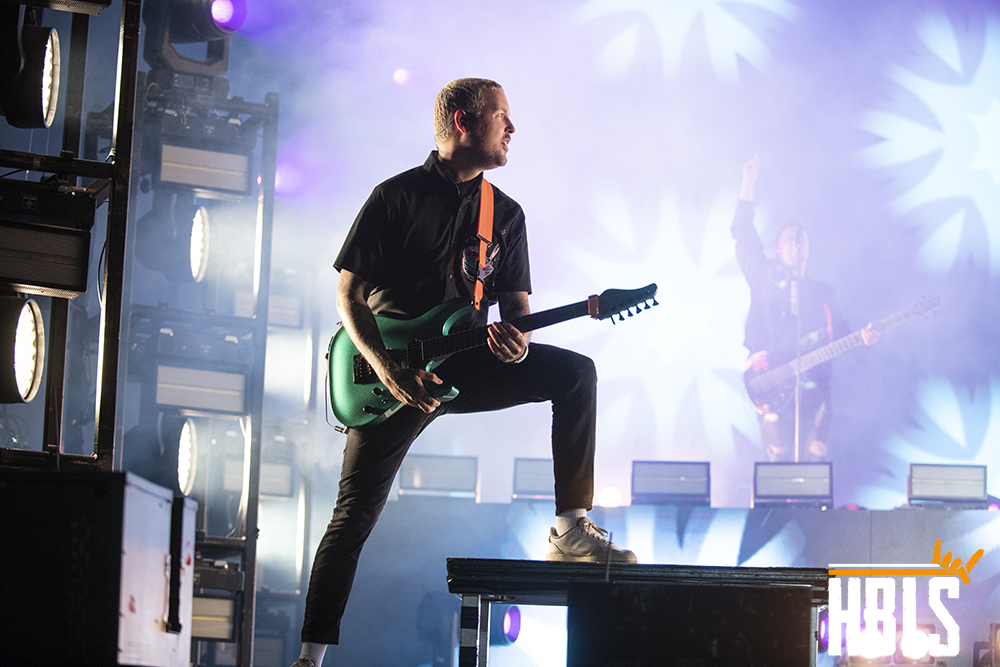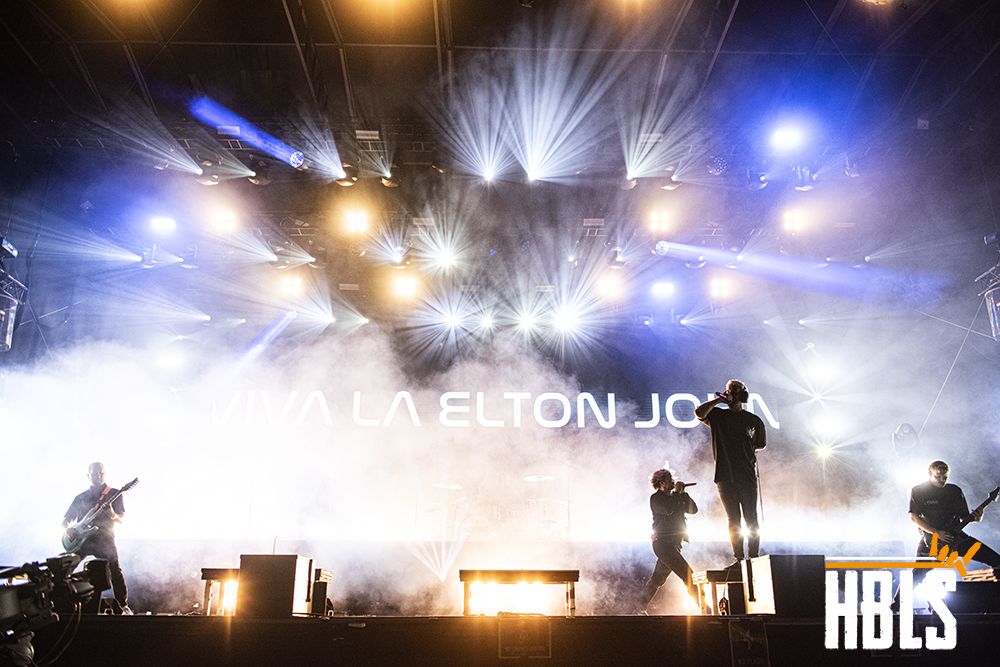 SEE YOU NEXT YEAR!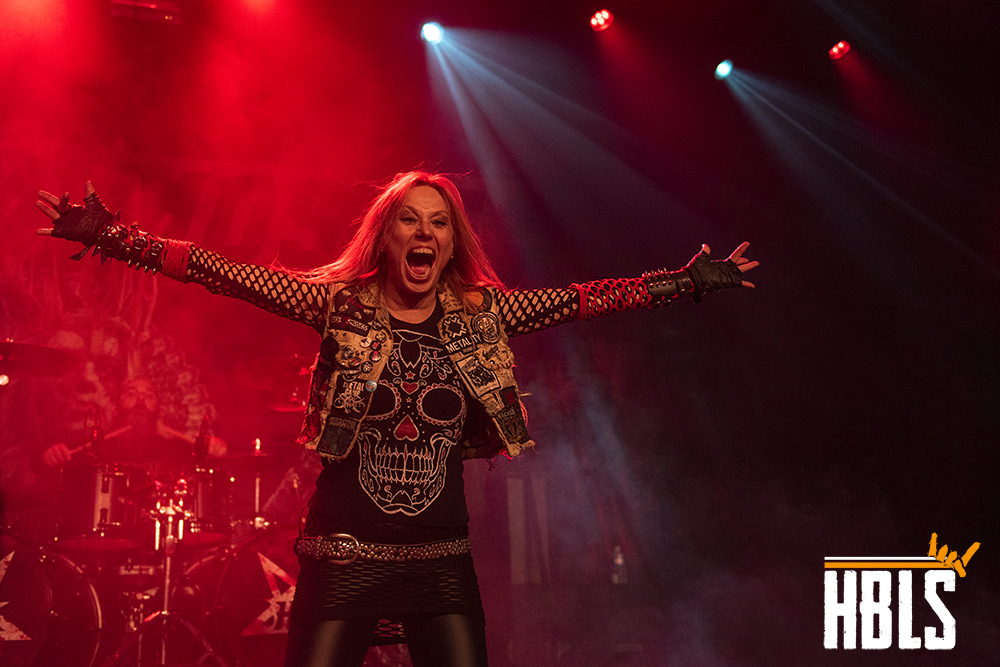 Photo credit: Dirk van den Heuvel & Conny van den Heuvel of DCH Photography