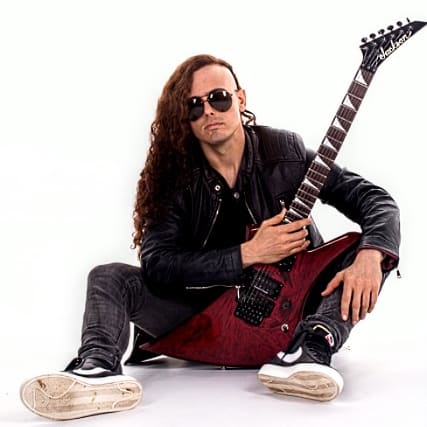 Interview | Leather Guitarist Vinnie Tex
A Man With A Mission
When vocal power house Leather Leone debuted during the mid 80s as the singer for guitar virtuoso, shredder David T. Chastain, she immediately stood out with her distinct, rough sounding, yet melodic laden vocal performance. Under the banner Chastain they build their discography that definitely left an important footprint in metal history. In 1989 Leather also launched herself as a solo artist and very much impressed the headbanging community with her debut `Shock Waves'. It was in 2018 that finally her second solo album `Leather II' was released, but also somehow seemed to kind of have passed by without a huge shockwave. Well, let's say this is absolutely not the case with Leather's brand new third solo album `We Are The Chosen' that was released on 25 November 2022 via Steamhammer/SPV.
The ten songs not only prove that Leather is still a hell of a metal vocalist and songwriter, but also that she has the right partner in crime in her corner: Guitar virtuoso, songwriter and producer Vinnie Tex. The duo worked their asses off during the last two years to complete their mission and did that with great success. Because yes folks, this album is a real banger and a feast for the true metal fan. So, who is this young fella Vinnie Tex and how did he end up working together with the legendary Leather Leone? HeadBangers LifeStyle's Lilo contacted Vinnie and asked.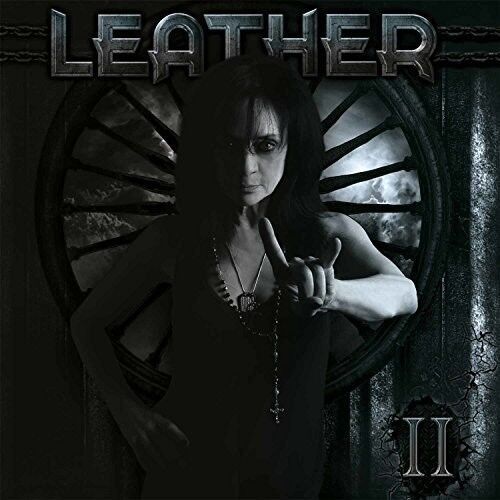 ROB ROCK
Once upon a time your path crossed with Leather Leone. When was that and what happened from there?
,,I met Leather Leone when I played with Rob Rock (Impellitteri) in South America in 2016. It was a joint tour: Leather Leone and Rob Rock. Leather really enjoyed my stage performance with Rob. She told me she would like to work with me. After the tour, our tour manager asked me if I would like to join Leather's band and start working on a new Leather album. Of course, I said yes! When I returned home, I immediately started writing with Leather. From there, we created a very strong musical connection. The writing and recording process during `Leather 2' wasn't easy. We had a very limited amount of time which led to conflicts between the musicians. In 2019, after some tours in Europe and South America, I was the only remaining musician. At that time, Leather and I started writing songs for `We Are The Chosen'.''
What does it mean to you to finally have `We Are The Chosen' released?
,,As a musician and songwriter, it is a great achievement. Leather and I produced the entire album from start to finish. We conceptualized the album, wrote all the songs, produced the record, and negotiated for album distribution. After many years writing and recording, this is the first album I am truly proud to have made. The process of creating `We Are The Chosen' was a great learning experience for both of us. We were completely alone. We didn't have a label backing us and we had limited resources for production. Leather and I wrote songs while residing in different countries and during a global pandemic. The process of writing and creating our songs motivated us. Many people advised us we couldn't do anything alone.
We didn't buy into that and it motivated us to write great songs like ,,We Take Back Control", ,,We Are The Chosen", ,,Who Rules The World" and ,,The Glory In The End". You can do anything when you believe in yourself. I think we've demonstrated it is possible to produce a great album, even with limited resources and even through adversity IF you're willing to put in the effort and IF you believe you can.''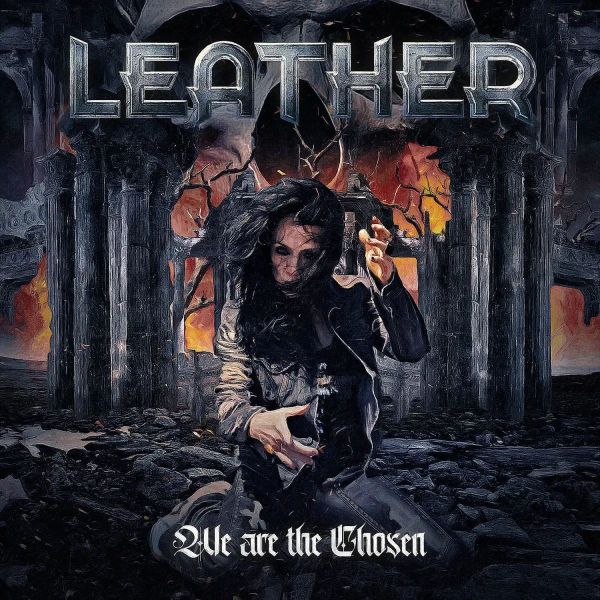 THE COLLABORATION WITH LEATHER LEONE
Not to mention that the album is also released on vinyl 🙂
,,Yes, `We Are The Chosen' was released by SPV Steamhammer and is available on CD Digipak, LP, Download and Stream. It was recorded at the famous Hertz Studio in Poland where big metal names like Behemoth, Vader, Decapitated, Hate also recorded. The album artwork was all made by the renowned artist Marcelo Vasco, who also makes covers for big names in the metal world, like Slayer, Dee Snider, Testament, Kreator, Borknagar and many others.''
Was it easy to convince Leather to start actually working on song material for an album in the first place?
,,In fact, it was always our plan from the beginning: writing, recording and touring. For us, there is nothing more pleasurable. We really love making music. The creation process is always a surprise. It's very rewarding and it motivates us to keep working. It's amazing how a simple melody can become a great hit. I really love writing songs. Leather and I are very collaborative and enjoy writing songs together.''
Did you both have a clear vision from the beginning of how the album should sound, style wise and production wise?
,,We had an idea of what we wanted, but we did not limit ourselves. As I said earlier, the creation process is always a surprise. We knew we wanted something entirely different than `Leather II'. We knew from the beginning we wanted a heavier sound inspired by traditional heavy metal with catchy melodies and choruses. But there are also some more modern metal elements. `We Are The Chosen' was made with the total priority of supporting showcasing Leather Leone's characteristic powerful vocals.''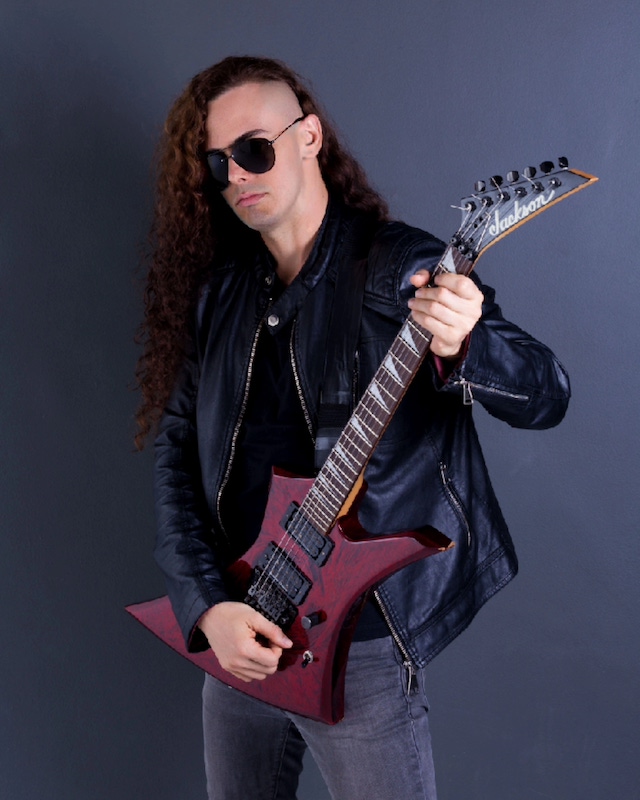 THE WIESŁAWSKI BROTHERS
What are the most exciting elements of playing and performing this 80s metal style?
,,In rock and metal music it is possible to explore new elements all the time. When I write, it helps me to draw on my many influences, which extend well beyond metal. `We Are The Chosen' album has a strong 80s metal influence. We maintained the heavy and energetic characteristics of the style, but we didn't limit ourselves either. That was very exciting for me.''
Why did you record the album in Hertz Studios in Poland?
,,This was actually the third time I recorded at Hertz Studio. I played extreme metal for many years and I had previously recorded black/death metal there. From the first time I recorded there, I was impressed by the knowledge and professionalism of the Wiesławski brothers. In 2017, during a European tour with Leather, we had a few days off. We took the opportunity to finish the vocals for `Leather II' at Hertz Studio. Leather Leone was very impressed with the quality of the studio and with the level of professionalism of the brothers Wojtek and Sławek. So, she felt really comfortable there and the guys respect her a lot. They listened to her suggestions and they knew how to get the best out of her. From the beginning, we knew we wanted a high-quality record and that Hertz would be the ideal studio to record `We Are The Chosen'.
In what way has Leather Leone been an inspiration to you during the writing and recording process and what has been her most valuable advice in your opinion? Also, which advise took Leather from you?
,,When we started writing `We Are The Chosen' I was going through a difficult phase in my personal life. Leather was a tremendous support for me and motivated me to keep me working and writing during that time. Leather is very anxious and wants results very quickly and she often ends up getting frustrated. I managed to keep her calm and more patient throughout the whole process. `We Are The Chosen' is an album very different from anything we had done before. We radically changed our way of writing and collaboration. Leather listened to many of my suggestions on my approach to writing.''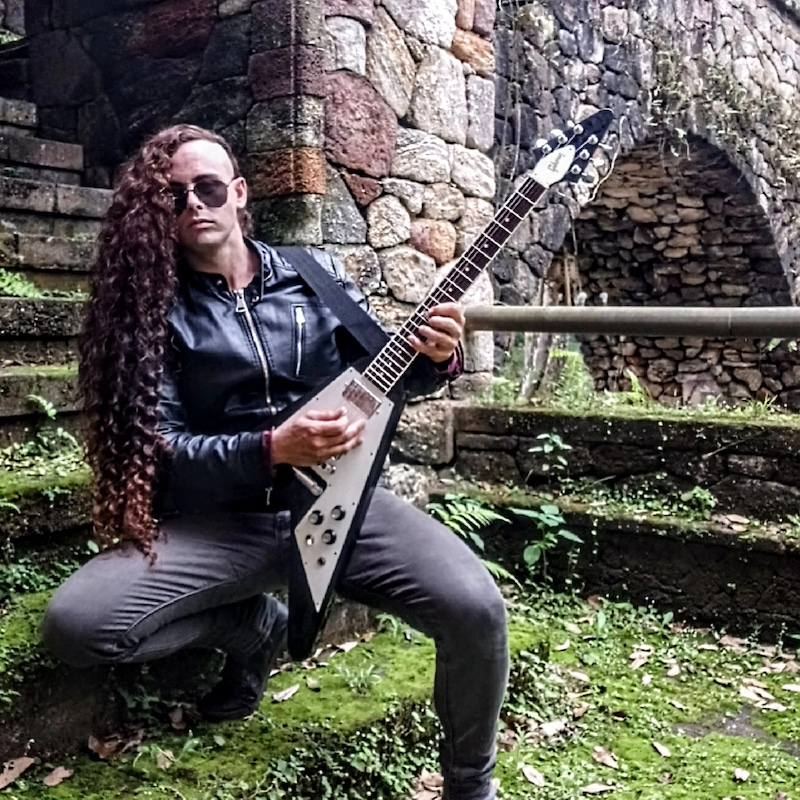 MEETING A SLOTH
What did you enjoy the most about the production process?
,,In fact, the whole process is very pleasant for me. Each step is a surprise and you never know what the end result will be. The process of producing a record is time consuming and needs a lot of planning. I'm a perfectionist to the point of obsession. I spend days thinking about every detail and taking notes. I really enjoy it though.''
Can you point out a few fun facts of the entire journey?
,,It's always a lot of fun when we're together, which is usually for short periods of time. Something unexpected always happens when we are together. A few days before going to Poland to record `We Are The Chosen' we spent a few days at my house in Portugal to prepare and rehearse the songs. One day we decided to go out to see the city and have some beers. Leather distractedly entered a subway that was stopped at a station. The doors closed and she left me behind with all her money, credit cards and her phone! Fortunately, she got off the train a few stations later and we met again. At the moment it was scary, but afterwards we laughed a lot about it.
Another curious fact was when we were in Brazil recording the video for the track ,,We Are The Chosen". I live in a region of Rio de Janeiro surrounded by forest reserves and I am constantly visited by all kinds of exotic animals in my house. When Leather arrived, she told me she would love to see a sloth. I told her it would be very difficult to see one because in all my life I had only seen a sloth once or twice. Days passed and we started shooting the ,,We Are The Chosen" video. Suddenly a big sloth appeared crossing the street in front of us. I couldn't believe that. That reinforced for me how we can make things happen through our thoughts. We have footage of that moment and it's wonderful. We'll post it soon.''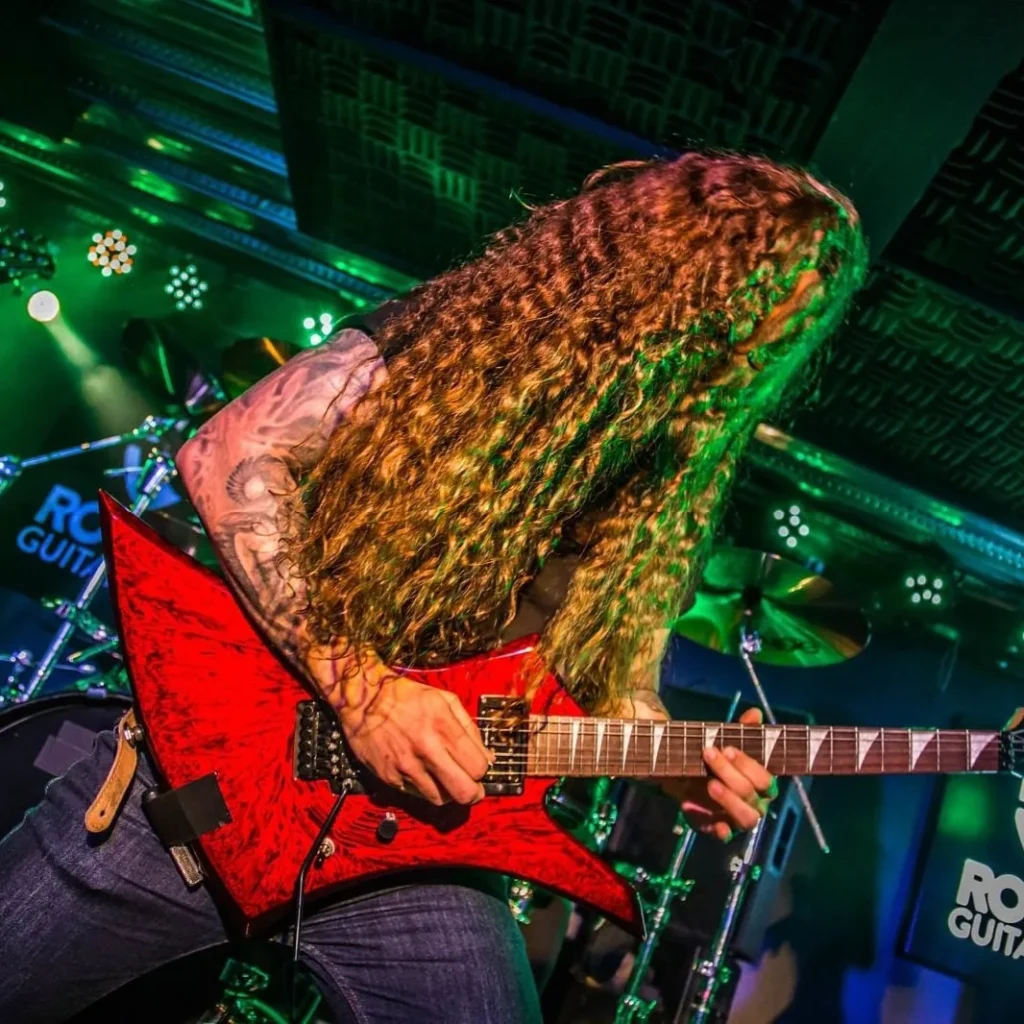 THE LEARNING EXPERIENCE
This journey was a real Do It Yourself. What gave you sleepless nights?
,,I confess, at times, we were a little insecure about it. This was the first time we did everything on our own. Due to some recent experiences, we didn't want to risk putting our trust in the wrong people. In our minds, we had no choice but to produce the entire album by ourselves. Fortunately, after many years of involvement in the music business, we did find good support from some great people with whom I had worked previously. `We Are The Chosen' was a great learning experience for both of us. We had complete freedom to do exactly what we wanted on this album, which was wonderful.''
Making this album has been a collaboration between you and Leather. You both feature in the music videos, but at the end of the day, the album is released under the name of Leather. What is the commitment and understanding here?
,,For me, it is a great honor. After I began writing with Leather, I studied her history. I became a huge fan of both her and of Chastain. A lot of times when I'm writing new songs with Leather, I'll listen to Chastain's records to study how her voice works best. I have great respect for her. When I was born, Chastain was already recording albums. I know where I came from. I am a musician from the suburbs of Rio de Janeiro in Brazil and today I write songs with one of the greatest female voices in Heavy Metal. So I am very grateful for that opportunity and because of Leather, many doors are opening for me.''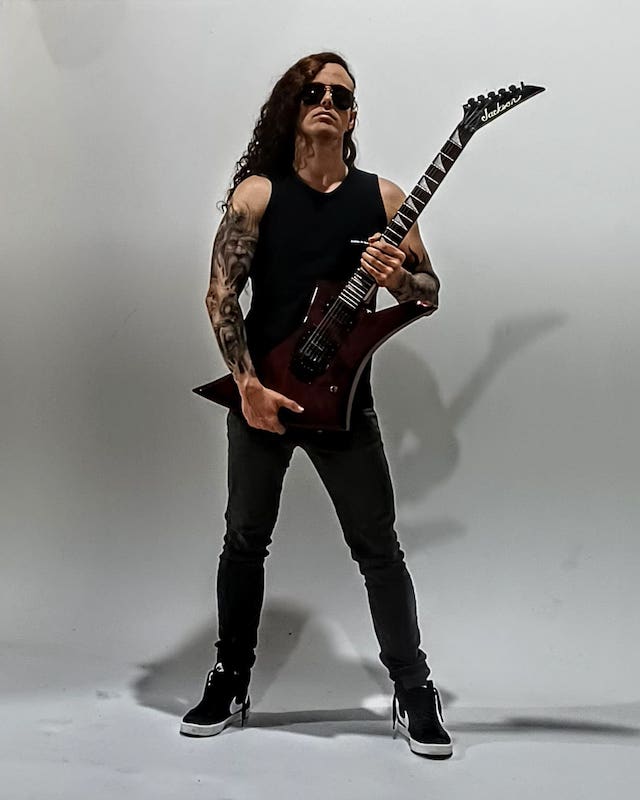 INSPIRATION AND AMBITION
Who are your favorite metal gods, that definitely inspired you being the guitarist and songwriter that you are now?
,,This is always one of the hardest questions to answer in my opinion. I'm a very eclectic musician. I have a huge list of great musicians who have influenced me inside and outside of metal. Like every young guitarist, I was influenced by classical and shredding guitarists like Eddie Van Halen, Jimmy Page, Randy Rhoads, Paul Gilbert, John Petrucci, Steve Vai and many others. Over the years, as much as I tried to be a good shredding guitar player, I realized my strong point is melody. Nowadays my main focus is writing great songs.''
How old were you actually when you started playing guitar and are you the type of musician that needs to practice a lot to maintain a certain level?
,,I started when I was thirteen years old. Actually I was influenced by my dad who is also a musician and I spent hours a day playing classic rock and heavy metal vinyl as a teenager. As I became professional, I had a few hours of daily training. Later on, I started working every day in nightclubs and I no longer had time for long daily training. But it sure takes a few hours of weekly training to keep your hands and mind in good shape.''
What are your ambitions now that the album is released?
,,Our plan now is to go on the road, tour a lot and play a lot of festivals. We've been talking to a lot of people and many booking agencies in the US, Europe and South America. It's just a matter of time before we have a big "We Are The Chosen" tour booked. Fortunately, many good things are happening since the release of `We Are The Chosen'. We are also already writing some new songs and thinking about the next album. Our plan is to have even better production on the next album. `We Are The Chosen' was just the beginning of a new stage in our careers. I'm also talking to other artists about writing songs, that's definitely my biggest goal, to be recognized as a great music writer.
I would like to say a huge thank you for the opportunity to do this wonderful interview and thank you very much for all the positive feedback we are getting with `We Are The Chosen'. Thank you so much!''
Header photo by David Engel
About
American vocalist, lyricist and active since the 1980s. She is known as The Voice of metal project Chastain and as a solo artist.
Genre
Metal, Heavy Metal
Website
https://www.leatherleone.com/
Social
Tags