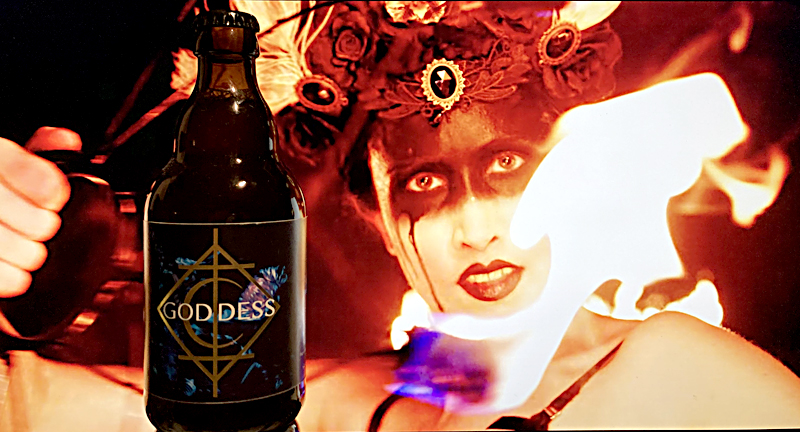 Heavy Hangover | Off The Cross – Goddess
Farmhouse Ale - Season
Exploring the broad boundaries set by In Flames and Soilwork, Belgian Off The Cross has certainly brewed up a potion that is as infective as it is brutal. Where variety is key, the band switches registers constantly, painting a sonic picture with ultra-heavy framework and subtle keys and memorable choruses. Bordering with the above-mentioned bands, yet featuring a unique stubborn Belgian marker.
Unleashing their EP debut `Era' on the masses, we got acquainted with the quartet, soon to be included in playlists of a ton of acts. Spreading their infesting metallic gospel over the world, they travelled various countries promoting their first full length album `Enjoy it while it Lasts'. An album packed with intense metal, blunt riffs, and concussive fuse of keyboards and melodic hooks. In terms of melodies it leaped forward and slowly shaken off comparison.
Featured on their debut was the celebrated track ,,The Goddess" which impressed with its enticing video and the vocal dynamics between singer and grunter Daan Swinnen (who recently parted ways with the band) and Marcella Bovio of Stream of Passion and Ayreon fame. The song was soon celebrated at their concerts with ,,The Goddess" becoming a trailer for Off The Cross' varied metal music.
BAND BRANDED CRAFTBEER
With the current market in motion, and bands expanding fan's experience, the band jumped on the wagon of band-branded craftbeers. Whether or not accumulated from the pandemic days of gig-lessness, Off The Cross decided to emphasize their benchmark track and launch of their latest album `Enjoy it While it Lasts' (need I say more?) with the release of their first craftbeer `Goddess', a collaboration with Sweynbeer craft brewery in Elewijt in Belgian Flanders. Sweynbeer delivers a vast amount of unique, yet classic styled Belgian brews, rooted deep in the centuries-spanning heritage of the country and breweries. A small micro-brewery with a unique approach and a sense of gloom, as found in their story. [Read HERE]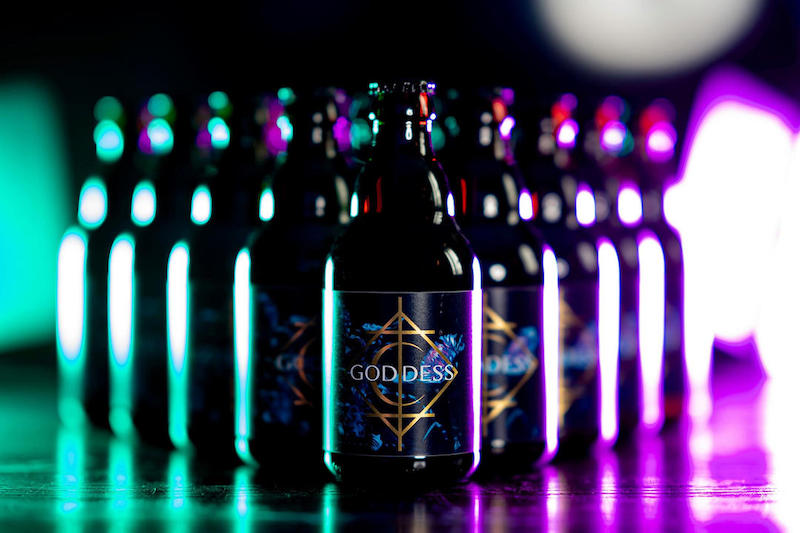 SWEYNBEER – Goddess
Farmhouse Ale – Saison
6.5 % ABV
Blasting from my speakers is the band's track ,,Exist" with its blissful dram and bass interaction and rich harmonies and nesting hooks. The song perfectly adds to the depth and luster of this Goddess Saison-like ale, also rich and tastefully crafted.
Pouring a golden beer with blurry crisp glow, the beer immediately reveals the sweet presence of hops and barley.
The image of the beer matches the wonderful presentation of the art on the bottle. The band's logo in shiny golden, over the blue and purple scattering from the black background. 'Goddess' in sharp font featured, makes up a wonderful display. `Enjoy her while it Lasts' also in gold on the side, and the bottlecap again with the band's logo in white. Sharp and colorful it comes across highly professional. Spot on!
THE FIRST TASTE
The nose is full and frontal, revealing subtlety at later. Mild carburation gives the head an open and crisp character. Its scent is crisp and powerful. With ,,Masks" playing, I have my first taste revealing the wonderful wide variety of this brew. Sweynbeer certainly has made this one work. It is stubborn, yet enjoyable, crisp but very complex. There's a lot going on on the tongue, with the extended drought adding to the experience of tasting.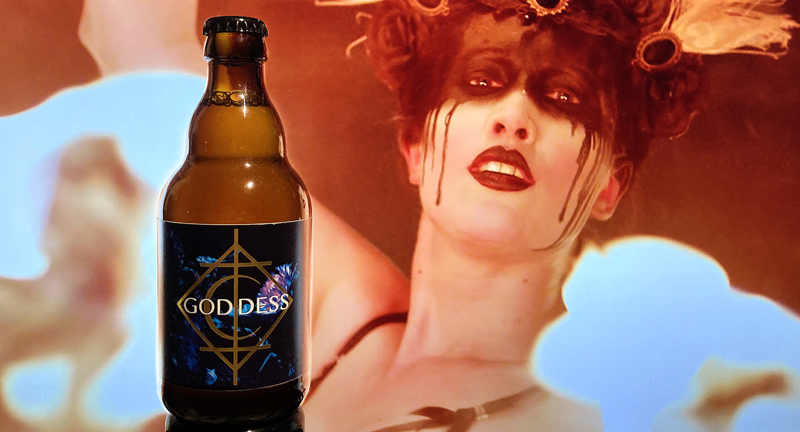 Like with Provectus' 'Lucid Nightmare', it is tough to label it simply as a typical style. 'Goddess' isn't the regular all-day Farmhouse Ale / Saison, the beer serving for the working class upon returning from harvest on the fields. Refreshing and tasty.
This 'Goddess' covers a wide array of distinctive tasting notes with hops blending with (Weizen) wheats and malts. It all is rich and deep. There's a wonderful balance in the barley vs the beers' distinct bready subnotes, without losing the refreshing crispness of a Farmhouse Ale. Used for hopping this beer up are American Warrior hops, known for its subtle pine and resin notes and mild herbal tones. It balances perfectly with the barley, enhancing its tasty flourishing sweetness.
THE AFTER TASTE
Adding to the depth of 'Goddess' is the addition of German Hallertau Blanc hop, which is a cross blend of Cascade and Hüll male hops, injecting a vinous Mosel-like drought to the beer. This wide pallet of wild gelling combinations makes it drinkable yet complex. Highly enjoyable, with imagery spinning in mind.
In the after taste the dry mouth feel slowly but surely fades with peppery and spicy notes coming to the front. The twist is tremendous and makes for a next and bigger gulp to waltz in the mouth. Taking a couple of seconds to reveal all its preciousness, 'Goddess' also has the wonderful fruity experience with mild and remote citrus, and light herbal effects. Much like a light mildew on the tongue.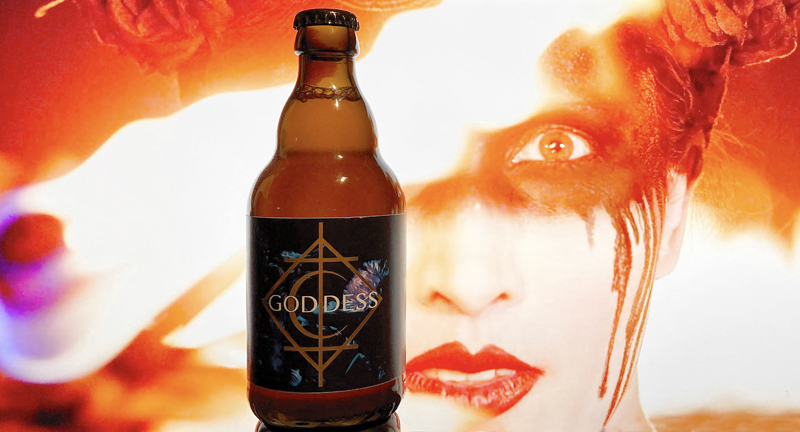 ENJOYING WITH FINGERFOOD
To enjoy my beer experience even more I served a dish with tasty (spicy) fingerfood like Mexican breaded jalapeños (Cuaresmeños), kidney beans with chili, fajita wraps with spicy chicken, corn and cheese, cheesy beef empanadas, as well as some (cut up) wraps with salmon in spiced oil and poblano peppers. Cheese added was an older variant of Italian Pecorino Romano, giving it more intense flavors that blend well with the drought and freshness of 'Goddess'.
'Goddess' definitely lands high in my list of favorite spin offs of a Farmhouse / Saison, battling the higher ranks. Off The Cross definitely made their benchmark track ,,The Goddess" go down with an evenly iconic fresh brew. The collab between the band and Sweynbeer Craft Brewery is one to cherish, enriching both, wonderful taste and complex heavy music to the max.
The beer is available at selected venues and a variety of music and metal related festivals, as well as exclusively through their distributor's website of Johnny Liquor 'where Music and Booze Collide' [Click HERE].