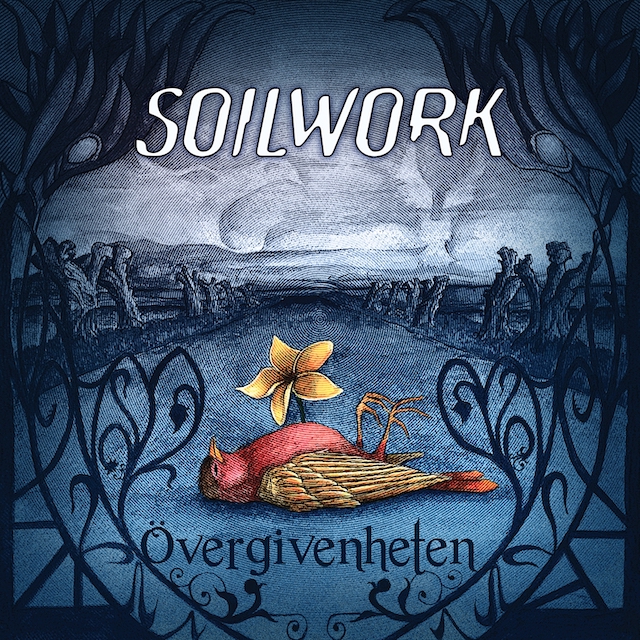 Review | Soilwork – Övergivenheten
Nuclear Blast
How time marches on is inevitably displayed in the endurance of bands which we experienced during their rise and climb, with careers unfolding. Not even checking in with my childhood favorites in this particular example, as that makes you feel much older to the date. I remember seeing the debuting days of Amon Amarth ('97), Arch Enemy ('98) and Soilwork. Emphasizing their 24 years of recording slams in like Thor's hammer and numbs me. Has it really been this long since Dragon's Blaze Festival ('98) in Belgium? Time ticking away, with all three acts releasing a brand-new effort this month. Soilwork's new opus `Övergivenheten' is the last of this trio of records to review.
SOILWORK IS A STAND OUT FORCE
Save the best for last, one might say. Without making choosing distinctively, I let the release date lead me. Following the brutal Amon Amarth album and the melodic death riser of Arch Enemy, the new Soilwork doesn't fall short in comparison. The album blends the brutal with the melodic and even steps beyond. The opening title track immediately reveals the band's aspiration with its melodic build and slumbering orchestration taking it into the cadence march drumming that opens to Strid's primal scream delving deep. The anger-laden vocals are topped off with the typical slick melodic chorus full of bombast and melodies fusing with thunderous drums and bass.
It sums up exactly why this band is such a stand out force. Great melodic hooks and choruses, sublime guitar melodies crafted onto sticky riffs and swirling keys, with a backbone of powerful driven double bass drums and roaring bass executed. The interaction is phenomenal, welding together the metal solid.
A TAPESTRY OF SOUNDS
All welds seemingly tarnished and polished for a Soilwork outcome full of exciting new emo and sound explorations. ,,Nous Sommes la Guerre" (translates "We are War") fuses a classic hard rock vibe with the swirling guitar melody and buzzing riff onto the tapestry of sounds laid down by the pompous keys and subtle arrangement. Polyrhythmic drums add to the three-dimensional soundscape with Speed's vocals displaying his most melodic vocals to date. An immersive huge chorus adds to the song's appeal, and the track wells with avant-gardistic elements and odd time changes over dense orchestration.
The folk-ting is pulling it into its chorus with a warm guitar melody over rousing riffs. Wonderful piano and keys are weaving the open tapestry shut, creating a jazz metal melodic rock track full of progressive bits and pieces. The following solo perfectly matches the mood.
MELODIC DEATH METAL
But it can't be all to frisky and melodic when Soilwork is involved, proven on the following death metal outburst ,,Electric Again", of which the title perfectly claims the contents. Blast beats and ferocious riffs, thunderous drums and aggressive screams and growls before they inject the distortion with a sublime melodic chorus, depleting into weaver-dreamy instrumentation. The same breakneck pace is combusting the orbiting valour of ,,Is it in Your Darkness", downright resurrecting Slayer's finest thrash and speed metal riffs and turmoil with Soilwork's intense melodic symbioses of bridge and chorus. A fusion that is repeated on the insanely heavy ,,Vultures" that plows a deep groove with knockout anger-laden speed explosion and towering hooks and breaks. Moshpit evoking midway, the song maintains it intense drive. 
Another groove discharge is laid upon the listener with the melodic rocker ,,Death, I Hear You calling". Sturdy pace displays the top-notch cooperation between Bastian and Rasmus. Simple and effective the bass lays down interesting dynamic breaks over the droning drums. It creates a powerful creeping pace over which Sylvain and David swapping their exuberant leads and trading off the most wonderful solos and delicate melodies. It contrasts deeply with the band storming chaos unleashed on the death metal hooked ,,This Godless Universe" that integrates swirling heavy guitars and psychedelic keys with wonderful melodies. Groove and double bass blasts are discharged whilst piano and keyboards take position towards the end.
THE REAL GEMS OF THIS ALBUM
The fusion of crisp melody and blunt force trauma works for Soilwork, with Speed at the helm belting out an impressive and intense vocal job. This fusion is also implemented over the Celtic and epic tinged ,,Dreams of Nowhere" exploring a strutting glance while upholding its powerful groove and intense drum and guitar interaction. It unites the Amorphis vibe with the typical stubborn Soilwork attitude. It swings and rocks like a clock over the intense drum breaks and hooks.
To me however the real gems are those on which Soilwork explores the widest of musical universes and master dimensions adding to their unique melodic death cocktail. Fusing acoustic guitars with a welling melody shooting into gear displays the elemental instrumentation of Soilwork's melodic backbone on ,,Valleys of Gloam". Sylvain Coudret and David Andersson lay down mega melodic riffs and melody groundwork, smartly injected with subtle keyboards and piano. The whole cocktail is weld solid on the metal spine provided by Rasmus Ehrborn's spirited bass playing and Bastian Thusgaard's vital and powerful drumming. It provides a construction that is unbreakable and sparkles with depth and finesse, adding to the diversity of the musical construction bold of melodies and hooks.
A MELODIC SPECTACLE
,,Morgongåva / Stormfågel" is a subtle enticing instrumental shrugging against Marty Friedman's `Scenes' with its melodic looming charms. ,,The Everlasting Flame" is another interlude that oozes calmth and meanders with wonderful cinematic allure. Piano and strings enhance it, opening for the album closer ,,Golgata". Drums and guitars take position in an offload of intense time changes that build to the towering chorus which sees Strid switching between his most melodic comforting vocals and anger laden outbursts. The internal discomfort and propulsion are lined up against raffling drum/bass discharges with stop 'n go breaks, intertwined with fierce riffs that morph to enchanting melodies. The song's solo is fluently melodic breaking root, to have keys welling the song back to its scattering turmoil. Doubling down on the chorus the song freezes frame into a lush breakdown. Songs with this shining appeal are delivered by the dozens.
THE BINDING FACTOR
,,Harvest Spine" is aggressive charged and features dazzling melodies with its hooked riffs and melodies droning over the track. The song builds a bridge to the cinematic ,,On the Wings of a Goddess / Through Flaming Sheets of Rain". Opened with meandering ethereal keys and lush guitars it paints a picture. The narrative is tasteful and adds to the Grande melodic spectacle taking position. Melodies in abundance, with guitars in folk tone delivering wonderful moments. Dropping powerful riffs and groovy hooks the song constantly morphs and sheds skin. In all this melodic turbulence Speed's vocals are the binding factor. He taps the vein with his emotional delivery that sees him touch a towering high melodic tone, suddenly harshly switching to the low roar casting disgust over the doom grooved pace.
The song is a 7-and-a-half-minute display of musical intensity and ferocity, that dies out meandering before being resuscitated for a 50 second breakdown of its title in the lyrics, with storming blasts which die out with the guitar melody fading out.
THE CONCLUSION
`Övergivenheten' is the pinnacle album of the band's illustrious career, summarizing Soilwork ground-breaking approach venturing onto new territory without falling short of their brutal death metal wallop. It unites the widest influences on the broadest melodic and heinous scales, creating a diverse and intensely driven album in the best Soilwork tradition. Ferocious and aggressively pulling forward the band leaves room for infectious grooves and tempo explosions with terror-laden anguish, blending with their most melodic musical executions. No less than 14 brand-new songs with each their own unique trades and signatures, upholding Soilwork's emotive death metal on this remarkable `Övergivenheten'. MUST HEAR!
Soilwork's `Övergivenheten' sees its release in a wide variety of styles. Especially the vinyl editions are majestic and colorful, released in strictly limited editions of 500 or 900 units worldwide. Commonly known is the transparent 2LP edition, but the band and Nuclear Blast offer the exclusive editions through their websites. Ocean Blue split and a White Blue and yellow-black splatter, as well as the Yellow-Blue inkpot edition that outdoes them all.
Release date: 19 August 2022