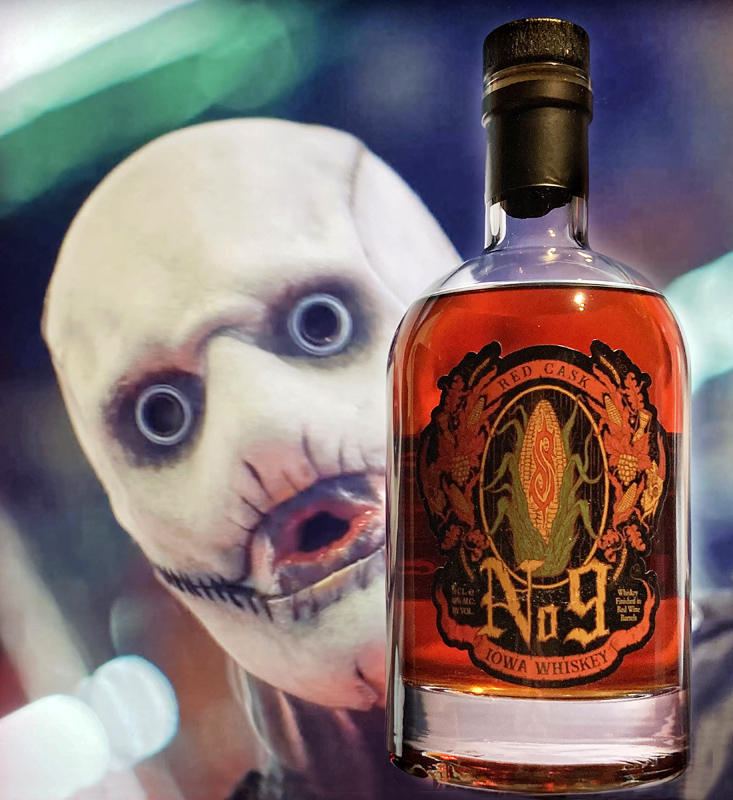 Heavy Hangover | Slipknot – Red Cask No. 9
Whiskey
SLIPKNOT – THE CHAPELTOWN RAG
"Read all about it if you want to know
Read all about what they want you to know
Everything is God online, and it's as evil as it gets
This is not a fuckin' trick, either follow or repent (no choice)
Get infected by a vertical event
Check the meter, check your watch
Are they ever gonna stop?
Runnin' out of daylight, nighttime's better
But we know how to handle the truth, motherfucker
Scandalous know-it-all, feedback chamber
Nobody wants the proof, they want a number
We don't deny what is wrong with our lives
We can't decide what is left of our right to silence our remains
Buried in the back and I'm sick and alive
Hollow as a breath, the further you dive
Oh, how I missed your honesty
You never miss with your intensity
You're gonna need a new disguise
Vessels burst, veins release
Just slide into the nearest lie"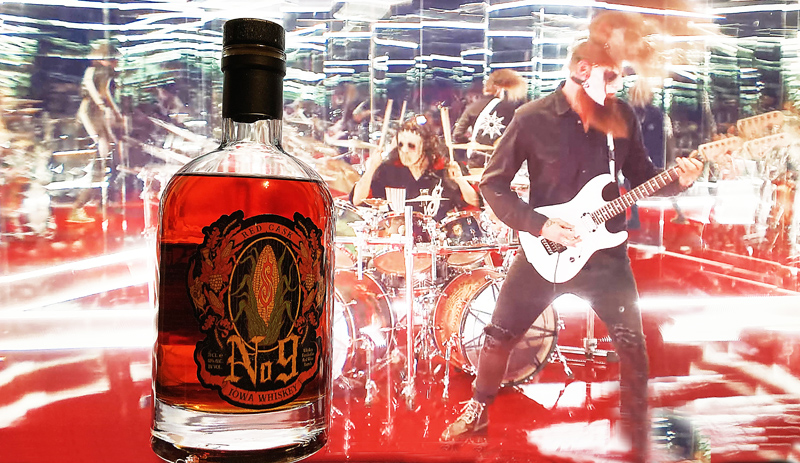 CLASSIC SLIPKNOT
Screamed by the advertisement on the Knotfest homepage, the Red Cask No. 9 whiskey is introduced and accompanied by the ,,The Chapeltown Rag". Intense melodies weld upon shrugging riffs and vast-paced ponder, the sinister song harkens back to the band's `Iowa' era and root it as classical Slipknot as one can get. 
Corey Taylor addresses the murdering spree committed by Peter Sutcliffe, dubbed "The Yorkshire Ripper" as a direct allusion to the infamous Jack the Ripper, roaming Leeds and its surroundings and murdering at least 13 women in the second half of the 1970's. With a "rag" as an English derogatory for a tabloid newspaper Taylor and his band bridge the tabloids directly to the present, with social media outlets and mass media manipulation distracting from the real news. Infecting the masses and pulling us into various directions, often causing rift and turmoil, with everyone's filter applied and facts are replaced by feelings. Thus, Corey firmly slices up the current state of the world and puts it into perspective with reflection of the past.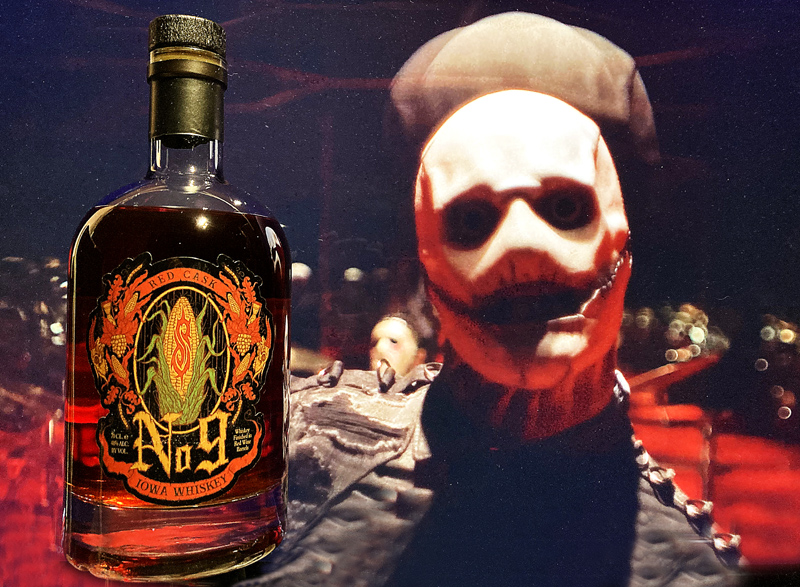 FORBES MAGAZINE
The bloody story of UK's 'punisher man' fits the band as well as it fits the colour of their new Red Cask whiskey. The video features a balaclava mask in gloomy red-ish glow and blood around the eyes, as accolade to the deep red inducing shine of the whiskey poured.
Their acclaimed No. 9 was hailed by many and has taken home the title for "Best celebrity Whiskey" from the prestigious Forbes magazine twice in the last 3 years!
Atop this collaboration between the Slipknot clowns and Iowan forged distillery Cedar Ridge has become a formidable tandem in finely-crafted spirits of extremely high quality and distinguished taste. Cedar Ridge's family farm and their farm-to-table supplied Iowa corn have proven their mash in No. 9's exquisite mash bill. Together with its 35% malted rye and 14% 2-row malted barley, the Iowa corn (51%) makes a perfect mash that Slipknot's founder Shawn 'the Clown' Crahan and Iowa's Quint family's (small batch) distillery make this an intriguing collaboration. Stubborn and unique in blend and taste, the whiskey enticed fans of the band as well as whiskey critics globally. I was especially taken by its buttery caramelly taste and sweet longevity that balanced out the spicy notes and typical Bourbon-like (light) sweet 'n sour mash.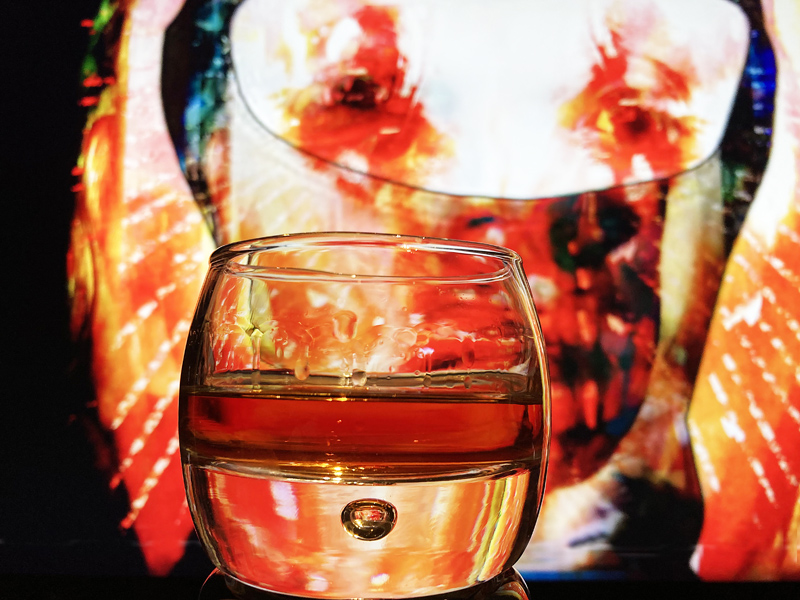 AS THE CHAPELTOWN RAG LYRICS CONTINUES
"All the ligatures are getting tight, like a style
Murder another mouth before the trial
Scalpel and then you scalp 'em to fucking death
Kills for the other vampires and surrogates
It's a ploy for attention and evidence
All your fucking monsters are flaws in your common sense
Do the dance while the shovels are breaking dirt
Everybody mind your fuckin' business or you get hurt
We don't deny what is wrong with our lives
We can't decide what is left of our right to silence our remains
Buried in the back and I'm sick and alive
Hollow as a breath, the further you dive
Oh, how I missed your namaste
You never miss with your integrity
You're gonna need a new disguise
Vessels burst, veins release
Just slide into the nearest lie"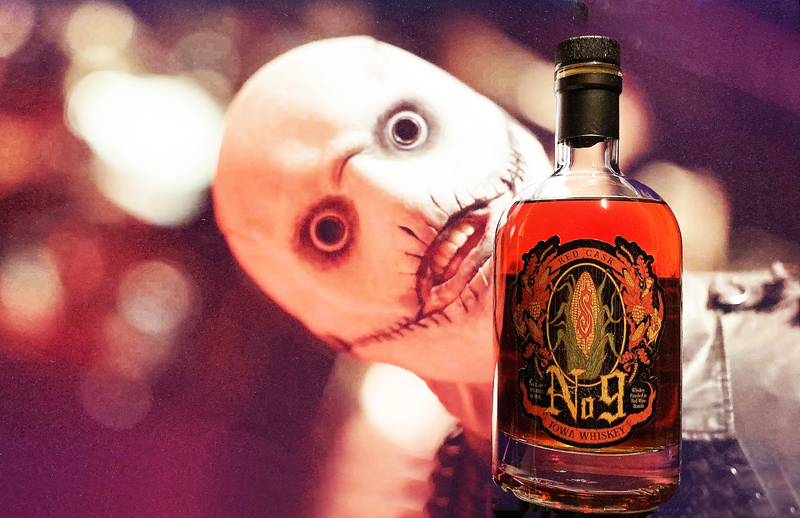 CEDAR RIDGE DISTILLERY – SLIPKNOT RED CASK NO. 9
Whiskey
48 % ABV
There're definitely some changes in the whiskey, though minor. This Red Cask was crafted from a 36% rye and 8% malted barley mash with an increased corn percentage of 56%, instead of the regular No. 9's 35-14-51 composition. Proofing of the whiskey also differentiates.
The main change to this Red Cask edition is the additional finishing. Taking Cedar Ridge's aged bourbon and Rye whiskey to lager them for an additional year in estate-owned red wine casks before expertly blending them for this mega-rich flavored 'Red Cask No.9', certainly further enriches its wide and varied palette.
This Red Cask finish provides a copper red shine on the whiskey's pour, like drips of blood diluted in the spirit, aligning with the video of ,,The Chapeltown Rag" and its ominous balaclava mask with bloody eyes. This dire effect however tickles the senses as the whiskey gets this luminous deep color that instantly attracts. Aging on Red Wine casks certainly adds to the presentation and Slipknot's typical sinister charms.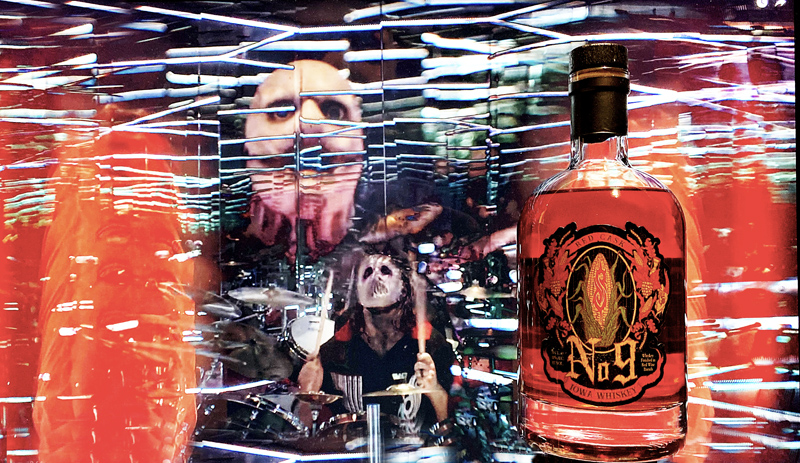 THE PRESENTATION
The presentation of the bottle is much like its classic predecessor, also featuring the Iowa corn centered on the recognizable label. The devil, however, is in the details!
No popped dark corn pieces in the corn on the center, but the iconic Slipknot capital 'S' in bloodred. Originally surrounded by corn drizzled around, Red Cask No. 9's label sees corn returning as well as wine grapes laboratory mixing glasses and rye feathered on the top and bottom. The entire border is rich and attractive in red and dark golden, with the peeled back corn leaves in green. The contrast is sublime and certainly adds to the novelty of this special edition. What also adds to its presentation is the characteristic banner on top and bottom being altered and aged, as if it were wood (cask). This also applies the 'No. 9', adjusted with a wooden-aged feeling representing the wooden cask finish. Details… details.
Pouring the whiskey while spinning `The End, So Far' is obviously mandatory. Not only because the album features ,,The Chapeltown Rag" that the band used for introduction of their new spirit, but also because it's Slipknot's homage to their co-founder Joey Jordison, who died at the age of 46 only (July 26, 2021).
Mandatory, because the depth and rich taste of the Red Cask No. 9 also is found on their latest album, which flourishes with deathly and crushing riffs on heavy-as-hell tracks, subtle and highly melodic choruses and hooks in modern fashion as well as their primal screams and outbursts, and keyboard wizardry with sound scaping allure displaying the band's versatility and exploratory tendencies widening their sonic landscape.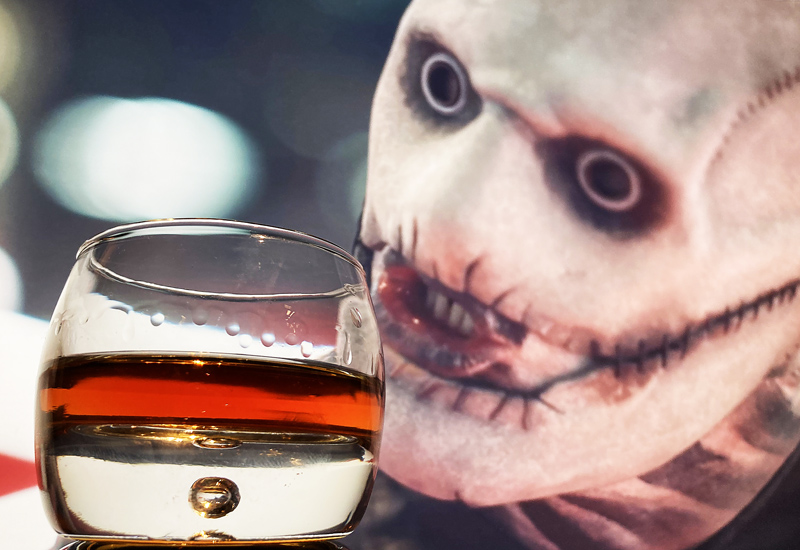 CEDAR RIDGE DISTILLERY AND SLIPKNOT
The production in Iowa's family distillery and directly monitoring of the process by the band's percussionist 'Clown' makes Slipknot's No. 9 whiskey so special. Onsite, familiar, and closely connected throughout its creation. 
Cedar Ridge Distillery stores and mills their own corn and grain on-site from corn that is grown on their family farm in Winthrop, Iowa. Lautering their mash separates the liquid wort and spent grain. The wort is fermented and distilled, while the spent grain is hauled off as animal feed for local farmers, making Cedar Ridge a community-based distillery also. Twice distilling their whiskeys to a higher proof, and removing the impurities results in a cleaner, more approachable sipping whiskey that has established name and fame world-wide. Allowing nature to be its ultimate guide in aging, Cedar Ridge transfer the whiskey to barrels, to be stored in non-temperature-controlled rick houses. Iowa's consistently inconsistent weather aids in the expansion and contraction of the barrels, allowing the whiskey to take on the rich aromas and flavors more quickly than in other regions.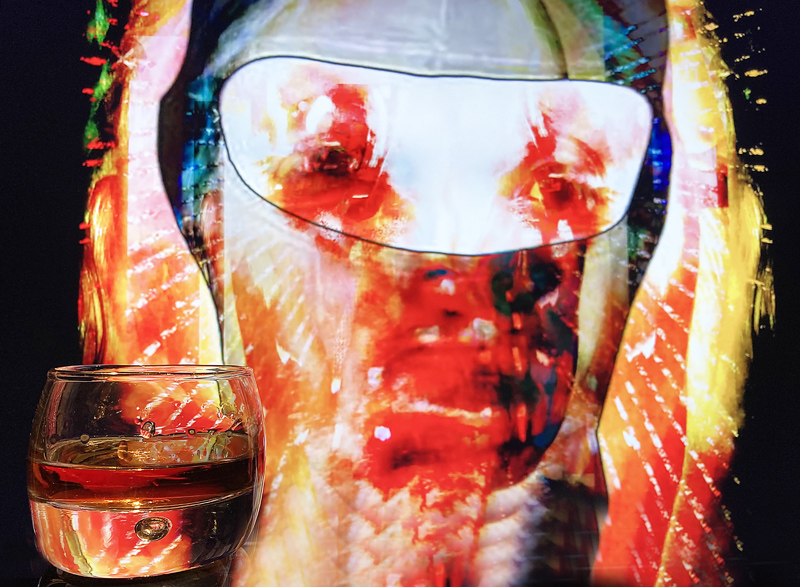 POURING DEEP AMBER
Storing the No. 9 whiskey in Red Wine casks from the Cedar Ridge Wine estate, the Quint family has enriched their award-winner with a rich scent and fine subtle nose.
The whiskey has a nice crisp clarity pouring deep amber. Red glow that bounces of the sunlight, I easily imagine derived from the purple-stained red wine barriques. A visual subtle touch that aligns with the art and presentation of the bottle. The bottle displays little sediment dazzling in the light, not yet present in the glass.
Immediately wading in is the typical bourbon scent slowly fading to the background, to give way to tannins-rich wine notes. Those wine aromas blend well with the whiskey's typical leathery tones. The more I focus, the more I am puzzled. More bourbon and grainy, some oaky earthy notes. There's fruit and zest fusing with light caramel hints and (even) cake. This sweeter perfume also reveals berry and grape. Very enjoyable, tough to pinpoint exactly as it keeps whirling. Rich and complex, but welling with sweetness.
Warming the glass will elevate the sweet top notes and butterscotch and toffee dominate with berries, plum and soft (wine) tannins bite to discover.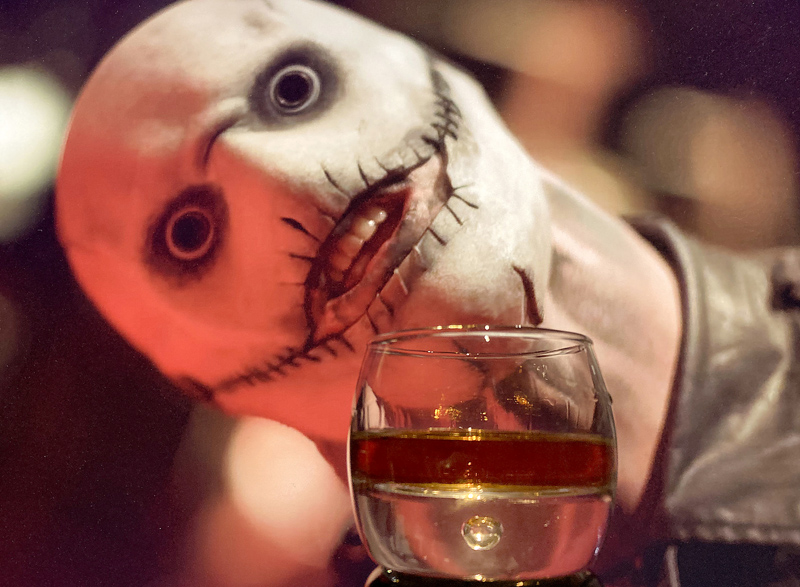 THE FIRST LITTLE SIP
As deep as its perfume is your first little sip. The whiskey immediately tickles your senses with a lot of its scent displayed directly in the palate of taste. Sweet notes that dominate while there is an exquisite depth hailing from the Red Wine finishing, but evaporates to reveal a cleaner palate. Previously mentioned tannins are remotely present underneath its dark fruit. Plum, raisins subdued by stronger (Merlot?) grape/blackberry presence. Toffee and popcorn(y) sweet dry mouthfeel with pleasant peppery undertone get your head spinning. So much going on, so much to enjoy. Overwhelming indeed…
More impressive the gulp washing back to front for a couple of seconds. Biting peppery with a punch packed, it starts to reveal a wide palate of fruits (apricot) and remote sweetness, without losing the alcoholic discharge and dryer rye 'parch'. There's some fire packed here. Little smoky thin drizzle with defined hints of oak stuck to its buttery appearance. Red Cask No. 9 has a real lengthy finish with enduring (white) pepper and dry oak richness. This long-lasting taste and warming experience are built from sweeter butterscotch and toffee slowly giving way to this peppery aftertaste. It really clings to ya!
Meanwhile I'm well into ,,De Sade" and ,,Finale" of `The End, So Far' and I start to enjoy the tasting more than jotting down the notes to compile this story. I'm sorry….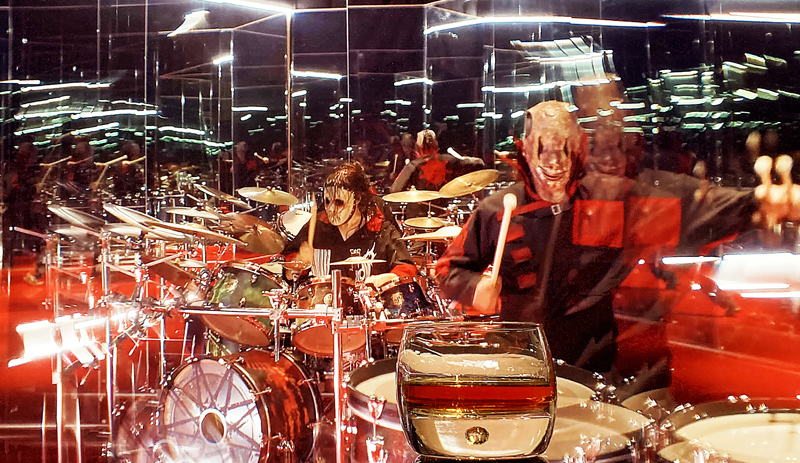 PUZZLING DEPTH
Opening it with just a drop of water has the same effect but enhances the sweet notes and emphasizes its complex symbiosis of fruits and sweets. It just wells all very well, with the punch that gives you a real uppercut for boundaries exceeded.
Yes, Red Cask No. 9 is deceptively sweet and rich and has you reaching for refill, simply forgetting the impact of its alcohol percentage. No, I didn't chill it by serving on the rocks. Its Red Cask finish is simply to complex and enjoyable to chill down the effects of gradually warming and revealing more of its puzzling depth. Zestier even.
"Read all about it if you want to know
(Everything is God online)
Read all about it if you want to know
(Everything is God online)
Read all about it if you want to know
Stoned like a beast on a chain lookin' dead
Feelin' strange, what the fuck
I'm material to sew into the stains
Like a catalog of pain, like a martyr in restraints
I can kill with a will, and it's stronger every day
I'm a knife, I'm a gun, I'm a slit, I'm a scar
I'm a scream, I'm a death, I'm a threat, I'm afraid
That you will never understand I'm not the same
You better call the triple 9, I want a face
That you can only recognize
I'm afraid, I'm afraid, I'm afraid, I'm afraid
When everything is God online, nothing is
When everything is God online, nothing is"
FOOD PAIRING
It's easy to make it a winner by pairing this Red Cask No. 9 with Streaky Bacon or steaks. But why not experiment with its presented depth?
I enjoyed my first tasting with simple but freshly baked rye bread. A bread with nuts and grains, that had not risen to full potential as the yeast made contact with the salt. (My bad.) Its compact structure and salty taste perfectly matched the depth of this Red Cask No. 9, and buttering it, complimented the whiskey perfectly. The fat of the butter, the bread's salt and compact structure, it all made perfect companions for the rich taste and the drying peppery finish. Oh… and… later I added a slice of fresh Prosciutto which made it even better. Just awe to taste!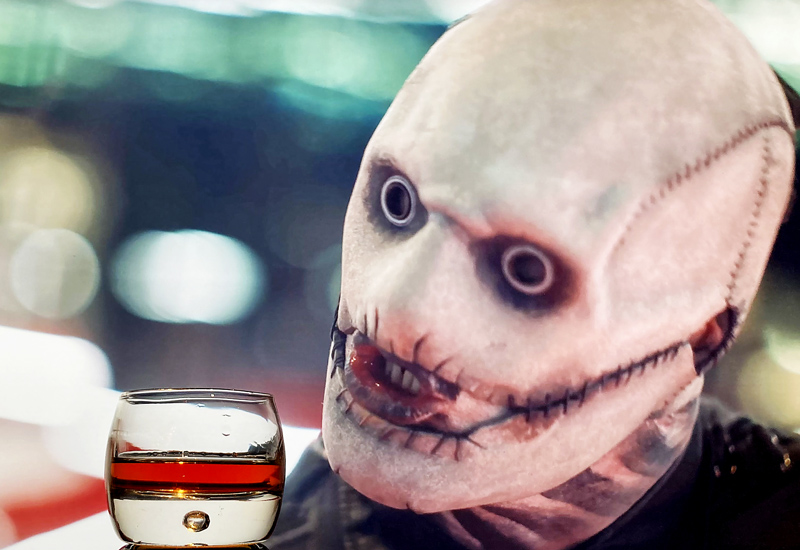 ANOTHER PERFECT MATCH
Today I had a greasy sandwich with pulled pork and a (YES!) burger sauce on it as well as caramelized onions. It made another perfect match for the whiskey and was sheer magic! Tested and found perfect are pairings with dark chocolate. I tend to stay off the spicy food, lean towards a sweeter section that cuts the dry. Works better.
And those that like to be hammered; it goes down very well together with Reposado tequila on the side, an old Genever or Dutch Korenwijn. Tip for the top! All dark and strong ales definitely have the same effect. Any barley wine or Stout will be complementing the experience of joy together with this Red Cask No. 9. I wonder if a Red Wine from the Cedar Estate also complements the Red Cask Whiskey. I expect it does, as both are strongly rooted in the same Iowa soil…
'Red Cask No. 9' is another winner from the fruitful collaboration between Slipknot and Cedar Ridge Distiller (and Wine estate), and certainly will find its way to the band's fans and fans of the Iowa distillery. It is rich and complex and reveals so much on every sip, it puzzles. But it enjoys and lures you constantly. There's an enchanting experience that awaits you….
This one is another winner, and a must try for a wide audience. Slipknot fans, Cedar Ridge enthusiast, wine and whiskey aficionados: GET IT WHILE IT LASTS!!!!
"When everything is God online, nothing is
When everything is God online, nothing is"