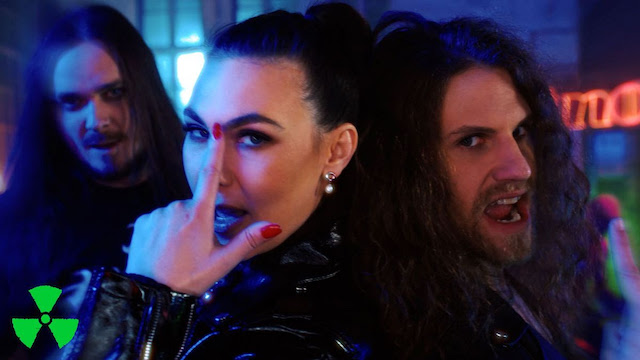 News | Amaranthe unveil music video for E-sports
Championship Anthem `PvP'
+++OFFICIAL PRESS RELEASE NUCLEAR BLAST+++
Amaranthe unveil new music video for e-sport anthem `PvP'!
After recently delivering the official anthem for the Swedish team at the international e-sports world championship. Amaranthe now follow up with level two and unveil a music video for their latest single "PvP". Directed by none less than Poland's Grupa13, who previously worked with the band on 'Archangel' or 'BOOM!1', the video is a colourful and uplifting way to end another blunt year of the pandemic.
Check out the clip for the modern metal dancefloor filler here, and make sure to keep your eyes open for further surprises from the Swedes in the upcoming weeks.
WATCH THE VIDEO HERE:
Stream or download the song HERE
Amaranthe were recently forced to postpone their upcoming co-headline tour with Beyond The Black and you can now catch both bands on one of the following events next year:
06.10.2022 | AT – Vienna, Arena
07.10.2022 | DE – Leipzig, Haus Auensee
08.10.2022 | DE – Ludwigsburg, MHP Arena
09.10.2022 | BE – Antwerp, Trix
11.10.2022 | UK – Manchester, O2 Ritz
12.10.2022 | UK – London, Forum Kentish Town
14.10.2022 | FR – Lyon, Ninkasi Kao
15.10.2022 | ES – Barcelona, Salamandra
16.10.2022 | ES – Madrid, Mon Live
18.10.2022 | FR – Bordeaux, Rock School Barbey
19.10.2022 | FR – Paris, Elysée Montmartre
21.10.2022 | DE – Berlin, Columbiahalle
22.10.2022 | DE – Offenbach, Stadthalle
23.10.2022 | CH – Zürich, X-Tra*
25.10.2022 | IT – Milan, Live Club
26.10.2022 | CH – Lausanne, Metropole
28.10.2022 | DE – Geiselwind, Event Hall
29.10.2022 | CZ – Zlin, MOR Cafe
30.10.2022 | HU – Budapest, Barba Negra
31.10.2022 | DE – Munich, Zenith
02.11.2022 | PL – Warsaw, Progresja
04.11.2022 | DE – Oberhausen, Turbinenhalle
05.11.2022 | DE – Hamburg, Zeltphilharmonie
06.11.2022 | NL – Utrecht, Tivoli Ronda
08.11.2022 | DK – Copenhagen, Amager Bio
09.11.2022 | NO – Oslo, Sentrum Scene
11.11.2022 | SE – Gothenburg, Pustervik
12.11.2022 | SE – Stockholm, Klubben Fryshuset
Tickets for all shows are available HERE
ABOUT AMARANTHE
AMARANTHE have spent the last decade establishing themselves as a formidable, positive and fervently melodic force for metallic good. From their explosive self-titled debut in 2011 to the more sophisticated, streamlined likes of 2014's "Massive Addictive" and its immaculate follow-up "Maximalism" (2016), AMARANTHE have masterfully blurred the lines between melodic metal, crushing brutality, cinematic sweep and futuristic sparkle. Led by the endlessly ingenious songwriting of guitarist Olof Mörck and powerhouse vocalist Elize Ryd, their rise to prominence has been a joy to behold.
Widely acclaimed as a dazzling live act, the Swedes reached a new peak of creativity on 2018's hugely successful "Helix": an album that pushed the band's vision to new heights, breadths and depths, while showcasing the brilliance of Elize and her co-vocalists, Henrik Englund Wilhelmsson and recent recruit Nils Molin.
Not just a glorious return but a wholesale upgrade for their exuberant sound, "Manifest" is simply the most daring, dynamic and unforgettable album that AMARANTHE have released to date. The perfect antidote to the nagging anxieties plaguing us all in these troubled times, it's a Technicolor celebration of metal's ageless power, blazing with all of life's colours and chaos, but delivered with utmost artistry and skill.