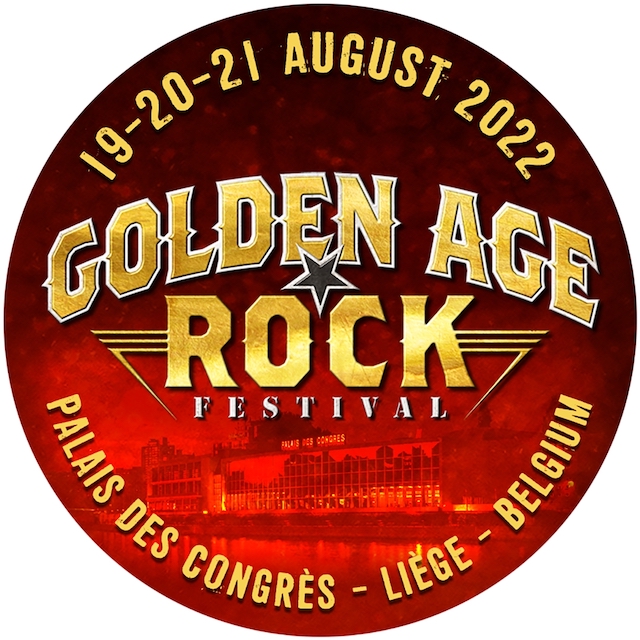 News | Golden Age Rock Festival Update
The Mecca for Classic Rock Fans
+++OFFICIAL PRESS RELEASE BY GARF+++
From 19 until 21 August 2022, the Golden Age Rock Festival will take place for the second time in Liège, Belgium. The festival takes place in one of the most beautiful performance halls in Wallonia, at the Salle des Fêtes of the Palais des Congrès, esplanade de l'Europe, 2 in 4020 Liège (Outremeuse), a stone's throw from the city center and the Guillemins train station.
GOLDEN AGE ROCK FESTIVAL LINE-UP AND CAMARADERIE
It is possible to purchase both weekend and day tickets. There are also (limited) VIP tickets available.
This second edition will feature bands such as Angel, Diamond Head, Mother's Finest, Victory, Alcatrazz, Stray, Pink Cream 69, Grand Slam, Robby Valentine, Epitaph, Girlschool and many more.
INFO & TICKETS HERE
There is also an art exhibition by Eric Philippe and a photo exposition by Franky Bruyneel & Marc Debus. There will also be a Rock Market and many bands will do signing sessions.
If 1970s or 1980s rock brings back good memories for you, then this festival of classics is a must. As organisers, if we are often disappointed by a relentless commercial thirst or an evolving multiplication of various festivals, our GARF must essentially revolve around an old school theme: the single stage. Breathers between shows. Adapted schedules. Camaraderie among all parties.

Liège is a nice, ebullient and welcoming city with a Latin spirit, a fervent city full of contrasts. And at the end of August, it will become the Mecca for classic rock fans. Of course, the wonderful former riding school of the Palais des Congrès will be a beacon of musical passion. An elixir of authentic friendliness.
Keep on rocking brothers & sisters and let's be part of it!