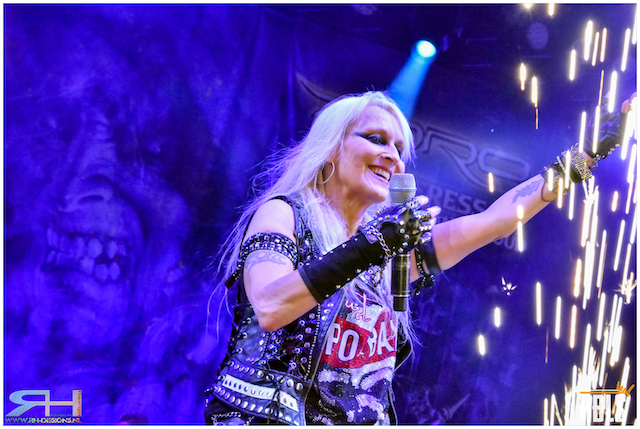 Live | DORO – Mitsubishi Electric Halle – Düsseldorf [DE]
28 October 2023 - 40th Anniversary Show
Last week DORO – Doro Pesch – held a party because she is active for 40 years in the rock and roll business. This special celebration took place in the Mitsubischi Electric Halle in her hometown Düsseldorf. Fans have travelled en masse to experience this metal feast, and the venue is completely sold out for quite some time.
GRAVE DIGGER
To warm up the fans, DORO had arranged Grave Digger as the opening band, but because of the huge crowds in the hall and hallways, I missed this band. Consequently, the infrastructure of this legendary hall is no longer very suitable to handle these kinds of masses of people quickly and effectively. In any case, taking a bite or a drink is a drama due to the long queues. Mitsubishi Electric Halle is filled to the brim with enthusiastic DORO fans, which of course is only a very big compliment to the hostess of this evening.
CONGRATULATIONS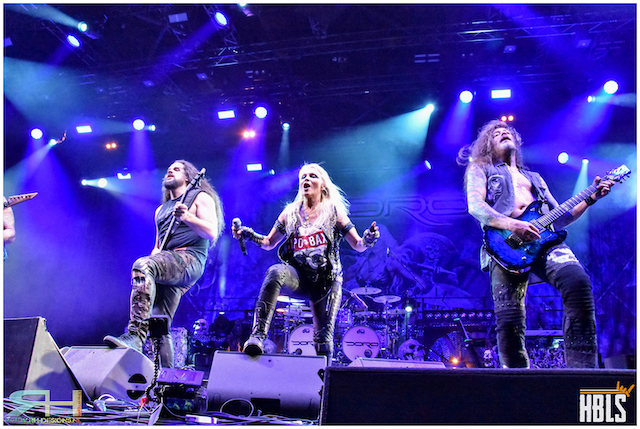 When the party kicks off, we first got to see the congratulations video on big screens, which we also got to see for her show at the past Wacken Festival edition. And I really do understand DORO's pride in this footage. Celebrities, whom she herself looked up to and sees tremendously, congratulated her on her 40th Anniversary.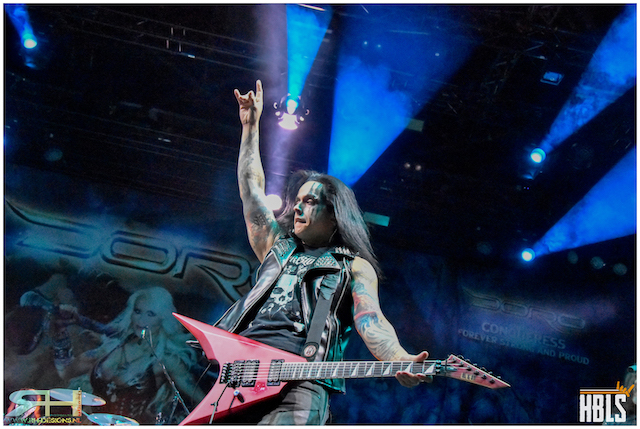 The stage is nice and spacious and decorated with some extra pyro effects and, not unimportantly for us as press, a nice spacious photo pit. The sound is fine, light is beautiful and the venue is on fire from the start. The band plays tight and the voice of DORO is, as always, in great shape. The band members, Bas Maas [guitar], Johnny Dee [drums], Stefan Herkenhoff [bass], Bill Hudson [guitar] and Harrison Young [keys], are dressed up for the occasion with war paint on their faces and we can also welcome the apocalyptic warrior figurants back to the stage.
WARLOCK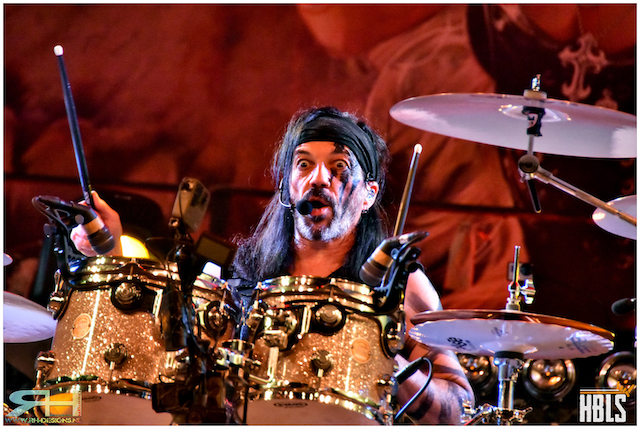 In terms of set list, we are presented with a lot of Warlock songs, songs that are of course inseparable from DORO, but I must point out that in these 40 years she has been traveling the world as a solo artist and releasing records for over 30 years. Surely more material from that could be played.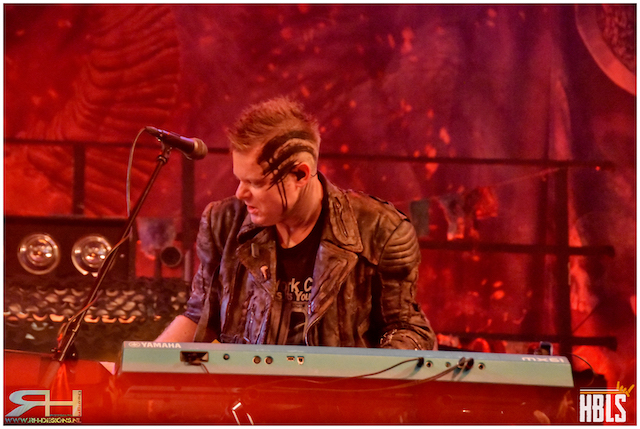 From the latest record `Conqueress – Forever Strong And Proud' 3 songs are played. ,,Children Of The Dawn'', ,,Time For Justice'' and the duet ,,Bond Unending'' with Boilers singer Sammy Amara, who of course was also there tonight to play the song along with the band. In addition, numerous friends of DORO are on hand to sing a pot or play along with the band putting down a rendition of songs belonging to Ms. Pesch. 
FRIENDS AND GUESTS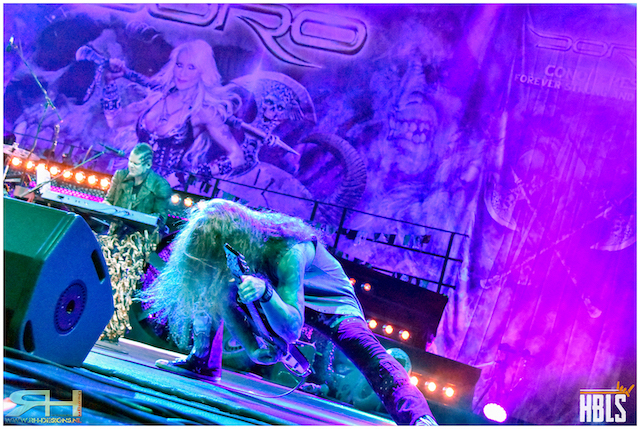 Alissa White-Gluz [Arch Enemy], Tarja Turunen [Tarja, ex-Nightwish], Jennifer Haben [Beyond The Black], Mille Petrozza [Kreator] and Andy Brings all make an guest appearance to perform one or more songs along with DORO and the band. A nice list of guest musicians, although I also heard people grumbling that they did miss some ex-DORO band members like Luca Princiotta or Nick Douglas, who after all have given their services to the band for quite a few years. Or perhaps some former Warlock band members.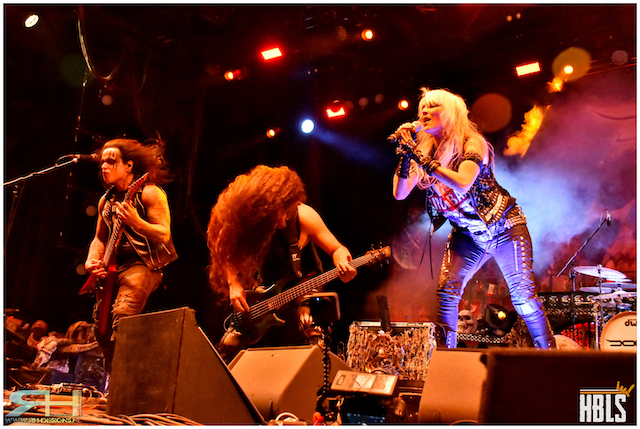 What was also annoying is the fact that most of the press photographers had no opportunity to take pictures of the guest artists present, which would have made the report a little more complete. That is a critical point, because nowadays just about every fan in the audience stands with a phone and takes pictures and films everything. I would have thought of something for that.
DORO – THE ANTHEM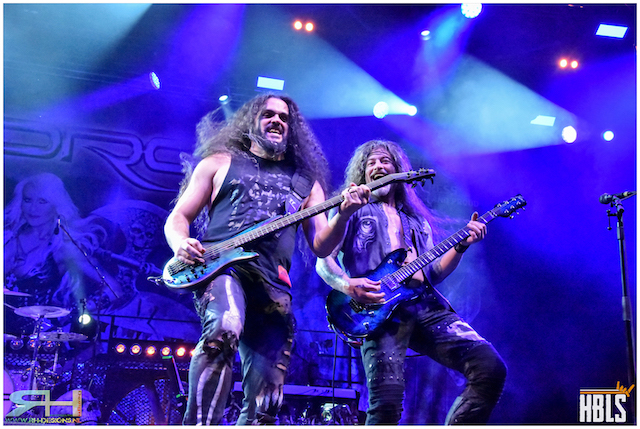 The party didn't get any less, as one song after another was unleashed on the audience for over 2 hours. So anyone who still has something to grumble about should just not go to a DORO show, because as always the fans were served at their beck and call.
However, it was quite strange that the regular set ended with the über DORO anthem ,,All We Are", since normally that always means the absolute end of the show. Fortunately that is not the case this time and the fans are able to enjoy a few more encore songs.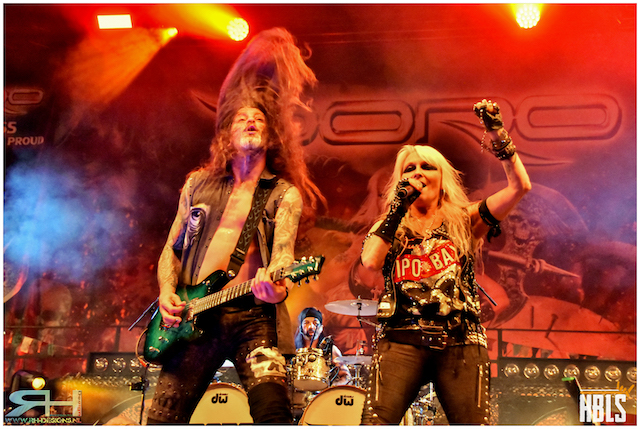 DORO should be proud of her performance and this show. There are not many artists who emulate her this milestone. For that you can only take a very deep bow. A successful party!!!
DORO SETLIST
I Rule the Ruins
Earthshaker Rock
Burning the Witches
Fight for Rock
Children of the Dawn
Time for Justice
Touch of Evil (with Alissa White-Gluz)
East Meets West
Walking with the Angels (with Tarja)
Metal Racer
Für immer
Raise Your Fist in the Air
Love Me Forever (Motörhead cover) (with Jennifer Haben)
Bond Unending (with Sammy Amara)
Ace of Spades (Motörhead cover) (with Mille Petrozza & Andy Brings)
Breaking the Law (Judas Priest cover)
All We Are (with all guests)
All for Metal (with Alissa White-Gluz)
Revenge
Burn It Up
Love Me in Black
True as Steel
Hellbound
Metal Tango
All photos by Raymond Helebrand
About
German singer/songwriter Doro Pesch, aka Metal Queen, is active in the music scene since 1980. She started her career as lead singer of the German heavy metal band Warlock and released 4 studio albums between 1984 and 1987. In 1989 she released the album `Force Majeure' under her own name and has been successful as a solo artist ever since.
Genre
heavy metal
Website
https://www.doromusic.de/
Social
Tags