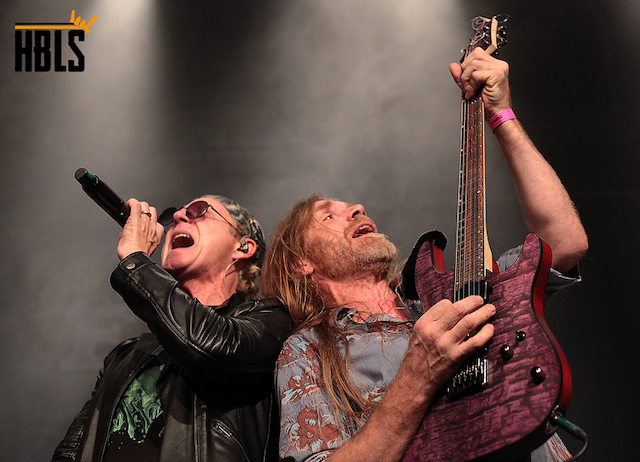 Live | Elegy [& Starscream] – Dynamo – Eindhoven [NL]
5 November 2023
Made aware of the band's influencing impact on modern day power metal judging renowned praise from musicians like Aguiles Priester (Angra, WASP, etc), Bill Hudson (Doro, I am Morbid), Dario Parente (Geoff Tate, Headless), as well as his counterpart Walter Ciancusi (Headless), I was baffled by the impact Dutch Elegy made on Power Metal. The Dutch band Elegy rose to fame in the 90s with their homeland displaying minimal interest, while the land of the Rising Sun and South America immediately embraced their unique style. Upon the band's official reunion gig in their hometown of Eindhoven, this still resonates.  
The venue is packed, and there are more nationalities from all over the globe making their way to the famous Dynamo venue than there are people travelling in from The Netherlands itself. Their native hometown of Eindhoven is more than present this evening, while others silently let the event pass. Fans from, Greece, Italy, South America, Portugal, Scandinavia and the US flew in to celebrate the return of this cult giant. Even fans from Japan travelled to the Dutch south gathering frontstage. It emphasizes their status, their influence as one of the groundbreaking power metal bands of that era. Nonetheless, today's event becomes special, charged and buzzing. 
STARSCREAM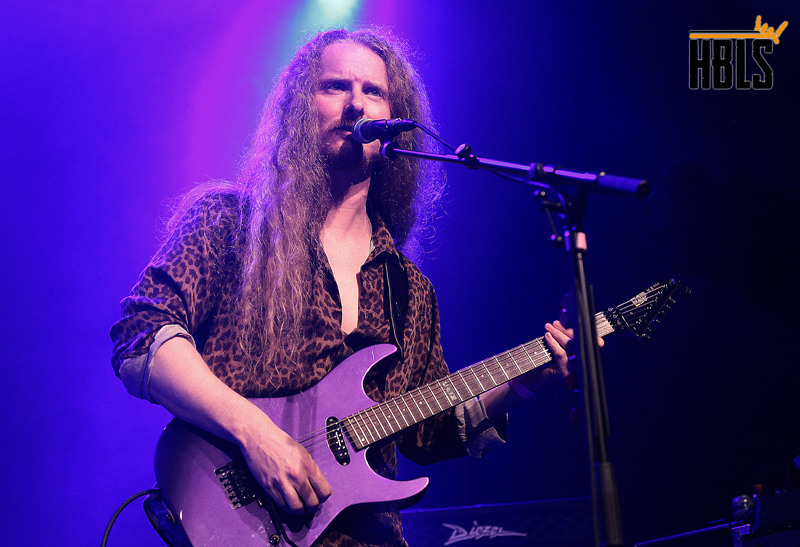 Hometown heroes of the present, Starscream kick off the evening. Their classic hard rock blasts from the PA system with the trio making a solid impression. Especially guitarist/singer Tim van den Eijnden dominates with his roaring raw range. Much like contemporary singers like Ian Gillan and the late Ray Gillen (Badlands, Black Sabbath), he has a raspy and powerful register and is blessed with a soulful edge. He wails with towering prowess and easily channel emotions. His vocals stand tall over the wall of sound, but being limited to singing and guitar playing, he isn't a dominant force as frontman. Stuck to his side of the stage, he delves deep to inject their powerful rock tunes with soul and swagger while laying down some solid riffs. The chordal drive and riffs are dominantly present propelling their beefy sound.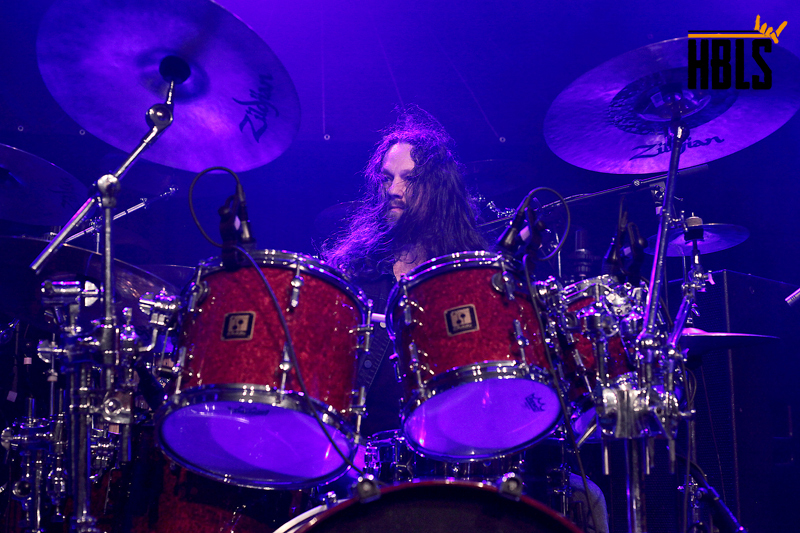 Storming into the Lizzy tinged ,,Lockdown" and ,,Familiar Faces", the band impresses, rapidly picking up their stride. Drums positioned center stage adds to the performance. Starscream's power wells, oozing classic hard rock all over. The title track of their recent EP `Shatter the Sky' triggers sentiment, and even more so on the wonderful ,,Time". The song's parading lick, combined with its stagnating riff and drum break, mark the band's compositional intelligence. Soling Tim refrains to an effective style, much like Golden Earring's George Kooijmans but with fine metallic shred influences. It presses to serve the song and brings the needed heavy edge to the front.
There are hinges of the previously mentioned Badlands as well as Canadian 80s heroes of Triumph on which their songs rotate. This reference found in their impressive groove and swing from drummer Cyriel and bassist Ruben Heijnsbroek, reinstalling the term 'power trio' graciously. Their short and effective set keeps the pace high with drive and gritty offload.  
A GOOD IMPRESSION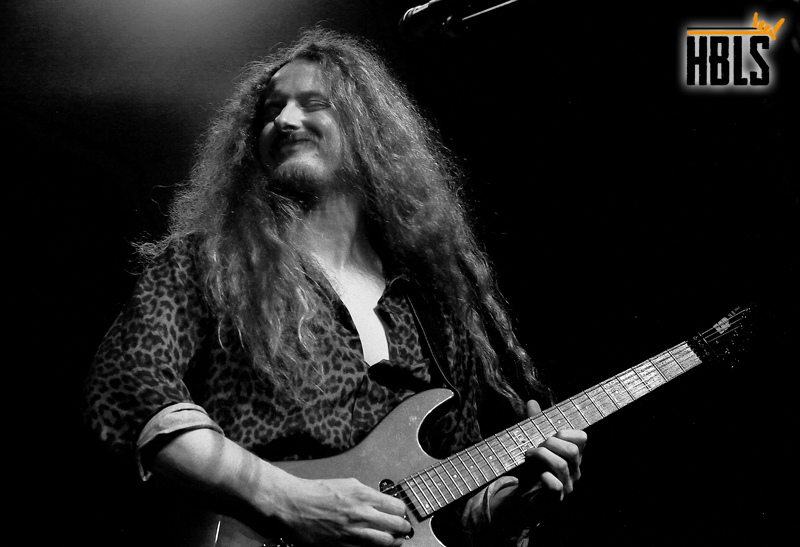 The whole blend makes a perfect opening for the main event, with the audience initially reserved towards Starscream's performance. Gradually building momentum the band display their eagerness bringing forward their best tonight. Their Spotify single ,,Seventh Sign" impacts less than the swagger-laden ,,Xenophobia", which lands well with the audience. ,,Shot" is powerful, and with songs like ,,Running" or the hooky and moaning ,,The Fury" Starscream pushes their musical exploration forward. The gap between the crowd and stage slowly but surely fills raising a much-deserved anticipation. It emphasizes their strengths performing in front of many foot-tapping musicians refraining from enthusiasm. Starscream's performance certainly makes for more especially with their live sound packing more groove and power than on their studio offerings. This band benefits from performing live.
ELEGY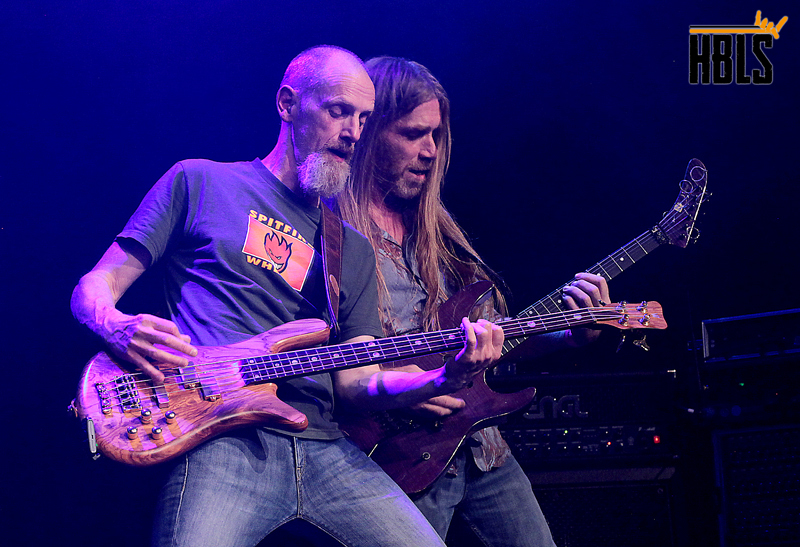 The moment we've been waiting for builds tension. Lights dim and smoke flows over the stage. Elegy's ominous intro ,,Equinox" raises excitement. Loud applause and cheers welcome our long-lost heroes to the stage. Humbled, Dirk Bruinenberg climbs his drum riser with anticipation intensifying. Members Gilbert Pot and Martin Helmantel are cheered onto the stage and when singer Ian Parry enters the crowd anticipation raises anxiously. The return of Elegy's axeman Henk van der Laars is a fact, raising the roof instantly. His timid persona makes him chuckle, immediately crunching out the roaring riff for opening track ,,Trust", in which he displays his insane abilities as a shredder. Full on force, maintaining his fine feeling for melody, the magic lands.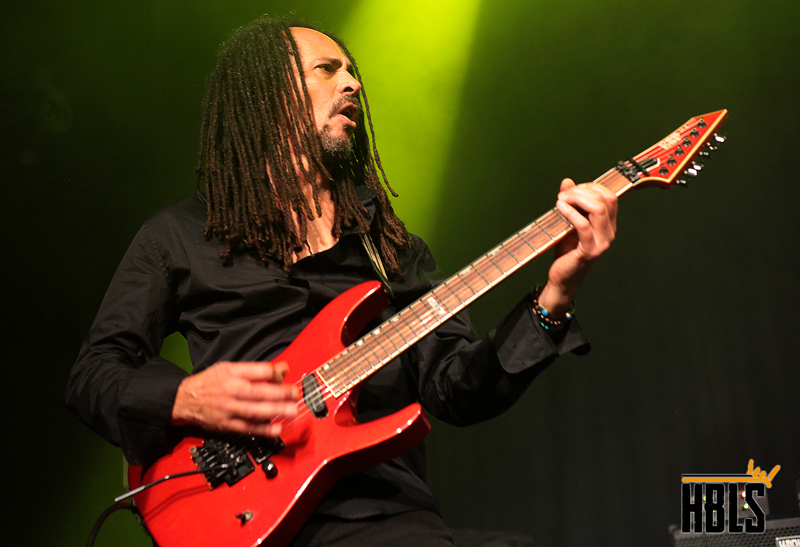 Accompanied by Gilbert, Henk takes the helm unleashing his memorable twin-melodies upon the audience. Many stand in awe as the guitarist displays his maintained skills not fading to age. Bending his strings pitching high while delving deep emotional. The harmonies in place, interaction between both guitarists hasn't faded.
HENK VAN DER LAARS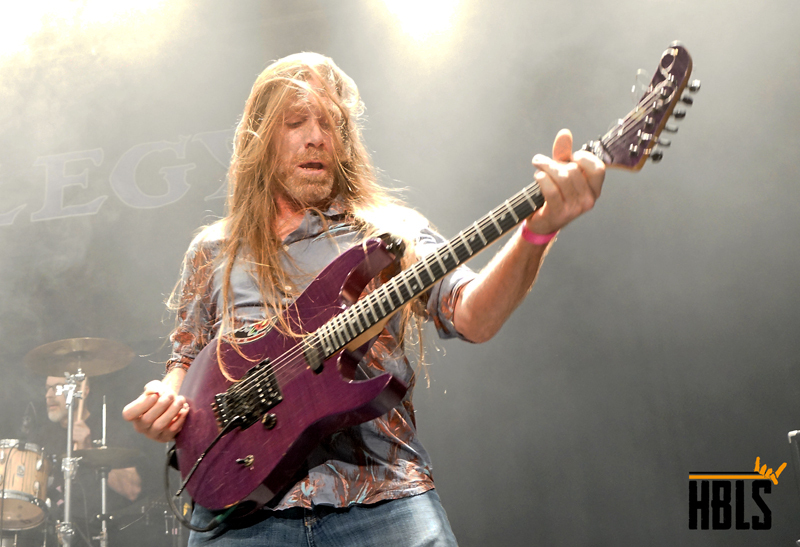 The duo's twin solos and intrinsic harmonies are pitch perfect, with Gilbert swinging his axe high enjoying the return to the stage. On his front two fans in total admiration celebrate Elegy's songs, singing along word for word, raising fists and falling into praise constantly. It is this exact emotion propelling the show. Emotion finds accolades with van der Laars' performance of ,,Anouk" who is in front of him, joined by Henk's family and grand-children. Tears well with Henk standing taller than many spectators. The sheer emotional impact of the song and his return is felt throughout, binding fans and band together. Not only the song, but the channelled love of the melody is heart-warming.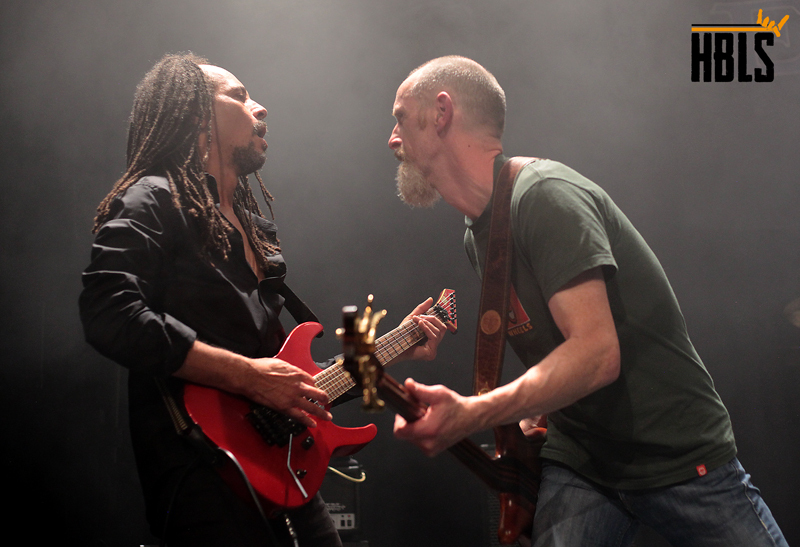 This binding factor of band and audience is what makes tonight's magic. High on this wave surfs their debut classic ,,The Grand Change" that evokes fond memories. Harnessing that impressive twin licks and slashy riffs, the song calls out in rousing Elegy fashion on the tripled vocal calls. Energizing the song's wildly progressive tenure, Dirk's rhythm execution is perfect. The monster drummer, who must be the hardest working musician on stage tonight, brings an insane poise to the plate. His double bass thunders, the floor interaction underneath his tom dynamics and cymbals injection is fierce, and his keen cymbal work adds the right (ride) splash and crash to the band's driven power metal discharge. Breaks delivered by the dozens, time changes and inventive hooks are rapid and downright jawdropping.  
IAN PARRY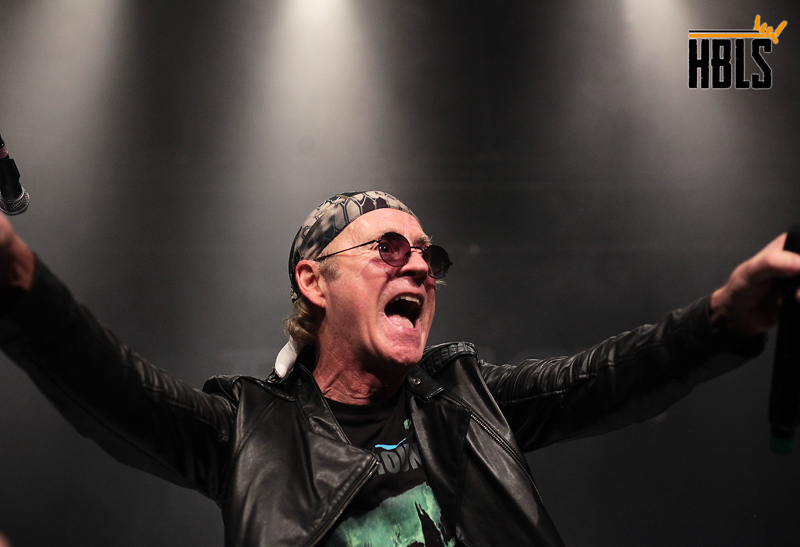 Parry rouses the venue and the band storms into a very radiant version of ,,Visual Vortex", sung along to by the crowd, before breaking into a dynamic version of the mega melodic slow crawling ,,Take My Love" with Ian belting out with immense precision. His vocal discharge is spot on and pitch perfect, conveying the right emotion. Riff and melody sweep towards the strutted chorus with its memorable hook. Vocal interaction and outcalls by all members place the typical Elegy mark on chorus and bridge. It is great to see how close the band has grown during this reunion with everyone radiantly enjoying themselves. Members lean into each other and their comradery seems reevoked spreading wider than just a wink and eye contact.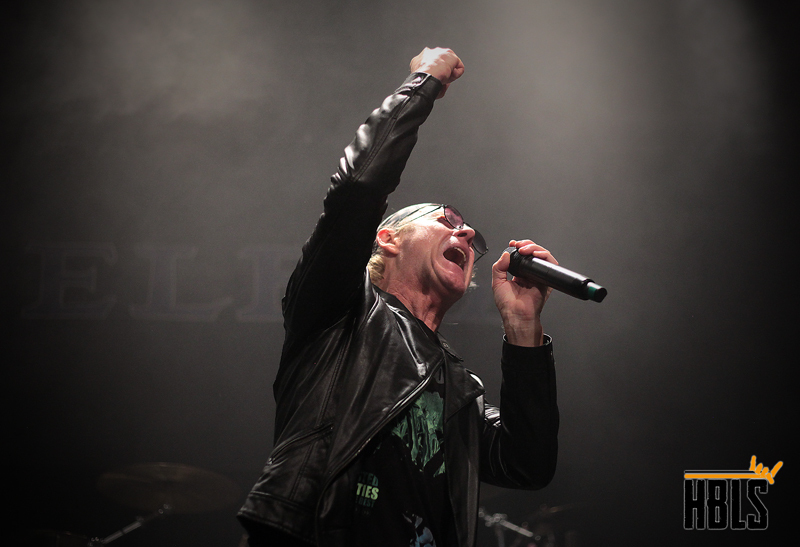 ,,1998 (The Prophecy)" wails pitching into action. Solos and licks are interchanged between Pot and van der Laars with lush instrumentation gradually added. Main initiator of this reunion Martin plucks the strings of his Warwick bass with dominant force and is touch with audience and band constantly. The growling bass lows and his rich chordal style add volumes to the overall sound and back both guitarists. His vigorous style adds well to Dirk's spirited and flamboyant rich style. 
GUITAR MUSCLES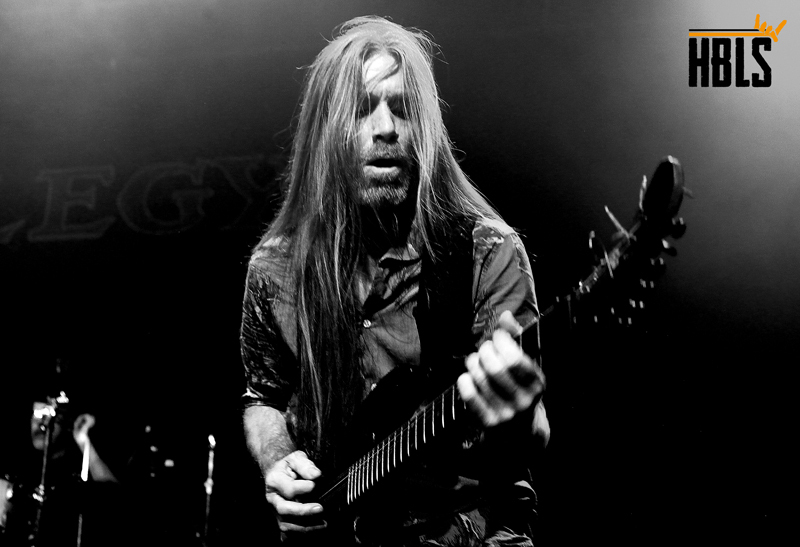 Parry roars on ,,Losers Game", switching registers constantly. His vital presence combined with his strong delivery even makes the vocalist of the originals fade into the past. Parry is immensely popular shedding confidence flexing his vocal chords around the daring melody structures. He is present!
The great and timeless instrumental ,,All Systems Go" sees guitar-fans going crazy. Frustrating fellow-musicians with their piercing solos and licks delivered close harmony, Pot and van der Laars display muscles. Switching between close harmony melodic phrasing and intrinsic staccato guitar duels, they revive the Shrapnel stable's grandeur of Friedman and Becker. Proggy bass lines laid down by Martin fuel the brooding cocktail of shred. It all combusts with a total guitar frenzy as the trio of string-benders start to speed up. Impressive torque in its delivery makes this another highlight.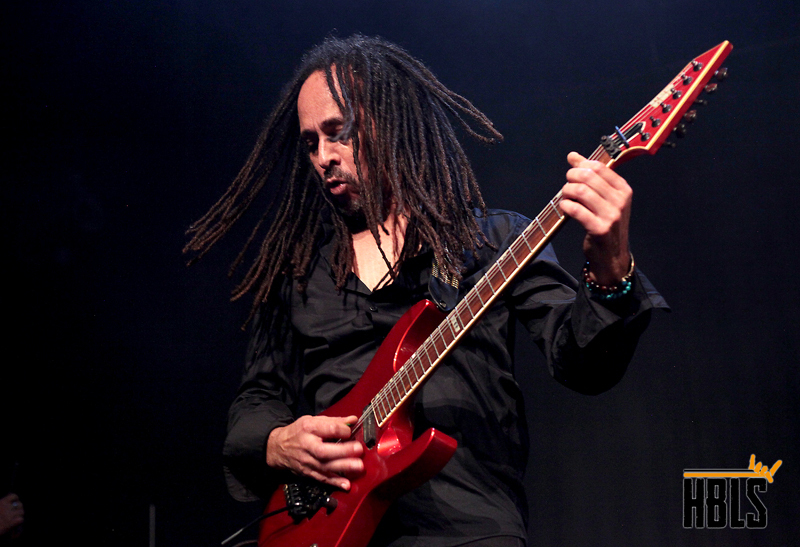 Ian hits it out of the ballpark with a piercing melodic execution of the jagged driven ,,Shadow Dancer" with its towering riff offload and melodic hooks, before Henk emits the previously mentioned emotional stillness performing ,,Anouk" with gut wrecking precision.  
ELEGY – THE ENCORE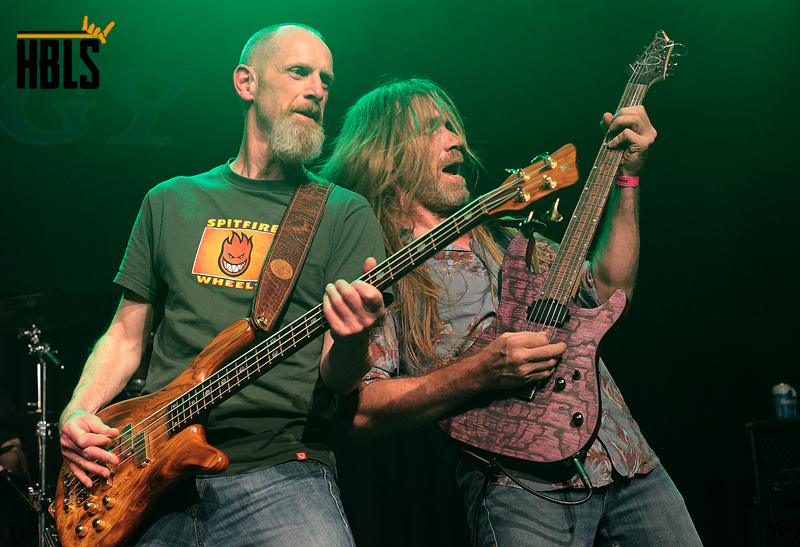 ,,Circles in the Sand" is Teutonic turbulent, and the rip-roaring ,,Frenzy" make way to the ominous and dark title track from `Manifestation of Fear', exploring their wider musical horizon. The song, less anticipated than the previous classics, carries across is embedded with persistence, doom and crawl impacting. Standing tall with its hauling emotion and sticky chorus, it grows on the masses. The excellent sound in the venue pumps the ingrained melancholy.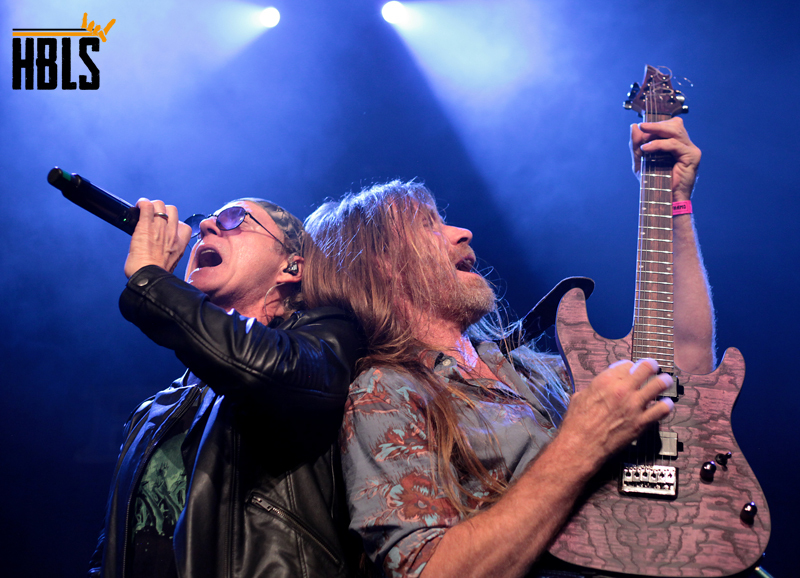 Under loud applause Elegy leaves the stage briefly to return for a storming performance of the melodic hit single ,,I'm No fool". Power metal meets melodic rock, and more specifically AOR in the body of this track making it timeless and essential for the genre. Fists fly up in celebration with the crowd singing along to the words and nesting chorus. Onstage the band is on an emotional high delving deep for the closing ,,State of Mind". Cheerful accolades added, the band leaves the stage once more, not to return this time.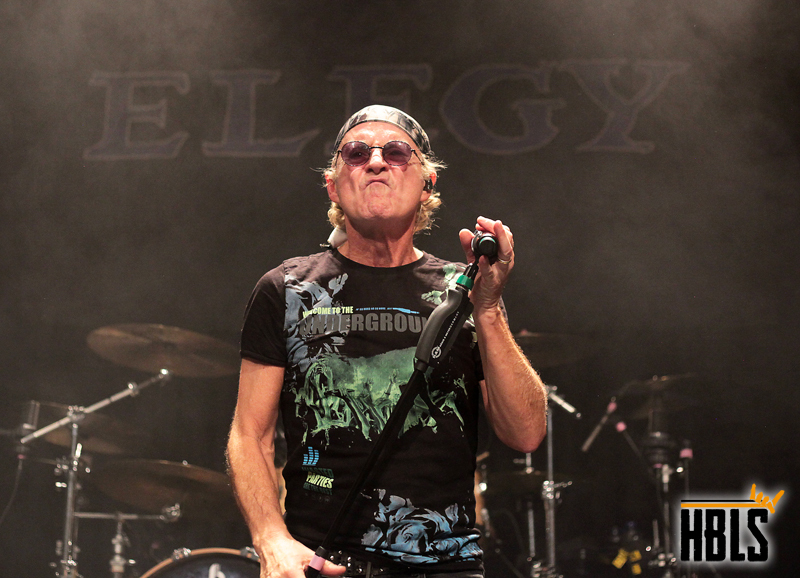 In all honesty; this gig was simply astounding, spectacular. The musical supremacy radiant, after their 25-year hiatus, is still impressive and eye-popping. Slick melodies wrapped in shiny metallic foil atop a true at heart metal drive, makes for magic. Henk at the helm reinstalled as the band's musical leader, Elegy came, saw and conquered. The crowd left behind flabbergasted as it witnesses one of the best bands ever to have emerged in metal music, unaware of its impact on time, space and music. Elegy is one of the very best kept secrets of the last decades and remains to be so during this reunion. Whoever was present will push to bring friends and relatives to celebrate their 'rebirth' at the altar of power metal.  
All photos by Edwin van Hoof