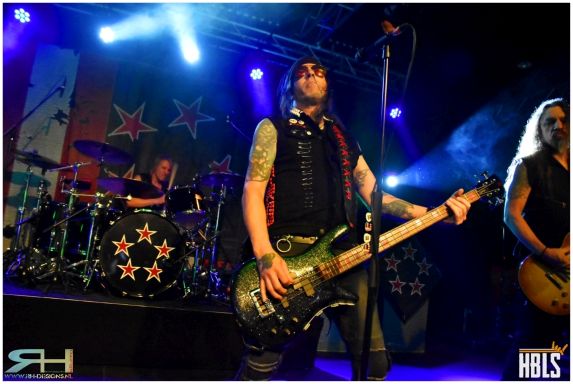 Live | Skid Row – support Edge Of Forever & Max Pie-Kavka Zappa-Antwerp [Be]
6 November 2022
Last Sunday I headed to the city of Antwerp to catch the first glimpse of a resurrected Skid Row.
With a cool new record, 'The Gang's All Here', in their pocket and an excellent singer in the person of Erik Grönwall, the band finally seems to have the wind in their sails again.
Arriving at the venue, the Kavka Zappa turns out to be a nice location for an evening of music and it was great to see that it was also quite well filled with music enthusiasts.
MAX PIE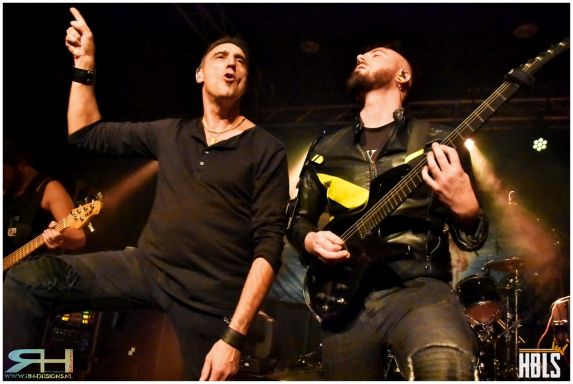 But before the Skid Row fun started, there were 2 support acts. Max Pie was the first to kick off tonight. Singer Tony Carlino and his men were allowed to stir up the audience with 5 songs. And although I didn't think it was a bad band musically [on the contrary], this wasn't really the band to open an evening with sleazy metal. Max Pie taps from a progressive power metal barrel. The band performed ,,A Thousand & 1 Lives'', ,,Breath Of The World'', ,,Lucy'', ,,Silence'' and ,,Grains Of Sand''. Like I said, a good band for the progressive metal enthusiasts, so if you are into that, definitely check them out when they are around.
EDGE OF FOREVER
The Italian outfit Edge Of Forever played a set of songs that was quite well chosen for this occasion, led by singer/multi-instrumentalist Alessandro Del Vecchio. The tone was therefore a lot heavier than when I saw them at work a few months ago as support for FM in Landgraaf. A smart move by Alessandro and his men. The 6 songs that they fired on all cylinders, were received with enthusiasm by the audience. For this show, the sympathetic singer had even left his beloved keys at home. And who was also really ON FIRE was drummer Marco Di Salvia. Geez, that man had a lot of fun behind his kit and damn what a force!!! Just like in Landgraaf, I can only conclude that Edge Of Forever is a more than fine band, who have their stuff in order.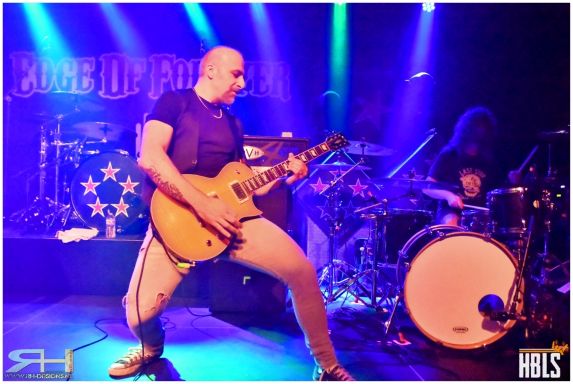 SETLIST:
Get Up On Your Feet Again
Native Soul
Carry On
The Road Goes On
Shift The Paradigm
Feeding The Fire
SKID ROW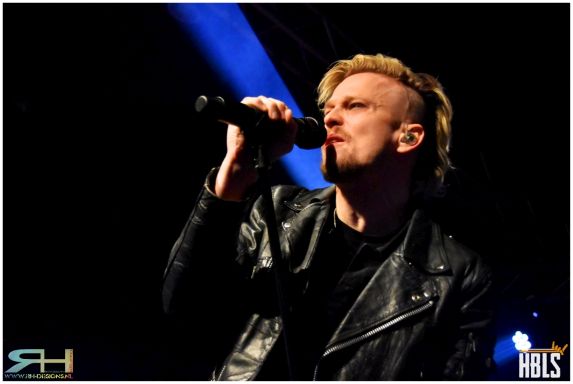 After a quick change over everything was ready for the Skid Row show. When the band's intro blasted through the speakers, the audience started boiling immediately. What was a surprise, however, was the fact that guitarist Dave 'Snake' Sabo wasn't on stage tonight!?! His replacement was the band's guitar roadie Casey Sproatt. Sabo had tested positive for Covid-19 and was therefore unable to perform. Since the Skids are of the 'The Show Must Go On' type, this issue was solved in no time. And not without merit at all!!! During the first tones of opening song ,,Slave To The Grind'' it became clear that the sound was perfect. The sound was good all night, but now just a little bit better.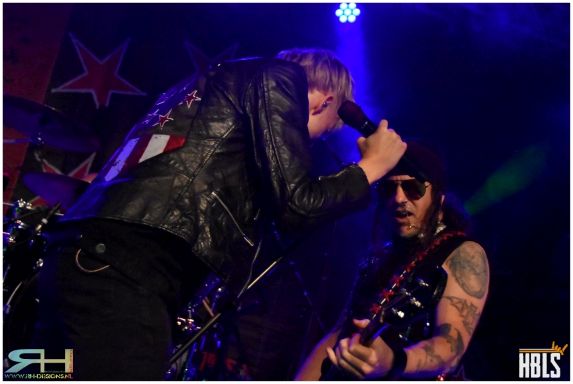 What is cool to see and hear is that the former H.E.A.T singer Erik Grönwall, after a rather turbulent year [just over a year ago he had a bone marrow transplant], is bursting with energy, joy and passion. That enthusiasm is contagious. Bassist Rachel Bolan and guitarist Scotti Hill have grins on their faces throughout the show that seem impossible to brush off.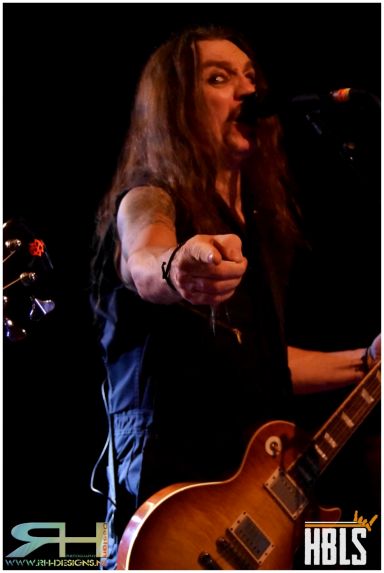 CLASSIC TRACKS
Today's setlist mainly consists of songs from their biggest selling albums 'Skid Row' and 'Slave To The Grind', supplemented with 2 songs from their new album 'The Gang's All Here' and the Ramones cover ,,Psycho Therapy'' [as always sung by Bolan]. Although it is logical that the band wants to play all these great songs, with a singer who actually gets the notes as they are intended, I think they should have played a couple of more songs from their latest record. Because those songs fit seamlessly into this cool set. That's the only piece of criticism [maybe besides the show was too short perhaps] I can think of about this show.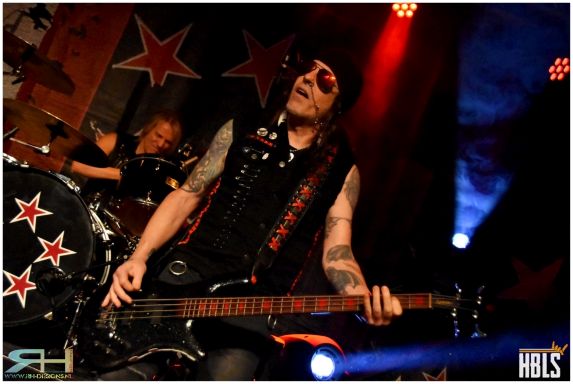 I saw Skid Row in its original form, in 1995 on their 'Subhuman Race' tour. Today's show was better, by MILES !!!! And yes there will always be someone who is calling for a reunion with all the original members. Well, … as far as I'm concerned this version of the band is really preferable to me, because tonight's show proved that this band, with Erik as their singer, still has what it takes to deliver a stunning performance. If you want prove, go and see them. All the attendees in Kavka Zappa will probably endorse my words.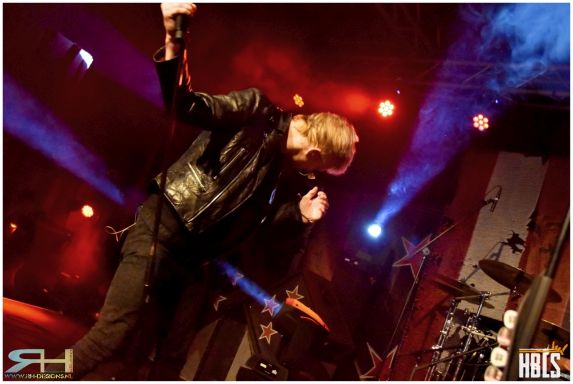 Hopefully the band will do another tour run through our countries soon, because I will absolutely go and see them again. SKID ROW is Back!! And I hope they get the credits they deserve for this effort.
SETLIST SKID ROW:
Slave to the Grind
The Threat
Big Guns
18 and Life
Piece of Me
Livin' on a Chain Gang
Psycho Therapy
In a Darkened Room
Makin' a Mess
The Gang's All Here
Riot Act
Monkey Business
Encore:
I Remember You
Time Bomb
Youth Gone Wild
All photos by Raymond Helebrand