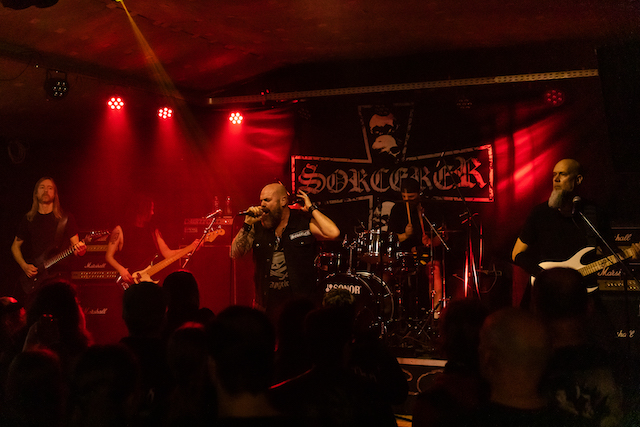 Live | Sorcerer [High Inquisitor Woe] – Ragnarok – Bree [BE]
25 March 2023
A doomy night in rural Belgium. Club Ragnarok in Bree to be precise, located in Belgian Limburg, only 15 kilometers from the Dutch/Belgian border. A venue well recommended, especially if you crave the atmosphere of the good ole days. At Ragnarok, a converted cattle shed located on a main road at the beginning of the communal area time seems to have stood still. No electronic payment possibilities but instead old-fashioned drink coupons (at very reasonable prices!) to be paid with cash money only. Ticket barcodes however can be scanned upon entry. Electronic payment is probably one of the next steps in the modernization.
HIGH INQUISITOR WOE
As for now, it can't really be my concern. Hospitality is key at Ragnarok and there is certainly no shortage of that. In the ever increasing corporated events industry, an evening at Ragnarok feels like stepping into another timezone which in this case is a blessing. Apparently (and thankfully!) bureaucracy and regulation have not reached this part of Belgium yet. You can conveniently park your vehicle in the neighbouring streets and once inside, the basic facilities for a night out appear to be perfectly fine. A strategically placed bar, neat toilets, decent stage visibility, efficient lighting and, not unimportantly, a surprisingly good room sound. And did I mention hospitality?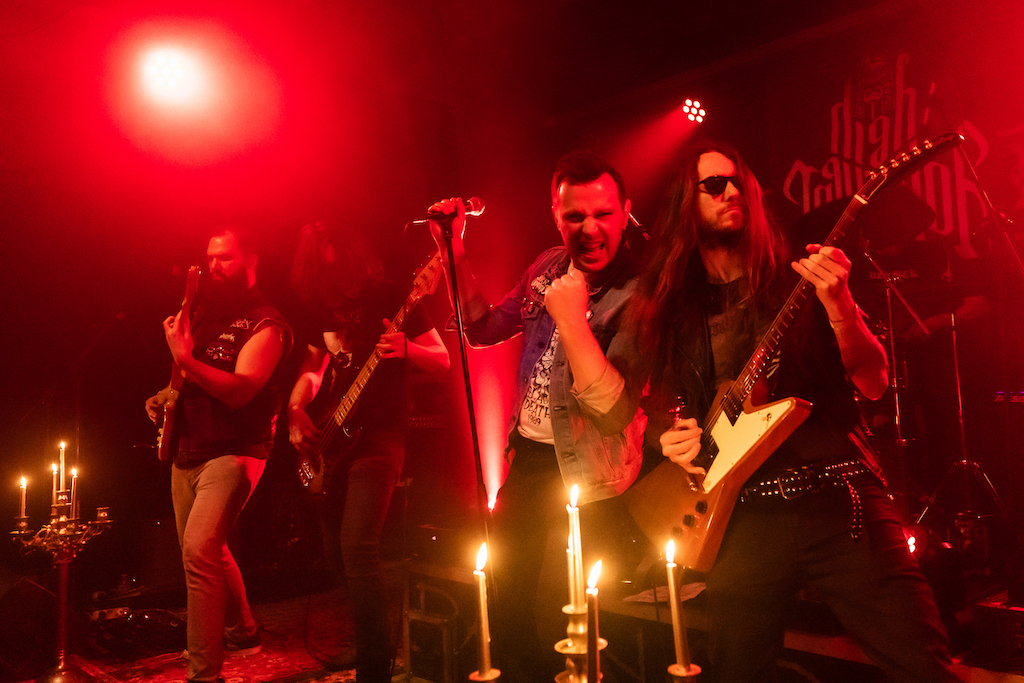 Despite mentioned favorable circumstances, opener High Inquisitor Woe is struggling. The sound is poor, probably due to the absence of a proper sound check, which often troubles support bands in clubs with limited stage space. In terms of songs, the 45 minutes set evidently shows that the Belgian five piece in fact has quite a lot to offer. The dirty sounding guitars suggest a clear Cathedral influence but due to the ultra-thin sounding bass, the darkened doom vibes hardly come to life. A missed opportunity therefore.
SORCERER
Sorcerer's kick off is scheduled for 21.30 hours but the Swedish outfit takes possession of the stage fifteen minutes early to smoothly kick off with the powerful ,,The Hammer Of Witches'', which serves as a true barnburner. The sound is delightfully crisp and clear, pure and well balanced. Hats off to the front of house mixer for this sonic perfection! Next up is ,,Sumerian Script'' but due to the early start, part of the audience (in total about 75 visitors find their way to Ragnarok which nicely fills up the club) misses the first couple of songs which, given the bands excellent start is rather unfortunate. Perhaps the Swedes want to win back some time from the hour of summer time that will be lost the next morning. Who will tell…showtime should be showtime though.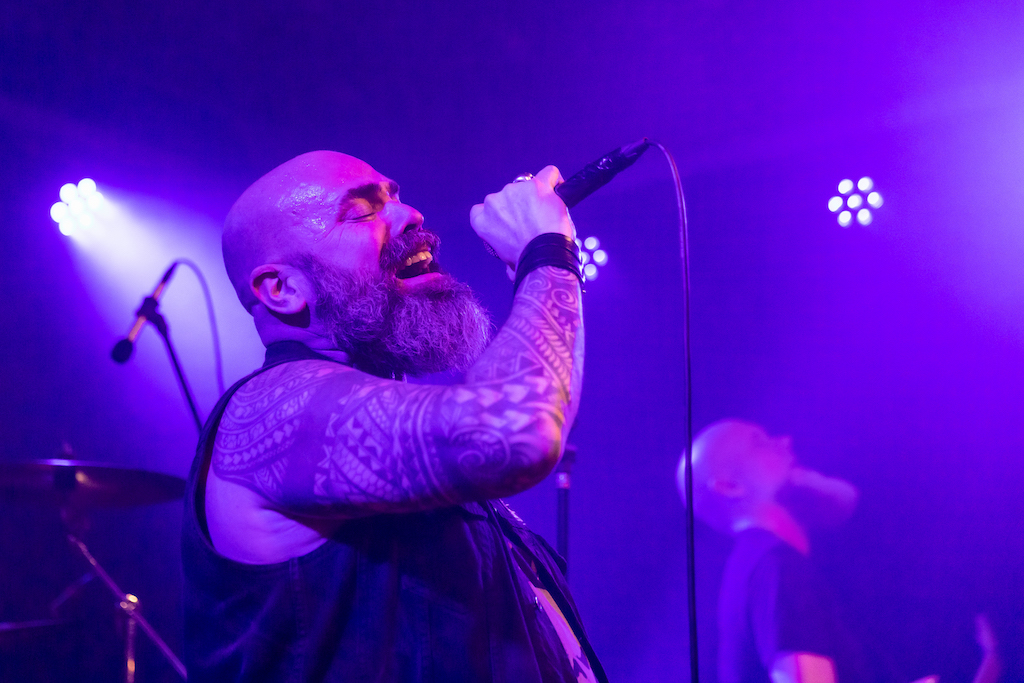 During the next hour a well-balanced collection of songs taken from the band's three official studio albums are performed, all in full glory. The most recent studio album 'Lamenting Of The Innocent' is represented best with four songs. The band comes across very relaxed and seems very much in control which is quite remarkable since Sorcerer is far from a touring band. When talking about Sorcerer usually the name Candlemass drops in the same sentence. Understandable on one hand, but there are obvious differences between the two. Sorcerer's type of doom is far more melodic and singer Anders Engberg forms a league of his own with his multi-functional throat; low and high and all in between, Engberg covers it all. A true tonsil sorcerer who also takes his time to communicate with his audience.
SORCERER – THE OVERALL IMPRESSION
A large part of Sorcerer's melodic beauty is to be contributed to the well-oiled guitar tandem Kristian Niemann/Peter Hallgren. The sparkling guitar work is extremely tasteful; it captures power, colour and adventure without going overboard. Contrary to Candlemass, where all solo's come from Lars Johansson, the leads within Sorcerer are divided up resulting in bits and pieces swirling nicely from left to right. It's great to witness up close how smoothly the two axemen complement each other. And due to the excellent room mix, hardly any nuance gets lost. In such collective set of strong songs, it is hard to point out highlights, but the epic ,,Lamenting Of The Innocent'' does close the set in a very impressive way.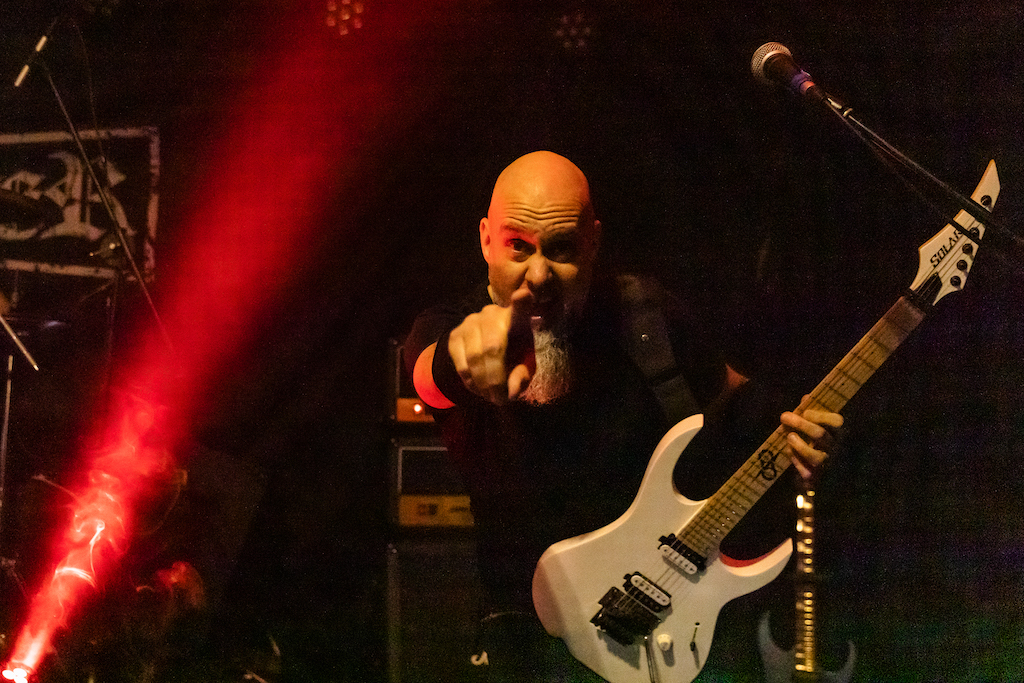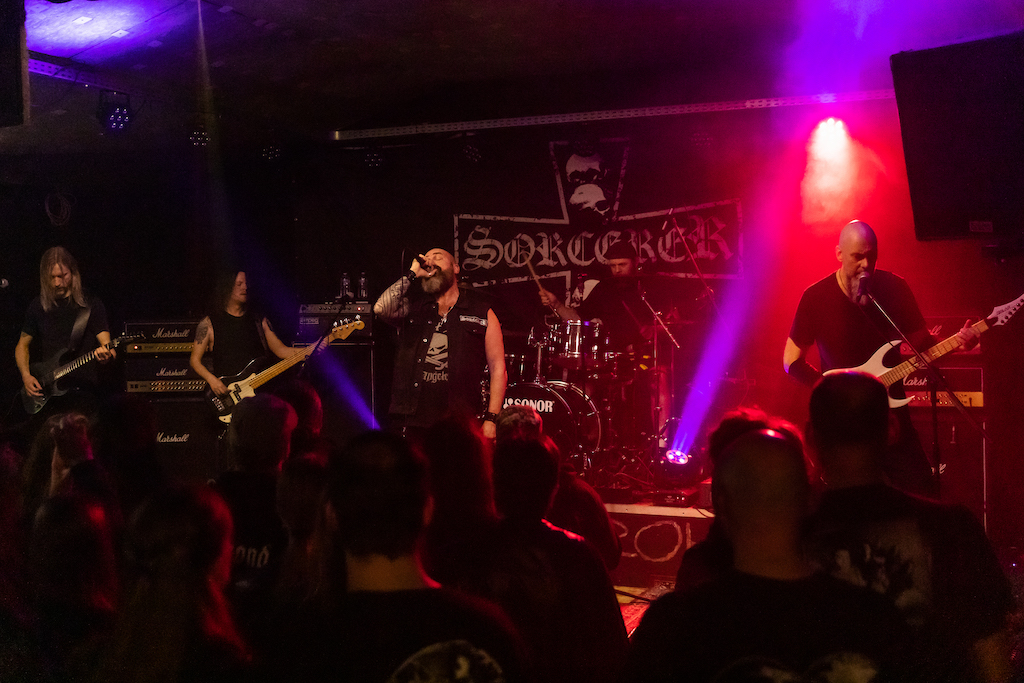 As tasty encores the band serves up ,,The Dark Tower Of The Sorcerer'' and the old demo track ,,The Sorcerer''. Sorcerer came, saw and conquered with this seventy-five minutes long masterclass of heroic doom. Certainly a 'concert of the year' contender.
Photos by Ton Dekkers