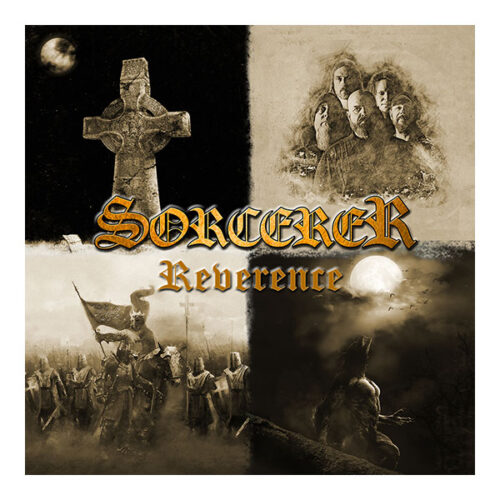 Review | Sorcerer – Reverence (digital EP)
Metal Blade Records
If you have been following Swedish doom metal band Sorcerer for the last six months or so you will have noticed the fact that the band with the incredible singer Anders Engberg has not been sitting still at all. After releasing three monster albums it is now time for something different.
PAYING TRIBUTE
The boys have been paying tribute to their own musical heroes by recording four classic rock and metal tracks and giving them the Sorcerer treatment. I was flabbergasted when the band published their version of Rainbow's ,,Gates Of Babylon'' via YouTube. Such a strong version, full of power and played in a slightly lower pace than the original. Flabbergasted I was indeed. A little later a video with their version of Black Sabbath's ,,When Death Calls'' appeared and yet again it was impressive (if Tony Iommi ever is going to record a new album I hope he will ask Anders Engberg to sing for him). That was followed up with a crushing version of the Saxon song ,,Crusader''. Dare I say that Sorcerer nailed that one as well? The latest coup is a version of Ozzy Osbourne's ,,Waiting For Darkness''. Originally recorded by The Madman and guitarist Jake E. Lee for the 1983 album 'Bark At The Moon'. ,,Waiting For Darkness'' was maybe not the most popular song on that album for many but I always loved it. To hear Sorcerer add their touch to it, well folks sometimes originals can be improved….
4-TRACK DIGITAL EP
We should be happy that Sorcerer and their record company Metal Blade decided to do something with these four songs and release them as an EP, right before Christmas. No bloody jingle bells but Sorcerer's latest recordings at Christmas dinner. Mind you, this EP will be (at least for this moment) available on various digital platforms only, but do not let that stop you or scare you. This is for a real fan of this ultra-talented mob a MUST have item. Have a great Christmas with Sorcerer setting the pace!
About
Sorcerer was founded in Stockholm, Sweden in 1988 by bassist Johnny Hagel, drummer Tommy Karlsson and guitarist Peter Furulid, soon joined by vocalist Anders Engberg and second guitarist Mats Liedholm. They were inspired by Rainbow, Black Sabbath, Metal Church, Judas Priest and Pink Floyd and combined their various influences to create their own heavy, doomy and (over the course of 30 years more) melodic sound. Current members: Anders Engberg (V), Kristian Niemann (G), Peter Hallgren (G), Justin Biggs (B), Richard Evensand (D).
Photo credit: Jon Alexandersson
Genre
doom metal
Website
https://www.sorcererdoom.com/
Social
Tags