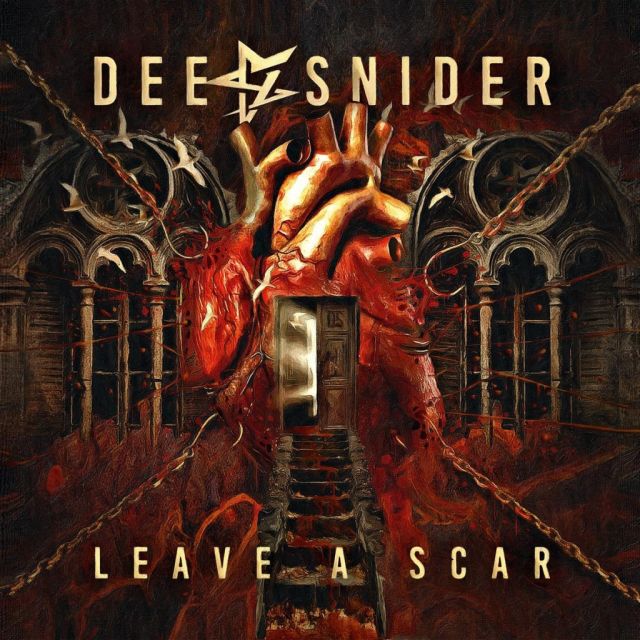 DEE SNIDER-LEAVE A SCAR
NAPALM RECORDS
Before we discuss the latest solo-album by former Twisted Sister vocalist Dee Snider [his fifth], let me inform you about the fact that Dee saw his bank account grow with approximately $ 1,500.000 Australian Dollars courtesy of Clive Palmer, an Australian mine magnet/billionaire and so-called politician.
This 'slightly' overweight 'gentleman' used a tune for his last political campaign trying to get seats in the Australian parliament a few years ago. As he had some money to spent on his campaign almost every day you could hear and see him on radio and television.
The tune he used for his political bullshit sounded a lot like the Twisted Sister hit ,,We're Not Gonna Take It'', but according to Clive Palmer that was not the case. But even a deaf person could hear the resemblance. When he came on television with that particular 'song' and political message I immediately said to my wife that Palmer had stolen this tune from Twisted Sister, it was so blatant and so obvious.
LAWSUITS
Mister Palmer was not planning on paying a fair amount of royalties towards Dee and the record company that owns the rights to that song. So Dee Snider filed a lawsuit for unlawful and unauthorised use of one of his songs and after a battle in court the judge ruled in favour of Dee Snider convicting Clive Palmer to pay around the amount of money mentioned above plus court costs.
It was the second time in a short time that Clive stood there with egg on his face. He also lost a lawsuit he started against the prime minister of Western Australia for not letting Clive Palmer [who resides in Queensland but has business interests in Western Australia] enter the state during a lockdown in Western Australia without proper exemption papers and doing quarantine. Clive Palmer thinks that because he is filthy stinking rich he stands above the law and can get away with almost anything. Oh yes, he did not get very far with his political ambitions as hardly anyone voted for him and his clan.
AN ODE TO METAL
Dee Snider can add that money towards his retirement fund but the man is far from about to retire. His new record 'Leave A Scar' leaves no room for any doubts, Dee Snider is here to rock and without making any sort of compromise. He used the same team as he did for his last studio-record 'For The Love Of Metal'. Yet again Hatebreed singer Jamey Jasta produced the album, while drummer Nick Bellmore co-produced and did the mixing and engineering. The other involved musicians on this record are guitarist Charlie Bellmore, bass player Russ Rizzuto and guitarist Nick Petrino.
Fans that appreciate 'For The Love Of Metal' will embrace 'Leave A Scar' as Dee and his mates have raised the bar a bit higher, sounding even more aggressive, intense and brutal without forgetting about melody and bringing real songs to the table. With the exception of the ballad ,,Stand'' the songs on 'Leave A Scar' are all very heavy complete with scorching riffs, razor sharp leads and Dee blasting his message across. This record is an ode to metal by a man that never ever sold out and always spoke for what he stood for without making a compromise. 'Leave A Scar' is an example of old fashioned and pure heavy metal. Straight in your face and giving you a proper kick in the bum. I wonder if Dee is going to send a free copy to Clive Palmer….