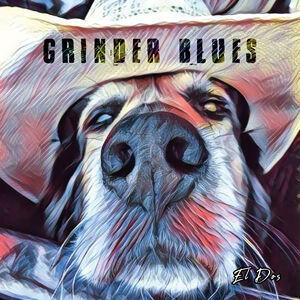 Review | Grinder Blues-El Dos
Metalville Records
If you have been a rock fan in general I would like to assume that the name dUg Pinnick should ring a bell (or two). The bass player/singer has been active for many years now and has achieved major success with the band King's X and his Poundhound project. And if you have not heard of him, let alone not having any of his music in your collection I can only say that you have missed out.
REPUTATION
Pinnick has an enormous reputation amongst his fellow musicians. He is not only a talented bass player but he has this unique deep and oh so recognisable voice. Call it a signature sound that is second to none. He has been involved with many projects and is often a guest on an album. Dream Theater has used his services but there are many more. Pinnick does not shy away from new projects that might sound a bit different than the rest.
His collaboration with guitarist George Lynch (Lynch Mob/Dokken) and drummer Ray Luzier (Korn) has resulted in three excellent albums under the banner KXM. With guitarist Eric Gales and drummer Thomas Pridgen dUg released two albums under the name Pinnick, Gales & Pridgen. He sang in 2005 for The Mob (a project with guitarist Reb Beach), the list goes on and on. The latest solo-effort by Pinnick was 'Tribute To Jimi'– in 2018, with cool interpretations of Hendrix-songs.
MEGAFORCE
In 2014 dUg starting working with the brothers Scott Little Bihlman (drums) and Jabo Bihlman, two guys that had already recorded some albums together and had a good reputation as session musicians and music book editors. Named Grinder Blues the group signed a deal with the legendary Megaforce label, owned by Jon and Marsha Zazula (Marsha died in January of this year of cancer). That label offered many metal bands a first opportunity to record and played an important role for a band like Anthrax. The self-titled album did not do a hell of a lot (but is still available). Now seven years later the successor is here in the form of 'El Dos' with a great album cover.
MUSICAL MIX
The ten songs are a musical mix between rock, blues, a bit of soul and a whole lot of deep and raw emotion. Sometimes it reminds you of ZZ Top, sometimes it is like Robin Trower and his guitar make a guest appearance. The vocals of Pinnick are as always immaculate but also the vocal participation of the Bihlman brothers on several tracks are not to be denied either. It sounds at times very traditional but in the same sense modern as well.
Songs like ,,Hold Me Close'' have an open and accessible construction and what I like especially is the fact that the band has kept the production rather simple. The instruments sound natural. No tricks, no gimmicks, you hear instruments in a pure rock and blues environment. Just like the debut this record has been produced by Miles Fulwider who has brought out the best out of these musicians by keeping things simple, raw and effective!
AUDIENCE
With its variety 'El Dos' might not appeal maybe to the core fans of King's X as that band was more progressive and heavier. But if you like KXM, Robin Trower and ZZ Top I think that Grinder Blues might appeal to a large audience indeed. These are talented musicians at work and 'El Dos' is a fine and lasting album if you ask me. Even for King's X fans!