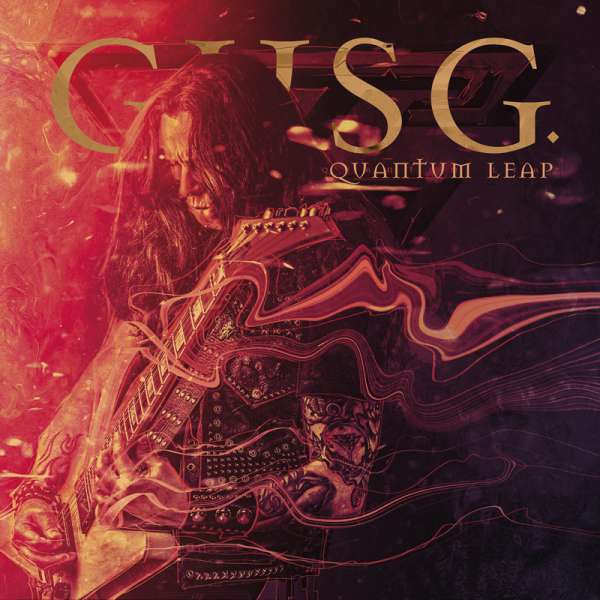 Review | Gus G- Quantum Leap
AFM Records
Does the name Konstantinos Karamitroudis sound familiar to you? Not really eh? But the name Gus G does. Under this artist name this Greek guitar masturbator has been entertaining his fans for the last twenty years with mainly his band Firewind, but also as a (temporary) side-kick for Ozzy Osbourne and other acts. And Gus had also released three solo-albums of which 'Fearless' is the most recent one (from 2018).
SHOEBOX
On 'Fearless' Gus once again worked together with bass player/producer Dennis Ward (currently with Magnum) who also is a good vocalist. Dennis sang on 'Fearless' and toured with Gus G as well. Somehow though 'Fearless' did not seem to please everyone although I was very happy with it. After a new Firewind album in 2020 there was no tour for the obvious reasons. Gus started to think about a new solo-album, composing some new tracks and raiding his old shoebox where he had stored several old ideas.
The idea was originally to make 'Quantum Leap' into a real solo-album with Gus handling all instruments and programming. After meeting drummer Vincent Velasco he changed his mind. Vincent recorded the drums and Gus also asked Dennis Ward again to help out resulting in another co-production. Dennis also plays bass on eight of the ten songs featured on the fourth solo-album by Gus.
INSTRUMENTAL
Until now all the albums that Gus made under his own name had instrumentals mixed with songs with vocals. This time we are dealing with only instrumental tracks. The key to that, according to Gus, is to keep things interesting for himself as well as his audience. So do not expect just one long guitar solo. Although the whole album can be gathered together under the banner hard rock/melodic metal with lots of high energy, there are some variations there which are essential to the variety of the album.
Take for instance ,,Enigma Of Life'', that is turned into a melodic bluesy ballad with feeling. We have power metal in the form ,,Exosphere'', ,,Demon Stomp'' and also ,,Judgement Day'', while progressive influences can be heard on the song ,,Into The Unknown''. Gus at stages really turns on the style with beautiful themes and a blistering technique. All for the good of the song.
TWO CD
The regular version of the album holds ten songs but the record is also going to be released in a 2-CD format. On the first song on CD 2 we find a cooperation between Gus and UFO-guitarist Vinnie Moore (,,Force Majeure''), a song that is also featured on the vinyl version (that has eleven songs). The rest is filled with live-recordings from the last tour Gus did with Dennis Ward and drummer Will Hunt.
It includes a nice version of the Thin Lizzy classic ,,Cold Sweat'' and other songs that were featured on 'Fearless', including a somewhat alternative version of ,,Money For Nothing'', once a huge hit for Dire Straits (not too sure about that one). The live-recordings add extra value to 'Quantum Leap'. An album that proves that Gus G can be more than just another guitar shredder.