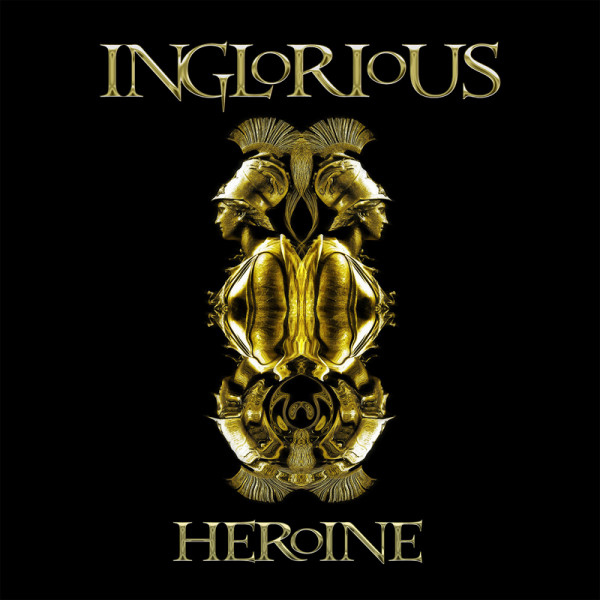 Review | Inglorious-Heroine
Frontiers Music srl
One of the best bands coming out of the UK the last decade or so certainly has to be Inglorious, formed around charismatic vocalist Nathan James. With Nathan and drummer Phil Beaver as recruits from the first hour throughout the four studio-albums the band released so far ('We Will Ride' being the most recent one in February 2021) there have always been some changes in line-up but now it seems that with Danny De La Cruz (guitar), Dan Stevens (guitar) and Vinnie Colla (bass) the base of the band is now more stable than ever before.
LOCKDOWN
After releasing 'We Will Ride' also Inglorious was plagued by a lockdown preventing live-activities. The band used the time to work on 'Heroine', the first full album by the group filled with covers. All songs recorded were originally sung by female artists. With the vocal range of Nathan James as most important weapon there was a beautiful task ahead for the band to put their own stamp on the songs.
CHOICE OF COVERS
The choice of the covers featured on 'Heroine' is without a doubt surprising at some stages. Instead of going for pure rock classics the band decided to mix it up. I mean, Heart's ,,Barracuda'' is a pure hard rock classic, but ,,Nutbush City Limits'' (Ike & Tina Turner) or ,,Time After Time'' (Cyndi Lauper) are not known as rock classics, are they? Definitely the band made some unexpected choices here.
BIG FAILURE
The result is a mixed one in my opinion. The band has added balls to several songs and that works out quite well in some cases. But when I hear ,,Barracuda'' I wonder what the hell the band is doing. It is not easy to compete with the one and only Ann Wilson, but the way Inglorious has interpreted this song is utterly disappointing. The guitar work is flat and Nathan sounds out of his comfort zone, adding a lot of misplaced screams on top of that as well. A big failure in my book. Yet, it is not so that Inglorious stuffs up all the songs. James has the right range for a song like ,,Uninvited'' (Alanis Morrisette) while also the Evanescence classic ,,Bring Me To Life'' has its moments.
GUTS
I must admit, it does take guts for a hard rock band to tackle pop songs like ,,Queen Of The Night'' (Whitney Houston) or ,,Midnight Sky'' (Miley Cyrus). Inglorious takes them on with a certain determination shining through. Nathan James obviously feels comfortable as he has the voice to do them some sort of justice. But the question remains: Is the band pleasing their fans with this album or is Nathan James first and foremost pleasing himself? The answer might be somewhere in the middle…