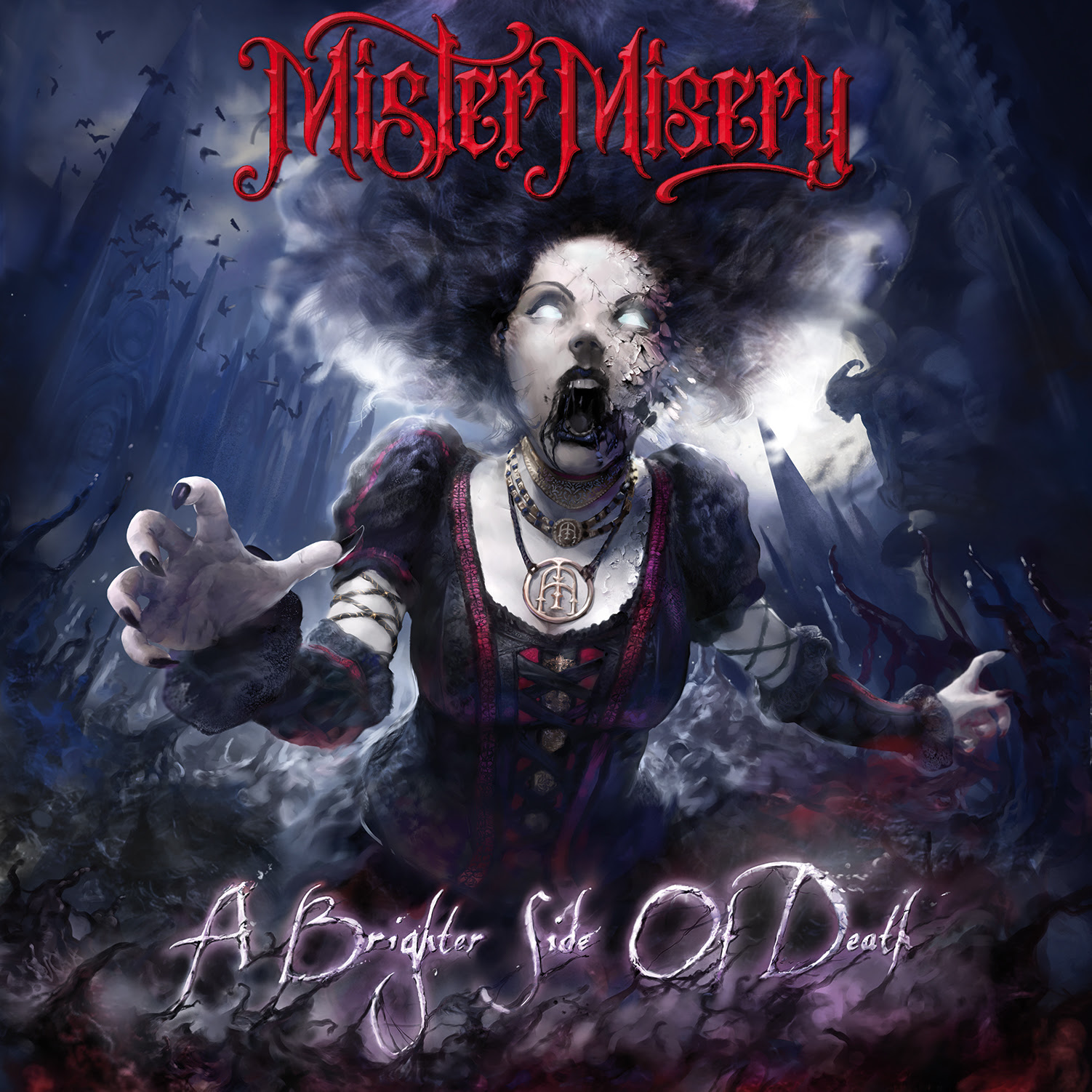 MISTER MISERY-The Brighter Side Of Death
Arising Empire
Do you feel like trading your daily [maybe dull] routine in for something wild and exciting? Wanna escape reality? Looking for something different? Maybe you should pay some attention to Mister Misery, a relative young new band from Stockholm, Sweden… By listening to their first album 'Unalive' and especially their latest epic adventure called 'The Brighter Side Of Death' guitarist/singer Harley Vendetta, guitarist Alex Nine, bass player Alex Alister and drummer Rizzy take you straight into a modern sounding horror metal music show, full of energy and adventure. When you see these four dudes with their extravagant looks and make-up you might have the urge to avoid them as the plague. But you want to escape your daily life right? This is the way to go.
These lads bring you an intriguing piece of rock and metal that is jumpy, energetic, filled with fantasy and weird twists and turns. Chaotic maybe? My wife thinks so, asking me if I had lost my marbles blasting this material throughout the household, shaking the foundations of the house….. Song writer Harley manages to be two different singers in one body and soul. He has this melodic voice but he also can sound brutal, extreme, grunty and way over the top. In a way the contrast in vocals reminds me of Linkin Park where a rapper mixes with a melodic vocalist. But Linkin Park uses two different people while our friend Harley does it all on his own.
Weirdly enough this band opened some years ago a show for Dream Theater, according to the band they were well received by the DT-fans. A spot with Alice Cooper would be more suited perhaps but old Alice might get jealous if he would see and hear how much expression, blast beats, melody and brute force Mister Misery puts into their songs and performance. At first I thought what a bunch of weirdos but the more I heard 'The Brighter Side Of Death' [and also by getting a copy of the first album] the more I became intrigued by these lads. They obviously don't care about any musical limitations and with their cinematic and horror-esque elements and looks they have become an attraction.
Not sure if these boys will reach a large audience with their extra-ordinary songs like ,,The Ballad Of The Headless Horseman'' [not a ballad at all of course], ,,In Forever'', ,,Burn'' or ,,Clown Prince Of Hell'', but it is at least something different, something daring and at stages impressive as well. So what do you say? Want to give it a 'try before you buy'? Check out YouTube.
About
MISTER MISERY, spawned from the hollowed parts of Sweden in February 2018, is a modern horror metal band consisting of 4 unalive creatures, with the will to spark a flame in your restless souls! By blending high energy riffs combined with anthemic choruses, their sound borders the genres of both old school rock n roll, sleaze and aggressive modern metal, all mixed delightfully together to create the unique sound that characterizes MISTER MISERY today.
Genre
modern horror metal, metal core
Website
https://mistermisery.com/
Social
Tags