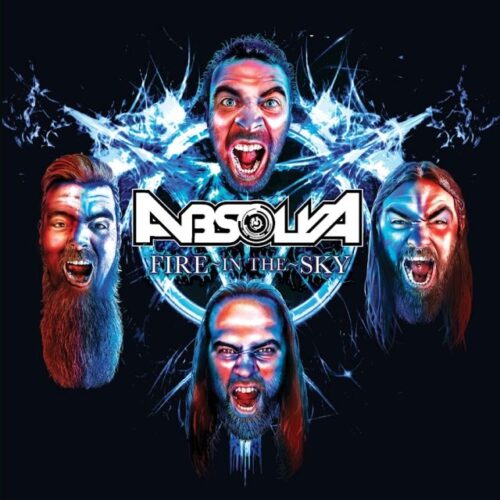 Review | Absolva – Fire In The Sky
Rocksector Records
Absolva started out somewhere in 2012 after the formation Fury UK was put on hiatus after bass player Luke Appleton joined Iced Earth. Luke stayed with Iced Earth but resigned last year after band leader Jon Schaffer was involved with the storming of the US Capitol. Schaffer has paid the price for that as Iced Earth and Demons & Wizards both got kicked of Century Media Records after Schaffer got convicted. Luke Appleton soon started to combine playing with Iced Earth with participating in Absolva, a new band that his brother Chris had started with drummer Martin McNee (Chris and Mark were also in Fury UK). Luke switched to guitar as in 2014 bass player Karl Schramm joined the Absolva ranks.
BLAZE BAYLEY
The Appleton's with their two mates have so far produced five albums in total, 'Fire In The Sky' being their sixth. They also got involved with former Iron Maiden and Wolfsbane singer Blaze Bayley and for the last years Absolva served as the backing band for Bayley during concerts. Also, they recorded stuff with him. Indeed, it is safe to say that these Manchester based blokes have been pretty busy. Still, Absolva is not a super popular band. They have their fans but are not a household name. That must be a bit frustrating for Luke and Chris who have been active for some twenty years now, spreading the gospel of metal and rock.
STATUS
Maybe 'Fire In The Sky', produced by Chris Appleton, will bring more clarity in the status of Absolva. Yet again the band has produced and recorded a sparkling melodic metal album with solid anthems like ,,Galloghlaigh'', ,,Man For All Seasons'', ,,Historic Year'' (with lyrics about the influence of the pandemic on the daily life of the band members) and ,,Stand Your Ground'' (with some Lizzy-like twin guitars), while the title-track has some very slight Iron Maiden influences. 'Fire In The Sky' has a very dynamic character as well. There is plenty of energy in the individual performances and the total sound is most of the time like a direct punch in your face. Add to that a classic metal touch and you have an album that has the right ingredients to appeal to a general melodic metal fan. Well played, well sung, what's there not to like?
Release date: 18 February 2022