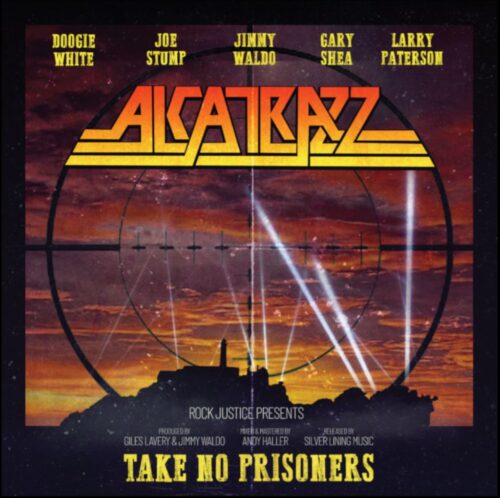 Review | Alcatrazz – Take No Prisoners
Silver Lining Music
When this webzine reviewed the album 'V' by Alcatrazz (somewhere in October 2021), the first release with their new vocalist Doogie White, I expressed my surprise that co-founder/singer Graham Bonnet had been replaced. I mean, Alcatrazz without Graham is like Iron Maiden without Steve Harris. It turned out that Graham after some disputes had been let go.
Someone close to the band must have seen the review and we received an official band statement which basically said that Graham hardly had any input at all the last years and that it was difficult for the others to get him to do things. As if he was no longer interested in what happened to the band he helped co-found. Letting him go was the best solution for the future of Alcatrazz. A future in which there was also no place for drummer Mark Benquechea who was replaced by Larry Paterson who can be heard on the band's latest opus 'Take No Prisoners'.
BAND EFFORT
The last couple of Alcattrazz-albums had a big guest list, but 'Take No Prisoners' seems to be a real band effort, although the ladies from Girlschool helped out on the chorus of the upbeat hard rocker ,,Don't Get Mad, Get Even''. The two bands toured together in February of this year and found some time with the help of the recording gear that Alcatrazz had with them to work together.
WHAT A RIDE!
Yet again produced by manager Giles Lavery and keyboardist Jimmy Waldo this album might not show new musical venues but my God, these veterans just do not let up on all the ten songs. Only ,,Strangers'' is a semi-ballad but even that track toward the end is as powerful as Bill Bixby getting mad and changing into The Hulk. Opener ,,Little Viper'' and closer ,,Bring On The Rawk'' are in a way the tracks that sum up this record best. Speedy songs with a neo-classical touch and monster riffs and solos by one of the best shredders in the business mister Joe Stump.
But just as was the case on 'V' Stump plays in favour of the songs. Sure, he flies of the handle quite often (and we like that) but it is all functional. As are the keys of Waldo who on this record even has a few of his own spots. Add to that a thunderous rhythm section and a vocalist that is as versatile as a can be and you have a record that has anything a good neo-classical melodic metal orientated album needs to have. Like I said, the band is not really doing anything new here but what they do serves their purpose for the full hundred percent. 'Disturbing The Peace' stays my ultimate Alcatrazz release ever but 'Take No Prisoners' is well worth of its title. What a ride!
Release date: 19 May 2023