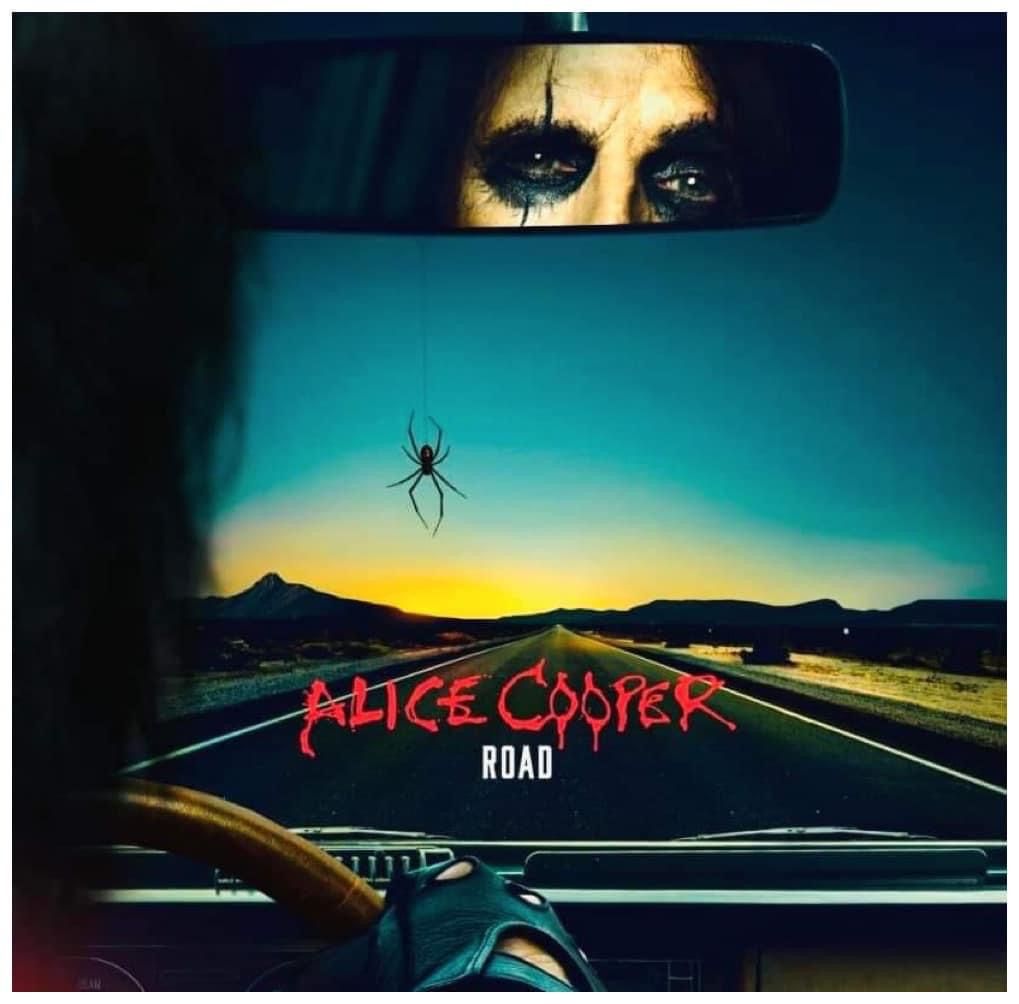 Review | Alice Cooper – Road
earMUSIC
75-year-old Alice Cooper is a constant force in (shock) rock music releasing no less than 21 albums in his 5-decade spanning career. His touring band a well-oiled machine, Alice turned to long time Cooper-collaborator Bob Ezrin (Kiss, Pink Floyd, etc.) in the creation of his 22nd consecutive album, to capture the live atmosphere on his brand-new issue 'Road'. Meanwhile make it a concept album about life on the road in an imaginary setting. The outcome is as astounding as it is masterful in term of its conceptual creation and live welling atmosphere. Here's Alice about life on the road…
HOLLYWOOD VAMPIRES
Scorching the European stages with his side-project Hollywood Vampires, Alice Cooper luckily found time to craft an album of his own. Fortunate we are, not worthy as Wayne and Garth proclaimed!
The in-studio creation of 'Road' is astounding and brings across the level of entertainment we might expect from Alice and his band. It is all catchy as heel and flourishes with excellent musical marksmanship. Guitar-driven the songs are full of loud riffs and great melodic harmonies, with Ryan Roxie and (the returned) Nita Strauss adding their poise. And heavy-as-sh!t grooves laid down by drummer Glen Sobel and his counterpart Tommy Henriksen on bass. The entire performance pulses like an organism, radiant and powerful, with a live atmosphere that is dense and organic.
,,I'm Alice" is pounded into action amidst wailing guitars and Alice belting his engaging luring vocals with a scat and moan into the pre-chorus. It is powerful and very arena-pumping, with Alice imposing self-reflecting on his personality onstage and off. Growling, sneering and roaring. Just wonderful, reborn and vibrant, as he states "but I stand here before you and the legend lives onnnnn…." to empower the statement.
CLASSIC ERA
It pitches into the guitar offload between Roxie and Strauss to introduce us to the show on ,,Welcome to the Show" that pushes an organic 70s/80s hardrock beat, reviving his classic era instantly. His stopped phrasing is hard and gritty, the interaction with the background vocals engaging. Plucking in The Who style, Alice literally welcomes us to the show midway, after which Strauss and Roxie delve deep in a guitar duel atop the plucking bass discharge and Sobel's maniacal driven drums. More soul and bluesy swing is unloaded on ,,All over the World" with its 'uuh uh uhs' and grassroots sections full of Hammond and brass.
SHOCKROCK SEVENTIES
Deep and doomy Alice and the band bring ,,Dead don't Dance" forward. A loud and lose drum groove with heavy dark guitars have Cooper belt out loud and snarling, which he embeds in his roaring reverbing ,,Go Away" that is built around loud towering guitar licks and bluesy Southern guitars. The song pulsates like a throbbing vein popping, perfectly pitching us into the gritty and loud ,,White Line Frankenstein". The song fuses the modern vibe to that of his classic ,,Teenage Frankenstein" and reinstates the shockrock seventies with glam and stunning bite. The transparent production separates instruments and makes it breathe air into the density of the song. Especially Henriksen dominates in the low end and plucks and growls with his wonderful bass melodies. Solos again marking the magnitude of his live band, Alice picked wisely for this live-recording approach.
Floor and rhythm fills propel ,,Big Boots", and the bass drones atop the raw guitars with their stretched notes and sturdy riffs. Piano raining frequently and Alice belting out his most friendly and bright narrative-like vocals. The tongue-in-cheek wordplay of ,,Big Boots" is easily transpired elsewhere.
Throwing in a lush shuffle and melodic guitar sprite the band transports another 70s psychedelic driven track with ,,Rules of the Road". Bordering with classic rock 'n roll stance and melodic gearing in the sticky chorus. It is a shuffle made metal for the following ,,The Big Goodbye". The song is powerful and extremely heavy, with Cooper drawing his echoing register and bringing true power to the front. The song is one of the heaviest of his catalogue, without overstepping.
CLASSIC ALICE COOPER REVISITED
More stop 'n go is the beat driven ,,Road Rats Forever", which is pulled forward by great guitar interaction, with Nita and Ryan feeding each other chops of muscular riffs and heavy hooks. Piano returns and Alice belts out towering towards the nesting 70s chorus. The dynamics are back and forth, with Sobel guarding the pace while both guitar players keep challenging one another, reviving the ,,Billion Dollar Babies" guitar sound constantly. It is classic Alice revisited!
,,Baby Please don't Go" is the first breather on the 'Road'. It is welling with emotions and sees a frail side of Alice. Touching seductive vocals, charisma emotive; "…Melts my soul, baby please don't go". The song is followed musical style by the carousel spinning in ,,100 More Miles" with Alice isolated atop the carousel orchestrated toil. It meanders almost secluded depicting the lonely stretches of life on the road. It suddenly picks up power into the heavy chorus, opening the track for rock reverting. Concluding "I see the Sign ahead, it says a hundred more miles", it wells an ominous prediction of a swansong as Alice addresses the loneness of life on the road.
BEATLES-VIBE
Bottlenecks slide up the necks of roaring bluesy guitars open to ,,Magic Bus" that is psychedelic tinged and leans on 70s vocal lines reminiscent of Steppenwolf's ,,Magic Carpet Ride", but fused to the tripled up harmonized background vocals that impose a ,,Sgt. Pepper's…" Beatles-vibe. Again, the song flourishes with down-to-earth lyrics easily transferable to any roadtrip, while its instrumentation draws from the aforementioned, and Stones-like guitars to conclude the cocktail of classics that is rounded by Alice's own heritage; the vocals. Breaking into a drumsolo that has Sobel drawing from the Moon and Bonham dynamics and groove, the song slowly builds back to its live performance-style as the exclamation to the album and its story.
ALICE COOPER MUSICAL ROADTRIP
'Road' is a series of songs interwoven with life-spanning road-stories full of humour and winks to his elusive career and his musical identity. Alice has shocked the world of rock frequently and this is unified with a flammable cocktail of in-your-face rock tracks that breathe an immense and gigantic live atmosphere. Siding with Ezrin and his touring band during creation, Alice Cooper brings a collective comradery-like atmosphere to the front. Making 'Road' a musical roadtrip riding the Alice Cooper tour bus through all dimensions of his career, from stage to backstage area, it conveys sincerity without lacking humor and humility, it packs tremendous power and live appeal, as expected from the master.
Personally, I am keeping myself from labelling it as the catalogue closer and his best album to date, if only it is for the ominous presence of retirement echoing through the lyrics.
Release date: 25 August 2023