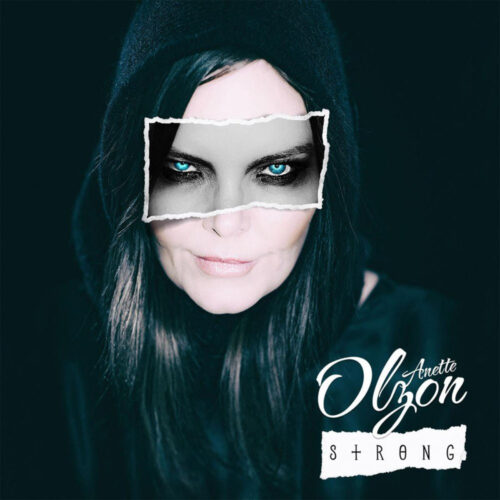 Review | Anette Olzon-Strong
Frontiers Music srl
The Dark Element was a glorious return for former Nightwish singer Anette Olzon. A collaboration between her and guitarist Jani Liimatainen (ex-Sonata Arctica) that showed that the Swedish singer was far more talented than the critics gave her credit for. For her new solo album, she works with Swedish guitarist producer Magnus Karlsson (who also plays bass on this album) and what a match it is. It is not the first time they work together because the project Allen/Olzon that resulted in the album 'Worlds Apart', was already overseen by Karlsson so he was familiar with the qualities of Olzon.
Easy On The Ears
Her second solo album 'Strong' contains all the best qualities. Olzon has an incredible reach, an easy on the ears tone and it shows that the songs are especially written for her voice. To spice things up even more her husband Johan Husgafvel contributes the growling vocals. The album starts with ,,Bye Bye Bye'' which as she says is her final goodbye to her former band.
,,Sick Of You'' goes back a bit to the old days. Beautiful sung, catchy, great riffs. Some extra pepper again because of the growling vocals. It is catchy (the whole album is), brings some great soloing, and on the other hand, deals with a heavy topic: abusive relationships. ,,I Need To Stay'', a more bombastic song, is about parents who have a troubled relationship with their kids.
Fully Confident
Compared with her first solo album 'Shine' (2014) it differs like night and day. There she turned away from metal after her break with Nightwish and instead made a folky pop rock album. Now she is back, fully confident, with a great melodic symphonic heavy metal record.
There is room for personal topics like for example ,,Sad Lullaby'' (with a clear ''The Show Must Go On''-intro) as a tribute to her father who passed away last year. It has a great built up and is beautifully sung. A bit in the ABBA style. ,,Catcher Of My Dreams'' is about her experiences with night terrors; a sleep disorder that causes feelings of panic and dread. It is fast, with nice storytelling and she hits the highest notes on the album. It is also the song with one of the scarce guitar solo's on 'Strong'.
The title track ,,Strong'' is very powerful and contains a lot of keyboards. The use of keyboards (without them becoming too dominant) really lifts the songs. As it does in ,,Parasite'' which is fast, bombastic, contains a cool keyboard riff and growling. As a counterbalance there is Olzon's clear and crystal voice.
ABBA-like
Because of Olzon's easy on the ears and very recognizable voice the eleven songs on the album always remain catchy. No matter what the subject is, like ,,Fantastic Fanatic'' with its bombastic intro, and ABBA-like vocals about digital influencers who only live for the fake world of Instagram and how others see them. Certainly not something Olzon is a fan of.
Production wise Karlsson has done a great job as well. He often uses layered vocals which benefit the accessibility and even the growling harmonies fit in perfect. There is enough variety between the songs to keep the listener interested. To really state that Olzon is happy with her current situation there is the last song on the album: ,,Roll The Dice'', a power metal song which is a perfect album closer.
The title of the album totally covers the content as it is 'Strong' and totally recommended.