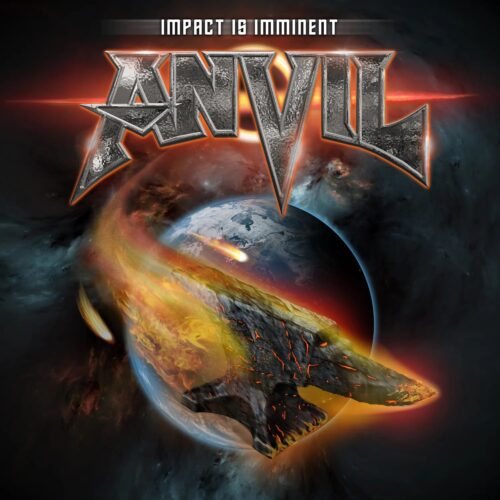 Review | Anvil – Impact Is Imminent
AFM Records
Canada's favourite hellraisers are at it again. Steven 'Lips' Kudlow (guitar/vocals), monster drummer Robb Reiner and bass player Chris Robertson took the time and effort to work out 14 songs ideas and together with producers Martin Pfeiffer and Jorg Uken (who also worked with the band on their last three records) made sure that 'Impact Is Imminent' leaves no (metal) stone unturned.
MEMORIES
When I think about Anvil I think about a trip I made in the early nineties to their hometown of Toronto. I stayed at the Holiday Inn and called Lips if he and Robb wanted to come down for some drinks and an interview. We had a really nice time together, talking about music and their career. Robb and Lips are very down to earth guys and certainly no spoiled and demanding rock stars.
The waitress we had that evening was very good looking and naughty as ever Lips checked her out. But the girl was no push over and asked Lips if he could produce some ID as in those days you had to be older than 21 to be able to order an alcoholic beverage in Canada. I have never seen anybody look so dumbfounded as Lips. While Reiner and myself were laying under the table laughing our heads off Lips reluctantly produced his ID before he got served. Reiner and myself provided the tip, thanking the girl for the unexpected entertainment.
MOVIE
After the release of the movie 'The Story Of Anvil' (2009) things have been looking up again. That very honest and at times very confronting movie made me realise that Lips and Robb led ordinary lives, Lips driving around in a van delivering food and happy with the fact that his sister gave him a loan which enabled the band to fly to the UK to record the album 'This Is Thirteen' with producer Chis Tsangarides (RIP), which they released themselves. After that release the career of the band kick started again with five new albums to follow.
SIGNATURE SOUND
On album number 19 the signature sound of the trio is shining in all its glory. Opener ,,Take A Lesson'' sets the pace and the tone for the album. Pounding metal galore with sharp riffs and thunderous drums. ,,Take A Lesson'' is an excellent start and basically the whole album rocks like hell. But pretty soon the big problem of the band raises its head. It is more of the same.
There is hardly any variety in the song material. Call it a one-dimensional approach, even though with the track ,,Teabag'' Anvil delivers a great instrumental with room for all band members to stand out. But what speaks for the album is the relentless character of the songs and that they all are direct punches in your face, the excellent sound and the fact that Anvil has the same attitude they showed already some 40 years agio when their debut 'Hard 'n' Heavy' saw the light of day.
Lips and Reiner deserve all hail and praise for having been able to keep their head above water on their own musical terms for more than four decades now. They were the pioneers of heavy metal for Canada and in a way they still are. I am pretty sure that their fanatic fans will be happy with 'Impact is Imminent', as will the band be as well. Lips and Reiner know who their audience is and what they expect from Anvil. And that is what 'Impact Is Imminent' is all about.
Release date: 20 May 2022