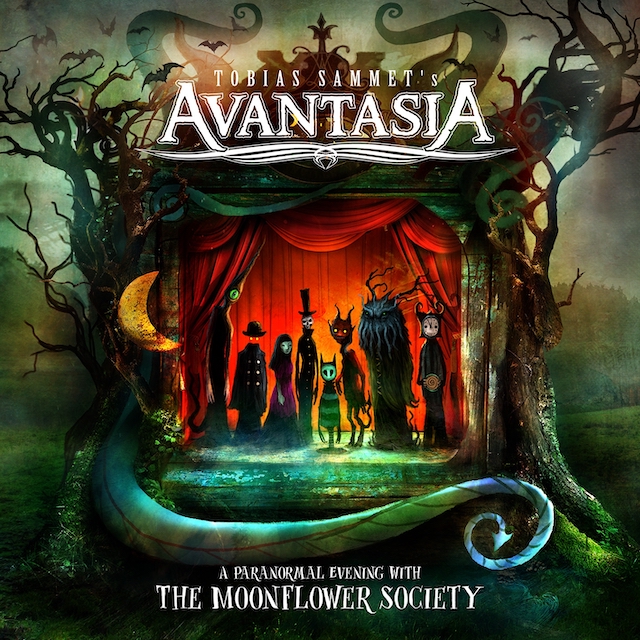 Review | Avantasia – A Paranormal Evening With The Moonflower Society
Nuclear Blast Records
Tobias Sammet's Avantasia previous album 'Moonglow' (2019) was, at least for me, a highlight in the career of Avantasia, as it was an absolute masterpiece in the genre. And it reached number one in the German album charts! Avantasia still consists of Tobias Sammet (lead vocals, keyboards, bass guitar), Sascha Paeth (rhythm guitar, lead guitar, bass guitar) and Felix Bohnke (drums). Of course there is also an impressive Ayreon-like list of guest singers, being: Geoff Tate (Queensrÿche, Operation: Mindcrime), Michael Kiske (Helloween), Bob Catley (Magnum), Ronnie Atkins (Pretty Maids), Jorn Lande (ARK, Masterplan), Eric Martin (Mr. Big), Ralf Scheepers (Primal Fear, Gamma Ray) and last but definitely not least Floor Jansen (Nightwish).
ROCK EPICS AND TRUE METAL OPERA'S
'A Paranormal Evening with The Moonflower Society' (what a title…) is the ninth studio album of Avantasia and after a couple of spins I come to the conclusion that it is indeed a great album, but not as good as 'Moonglow.' Why is that, you think? Well, I feel that the songs sometimes lack the musical structure and presence of the previous album and to me this new album is also too short with only fifty -three minutes long. However, lovers of rock epics and true metal operas will not be disappointed with 'A Paranormal Evening' as it is filled with melodic, catchy, and even anthemic pieces of music, but also with power ballads and a couple of hard rocking tracks that make you want to singalong to very loud! 
The first real hard rock track, also the heaviest one of the entire album is called ,,The Wicked Rule The Night", featuring guest singer/shouter Ralf Scheepers (Primal Fear) and it is a 100% pure headbanger track in the veins of the old Avantasia songs. ,,The Inmost (meaning: the most intimate) Light" is also a fast, almost speedy song, featuring the wonderful vocals of Michael Kiske (Helloween) and his voice is still top notch, making this track a standout one if you play it F…. LOUD.
NEW IN THE AVANTASIA CAST
The first power ballad of this album is called ,,Misplaced Among The Angels", featuring the amazing Floor Jansen. It is a true emotional and atmospheric track with a beautiful chorus where Sammet and Jansen join forces. ,,Paper Plane" is the other ballad, featuring the voice of Pretty Maids frontman Ronnie Atkins. It is a rather commercial song, with again a formidable catchy chorus, which makes this song almost radio friendly indeed! ,,Kill The Pain Away" (utterly catchy chorus), also features Floor Jansen, while Jorn Lande shines in the short but sweet rocker ,,I Tame The Storm."  ,,Scars" featuring the excellent throat of Geoff Tate is a kind of mysterious track, while ,,The Moonflower Society," featuring Bob Catley, is again a very catchy, almost singalong, song. Eric Martin has the lead vocal in the hard rocking, up tempo ,,Rhyme And Reason" and his dark, melodic voice is perfect for this song.
Luckily, fans of longer epic Avantasia tracks will not be disappointed, as the final song ,,Arabesque", clocks in over ten minutes, and it is a classic Avantasia epic indeed, comparable to other older long songs like e.g. ,,The Great Mystery" (10:03, 2013), ,,The Wicked Symphony" (9:29, 2010) or ,,Ghost In The Moon" (9:51) from Sammet's last impressive album 'Moonglow' (2019). ,,Arabesque" features two lead singers, namely Michael Kiske and Jorn Lande and they "blend" together very well, making this track one of the highlights of the album. 
A CREATURE OF THE NIGHT
So, another musical highlight in the career of Avantasia as the song writing is again second to none, the production is really powerful and sublime, but most of all the musicians, especially the singers, did a more than excellent job, making `A Paranormal Evening With The Moonflower Society' a must have album for fans of melodic metal/hard rock! And who or what is this so-called Moonflower Society? Well, according to Sammet: "It symbolises the band, a moonflower is a creature of the night that blossoms when the world is asleep. For me, it stands on one hand for the weird characters I populate my songs with, and on the other hand for the weird characters I surround myself with in Avantasia."
Listening tip: ,,Misplaced Among The Angels".
Release date: 21 October 2022