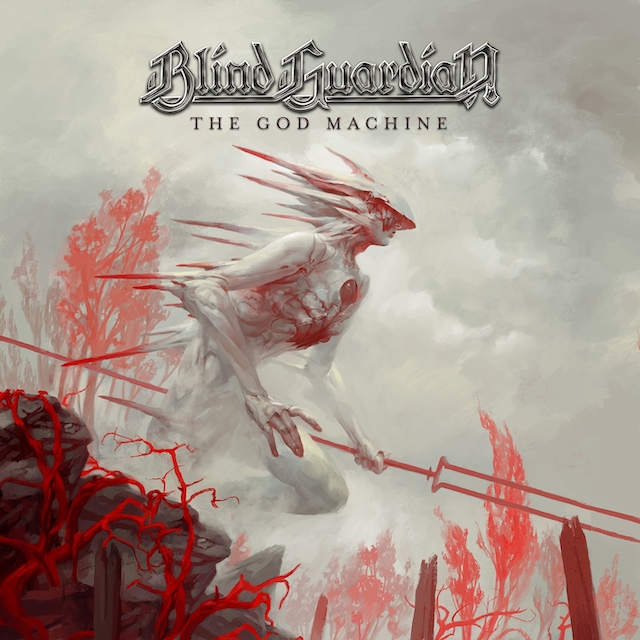 Review | Blind Guardian – The God Machine
Nuclear Blast
Discard my love-hate relationship with German power metallers Blind Guardian I am the first to admit they are as iconic as many of their releases. Waving the flag of metal proudly the band around Hansi Kürsch has morphed their thrash injected power metal from their early days into a blend of orchestral epic metal with fine-tuned epic allure and internal combustion etched into its thrusted structures. With their sonic output gradually deepening in the symphonic direction, their 2019 album `Legacy of the Dark Lands' fully explored the bands song writing skills and abilities, excavating from the deepest of their creativity.
The outcome was an overpowering and elemental metal album, deeply rooted in classical music, invigorated by the intense connection between Blind Guardian's creative team in close collaboration with the Prague Philharmonic Orchestra (dubbed "Twilight Orchestra"). This album in mind, it pinpoints my disconnection with the band, as it overbears their aspirations, without dismissing it. It certainly was unique and well executed, but for me it was just too much bare.
Their new epos `The God Machine' has been seasoning since its release last month, and I believe it is time to visit Blind Guardian's return to form.
EXPLORE AND REVISIT
Deepening their music gradually, the band has certainly pushed the envelope in exploring the genres boundaries. `Legacy of the Dark Lands' was the endgame of their sonic exploration and with `The God Machine' the band enters the realm of their own catalogue to explore and revisit what makes them so darn good.
The new album certainly packs the punch that reignites my interest. It is packed with André Olbrich and Marcus Sepien's sublime and piercing guitar interaction, also augmenting an epic atmosphere. Opening track ,,Deliver Us from Evil" channels all the band is praised for. There's tremendous drive in the delivery with Fredrik Ehmke's double bass drums firing. Towering melodies and harmonies kick up the sonic atmosphere. Energized and rousing breaks, slick melodic sections pave the road for slick choruses with dramatic vocal interaction, sometimes reminiscent to Queen's most pompous outings. Kürsch belts an insanely versatile vocal job, flexing his pipes around the fiery structures, switching from harsh raspy roaring to his most melodic range. He is the binding factor soundwise.
SPEED AND THRASH
This sonic cocktail is shaken up on the entire album with ,,Damnation" and ,,Blood of the Elves" following the path of the opening track with speedy licks and progressive breaks. Glorious choruses and melodies towering, benchmark B-G. ,,Violent Shadows" brings more power to the plate, with its memorable riffs and thrash attitude. The song combusts constantly with its turmoil driven punch and piercing guitar accolades, while equally challenging twins and harmonies color its musical discharge. Brisk ponderous drums are action-packed, with dense vocal interaction and melodies signing off the choruses. Slick!
When Blind Guardian taps the epic vein, they are at their best. Single release ,,Secrets of the American Gods" is glorious and appealing. Choral opening with epic pretensions, and Hansi delving deep, the song flourishes with pompous arrangements and signature guitar interaction. Sterling guitar riffs are interchanged with wonderful twin sections and piercing solos, towering into a wonderful guitar trade off midway. Welling with emotions and drama the song pulls forward with increasing drama. Drama, that is even more condensed on ,,Destiny", which comes in with droning riffs and hoovering guitar lick before exploding with its multi-layered vocals and chugging riff.
BLIND GUARDIAN LARGER THAN LIFE
Reigniting their sonic explorative tendencies, the band unloads in the spectacular ,,Life Beyond the Spheres". Vocal lines constructed alongside the songs dynamic drum beat, and ,,Kashmir"-reminiscent guitar scales met, the song progresses with time changes and exquisite harmonized guitar chords and lush (Celtic-tinged) melodies. Larger than life is the song's compelling end-chorus which dazzles with its operatic sonic waves hitting. The song needs to grow on you for sure.
The overpowering drama of the previous song shoots root in the opening of ,,Architects of Doom", which quickly transform with intense heavy riffs and intensifying orchestration. Mean it pulls forward until it polishes for its multi-layered chorus. Typical Blind Guardian, with Kürsch displaying his widest of registers, drawing soaring vocals from his spine and hitting dramatic notes precisely. ,,Let it be no More" has him shining with his classical tone. Impressive delivery, the ballad is colored by lush keys and powerful melodies. Guitars are subdued and subtle, pushing out a sterling solo while the arrangements start ebbing, powering up briefly before returning to form.
Following `Legacy of the Dark Lands', `The God Machine' almost feels as if Blind Guardian is freed from the spiralling expectations of continuously enhancing the orchestral and symphonic aspects of their music. Fusing the orchestral elements to their speedy and thrashy power metal structured songs, the band keeps surprising on this bombast-packed record. Chockfull of their trademark elements, it constantly spirals with pompous choruses and melodic verses with never a dull moment. Catchy and big, `The God Machine' displays Blind Guardian remarkable skills firing on all engines!
Release date: 2 September 2022