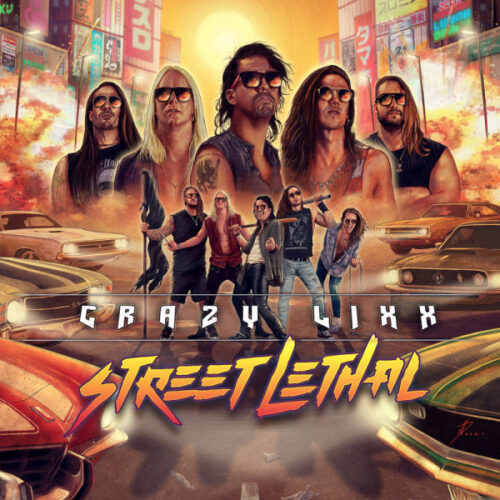 Review | Crazy Lixx – Street Lethal
Frontiers Music srl
Crazy Lixx from Sweden released their 7th studio album `Street Lethal'. And again it is built on the foundation of melodic 80s hard rock. `Street Lethal' is an album with a big arena sound, courtesy of singer Danny Rexon, who is responsible for the production, while the mix is done by Tobias Lindell (H.E.A.T, Europe, Hardcore Superstar a.o.).
The songs are easy on the ears and can easily be used for the remake of the movie Rockstar that was released in 2001. Although there are quite a few nice songs on this album, I do get too much of a 'bubblegum' rock feeling. It is all just a little too cliché.
CRAZY LIXX KEEPS 80S ROCK GOING
The talent is definitely present, however when I hear some of the choruses on this album I do get chills. Bands that can be seen as a big inspiration for Crazy Lixx, like Def Leppard or Skid Row, certainly also have some poppy hooks and choruses, but the songs always have a great structure, are rock solid and they keep resonating in your head after one listen. Unfortunately I do miss these characteristics on this album.
Is it a bad album? Certainly not!! Songs like ,,Rise Above'', ,,Anthem For America'' and title track ,,Street Lethal'' are standing out way above the rest. Unfortunately I also find that the majority of the songs are somewhat mediocre and don't stick. Too bad, because personally I really like melodic rock with its roots deep in the 80s. Do not get me wrong, I'm glad that bands like Crazy Lixx are still keeping the fire going. However, for the time being, the level of the compositions on this album is not high enough to convince me.