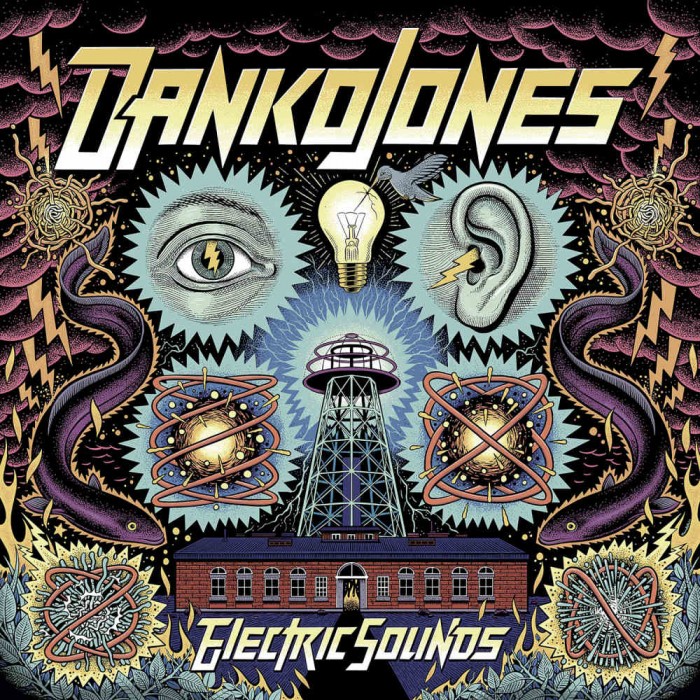 Review | Danko Jones – Electric Sounds
AFM Records
After a short relationship with another record company for their previous album, Danko Jones has returned to AFM Records. Opening track ,,Guess Who's Back'' therefore seems like a reference to this brief affair. So anyway, Canadian power trio Danko Jones is back with their 11th studio album. And fans get what they expect from the men.
High energy, uplifting rock and roll, without much fuss. Nice straight-up attitude. A formula that has been working in Danko Jones' favor for years. Their fan base is secretly growing with each release, and I'm not even talking about the die hard core fans who have been rooting for the band for years.
LIVE ENERGY
Personally, I like their live energy better. Somehow they never succeed 100% in translating that amazing energy on a studio record. It's all a bit slick then, while that raw touch of the live performance often gives the songs that little bit extra. 'Electric Sounds' is no exception to this rule as far as I'm concerned.
The guys also know that keeping up the pace is important with their kind of compositions and make sure that the songs are finished around 3 to 3.5 minutes on average. I do detect a bit more punk/hardcore influence on this album, which contributes to the no nonsense attitude the album has. Don't whine, just play and have fun in what you do. Don't overthink things and step on the gas!!
RECOGNIZABLE
For me personally, the aforementioned ,,Guess Who's Back'', ,,Good Time" and title track ,,Electric Sounds'' stand out in terms of songs. The rest ís solid and very recognizable as Danko Jones songs, but then are at times too simple for me in terms of structure, or that I have trouble distinguishing one track from another.
Danko Jones is just a band you have to see live at work, then they are at their best and with this new album they have enough ammunition to tour again. And that is what is on the band's agenda in November/December Europe here they come!!!
And yes, for fans, this album is simply obligatory and Danko Jones will certainly not disappoint.
Release date: 15 September 2023