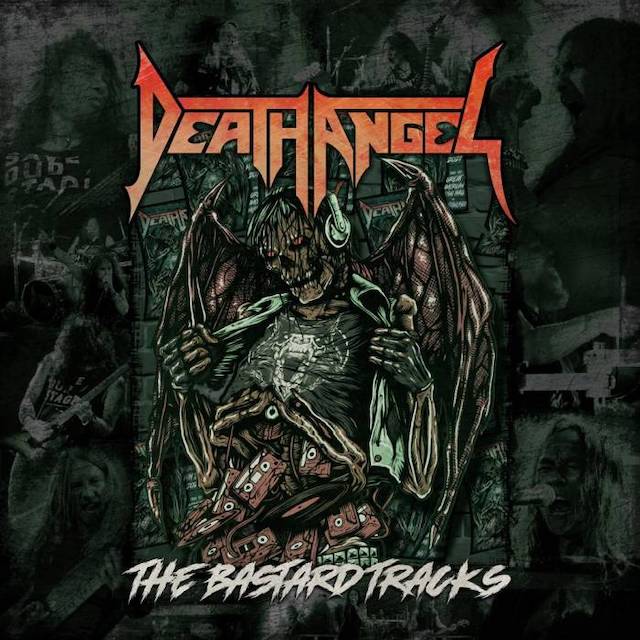 Review | Death Angel – The Bastard Tracks
Nuclear Blast Records
I have never been a fanatic fan of thrash metal. Although I appreciate the achievements of Slayer, Anthrax, Megadeth, Exodus, Metallica and Nuclear Assault, not every album that those bands released made a lasting impression on me. But in this particular genre there are two bands that I like very much. The first one is Flotsam & Jetsam that struck me with 'Doomsday For The Deceiver' and their other releases. The second is one Bay Area formation Death Angel. Ever since their records 'Frolic Through The Park' and 'Act III' I followed them as they sounded just different. Extremely heavy, fast as lightning but always with a sense of melody that a lot of bands in the thrash genre lacked.
GIG WITHOUT AUDIENCE
Like so many other bands Death Angel, with founding member Rob Cavestany (guitar) plus singer Mark Osegueda (who joined a few years later but has sung on all albums released so far) still on board, decided to use the lock down for a live stream concert. On May 22, 2021 the band rented The Great Music Hall in San Francisco, which is as good as a home match. The band rehearsed hard for their first gig without audience present and put together a special set. One that covered their whole career including a song from their last studio-album 'Humanicide' but also with songs from albums like 'Killing Season', 'Relentless Retribution' and older records.
Several songs in the set had not been played for years or even never at all, so the band that includes second guitarist Ted Aguilar, drummer Will Carroll and bass player Damien Sisson had to work hard tightening the songs and the set that also includes a blistering version of Black Sabbath's ,,Falling Off The Edge Of The World' plus twee acoustic ballads in the form of ,,Faded Remains'' and ,,Volcanic''. And just the fact that Death Angel is capable of playing such melodic songs is the main reason that I am quite a dedicated fan. Although mainly a thrash metal band Death Angel always has had this keen eye for melody in between all that energy and speed.
CONSTANT QUALITY
Although the band members on the images look slightly uncomfortable performing without a soul present, the raw energy and the constant quality of the song material is not to be dismissed. Already opener ,,Lord Of Hate'' has that bite that is so characteristic for Death Angel as does the ultra-heavy track ,,Absence Of Light'' where Cavestany lets it rip. I don't want to take too much away from you (you should discover it for yourself) but I am happy to see that all the key elements are still there on this live-release. If you are fan of the genre just do yourself a favour and get 'The Bastard Tracks'. I'm sure you will not be disappointed.