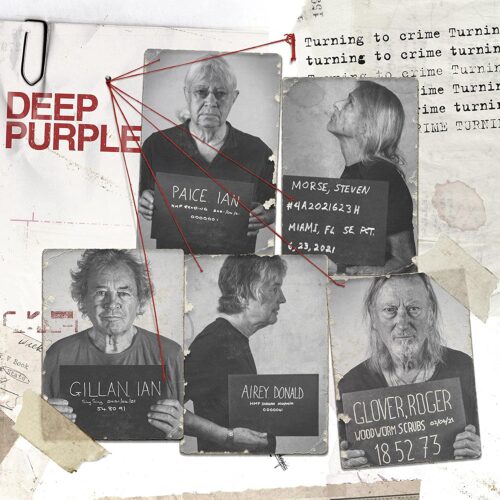 Review | Deep Purple – Turning To Crime
earMUSIC
With their latest studio releases 'InFinite' (2017) and 'Whoosh!' (2020) Deep Purple showed once again that they were still an act to be reckoned with. There was some uncertainty about the future of the band after their last album. Would they return to the stage, would there be another album or had the veterans decided to call it a day?
THE ANSWER
The band has given the answer in the form of 'Turning To Crime', a new record. Not filled with freshly written songs but a cover album with some interesting choices and also one where the band members are exploring some 'unusual' musical avenues. The boys have been looking at groups and artists that shaped them throughout the years. Some songs you will be familiar with, some maybe not.
FUN
Recorded in the individual home studios of the members it was a fine task for producer Bob Ezrin (who also worked with the group on the two above mentioned albums) to fit all the recorded parts together into a swinging piece of work where fun seems to have been the main factor. It is served with a pinch of salt, as is mentioned in the booklet of 'Turning To Crime'. Especially vocalist Ian Gillan must have had fun during his recording sessions. Ian has always liked some pure rock and roll, some boogie, a bit of big band stuff and of course rock and all these ingredients are touched upon on this record. You can hear the enthusiasm coming out of his throat, showing a larger area of his capabilities.
Also Don Airey has put his stamp on 'Turning To Crime'. This record has given him the chance to play a lot of classic piano parts and he does it with 'mucho gusto', playful and stylish. The second song on the record ,,Rockin' Pneunomia And The Boogie Woogie Flu" (originally recorded by Huey 'Piano' Smith) has a piano solo where Don for just a second touches a small piece of Purple's ,,Smoke On The Water''. Listen carefully or you'll miss it!
THE SONG SELECTION
The song selection is at times very surprising. It shall not come as a surprise that some classic British bands like Cream (,,White Room''), The Yardbirds (,,Shapes Of Things'',  also covered once by Gary Moore) and Fleetwood Mac (,,Oh Well'') are featured as these groups were popular in the time that Deep Purple just started out. But songs from the also UK band Love, US outfit Little Feat and US rockers Mitch Ryder & The Detroit Wheels come as a surprise. Also ,,Let The Good Times Roll'' (by Ray Charles and Quincy Jones) and the boogie woogie track ,,The Battle Of New Orleans'' (Lonnie Donegan and Johnny Horton) are unexpected pieces but the way Ian Gillan and his band mates work themselves through these songs is at times really cool.
Yes, it is different than the regular work but if one band deserves to spread their musical wings a bit it most certainly is Deep Purple. And don't think that guitarist Steve Morse has just been sitting there doing nothing. His star shines on bright during interpretations of ,,Oh Well'', ,,White Room'', ,,Shapes Of Things'' and several other tracks. At the end of the record Purple surprises one more time with a medley consisting of some more popular tunes from Led Zeppelin, The Allman Brothers, Freddie King, Booker T. and the M.G.'s and The Spencer Davis Group.
Like I said, it might not be Deep Purple as you know it but 'Turning To Crime' is an album that is like a musical school trip for the Deep Purple musicians and they have combined their musical abilities with a big fun factor and on this occasion it has worked out pretty well indeed.