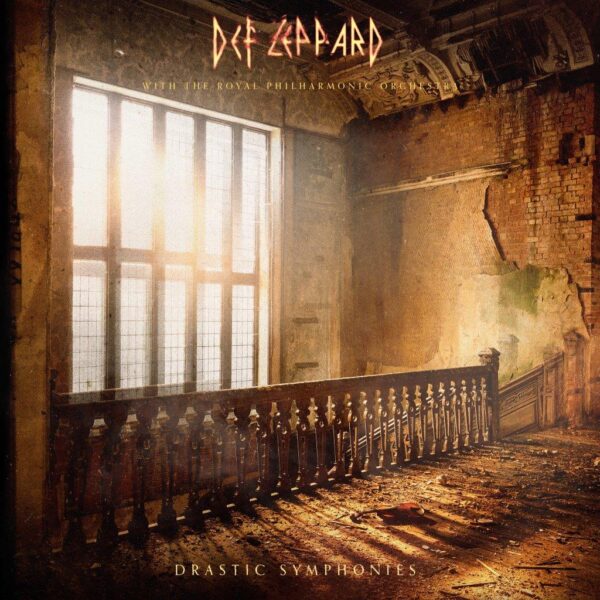 Review | Def Leppard – Drastic Symphonies – With The Royal Philharmonic Orchestra
Universal Music
After finishing up their latest studio-album 'Diamond Star Halos' a talk between the current producer Ronan McHugh and the five band members (Joe Elliott, Rick Savage, Phil Collen, Vivian Campbell, and Rick Allen) of Def Leppard followed very quickly. Result a cooperation with an orchestra, to be used as a sixth band member with an input. The work started and the results are in.
CHANGES
It shall be evident that the input of the orchestra and the arrangements made by Eric Gorfain and orchestra producer Nick Patrick have led to some changes in the Def Leppard sound as we know it. Several tracks have been re-arranged and I must admit that this whole experience have given most songs a second chance on life. Take for instance ,,Animal'', originally quite fierce and up-tempo, now more sophisticated and really cool executed. But on the other hand: ,,Pour Some Sugar On Me'' did not make it out that great. Now sung as a duet by Elliott and female vocalist Emma Gryner it really sounds extremely soppy.
NOT A DEF LEPPARD GREATEST HITS RELEASE
Luckily 'Drastic Symphonies' has not become another greatest hit release. Sure, some big old hits like, ,,Animal'', ,,Love Bites'',  ,,Hysteria'' and ,,Pour Some Sugar On Me'' are present but most of the other songs (15 in total) are regular Def Leppard album tracks. I find the instrumental ,,Switch 625'' (from in my opinion their best album 'High N' Dry') a surprising inclusion on this record and that has worked out perfect as the track clearly gained some extra bombast and energy because of the input of the orchestra. The same goes for ,,Bringing On The Heartache''. A perfect version.
THE VOCAL ARRANGEMENTS
A strong point that Def Leppard always had in their luggage is without a shadow of a doubt the vocal arrangements. Those big choirs and close harmony vocals by Elliott, Collen, Savage, and Campbell have played a big role throughout the whole career of the band and that has not changed here. It sounds stunning and picture perfect while also the lead vocals by Elliott are to die for. What can I say? The band took a chance and it has paid off big time. I was a bit disappointed in their last album 'Diamond Star Halos' but with 'Drastic Symphonies' Def Leppard shuts up their critics big time!
Release date: 19 May 2023