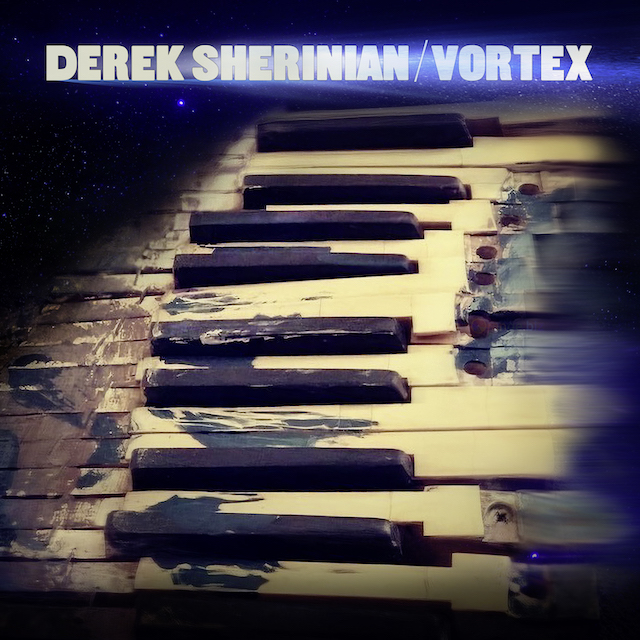 Review | Derek Sherinian – Vortex
Inside Out Music
In his field of expertise (keyboards) Derek Sherinian is seen as one of the best, maybe even the best at this moment in time. Derek Sherinian has been around for several decades. Next to his solo-career he is also active with the bands Black Country Communion and Sons Of Apollo plus he gets numerous requests becoming a guest on some groups new album. Being a guest on somebody's album opens up the chance for Derek to ask a certain musician that he has helped out, to help him out. He played on Michael Schenker's album 'Immortal' a few years ago and now the German guitarist repays the favour by guesting on 'Vortex', the ninth solo-album in the career of Derek Sherinian.
GUEST LIST
The people performing on 'Vortex' is a guest list that is almost second to none. When you can count on the services of Tony Franklin (bass) and Simon Phillips (drums) your album already has a solid base that is as safe as Fort Knox. That is one very important box ticked as Phillips and Franklin can play any style required. And 'Vortex' is a complicated matter. There are also some famous guitar slingers who have contributed to 'Vortex'. I already mentioned Michael Schenker, but what about Steve Stevens, Steve Lukather, Joe Bonamassa, Mike Stern, Nuno Bettencourt, Zakk Wylde and Derek's Sons Of Apollo bandmate Ron 'Bumblefoot' Thal? Surely a list that is to say at least impressive.
MUSICAL ESCAPADES
What kind of musical escapades has Derek Sherinian on offer on 'Vortex'? First of all (but that shall be no surprise) the music is purely instrumental and brings us richly coloured variety between heavy rock, a chunk of funk, some jazz and fusion and a large piece of progressive rock. The songs are far from straight forward as was also the case on earlier Sherinian solo-albums. Mood swings, adventurous arrangements, changes in pace and a whole lot of variety will basically force you to pay close attention to everything that is happening. The album is so 'busy' and intense that not one song is suited to feature a singer. Luckily, next to the enormous use of keys, piano and synthesizer the role for the participating guitarists is just as extensive.
AGGRESSIVE
For myself I like the track ,,Die Kobra'' the best as this song with Michael Schenker and Zakk Wylde leans very much towards straight melodic hard rock where the keys and guitars nicely blend together. Other tracks have more different musical styles in them and are quite intense. Sherinian is a fiery and aggressive player who is capable of making his keys sometimes sound like a guitar. The sound and production are really top notch. If you like his previous album 'The Phoenix' from 2020 'Vortex' will be without any doubt to your liking, although it is an effort to sit out this wild ride in one sitting. Invest some time is the only advice I can give you to really learn to appreciate and capture all that is happening on 'Vortex'.
Release date: 1 July 2022