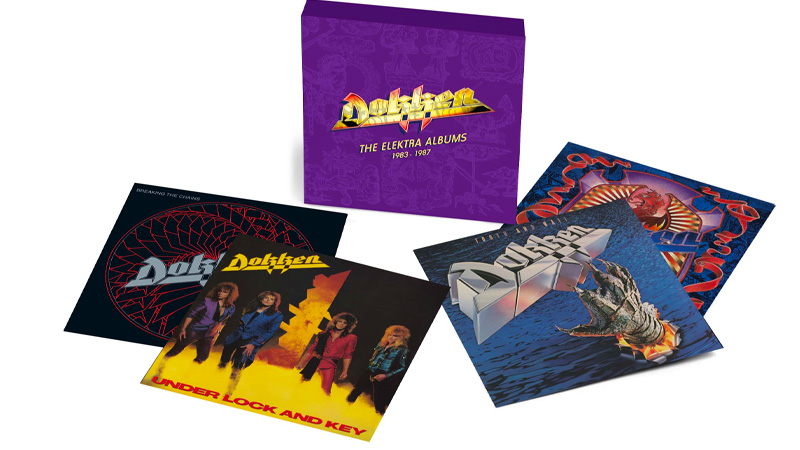 Review | Dokken – The Elektra Years 1983-1987
BMG
Nobody can deny that the early years in the career of the band Dokken were by far their best. Don Dokken (vocals), Jeff Pilson (bass), Mick Brown (drums) and guitarist extraordinaire George Lynch formed a wicked combination that brought us guitar orientated heavy rock and gorgeous ballads on their albums 'Breaking The Chains', 'Tooth & Nail', 'Under Lock And Key' and 'Back For The Attack' plus a strong live-album 'Beast From The East'.
THE SIGNATURE SOUND OF DOKKEN
On those four albums the band developed and established a signature sound working with famous producers like Roy Thomas Baker, Michael Wagener and Neil Kernon. Their albums sold combined way over ten million copies, they toured relentlessly but behind the scenes there were tensions between Dokken and Lynch, finally resulting in the departure of Lynch and Pilson. Although the band reunited several times later on the old magic was never ever restored.
Bands like Lynch Mob and Don Dokken (with a continuation of Dokken and solo material) delivered many more albums throughout the years and some pieces were strong but nothing they ever did managed to top the four mentioned albums. Even a 2016 reunion and Japan tour where they recorded 'Return To The East Live' that also included a new studio track would not restore their popularity also because the album made painfully clear that the voice of Don Dokken had weakened dramatically.
4 CD/5 LP RELEASE
I am wondering why this 4 CD release is being brought on the market yet again. Yes, the recordings have been remastered but the whole package (also available on vinyl on 5 LPs) has no 'bait' for fans to go and get this release. There are no extra songs, so the question is why? Furthermore, in 2010 Rhino already released the 'Original Album Series' including the four records plus 'Beast From The East' in a collectors-box, so what is the use of releasing a new package some 12/13 years later with nothing extra? In my (humble) opinion this move from BMG is useless for the real fan of this band.
Release date: 27 January 2023