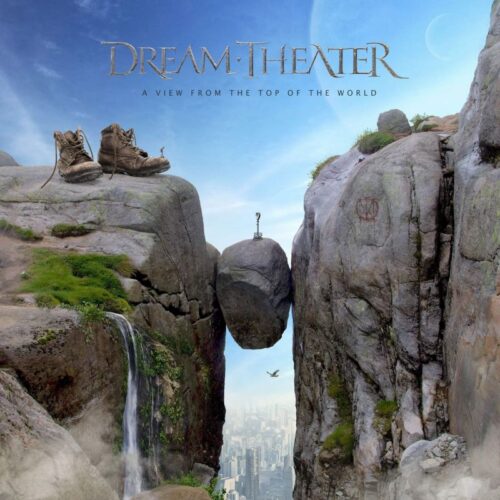 Review | Dream Theater-A View From The Top Of The World
Inside Out Music
From 1992 up till 2009, Dream Theater (with nine excellent albums in their pocket) was the best prog metal band of this planet. In 2010 drummers changed and since then DT has released four more full length studio albums, which are also excellent but percussion/drums-wise and compositional-wise these albums did not reach the same high level as before. Last year Dream Theater released 'Distant Memories – Live In London', a superb live triple CD, featuring a couple of sublime oldies mixed with recent material from their last studio album 'Distance Over Time'.
A Prog Metal Gem
'A View From The Top Of The World' is Dream Theater's 15th studio album and without beating around the bush I can truly say that this one is again a prog metal gem. The album contains seven songs of which five clock over the seven minutes mark. The longest, being the epic title track, clocks 20:24 minutes. This is truly a song in the veins of classic DT epics such as ,,Octavarium" (24:00), ,,The Count Of Tuscany" (19:16), ,,In The Presence Of Enemies Part 2" (16:38), ,,Illumination Theory" (22:17) and ,,A Change Of Seasons" (23:08).
Immaculate
The song ,,A View From The Top Of The World" kicks off with an orchestral overture, followed by Petrucci power riffs and a heavenly guitar melody. LaBrie enters the song after two minutes and his vocal performance here is almost immaculate. Around the nine-minute mark it evolves into a ballad like song with lots of orchestration again, before Petrucci shines with heavenly guitar solos and hooks, which give me goosebumps all over the place! The finale is a DT worthy compilation of earlier melodies, choruses, riffs, hooks and lots of bombast. The song clocks over twenty minutes but it is so good that to me it actually is over in a jiffy.
Mindboggling
DT's 15th studio album starts with ,,The Alien", the first single of this album and released last August. A lengthy song (nine minutes) with breath-taking guitar work from Petrucci which already got a lot of positive response. ,,Answering The Call" features a typical DT intro before it evolves into a very melodic 'Awake'- like song with a really catchy chorus, classic DT for sure!
,,Awaken The Master" also features a mindboggling musical intro with heavy headbanging riffs/hooks and howling keys by Jordan Rudess. In the middle of that song, it is Petrucci time again as awesome melodic guitar solos and melodies blast into your living room; proving again that these guys love to play their instruments, as Petrucci once stated! ,,Sleeping Giants" is filled with typical DT twists and turns and again extraordinary guitarwork. The only song that I think is rather mediocre is called ,,Transcending Time"; the shortest one on the album and also the only kind of dull – read: run of the mill – track.
Overall, 'A View From The Top Of The World' is an excellent DT album with a lot of killer songs; it is also definitely better than 'Distance Over Time'. Listening tip: ,,Awaken The Master".