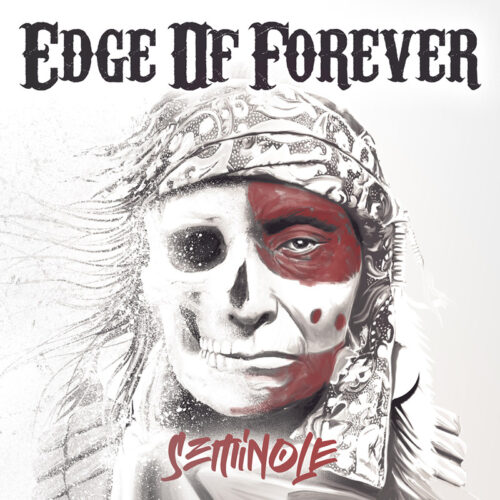 Review | Edge Of Forever – Seminole
Frontiers Music srl
The name Alessandro Del Vecchio is one of the most mentioned in this web magazine. The man works as a staff producer for Frontiers, writes songs and is a multi-instrumentalist. Some time ago we published an interview with this ultimate rocker and he talked with passion about his own band Edge Of Forever and that the new album would be something to look out for.
RESHUFFLE
A few years ago, just before the recording of the fourth band album 'Native Soul', a reshuffle took place within the group. Guitarist Aldo Lonobile and drummer Marco Di Salvia joined the core members Del Vecchio and bass player Nik Mazzucconi. 'Native Soul' turned out to be a very good melodic heavy rock album. After the release there was plenty of time to write the sequel as due to obvious reasons the band was unable to tour. That extra time has been used to the fullest as 'Seminole' is not only a better-balanced album with absolutely no fillers, but is also a conceptual album. Del Vecchio has written the bulk of the material with some help from Di Salvia here and there.
DARK TIMES
As we all have noticed the world has changed and some dark times have been forced upon manhood. Climate change, COVID-19, protests all over the world, people losing their jobs because of it. Yet, Del Vecchio and his band mates have approached things from a positive side instead of adding more doom and gloom. This is an album with lyrics of hope, encouragement and making you aware that a setback can be turned into something positive, if you want it. The first track ,,Get Up On Your Feet Again'' being the best example lyric wise and also a very heavy and up-tempo start of the record.
This album has lyrics about your life, my life, Del Vecchio's life, anybody's life. Have a close listen to what the man has written and try to relate to that. The conceptual factor is based around the four-piece part ,,Seminole'', about an Indian warrior who tries to turn a defeat into something positive.
THE MUSIC
Well, you can put a story together about whatever you want but at the end of the day any concept-album is not only judged on its lyrical content but foremost on the music and its execution. Writing the songs with the capacities of his band mates in mind it is safe to say that Alessandro has outdone himself. Sometimes the critic is that he perhaps works on the automatic pilot looking at his enormous workload during the last handful of years and the amount of groups and artists he has worked with, but for 'Seminole' he has left absolutely nothing to chance.
This album has songs with lots of variety, it packs impressive power at times (,,Wrong Dimension'', that has a strong Black Sabbath in the Dio-era feel and the already mentioned song ,,Get Up On Your Feet Again''), has semi-acoustic and extremely melodic parts. Most of the ingredients that the band has to offer can be heard on ,,Seminole'' with its four parts. As a singer Alessandro Del Vecchio sounds more mature and versatile than ever before. Looking at the whole picture that Edge Of Forever has painted here I can only conclude that the whole package has been executed with flair, class and determination. No bones about it, these dudes have delivered the goods.
Release date: 21 January 2022