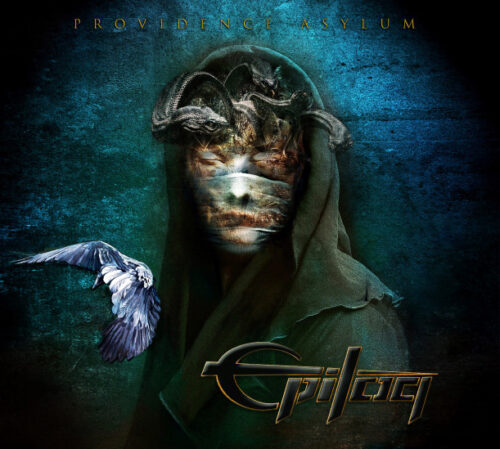 Review | Epilog-Providence Asylum
Independent
I first was introduced to Epilog through their excellent 'Whispers In The Darkness' album back in 2017. With the brand new 'Providence Asylum', already the fifth release from the Czech metal outfit, the band steadily builds their catalogue and following.
Again 'heavy as shit' the band opens with the guitar pulled title track immediately raising the bar. Exquisite guitar interaction, commanding riffs and raving vocals in the classic metal vein, Epilog impact. The vocal interaction impresses and the memorable chorus is both, imperative as it is trivial. It sticks yet nests upon a spin or so. It is Zeman's proven keen ear for detail making the songs reflective and standout. Unexpectedly shifting back gear on the second track Epilog delves into the ballad-ish slow mover ,,Elder Gods" which oozes confidence with larger than life vocal duties executed by [Rob] Lundgren. Reminiscent to Iced Earth, the song builds towering tension and unloads intense guitar melodies and chorus. Epic progressive, ear mingling beautiful, the song enrolls.
Fretboard Excercises
Karel Fejtl and Michal Zeman are responsible for the heavy guitar extravaganza on the album. Fierce riffs and excellent harmonies pull together tight discharging in piercing solos and fretboard exercises. But when Zeman and his band go full throttle they are spitting serious flames. ,,Sanctuary" with bedazzling arpeggios and scorching vocals, the double kicked heroic metal stomper ,,Into The Unknown" with its progressive breaks and whaling vocals, or the power packed closer ,,Theater Of Sins" with its cock rocking ending, Epilog shines a radiant deliverance. Sound effects to ,,Horror Show" open to a wonderful heavy riff and swirling solo before delving into classic epic metal. Very cinematic the song is crafted around the theme with scattering vocal in multiple layers. Blunt breaks cast an ominous spell before moving into the memorable chorus held up by ditto (guitar) melodies.
Teutonic Double Kicks
Going more epic than ever Epilog embarks onto ,,Forest And The City" which is a slow-paced gloomy metal track summoning marching hordes of Orks marching into battle. Teutonic double kicks fire up the track and fierce guitars pitch high. Vocals are drenched in melancholic tenure. Meandering mid-section with comforting instrumentation and vocals delving deeper into the narrative before the band goes all in for battle. Hectic, eclectic the song finds higher ground to the grandiose ending. Piercing solos, howling vocals and epic breaks. Distancing from the obvious Epilog manages to mold the track in a dynamic musical structure that is diverse and unprecedented. It does need to grow on you, but it features all benchmark ingredients from the widest metal specter.
Displaying their exceptional craft Epilog returns to form ,,Colour Out Of Space" reverts to the epic prog mark. Exploding blunt breaks and melodies contrasting, the song evolves like a whirlwind. Moody and intense, crafted around enthralling chorus and vocal line. ,,Rising" also paws deep into the registers of classic metal and US powermetal, without discarding their European roots. It is diverse and dynamic delivering sheer power. Ominous, hammering the emotional vein while vocals are exhilarating. ,,Melancholy" covers the load perfectly with the song meandering in low pace. Lundgren delivers and fires on all engines. Much like Barlow he delves deep emotional and packs tremendous power orbiting the song in its chorus.
Classic Metal
'Providence Asylum' picks up where the band left of on 'Ancient Ritual' deepening their sonic pallet and widening their musical horizon. The album is packed with highly explosive metal elixir conjuring in top shelf compositions and musical craft. The elemental epic ingredients are fused with European metal and US powermetal and progressive breaks and hooks creating 10 memorable and outstanding tracks. Reigniting the spark of classic metal with orbiting glances of the modern era, Epilog makes a firm statement on 'Providence Asylum'.