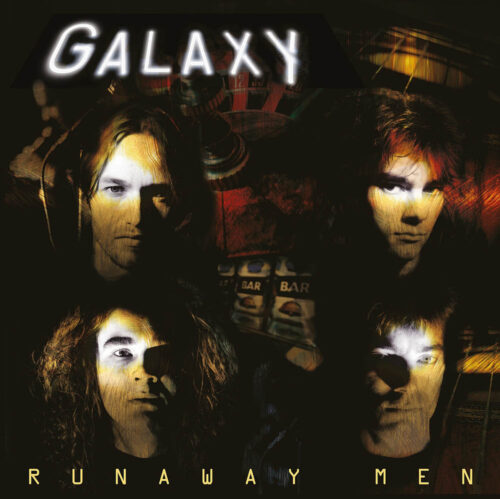 Review | Galaxy – Runaway Men
Shaded Moon Entertainment
Sometimes, and I do mean sometimes, an undiscovered jewel from the past is brought to life. 'Runaway Men' is a record that was recorded in 1997 by the Dutch rock band Galaxy but the album remained unmixed and was never released. It even did not have an official title. Until now….
THE HISTORY OF GALAXY
Galaxy existed some fourteen years (1983-1997) in which some old-fashioned cassettes and a mini-CD were released to not much success. After building their 'own' studio at the back of the parental house of Nils (drums) and Ard (keyboards) Offers the group with singer/bass player Bart Schwertmann and guitarist Niels Lingbeek had plenty of time to work on this album. The songs were done and recorded but a release was for whatever reason not an option and the band more or less drifted apart. Bart Schwertmann, after winning the Soundmixshow on Dutch TV (1999 version), went on in professional bands before landing the job of vocalist for Kayak, the best progressive rock band ever in The Netherlands.
Bart will be there when Kayak does their farewell tour a bit later this year. Niels went on as a studio-owner, producer and engineer. Ard played in other bands and released a CD with his current band Perfect Storm last year. Nils stopped as musician. But through the years the band members stayed in contact with one another. A little while ago Bart released his first solo-album 'Theater Of Grief'. Bart also handed a tape of old Galaxy material to David van Hartingsveldt who heard potential. He wanted to do something with the material that after a long search in personal archives was found and repolished by Niels Lingsbeek and the other members.
A 25 YEAR PREGNANCY
So, after a 25-year pregnancy the baby finally has come out in the form of 'Runaway Men'. The songs may be old but the sound of this album is as fresh as a daisy. You could say that 'Runaway Men' is a quite modern sounding progressive rock album. It should appeal to fans of band like Arena and also Kayak. Not only because Bart Schwertmann is singing here but the structure of several songs has some similarities although the Galaxy sound is a bit tougher and rougher.
Guitarist Niels Lingbeek can be credited for that because of his excellent work on the six strings giving the songs a bit more fat on the bones with Ard Offers giving the tracks extra colour. All songs are extremely melodic but have a rocking underground and really some excellent vocal arrangements. No wonder that Schwertmann landed years later in Kayak. Already in 1997 the singer sounded prolific. A compliment for the fact that especially Niels Lingbeek has managed to dust off and repolish the old recordings to a level that is even up to scratch in 2022. Can't say that 'Runaway Men' sounds old and out of date.
THE QUESTION
The question remains why this little jewel of Dutch soil stayed in the closet at the time? What would have happened if the band had finished the final mixes, had found a record company and stayed together? That answer will most likely never ever be given. What remains is an excellent eight song strong album that impresses from start to finish. Definitely a must for any progressive rock fan.
Release date: 27 May 2022