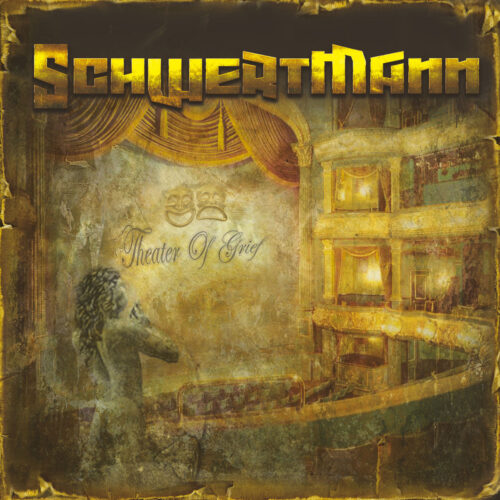 Review | Schwertmann-Theater Of Grief
Glassville Records
In 2017 Bart Schwertmann was the big surprise on 'Seventeen', the come-back album of Dutch progressive rockers KAYAK. He was part of the new line-up put together by band leader Ton Scherpenzeel. By now Bart Schwertmann is an important part of the band that delivered a double live-album ('Live 2019') plus a pretty recent studio record called 'Out Of This World' after that impressive piece of work that 'Seventeen' still is.
SOLO PROJECTS
Although KAYAK absorbs time most current musicians in the band have been able to do things for themselves. Bass player Kristoffer Gildenlöw and guitarist Marcel Singor recently released solo-albums while also Ton Scherpenzeel has been working on projects outside his beloved KAYAK. Singer Bart Schwertmann used his spare time to work on an album, a project that was on his bucket list for some time. 'Theater Of Grief' is a concept record on which Bart not only sings but plays also bass and guitar. But also several musical friends helped him out, including producer Niels Lingbeek.
WORK OF ART
I must say that Bart has created a work of art. `Theater Of Grief' showcases and combines several styles of music that are tied together by the lyrical concept. In a musical way there is an enormous amount of variety to be heard. From progressive rock to even some 'aggressive' hard rock sounds (,,Burning Down''), from a ballad to more epic songs. Bart has gone really deep, as a composer, as musician but especially as vocalist. With Kayak there is a certain way of working. As Ton Scherpenzeel writes all the songs in which he gives his musicians a certain framework to work with. But on this record Bart is able to show even more of himself. He can be tough, he can be mellow, he can be subtle, he can be a bit more robust or even very emotional.
Basically all elements of his voice are featured here and come to full expression. Bart has had more freedom here and he has used that to the best of his ability. Songs such as ,,There's A Place'' (a mid-tempo rocker) are a pure joy to hear. A compliment also has to be handed out to the excellent sound and production of this record. The whole record sounds great and is a perfect mix between 'muscle' and 'melody'. Accessible yet tough enough for even a general hard rocker to find something of value here.
There is hardly anything wrong with 'Theater Of Grief'!
Release date 5 November 2021