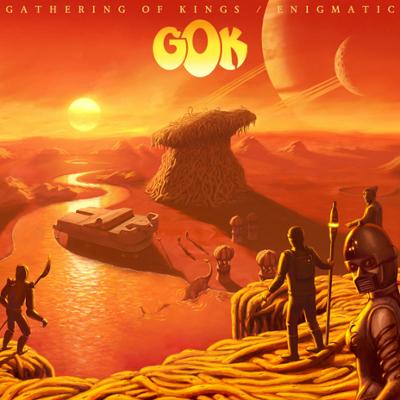 Review | Gathering Of Kings – Enigmatic
RN Records
Gathering Of Kings is without any doubt one of the best things that has happened in the melodic rock scene in the last years. Starting out as a project by Ron and Nina Dahlgren who had the idea to create something in the style of Phenomena but then with only Swedish musicians, the duo decided after the release of the first record 'First Mission' on their own RN label, to change the set-up and involve a steady team of musicians with guitarist Victor Olsson (Saffire) as the main composer of the songs and also in charge of production. A second album called 'Discovery' followed and Gathering Of Kings also started to appear on festivals.
THIRD CHAPTER
Now it is time for the third chapter in this success story. 'Enigmatic' features a dozen tracks (plus the short instrumental ,,Galacticus'', that sets things in motion) that yet again show that Sweden rocks! If you look at the musicians involved you already get the feeling you are in for an absolute treat. On vocals we have Rick Altzi (Masterplan/Altzi), Tobias Jansson (Saffire), Apollo Papathanasio (Spiritual Beggars), Jonny Lindkvist (Nocturnal Rites and Johan Kihlberg's Impera) and Alexander Frisborg. On guitars Victor Olsson and Magnus Mild, on keys Joel Selsfors, on drums Jonas Kallsback and Efraim Larsson plus bass player Mikael Planefeldt.
They are all seasoned musicians who have earned their laurels in the Swedish and international rock scene. There is also a guest appearance by the Swedish pop formation One More Time, a trio that is extremely popular in Scandinavia it seems. Their contribution ,,Feed You My Love'' has very slight pop features but is certainly a rocking song with a catchy chorus.
VARIETY GALORE
Because of the fact that five singers are featured on 'Enigmatic' you come quickly to the conclusion there is variety galore on offer as all singers have their own identity shining through on the songs they sing. Rick Altzi for instance has a more 'rougher' voice as does Jonny Lindkvist while the other singers sound a little more 'sophisticated' perhaps. The songs vary between AOR and heavy rock but they all have the necessary energy. Sometimes you think you are listening to eighties AOR especially when the keys shine through a bit more, but there are also feisty rockers on 'Enigmatic'. That luscious variety makes the whole listening experience extra pleasant.
NATURAL PROGRESSION
If you are familiar with 'First Mission' and 'Discovery' you will find that 'Enigmatic' comes across as a natural progression. Style wise the three albums are in the same vein but 'Enigmatic' sounds more 'fine-tuned' perhaps. For a fan of AOR and melodic rock this is a band that should not be ignored as Gathering Of Kings is one prime example of how Swedish rock has developed throughout the years and that their scene is alive and well. Definitely recommended!
Release Date 29 July 2022