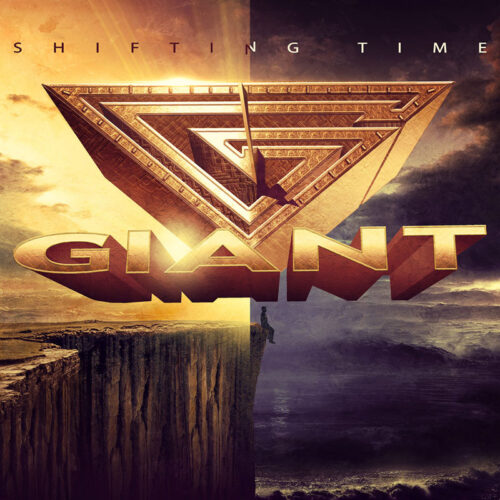 Review | Giant – Shifting Time
Frontiers Music srl
I remember it well. I bought the first Giant record 'Last Of The Runaways' as a US-import shortly after the release in 1989 and paid a small fortune for it. About a month after I bought the CD I visited the Foundations Forum in Los Angeles, a music convention for musicians, managers, concert-promoters and music press. Totally unexpected I bumped into Bud Prager, the manager of Foreigner but also the manager of Giant. He was surprised to hear that I already had the album coming from Europe and he was only happy to arrange an interview with the band who at the time were in Los Angeles for rehearsals.
A day later I was told to go to the A&M offices (the record company of Giant at the time) and I was taken to a rehearsal studio where the whole band was available to talk to and where I was also invited to stay for the rehearsal. It turned out to be a very exclusive affair as the band had never given an interview to a foreign journalist. For myself and for the magazine I worked for at that time it was a great exclusive coup as the Dutch office of A&M Records did not even have a release date in Europe and The Netherlands. They asked us to sit on the story until the European release but we told them this topic was too hot to sit on and we published it.
HISTORY
The rest of the Giant story is history. The band with the brothers Dann (vocals/guitar) and David Huff (drums), Alan Pasqua (keyboards) and Mike Brignardello (bass) was soon able to tour in Europe and until this day 'Last Of The Runaways' is being considered to be a MUST have record for any fan of melodic rock and AOR. A few years later the second album 'Time To Burn' proved that Giant were no fly by night band. That album was also filled with quality songs and Giant added second guitarist Mark Oakley to the (touring) line-up in order to beef up the sound. Unfortunately a thing called Grunge came up and a lot of melodic bands faded away including Giant. The musicians drifted apart with the Huff brothers becoming much wanted studio and session musicians (which they already were in the years before Giant and after they both left Christian rock band Whiteheart.
In that capacity Keith Olsen, the producer of Whitesnake's biggest selling album '1987', recently confessed that he got Dann Huff into the studio to play the parts that apparently John Sykes was not able to play….). Giant reunited in 2001 for the album 'III' (without Pasqua) but the commitments of Dann Huff prevented a full-blown tour. Yet again the band called it a day until 2009/2010 when David Huff and Mike Brignardello recruited former Strangeways vocalist Terry Brock and Winger guitarist John Roth for the album 'Promise Land'. Dann Huff contributed song material and played guitar on a few tracks but again could not make a full commitment. After 'Promise Land' again a long silence and period of inactivity was the faith of Giant.
NEW START
Here we are, January 2022 and a new Giant album 'Shifting Time' will be released on Friday January 22. David, Mike and John Roth have reunited and without a shadow of a doubt record company Frontiers strongly suggested to add Perfect Plan vocalist Kent Hilli to the line-up. Hilli has always been a huge fan of Giant and when he and Perfect Plan recorded a Giant song for their cover EP it was as clear as day that Kent would provide the perfect voice for a new Giant album.
Is this a new start for Giant or is the band going on another hiatus after this? That is something time will learn. It is a fact though that Hilli immediately has had a big input the sound of the record as had Frontiers as a peloton of associates of the label have worked on the album. There have been song writing contributions from people like Michael Palace, Kristian Fyhr, Peter Alpenborg and Alessandro Del Vecchio, who also mixed and mastered 'Shifting Time'.
A NEW SOUND?
Let me be extremely blunt. An album like 'Last Of The Runaways' will never ever be made or outclassed again. Not even by this latest version of Giant that by the way has the blessing of Dann Huff who even contributed guitars on the song ,,Never Die Young''. So do not compare 'Shifting Time' with that iconic album, that would not be fair or clever, I guess. Although this record does not provide a new revolutionary sound you can hear at stages some characteristics of the old band, not un-logical as David and Mike are still there as is John Roth.
What this album does provide is a bunch of very good melodic hard rock and AOR-ballads. Kent Hilli feels like a fish in the water, classy, comfortable, reaching big heights and giving the songs the right vocal melodies. Roth is an excellent guitarist, with flashy solos but also playing with feeling.
A LITTLE GEM
Huff and Brignardello are like a well-oiled rhythm machine, providing steadiness and some familiar accents where necessary while Alessandro Del Vecchio has created a mix that is as clear as the deep blue sea, beautiful and crispy. Add to that excellent songs such as ,,My Breathe Away'' (with some monster guitar work), ,,Highway Of Love'', the emotional ballads ,,Anna Lee'' and ,,It's Not Over'' plus a bunch of other juicy rockers and it should be obvious that 'Shifting Time' is a little gem. It is up to Giant now to establish something that is called stability and to build up some more momentum in the next years. Hopefully they will do that instead of another hiatus of God knows how many years.
Release date: 22 January 2022