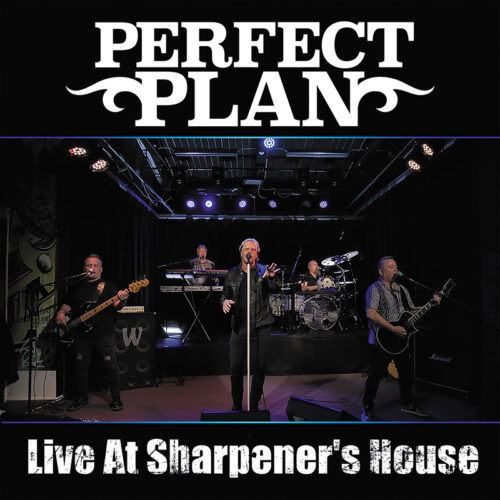 Review | Perfect Plan – Live At The Sharpener's House
Frontiers Music srl
Perfect Plan from Sweden and their singer Kent Hilli have really made an impression in the short time that they have been about. The band produced two stunning AOR and melodic rock albums plus a nice cover EP while Hilli himself earlier this year released a solo-effort ('The Rumble') that was also highly impressive. The latest news around Hilli is that he is the new singer for US-rockers Giant. Their new album 'Shifting Time' will hit the shops in the third week of January 2022, something to really look forward to.
IN-BETWEENER
I suppose we should see this 'live' album as a sort of in-betweener for Perfect Plan. Several bands decided during lockdown periods all over the world to treat their fans on a more improvised 'live' performance as did Perfect Plan. Understandable in a way if you are not really able to promote your product because of lock down, but you can also argue if a live-album at such an early stage in the career of a band is a necessity.
QUALITY
Whatever the reason, the album has arrived and I am damn sure that fans of Kent Hilli and Perfect Plan will be happy with this release, as per usual band and singer deliver quality. Sounding a bit 'rougher' perhaps than in the studio we are listening to a very good performance including cover versions of songs of Foreigner (,,That Was Yesterday'') and Giant (acoustic version of ,,Stay'') plus a bunch of top notch songs from Perfect Plan's first two albums. On this record Perfect Plan sounds like a perfect cross between Survivor (the Jimi Jamison era), Foreigner (the Lou Gramm-era) and (indeed) Giant. I mean ,,Better Walk Alone'' could have been on any Foreigner album or not?
FUTURE
I wonder what the future has on offer for Perfect Plan. What I am trying to say is what record label Frontiers have in store for them. The fact that Kent Hilli has already participated on several Frontiers projects, has been able to make his own record and his (new) liaison with Giant (without a doubt suggested by the Frontiers people) makes you wonder how important Perfect Plan is for the label. Kent Hilli is the absolute star of that band but it would not be fair to the other musicians in the group to see them just as guys that are there to support the singer.
Perfect Plan deserves to be a priority for the label in my humble opinion and I hope that the label sees it that way as well. In the mean-time enjoy this beautiful release and hopefully there is more to come from one of the finest bands Sweden has produced in the last five years or so.