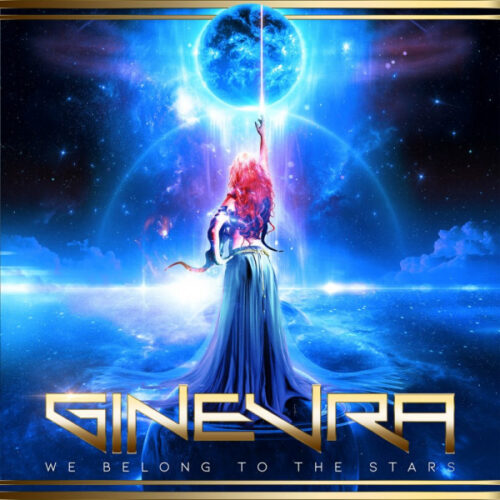 Review | Ginevra – We Belong To The Stars
Frontiers Music srl
Swedish singer Kristian Fyhr made an immense impression on me when he and his band Seventh Crystal released the album 'Delirium' in 2021. For me the album was one of the best melodic rock and AOR albums that Frontiers had on offer that year and I am really looking forward to the next move of that formation.
WRITING CONTRIBUTION
After the release of that album, Kristian became involved with several other Frontiers bands and projects mainly as songwriter and lyricist. He contributed material for the latest Giant album for instance. While sending some new stuff to the label boss one particular song really jumped out and Serafino Perugino yet again though of a new project he could form based on the song ,,My Rock 'N' Roll'' written by Kristian and clearly with a new and much heavier direction. Within no time Magnus Karlsson (Allen/Lande, Primal Fear, The Ferrymen) was on board on guitars and keyboards as was H.E.A.T. bass player Jimmy Jay and former Nordic Union skin beater Magnus Ulfstedt. Enter staff producer Alessandro del Vecchio and Ginevra (as the project was baptized) was ready to record freshly baked and composed material.
SURPRISE
I find it quite a surprise that Magnus Karlsson was not put in charge of the production as normally when he works for Frontiers he is also doing the production. But it could be the case that this time Karlsson decided to be just involved as musician and composer without having the responsibility for the whole project. And with Del Vecchio on hand I can imagine that for Magnus it was something like a breath of fresh air just making music this time.
A DIFFERENT DIRECTION WITH GINEVRA
With Ginevra especially Kristian Fyhr has landed in a different direction as the songs, sound and approach are a different cup of tea for the singer in comparison with Seventh Crystal. The music is melodic, that stands above any question, but the overall direction is much heavier with lots of room for Magnus Karlsson to showcase his signature guitar sound while Fyhr proves he can handle heavy material as well. His reach is enormous, his diversity is wide and he just fires on all cylinders. But you can also hear the features in his voice that were so significant for Seventh Crystal as well, so is not so that he had to change his vocal personality completely.
But it is clear that this album has more in common with Karlsson's Freefall project, Allen/Lande and The Ferrymen than it has with Seventh Crystal and I suppose that was exactly what Serafino Perugino had in mind. What we can conclude is that this Swedish project Ginevra is one of the better ones that has come out of the Frontiers pipeline and melodic rockers who prefer their stuff a bit heavier will most likely cherish 'We Belong To The Stars'.
Release date: 16 September 2022