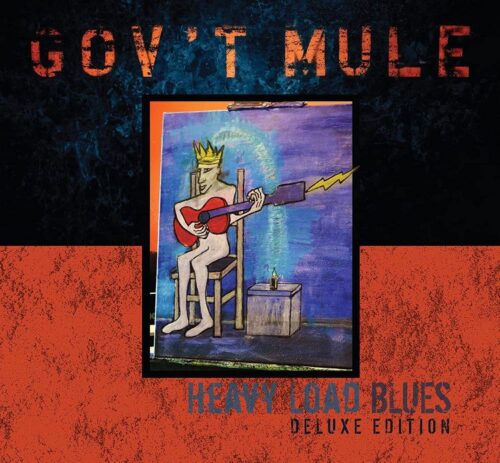 Review | Gov't Mule – Heavy Load Blues
Fantasy Records
Gov't Mule mastermind Warren Haynes (guitar/vocals) thought about this project for a long time, even contemplating recording and releasing it as a solo-album. But he decided to make it a Gov't Mule album after all but with a big difference. This time no heavy rock, southern rock or blues rock but a pure and traditional blues album. If you are a fan of the man, whether it is about his solo-material or band material, when Warren Haynes tackles a subject or in this case a genre you can bet your bottom dollar he will come up trumps.
RECORDING STUDIO
This time the band chose to basically use a small recording studio and create a live atmosphere by standing close together and feed of each other where possible (a few overdubs were done later). Produced by Warren and John Paterno Gov't Mule has gone all out. Now there are two versions of this record. The regular CD has thirteen songs but there is also a Deluxe Edition with eight songs extra on the second CD. I obviously made sure of buying the Deluxe Edition for only a few bucks more. If you manage to get the Deluxe Edition you will get more than two hours of music all together while the single and regular CD clocks just over 78 minutes.
MIXING IT UP
The band has surely been mixing it up. 'Heavy Load Blues' is for sure a traditional blues trip with several songs having a horn section. But within traditional blues there is always room for variation like only Gov't Mule can bring. Haynes and band wrote a bunch of songs themselves but they also took a crack at several blues classics (some known songs, some fairly unknown) only to add the 'Mule' touch to several of those songs by changing the mood, the tempo or slightly re-arrange some of them. So do not be surprised to be confronted with a musical beast that has elements of jazz, R&B, funk, some rock, gospel and Delta acoustic blues (the title track) on offer, all delivered in a very playful manner.
The role of keyboardist Danny Louis on this record is almost as pivotal as what Warren Haynes himself brings to the table. Often it is Danny Louis who lays down a solid foundation on piano and/or B-3 on which Haynes can add his at stages incredible guitar work and so characteristic vocals. Gov't Mule can make anything possible when in the studio. While playing a song they spontaneously can decide to jam within that song by playing a piece that is not even rehearsed. Listen to what happens on the track ,,Snatch It Back And Hold It'' (original by Junior Wells) where the band suddenly bursts into a jam before returning to the original song. And the best thing about that is that it sounds so natural…
NO ROCK, NO PROBLEM
Having followed this band from their very first album back in 1995 the fact that this is an album that has hardly got any rock is no problem at all. You might know ,,Ain't No Love In The Heart Of The City'' in the Whitesnake version. Just for fun, hear what Warren and his mates have done with this track. So intense, so full of pure class. I will be the first to admit that 'Heavy Load Blues' at first glance sounds strange. Especially if you are familiar with all the previous Gov't Mule albums it does take time to start appreciating and understanding what these four men are doing here. But in time and bit by bit the musical penny starts to drop.
The warmth of this record is incredible, whether you listen to a new track or to a cover like for instance ,,Need Your Love So Bad'' (famous in the version of Fleetwood Mac in the Peter Green era). 'Heavy Load Blues' has integrity, swing, class, groove and a very authentic and very natural sound. It might not be the heaviest record in the career of Warren Haynes and Gov't Mule but it is for sure the one with the most heart and soul.