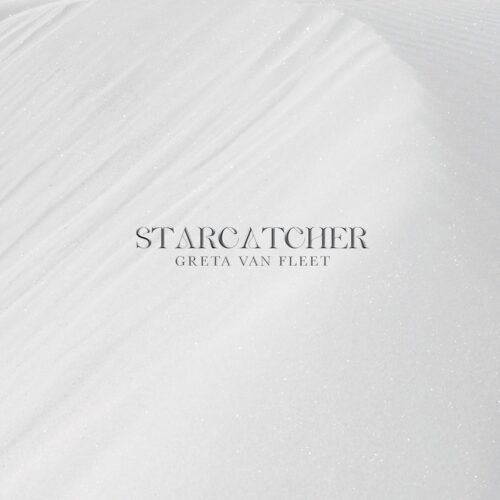 Review | Greta van Fleet – Starcatcher
Lava/Republic Records
In 2017, six years ago already, Greta Van Fleet, had their career start/musical breakthrough with the single ,,Highway Tune" and of course everybody mentioned the Led Zeppelin resemblances. However on their last album 'The Battle At Garden's Gate' (2021) those typical Zeppelin musical characteristics seemed to have diminished, but then again on Greta Van Fleet's new, third album called 'Starcatcher'. Josh Kiszka (vocals), Jake Kiskza (guitars), Sam Kiszka (bass guitar) and Danny Wagner (drums), return to their garage rock roots with obvious influences from bands like Zeppelin, Triumph, The Doors and Cream.
AGGRESSIVE
This makes 'Starcatcher' a real aggressive rock album as you can "label" all the ten new songs as classic blues rock with psychedelic influences. Furthermore, the songs are definitely more stripped down than the ones on their previous album. Retro rock opening track ,,Faith Of The Faithful" sets the musical, cool tone for this album; a slow, powerful track with an awesome Page-like guitar riff and a raw and energetic sound; indeed, play it LOUD! Further highlights here are the soon to be Greta Van Fleet anthem ,,The Archer" and the first single and slow epic ,,Meeting The Master", an exotic power ballad, filled with orchestral passages, almost over the top vocals and a soaring, wild guitar solo that makes you want to hear more like this.
CONTRASTS
 ,,Farewell For Now", also a single, is again rather bluesy, featuring a catchy chorus and true Page-like guitar solo in the middle of the song. In fact, the entire album is full of delightful musical contrasts, featuring stunning guitar hooks/riffs, pounding drums (hello Jason Bonham), thundering bass riffs and high-pitched, emotional vocals galore. ,,Sacred The Thread" is another gem here, a slow blues ballad-like track with a drumbeat that truly reminds of the LZ classic ,,When The Levee Breaks" …. ,,The Indigo Streak" and ,,Frozen Light" are probably two of the best Greta Van Fleet songs ever as they are really seventies hard rock gems 100%, play them LOUD and you will enjoy them even more! 'Starcatcher' is a cool album, a MUST for fans of blues/hard rock and fans of the music of Led Zeppelin and Rival Sons.
Release date: 21 July 2023