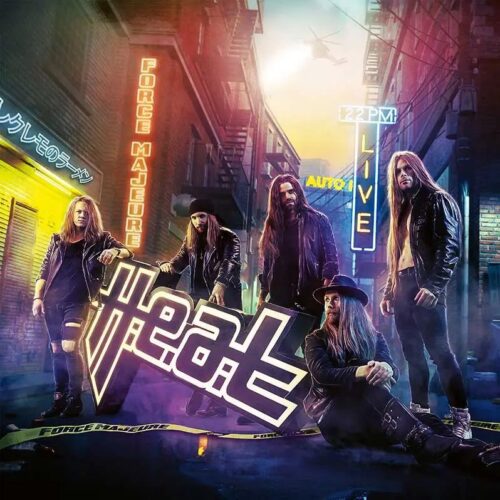 Review | H.E.A.T – Force Majeure
earMUSIC
The Swedish rockers of H.E.A.T saw top notch singer Erik Grönwall depart not long after the release of their sixth studio-album 'II'. Recently Grönwall was confirmed as the new vocalist of Skid Row. Luckily for the band the contacts with their former singer Kenny Leckremo were still warm and intact. The man who sang on the first two albums before being replaced by Grönwall was happy to return and start working on album number seven 'Force Majeure'.
TRIUMPHANT RETURN
It is always a blow when a singer like Erik Grönwall says 'see you later' but for H.E.A.T it has not made much of a difference. When you hear the songs on this album you can only come to the conclusion that Kenny Leckremo has made a triumphant return with a stunning performance throughout the whole album. To put it bluntly I have not missed Grönwall for even one second!
CONTINUATION
On 'II' H.E.A.T. changed its musical course by rocking much harder in comparison with earlier releases. 'Force Majeure' shows a continuation of that style. This is Arena rock galore. What is the most impressive thing about this release is not only the individual performances of all musicians involved and the accessibility of the songs but it is the superb production that really takes centre stage. Man, melodic rock has hardly ever sounded more impressive.
It already starts with ,,Back To The Rhythm'' that sets the tone and the pace for the rest of the album. A further highlight is the speed demon track ,,Demon Eyes'' with blistering guitar work (courtesy of Dave Darlone), thundering drums provided by Lars Jarkell (a.k.a. Crash) and Leckremo going spare shape. You are, while you are being impacted by the might and heaviness of the songs, glad that in the form of ,,One Of Us'' a beautiful ballad has found its spot between all this overwhelming material.
CONCLUSION
The conclusion is simple: 'Force Majeure' is a super heavy melodic album which puts H.E.A.T on the same level as the mighty veterans of Europe and makes a similar act like Eclipse sound like pussies. Wanna get rocked? 'Force Majeure' is together with the latest Gathering of Kings album 'Enigmatic' the standard for the near future. Mind blowing and just f*cking brilliant!
Release date 5 August 2022