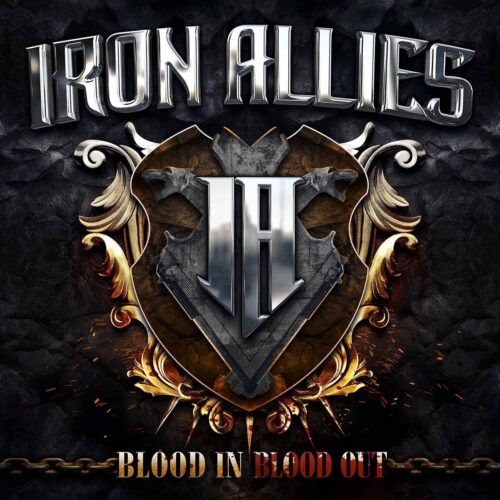 Review | Iron Allies – Blood In Blood Out
AFM Records
As soon as the two metal merchants extraordinaire David Reece (vocals) and Herman Frank (guitar, and both ex-Accept) announced their cooperation in the new formation Iron Allies with bass player Malte Frederik Burkert, guitarist Mike Pesin and drummer Francesco Jovino also part of the proceedings, I immediately was curious about their first album that is scheduled for October 21 entitled 'Blood In Blood Out'.
STATUS
All involved musicians have an immaculate status with Frank, Burkert and Pesin nowadays also involved in Victory, Reece having his own solo-career (that also involves Burkert and Jovino) and appearing as singer on for instance the latest records from Highway Sentinels and Wicked Sensation, and let us not forget the records that Herman Frank made under his own name. Looking at the careers of the musicians you can almost predict how Iron Allies is going to sound like. And that is exactly how 'Blood In Blood Out' has turned out. Having worked with each other before in different bands and projects it has not taken these boys very long to gel as they sound like a solid heavy metal machine that has been together for years.
A PERFECT CROSS
The twelve songs on the record are a perfect cross between Victory, Accept, a touch of the old Judas Priest, Reece's solo-material and Herman Frank's solo-records. When Herman Frank is involved, heavy guitars will rule the roost. So, strap yourself in for a metal ride that is smeared out over twelve songs that are relentless, guitar dominated and orientated, and as heavy as fuck. The band is able to switch between up-tempo metal and more melodic hard rock with even some dirty, gritty groove metal elements stuffed in there.
From start to finish, there is just no letting up. Jovino and Burkert lay down a solid and superb fundament, Frank's and Pesin's guitar work is as always based on solid and bone hard riffs and flashy solos while David Reece manages to find the right vocal melodies, bringing melody and a certain toughness and determination to the table that we know is part of his musical DNA.
THE QUALITY OF IRON ALLIES
Have no doubts about the intensity of the music these guys have laid down. I find it hard to name a favourite song on 'Blood In Blood Out'. It all sounds impressive, no matter if the gas pedal goes on full throttle (,,Selling Out'', ,,Evil The Gun'') or the band takes a step back in pace in favour of intensity and power (,,Martyrs Burn''). The whole album is a fast, energetic and fascinating ride into metal orbit that needs some endurance from you in order to absorb all that is happening here.
Yes, it is traditional and looking at the past of the musicians some people might find it predictable at times, but there has not been an album in this genre in 2022 with so much energy, power, great musicianship and overall quality in the song writing and execution. 'Blood In Blood Out' ticks all the metal boxes it needs to tick, it hardly gets any better than this people. Turn it up!
Release date: 21 October 2022