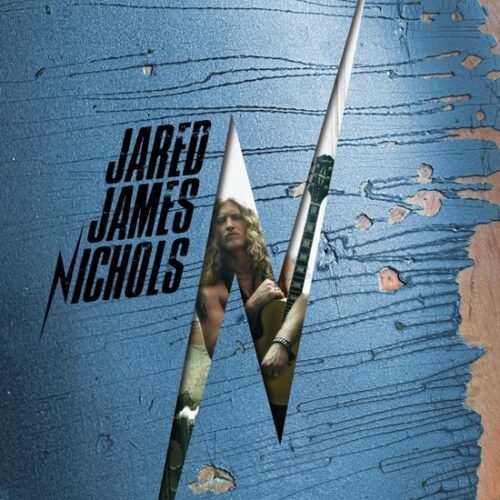 Review | Jared James Nichols – Jared James Nichols
Black Hill Records
The third studio-album by US guitar slinger/vocalist Jared James Nichols was long overdue in my view. He started out in 2015 with the album 'Old Glory & The Wild Revival'. He followed that up three years later with 'Black Magic' and made his first appearance for Black Hill Records in 2021 when the 4-track EP 'Shadow Dancer' saw the light of day (only available on digital platforms at the time but the four tracks are now featured on 'Jared James Nichols').
INJURY
Not long after the release of 'Shadow Dancer' Jared James suffered an injury. He broke his right arm, had to undergo surgery and had a metal plate plus screws placed into his arm. It took him a little while to recover but once healed he picked up that guitar again and began working on his self-titled third full album together with his band and producer Eddie Spear (Slash/Rival Sons).
JARED JAMES NICHOLS MODERN DAY GUITAR HERO WITH A CLASSIC TWIST
We recently lost Jeff Beck and Edward van Halen, two ultimate guitar heroes that just can't be replaced. But the rock world needs a new hero and hearing Jared James Nichols on all his records and especially his new one I can only conclude that we might have found a modern-day guitar hero with a classic twist. The playing of Nichols is relentless, bluesy, hard rocking, energetic, melodic, versatile and at times bone crushing hard and finger licking good. This dude is the man we need nowadays. He is not only a great player but also a more than decent singer and apparently his live performances are out of this world, furthermore his compositions are very to the point. He does not lose himself in solos that take ages. His playing is in favour of the composition.
This record sounds modern but has a very classic character. This man has all the ingredients to really establish a super reputation for himself. When you hear songs such as ,,Shadow Dancer'', ,,Hallelujah'', ,,Out Of Time'', ,,Hard Wired'' and ,,Bad Roots'' you will realise very quickly that you are listening to the real deal here. A great musical start of 2023 thanks to Jared James Nichols. Remember the name and (once again) I state that guitar labels such as Mascot or Grooveyard have missed out here.
Release date: 13 January 2023