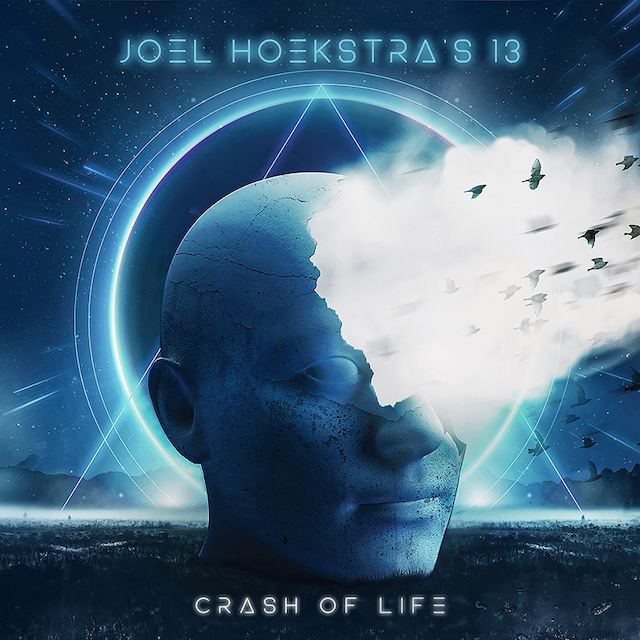 Review | Joel Hoekstra's 13 – Crash of Life
Frontiers Music Srl
Joel Hoekstra doesn't need any further introduction, I guess. The axe-slinger is a long-time ace and productive force in melodic rock and metal, gradually shooting root the last 2 decades. His solo-project is not the typical draw-in of stable mates, but sees a solid spine with Hoekstra's 13 band members Tony Franklin (Blue Murder, The Firm, etc) on bass, powerhouse drummer Vinny Appice (Dio, Black Sabbath, Last in Line) and Derek Sherinian (Sons of Apollo, Dream Theater, Black Country Communion) on keyboards. A cast returning for duty on this third Joel Hoekstra's 13 album `Crash of Life' introducing new vocalist Girish Pradhan of Girish and the Chronicles and The End Machine fame.
A WELL-OILED MACHINE
Expect fine riffs and wonderful licks delivered by the dozens, as Hoekstra is known for. The man has built a career as one of the best players in the field and puts on quite a show walking the world's biggest stages and packing arenas. This eludes from his graceful style and sterling craftmanship as a songwriter. ,,Everybody knows Everything" barges in with full force and sets the well-oiled musical machine in motion with surging power. Highly melodic and fertile, the song is a blasting in classic style. Modern 'open' production ensures a vibrant sound in which all instruments get lit up. Of course, it is Hoekstra who dominates the spotlight, but never overly. The man displays his immense skills and fuses his tone to the track perfectly. His solos are a lust for the ear and bedazzle or enchant.
Wonderful moments literally by the dozen, the album keeps popping great tracks that are heavy and melodic. 'Melodic metal' or 'AOR heavy metal' are labels that apply, and the band-feeling radiates.
WHITESNAKE AND LAST IN LINE
`Crash of Life' rolls forward melodically, with Girish displaying his fine feeling for drama discharging his powerful moaning vocals. ,,Far to Deep" and ,,Don't Have Words" all display the excellent musical craftmanship of Hoekstra. The songs have a solid backbone and nesting melodies. ,,Not Tonight" injects a dynamic progressive beat and ,,I would Cry for Love" pitches up higher with Whitesnake reminiscent bluesy subnotes over a metallic glaring execution that fits Last in Line as much as it would Whitesnake if tone is adjusted. That bluesy vibe returns on the Southern tinged highway roller ,,You're Right for Me" with its memorable vocals and chorus. ,,Find a Way" injects a Deep Purple reminiscent hook and interplay before opening in its bridge. Pradhan belts out a rawer bluesy range and hits a Gioelli-like bitter tone that breaks down well in this track.
JOEL HOEKSTRA'S 13 – THE CONCLUSION
Dramatic hooks make ,,Torn into Lies" well with emotion and Girish laying down an exquisite vocal performance. He displays his most subtle vocal job, as he does on the slow-moving ballad ,,Over You" also. ,,Through the Night" proves Girish to be the best pick of the day for this album. The song is a summertime-vibe loaded psychedelic song with wonderful vocal harmonies swung into action. Absolutely brilliant is the high energy ,,Damaged Goods" with Hoekstra unravelling a maze of notes morphing into the riff and lick dynamics. Franklin's monstrous playing is weld onto Hoekstra's intricate note-exercise, making it bloom with musical magic. The solo sees a return of those notes slowly transcending into fretboard magic and Hoekstra delivering one of his most iconic solos.
`Crash of Life' displays Hoekstra's fine feeling for music. The ace explores his widest musical inspiration and creates a modern elixir crossing melodic and metal borders. The musical delivery is absolutely wonderful and warming and with Pradhan he brings in a vocalist not shying away from experiments, and delving deep to make it work. And it works!
Release date: 15 June 2023