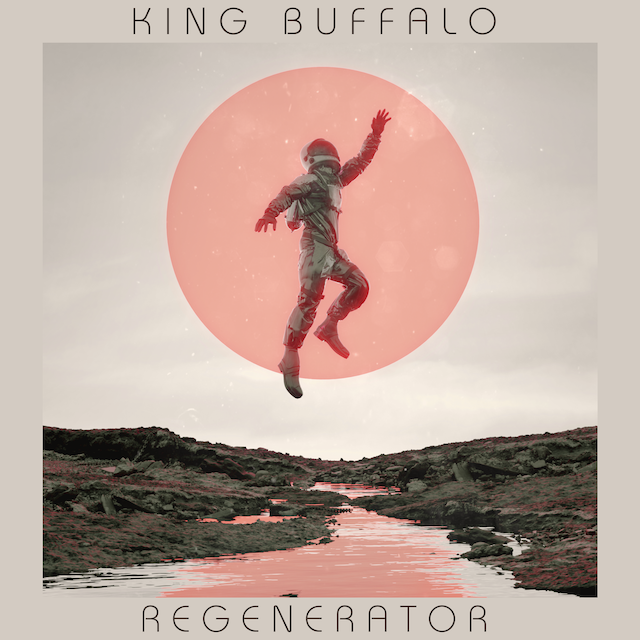 Review | King Buffalo – Regenerator
Independent (US) / Stickman Records (EU)
`Regenerator' is the third chapter of King Buffalo 's self-stated pandemic trilogy, which set sail with the utterly brilliant `The Burden of Restlessness' and the organic exploration in `Acheron'. Both records emphasized the band's sonic abilities as creators of magical moments, and `Regenerator' is no different. The album is the closing chapter of their creative streak and unites all of the band's typical hypnotizing ingredients and top shelf musical craftsmanship, and is the exclamation point of their eight-year recording career. The album explores the sonic universe and blends their colorful music on this brand-new canvas, that sees the dark and vibrancy united in a seductive picture taking shape with every spin of the disc.
NEW WAVE AND GUT-IMPOSING MELANCHOLY
Off the bat the title track takes us onto the sonic journey `Regenerator' set out to be. Droning in with lush percussion and drums, the song flourishes around new wave reverbed echoing guitar plucking and echoing slow hand playing. Bearing reminiscence to U2's The Edge's tone, Sean McVay rises to encompass on a sonic journey without a dull moment in place. 9-minutes-long with repetitive beats, the trio captivates with sober yet intensely smart instrumentation, bordering with the before mentioned New Wave echoes, and tapping a more psychedelic vein that wells with Hawkwind-like tone. The radiant appeal of the song is emphasized by the impeccable interaction of McVay with Dan Reynolds' insanely intricate bass playing and Scott Donaldson's jazzy progressive lush drumming.
Increasing the all-over lush tenure of the opening track, King Buffalo delves into ,,Mercury", that is as lucid in playing as it is in title. More abject and heavily progressive the song gradually meanders in almost identical tempo towards intense moments of musical accolades released. Heart touching and gut-imposing melancholy embodied in drought of pompous welling harshness. Sonically it combusts with a gripping intensity smothered by the droning low toned returning pulse of the song. McVay's comforting voice strangling the heaviness, adopting the vocal melody crafted around alongside the guitar hooks, to increase the song's subdued brooding atmosphere.
PROLIFIC CRAFTSMANSHIP
Opening all registers, the band regenerates their rock chops in ,,Hours". Drum breaks over a ponderous propelling beat, aligned with the droning guitar line and intense bass licks that are brought to the front end of the mix. Weaving bass and guitar together into strutting tapestry of the song, Donaldson's drums gain momentum and take the spotlight. Dynamic and diverse, only rarely using cymbals he gradually builds to a nervous repressed atmosphere with Reynold's adding his insane versatile bass playing. Prolific craftsmanship with inventive refreshing structures discharging turmoil and anxiety.
A moment of Floydian appeal passes by with the short ,,Interlude" and its ethereal echoing guitars and welling heavy keys. McVay's short narrative vocals are toned down, much like Gilmour's, making the song crawl forward in gloom. Meandering forward into the following ,,Mammoth" that instantly invokes past pictures of the giant animal pacing forward. The almost stagnant tempo is colored by the pulsating low bassline and echoing guitar picking, with McVay again fusing his almost mumbling vocals to the song's pace, which gains momentum with drums and guitar pitching to it wonderous mid-section. Wonderful is the stretched guitar solo, and dynamic rhythm and drum interaction with its impeccable traction utilized, while the song keeps revealing more of its grandiose sonic seduction.
THE GRAND FINALE
The latter is also present on the rich yet timid orchestrated ,,Avalon". Almost like entering dreamland the song wanders with Barclay James Harvest coming to mind. It is minutes before King Buffalo delves into the typical cleansing palette with utterly brilliant accolades of power on display. Short combustions that discharge impressive momentum and power. Appeal in abundance and the chorus is powerful and nesting, with intense drum patterns and alternating guitars over the dominant bass licks and wonderful bass playing of Reynolds.
Stripping down musically for the Grand finale ,,Firmament", King Buffalo reverbs to their trademark progressive lush jazzy structures full of contemplative phrasing. Plucking guitar scatters, drums polyrhythmic change it's time signatures frequently gel well with Sean's luring vocals. Psychedelically pulling into the heavier 2nd part of the song which flourishes with intense beats and guitars getting their balls out. Short displays of power totally in line with the band's motionless feeling casted. Going back and forth in emotion the melancholic makes way for welling outbursts with spacey keyboards welling and versatile guitars unleashing heavy parading riffs and Donaldson providing shivers and shakes with his insanely dynamic drumming. It all feels comfortable and secure, but it frequently sends shivers down your spine.
ANOTHER STEP UP FOR BUFFALO KING
After their eponymous `The Burden of Restlessness', King Buffalo tapped another vein on `Acheron', and now explores that direction further. `Regenerator' feels comfortable but casts mischief and melancholic darkness while they trad precautious with euphonious progressions meticulously crafted onto the dynamic soundscape created by their deep interaction. Fuzzy and comfortable the songs progress lushly to unexpectedly break into more dense orchestration and heavier sections full of dynamic drum and bass, and intensifying guitar licks. `Regenerator' is another step up expanding the band's rapidly expanding discography that holds only gems. A-MA-ZING!
And God… they make it sound so simple.
Release date: September 2, 2022