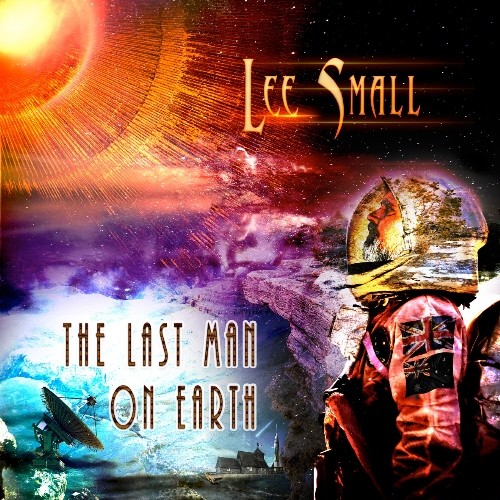 Review | Lee Small – The Last Man On Earth
Metalville Records
Lee Small is another English vocalist that should be known by a large audience but that is not the case. He has worked with Phenomena, Shy, Magnum and is the current vocalist of Lionheart with the guitarists Steve Mann and Dennis Stratton. He also appeared on the 'Right Or Wrong' album by White Spirit and has done tonnes of session work. The last couple of years he is also part of the touring line-up of glam rockers The Sweet with drummer Bruce Bisland, singer Paul Manzi and the only original founding member Andy Scott (guitar), Small being the bass player and background vocalist.
Furthermore, he has four solo-albums on his C.V., 'Chameleon' being the latest released in 2021. On his solo-releases Lee does his own thing and shows the enormous variety in his repertoire. 'Chameleon' was a reggae album but don't fear as on 'The Last Man On Earth' the talented Small returns to his rock roots delivering a fine album that balances between his work in Lionheart and a more sophisticated AOR style. And no fear, it is certainly not a soft or soppy affair.
IMPRESSIVE GUEST LIST
On his latest release Lee Small is accompanied by an impressive guest list that includes drummer Edu Cominato (Soto/Geoff Tate), Steve Mann (Lionheart/Michael Schenker Group), Swedish maestro Tommy Denander and the one and only Dan Reed who sings a duet with Lee. The list is long while the artwork and cover design comes from the capable hands of Tristan Greatrex, who has worked for UFO and Lionheart (just to mention a few names). Lee Small and his associates have managed to always make this album sound cohesive.
The singer was aiming for a record somewhere between Toto and Foreigner but, because of his voice and the way the songs have been arranged, 'The Last Man Of Earth' has a big Lionheart feel with those typical background vocal arrangements. Some songs are more 'radio friendly', some are pure rockers and to close the album there is a wonderful ballad in the form of ,,The Big Unknown'' together with the title-track one of the eye-catchers of the record, at least in my humble opinion.
LEE SMALL – CENTRE STAGE
It is the enormous variety in Lee Small's voice that takes centre stage here. The man has a very pleasant sound and can switch styles in a heartbeat. He brings a 'certain' atmosphere to the table that a fan of AOR and melodic rock will find attractive and especially heart-warming. Small does not need to apply power or force. He has such a fluent and natural way of singing that will draw you in for sure.
,,Here We Go Again'', ,,Neon Heartbeat'', ,,Revolution Road''(with Dan Reed) , ,,Midnight Rain'', ,,In & Out Of Love'', ,,Wings Of Destiny'' and ,,Silhouettes'' are all fine examples of a musical mix between melodic rock and AOR with the perfect voice in charge. Add to that a very good overall sound and a right balance in the sequence of the songs and you have an entertaining yet rocking album that has a lasting character. Job very well done!
Release date: 26 May 2023