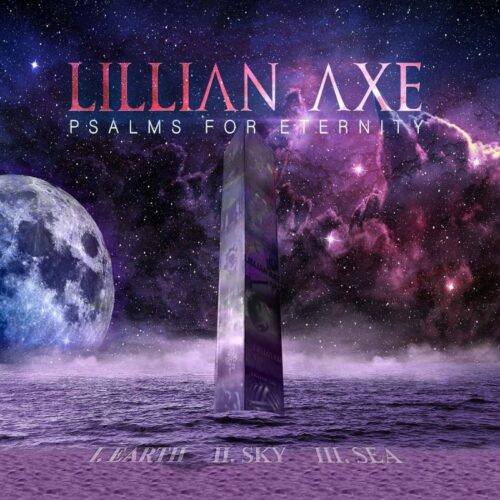 Review | Lillian Axe – Psalms For Eternity
Global Rock Records
Luckily there are still several records of the Lillian Axe catalogue for sale. The band around guitarist/producer Steve Blaze hails from New Orleans and has been around for more than three decades releasing a bunch of stellar albums. Their first self-titled album came out in 1988 and was produced by Ratt guitarist Robbin Crosby (RIP). Because of that Lillian Axe was scaled in as glam rock but nothing could be further from the truth. Their 1989 and 1992 albums 'Love + War' and 'Poetic Justice' told quite a different story. The musical style was extremely adventurous and I remember my old friend Edgar Klusener (in those days editor-in-chief at the German version of Metal Hammer) describing them as the Pink Floyd of heavy metal. Edgar was not far from the truth there.
INTERVIEW
Somewhere in 1992 while being at a music convention in Los Angeles, I met up with the group who at the time were promoting their 3rd album 'Poetic Justice'. Although 'Poetic Justice' was a top-notch melodic rock album the formation from then on slowly disappeared into the underground. Albums kept coming (sometimes with quite some time between them, but always of a good quality). Steve Blaze kept following his own lead, developing his own style and definitely not looking at trends. Lillian Axe' more or less developed into a formation for the 'happy few', being grossly ignored by the main audience. Throughout the years there were quite a lot of changes in personnel. Nowadays from the original starters only Blaze and bass player Michael 'Maxx' Darby are still there accompanied by current singer Brent Graham, guitarist Sam Poitevent and drummer Wayne Stokely.
Real new material has been very scarce the last years and the 3-CD 'Psalms For Eternity' is a blistering compilation of the best material throughout the years. 'Psalms For Eternity' is divided in three discs entitled 'Earth', 'Sky' and 'Sea'. 'Earth' features the more hard rocking side of the band with songs as ,,Misery Loves Company''. 'Sky' is filled with a combination of rockers and ballads featuring the great epic song ,,All's Fair In Love And War''. 'Sea' is more acoustic based, including some superb pieces like ,,Ghost Of Winter'' (From 'Love + War'), ,,Fields Of Yesterday'', the instrumental ,,Deep Red Shadows'' and ,,Sad Day On Planet Earth''. On this third disc the melancholic style of Lillian Axe is featured at its best.
THE FUTURE
This 3-CD compilation also features a few bonus tracks. Fans that are looking for a more adventurous style of heavy rock and are not familiar with this band. Well, here is your chance to get to know one of the best hidden treasures of USA-heavy/hard rock with a huge shot of melody. I have good hope that Blaze and his friends in the near future might surprise us with a new studio-CD. Fact is that Lillian Axe will return to the UK for the first time in almost 30 years as they have scheduled a handful of shows over there, starting August 22. If you want to find out more visit their website.