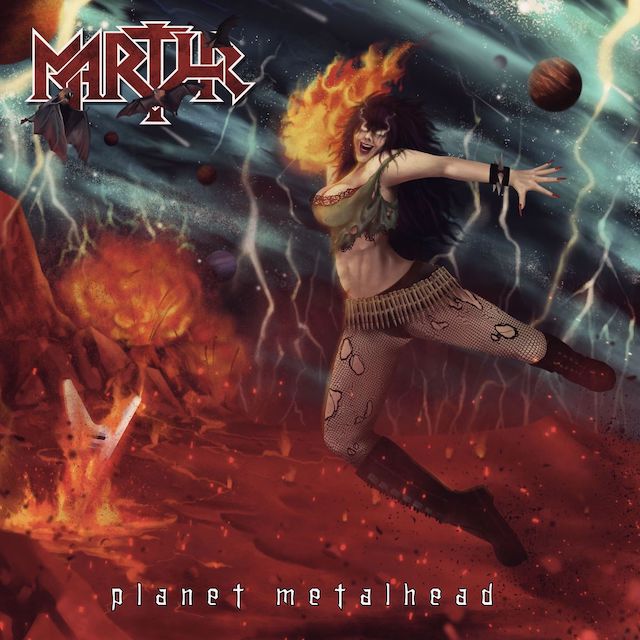 Review | Martyr – Planet Metalhead
Pt78 Records
It is an established fact that Dutch band Martyr has been participating on the heavy metal stage for many years. A fact that is cast in concrete. During the first five years, from 1982-1987, that Martyr was alive and kicking, the band from Utrecht released two albums: `For The Universe' (1985) and `Darkness At Time's Edge' (1986) that became classic metal anthems. In those years Martyr also appeared on compilation albums released by Roadrunner Records and Metal Blade Records, they were voted as Holland's best new metal band in Aardschok Magazine at the time and toured with several international acts. But after a rather good run they disbanded in 1987.
THE REUNION
Martyr first re-united in 2001, to play the well-known festival Heavy Metal Maniacs, but it took them another four years to revive almost the complete 1982 line-up to play at the Headbangers Open Air and Keep It True festivals. And they haven't stopped playing since then. Because it all went so well, the musicians decided it was time to get back to work in the studio to release new material and to re-record some of the material from back in the eighties.
In 2016 Martyr released the latest studio album `You Are Next' and it obviously took the band some years to come with a successor. Although they released `Live In Japan' in 2019 as an in-between album. Also, after that last album there has been some personnel changes, which brings us to the current 2022 line-up, consisting of vocalist Rop van Haren, guitar slingers Rick Bouwman and Geoffrey Maas, bassist Vinnie Wassink and drummer Rick Valcon. This line-up is also responsible for the aforementioned live album.
THE PRODUCTION
Rick Valcon was responsible for the production, mix and mastering. All band members have recorded their parts in their own home studio, sending it back and forth, with Rick as the production guy and centre in the entire process. He is the man who made sure that this album isn't out of control in terms of sound and managed to present the fans a beautiful end result. The album has a nice rich contemporary sound and Rick did an excellent job.
But what does the band actually have to offer us in 2022 in terms of new songs? Well, a nice varied palette of heavy metal tracks that sometimes flirt with power, speed and thrash metal. They certainly sound fresh and hungry and absolutely not like a band that is on the decline. No, these men are looking forward to it!
THE VOCALS
In terms of vocal technique, I have to say that Rop van Haren knows how to surprise me. His vocal range is more than decent. Firing hefty Rob Halford-like outbursts, but he also sometimes finds the grunting boundaries of thrash metal. In some passages of the songs, I even have to think of Midnight [r.i.p.] of Crimson Glory in terms of tone and approach.
Musically, the band surprises me with a nice mix of guitar riffs, pumping drums and a fat bass layer that gives the songs the punch they need. Yes, I hear influences from bands like Manowar and Judas Priest, but it would really be too simple to keep it there. Because also a band like Sacred Reich or more recently Halford's solo work pops into my mind. And those are not the slightest influences, certainly not when it is also performed in a beautiful way.
THE SONGS
The album opens with ,,Raise Your Horns, Unite!". The small piano part and scary children's voice lead us to a Manowar-esque, epic opening of the song. Only to go wild after about 60 seconds as a true up-tempo heavy metal song. Then followed by ,,Demon Hammer" and ,,Children Of The Night", both songs that don't get stuck in one theme or guitar riff. No, in every song on the album there is a nice structure. ,,Fire Of Rebellions'' starts with a spoken intro and the main riff could easily be on Halford's `Resurrection' album, while the chorus has something Crimson Glory like, due to Rop's way of singing.
,,No Time For Goodbyes'' is the first moment on the album that the band takes the foot off the accelerator. This power ballad is a great way to catch your breath and most of all I can appreciate the atmospheric vocals of Rop. Next songs are ,,Metal Overdrive'' and ,,La Diabla'' and both are fast pace metal songs in overdrive.
PEDAL TO THE METAL
,,Diary Of A Sinner'' has a guitar riff/verse that somehow brings me back to the heydays of thrash bands like Sacred Reich. ,,Church Of Steel'' is a song with a calm build-up, which suddenly unfolds into a up-tempo metal track. Again, I am impressed by the diversity of Rop's vocals.
Album closer ,,Wings In A Darkened Soul'' is the odd one out, as far as I'm concerned. A ballad that I can't really place in the context of the rest of the album. To me it is definitely not the strongest moment on this release.
All in all, `Planet MetalHead' has become a strong heavy metal album. The band managed to surprise me and especially the diversity of singer Rop left a big impression.
This band is excited and makes a fresh impression, and that alone is remarkable knowing they are around for 40 years. Fans of Martyr can purchase this disc with confidence. Other metal fans should definitely give `Planet MetalHead' a try and let's hope we can welcome the band on various stages soon.
Martyr 2022 is most certainly alive and kicking with the pedal to the metal.
Release date: 24 February 2022 – Pre order `Planet MetalHead HERE'